The best OLED screen to date
This year, Samsung has kept the best screen exclusive to the Galaxy S21 Ultra. It is the only in the S21 trio to offer a 1440p screen, while the rest of the S21 were somewhat demoted with regular 1080p screens. All of them support adaptive 120Hz refresh rate at the native resolutions, including the Ultra, which is a first for Samsung.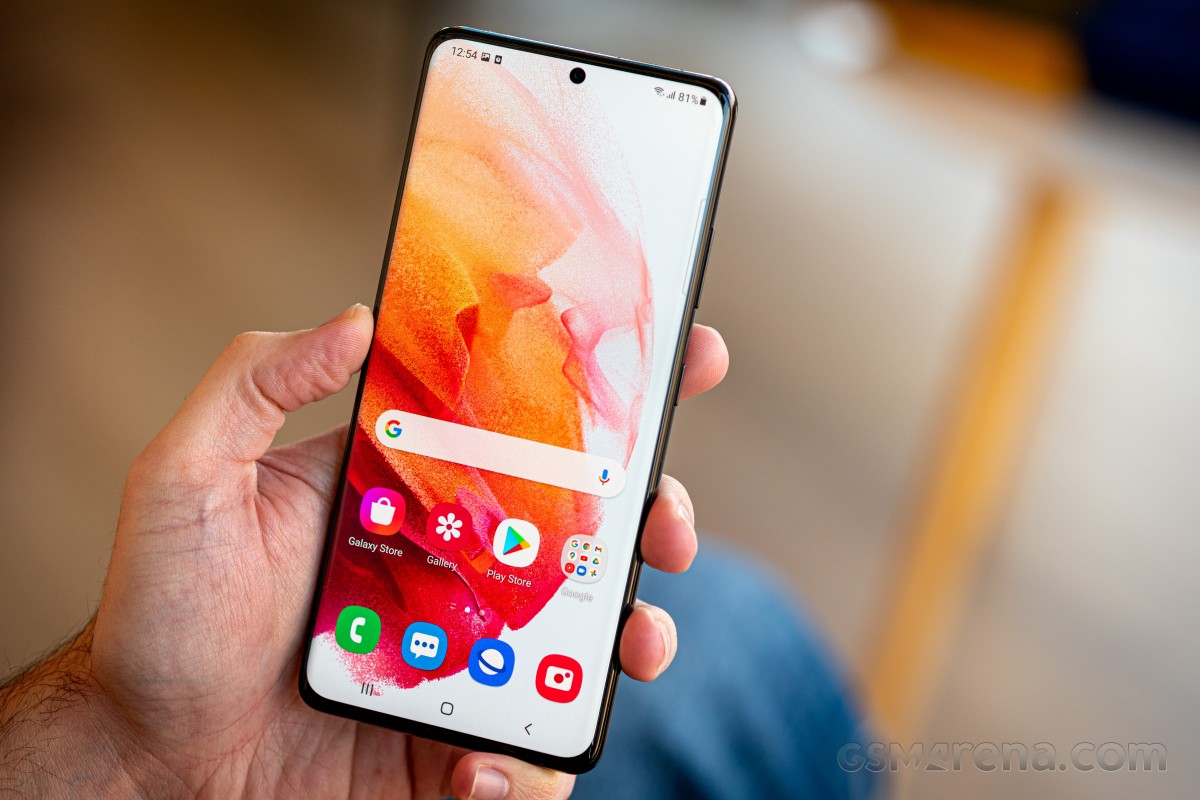 The Galaxy S21 Ultra features a 6.8" Dynamic AMOLED 2X screen of 1,440 x 3,200 pixels or 515ppi. The S20 Ultra had a 6.9" display, but the difference is quite negligible. The panel is protected by a Gorilla Glass Victus piece.
The screen supports Adaptive Refresh Rate, and it can go as high as 120Hz or drop as low as 10Hz when necessary. It is supposed to be the brightest one, too, with a peak brightness of 1,500 nits! Do not get your hopes too high, though; that number is for HDR video playback and can't be achieved when lighting up the entire screen.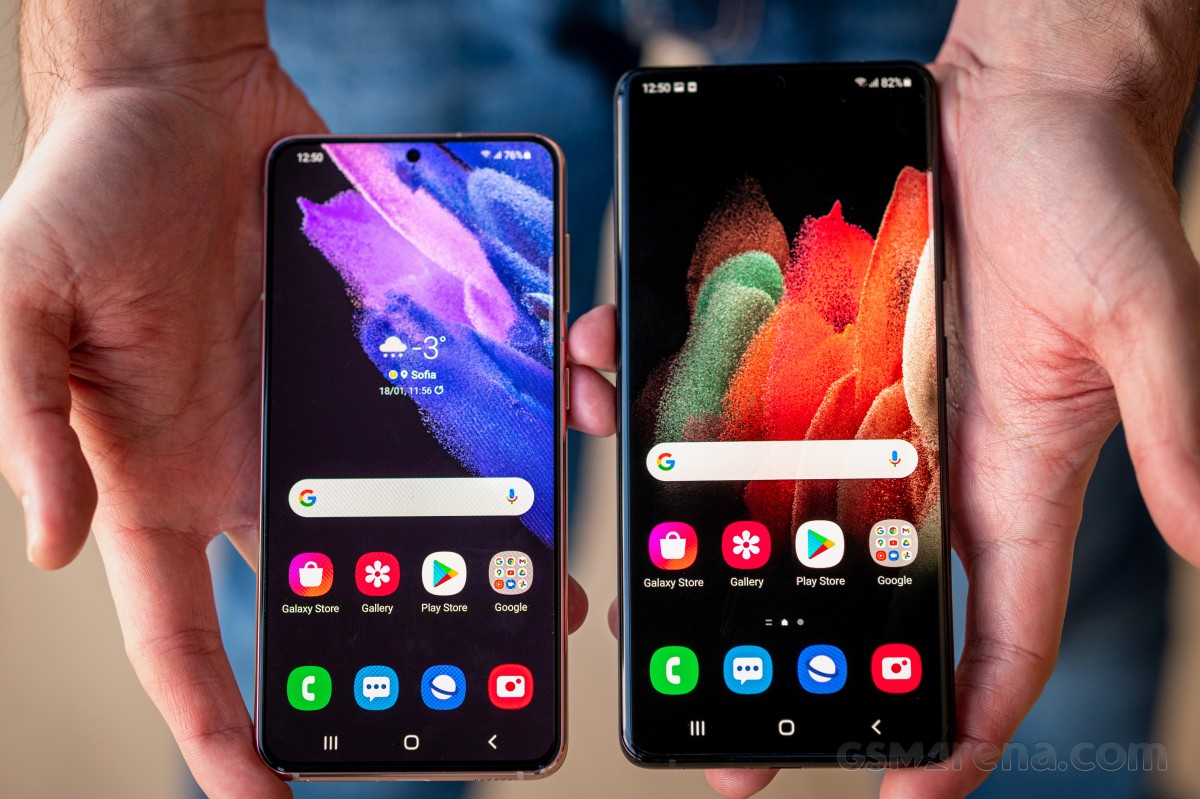 Galaxy S21 screen next to the S21 Ultra's
Speaking about HDR, the S21 Ultra supports HDR10+ and naturally, it can play the highest definition content across all popular services - Netflix, Prime, HBO, YouTube.
In our display test, we measured a very good maximum brightness of 458nits. When placed under bright light, the S21 Ultra boosts the screen brightness up to 1023 nits - making this Ultra the second phone to go north of 1000 nits (the first was the Note20 Ultra).
Display test
100% brightness
Black,cd/m2
White,cd/m2
Contrast ratio
Samsung Galaxy S21 Ultra 5G
0
458
∞
Samsung Galaxy S21 Ultra 5G (Max Auto)
0
1023
∞
Samsung Galaxy S20 Ultra 5G
0
398
∞
Samsung Galaxy S20 Ultra 5G (Max Auto)
0
894
∞
Samsung Galaxy Note20 Ultra 5G
0
504
∞
Samsung Galaxy Note20 Ultra 5G (Max Auto)
0
1024
∞
Samsung Galaxy S21 5G
0
416
∞
Samsung Galaxy S21 5G (Max Auto)
0
856
∞
Samsung Galaxy S20 FE
0
404
∞
Samsung Galaxy S20 FE (Max Auto)
0
823
∞
Apple iPhone 12 Pro Max
0
822
∞
Huawei Mate 40 Pro
0
485
∞
Huawei Mate 40 Pro (Max Auto)
0
807
∞
Huawei P40 Pro+
0
455
∞
Huawei P40 Pro+ (Max Auto)
0
760
∞
Xiaomi Mi 10 Ultra
0
498
∞
Xiaomi Mi 10 Ultra (Max Auto)
0
811
∞
OnePlus 8 Pro
0
538
∞
OnePlus 8 Pro (Max Auto)
0
888
∞
Color rendition is handled the Samsung way with the usual Natural/Vivid approach. Natural aims to reproduce sRGB content truthfully, and we measured an incredibly good average deltaE of 2.
The Vivid mode offers a 5-position cool-to-warm slider. The default mid-point on the slider will get you an average deltaE of 3.2 against DCI-P3 targets, which is nicely accurate despite the slightly bluish rendition of white and gray hues.
A new addition this year is the Eye Comfort Shield. It's yet another implementation of a blue light filter which will adjust the display color according to the time of day (the default Adaptive setting), or let you pick a pre-set interval to engage and do so at an intensity of your choosing.
Now, let's talk about the refresh rate. There are two settings available to you - Standard (60Hz) and Adaptive. The Galaxy S21 Ultra remains in 60Hz for whatever it is that you're doing if you have the phone set to Standard.
The Adaptive mode is, well, adaptive. You'd be looking at 120Hz whenever you're touching the phone with a drop to 60Hz a couple of seconds after your last interaction. That is the general behavior for most things like the UI, browsers (Chrome, Firefox, Samsung's own) and social media apps (Facebook, Instagram, TikTok), and it is the most natural of approaches.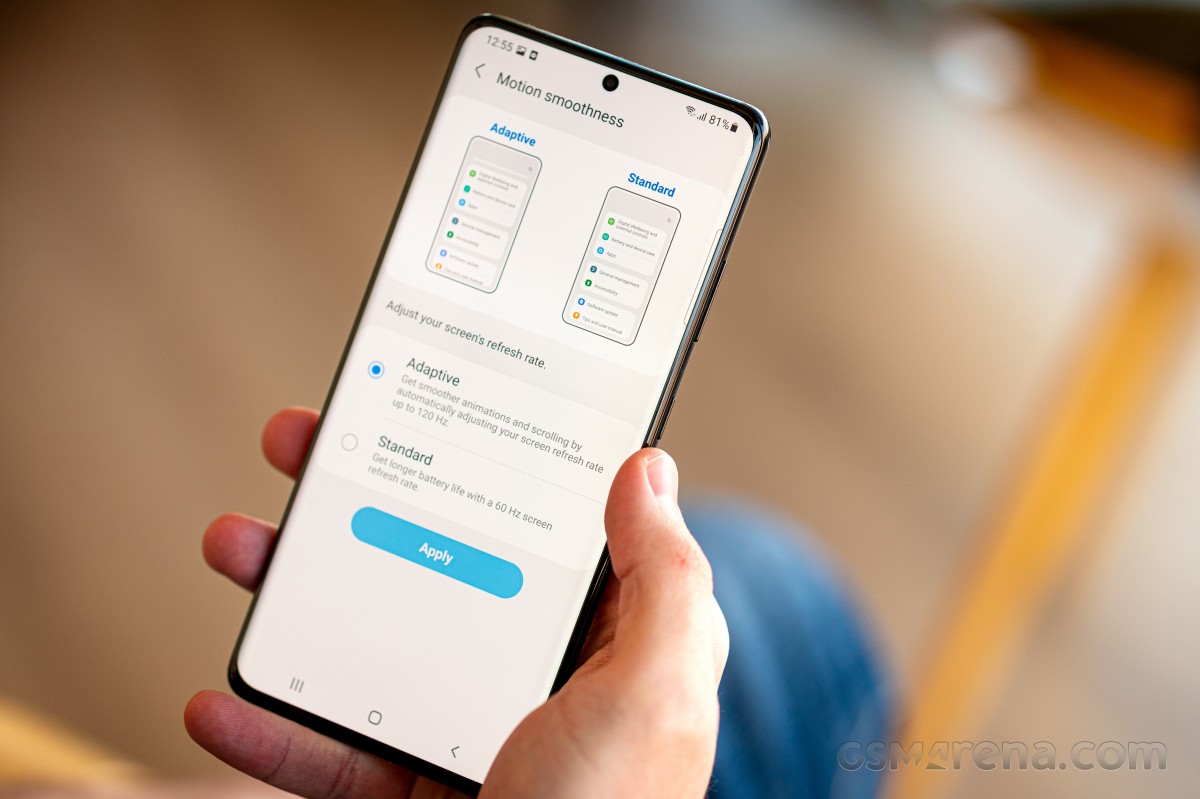 There are exceptions, though, with most of them being video apps. In YouTube, for example, the phone remains at 120Hz when you're playing back HDR videos but drops to 60Hz for 30/60fps non-HDR videos or 48Hz for 24fps videos.
In Netflix and Amazon Prime Video, the S21 Ultra will behave similarly - 120Hz for high-res HDR content, 60Hz for 30/60fps SDR content, and 48Hz for 24fps SDR content. You also get 120Hz in the UI when you touch the screen, otherwise 60Hz.
The Galaxy S21 Ultra also unlocks its high refresh rate for many popular titles that are known to go above 60fps. Among the ones we tried and got 120Hz were Shadowgun Legend, Mortal Kombat, Dead Trigger 2, 1945 Air Force, Alto's Odyssey, and Pac Man.
And just like on the S21, the S21 Ultra has a 60Hz cap on the camera viewfinder. There is also a 60Hz cap in Google Maps - perhaps Google's own doing there. The Always On Display also works at 60Hz - we expected this to be the place where we'd see the promised 10Hz. Well, it is not. This could be a potential burn-in-related setting, though, which mandates refreshing those pixels every now and then.
Battery life
The Galaxy S21 Ultra is powered by a 5,000mAh battery - the same as the S20 Ultra's. Its screen is a bit more demanding as it supports HRR over the native resolution. But the S21 Ultra also features a newer and more efficient hardware, so we hoped to get a somewhat similar numbers as S20 Ultra's (87h rating, 24h calls, 10h web, 13h video).
Well, the Galaxy S21 Ultra managed to surprise us big time! The total endurance rating of the new Ultra is 114 hours, while the standalone test results read as follows: 35+ hours on call, 15 hours on web browsing, and 18 hours on video playback. We also measured an outstanding standby performance on the default phone state with S-Pen on, AOD off.
We carried out these tests on the native 1440p resolution and the Adaptive refresh rate mode, while constantly monitoring the current refresh rate thanks to Android 11's built-in tool. Our web browsing script refreshes pages every 10s, and every refresh triggered a spike in the refresh rate to 120Hz, which then dropped back down to 60Hz 1-2s later. We reckon that's a behavior fairly representative of real-world use - you swipe on the screen, refresh rate shoots to 120Hz, you then read for a bit, it goes down. As for the video playback, the phone maintained a 48Hz refresh rate throughout the test - since it does actually do that when playing back 24fps content, we think that this, too, is a good representation of real-life usage.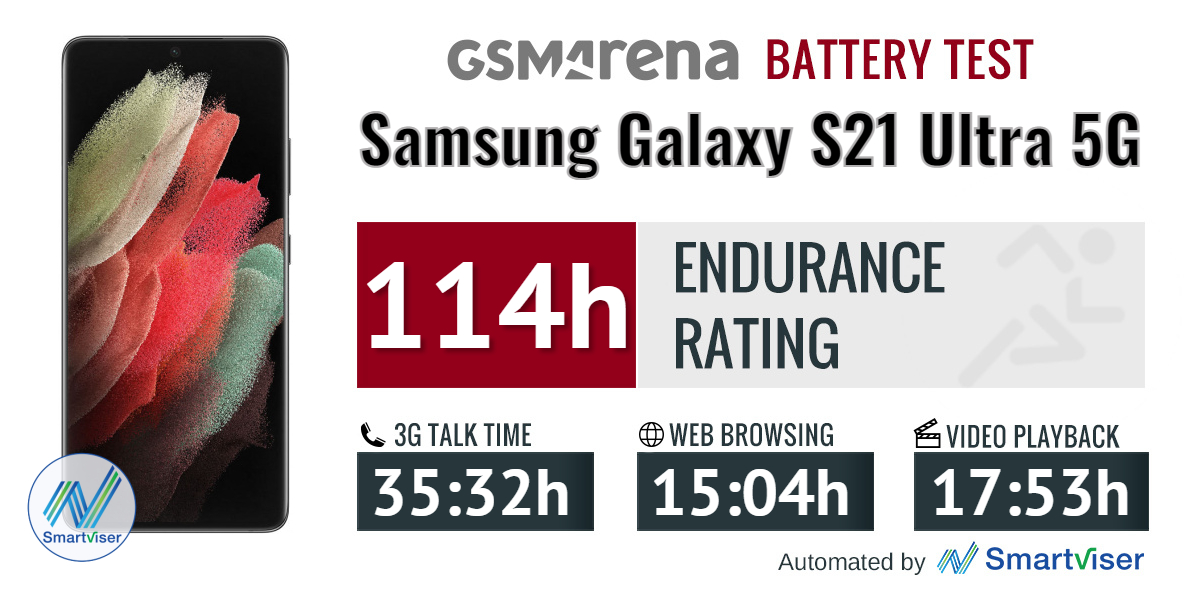 Our battery tests were automated thanks to SmartViser, using its viSerDevice app. The endurance rating above denotes how long a single battery charge will last you if you use the Samsung Galaxy S21 Ultra 5G for an hour each of telephony, web browsing, and video playback daily. We've established this usage pattern so that our battery results are comparable across devices in the most common day-to-day tasks. The battery testing procedure is described in detail in case you're interested in the nitty-gritty. You can check out our complete battery test table, where you can see how all of the smartphones we've tested will compare under your own typical use.
Charging speed
The Galaxy S21 Ultra may be the cream of the crop, but it still won't offer you a charger - you need to buy one if you don't have a USB-C charger at home. The supplied USB-C-to-C cable assumes you're going to have a USB-PD adapter or one of the later QuickCharge 4 cross-standards units. If you have an older charger, let's hope you also have a USB-A-to-C cable as well.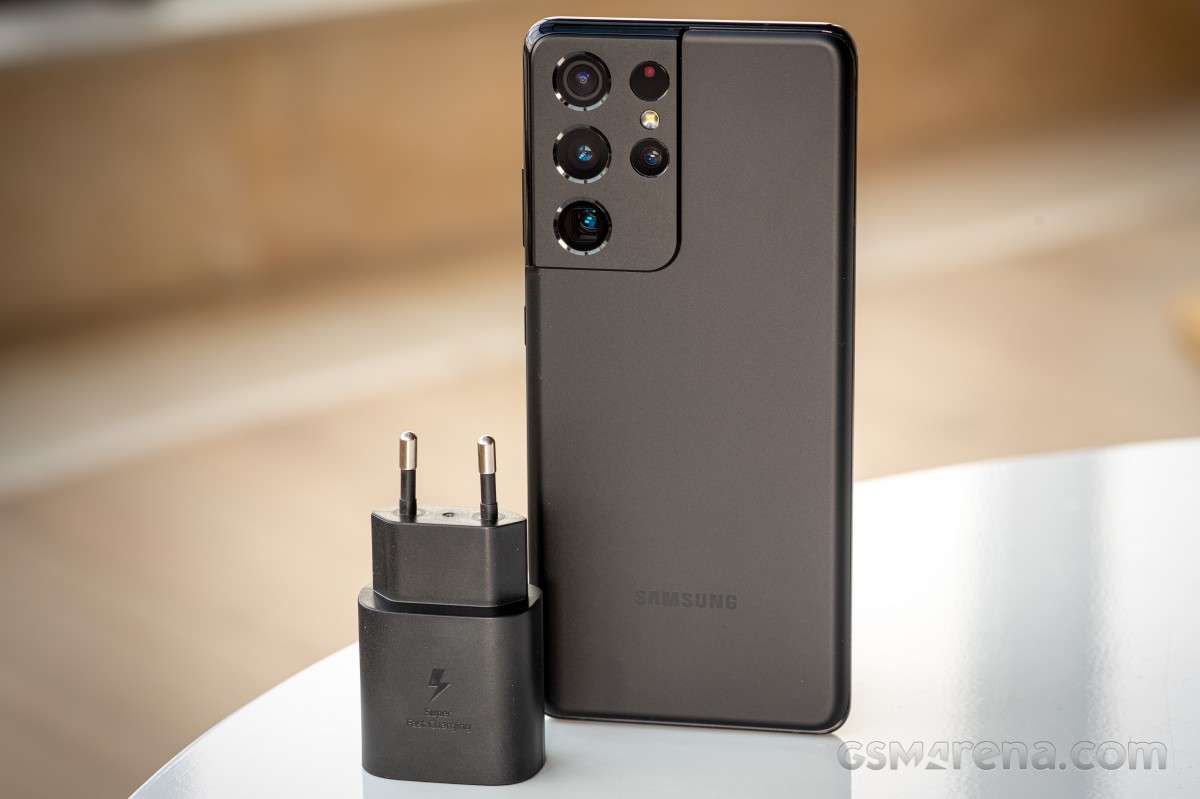 The good news is that Samsung is throwing a free charger on many of its pre-order campaigns. Carriers across the world are doing the same thing (they also did that with Apple's iPhone 12 series). We suspect this free charger promotion will be a one-time thing aimed at getting you a charger that'll last, and it won't happen next year.
Samsung also announced a reduced price for its (cable-less) 25W adapter (TA800N model) - it now costs $19.99 in US, €19,90 across the EU, and £17 in the UK.
The Galaxy S21 Ultra supports USB Power Delivery with PPS on top for up to 25W of power. The 45W charging capability from the older flagship generation is not supported.
So, if you are using the said 25W Samsung adapter, then a 30-minute charge from flat will replenish 54% of the battery. One hour gets you to 95%, while a full charge requires 1:11 minutes. Not bad for a 5,000mAh battery, not bad at all.
30min charging test (from 0%)
Xiaomi Mi 10 Ultra
100%
Oppo Find X2 Pro
95%
OnePlus 8T
94%
Samsung Galaxy S20 Ultra
64%
OnePlus 8 Pro
63%
Apple iPhone 12 Pro Max
55%
Samsung Galaxy S21 Ultra 5G
54%
Google Pixel 5
41%
Samsung Galaxy S21 5G
40%
Samsung Galaxy S20 FE (15W bundled)
37%
Time to full charge (from 0%)
Xiaomi Mi 10 Ultra
0:27h
OnePlus 8T
0:36h
Oppo Find X2 Pro
0:36h
Samsung Galaxy S20 Ultra
0:58h
Samsung Galaxy S21 Ultra 5G
1:11h
Samsung Galaxy S21 5G
1:25h
Apple iPhone 12 Pro Max
1:32h
Samsung Galaxy S20 FE (15W bundled)
1:35h
Google Pixel 5
1:54h
The Galaxy S21 Ultra supports wireless charging, too, at 10W+ (as per offic specs) with compatible pads, of which Samsung sells a bunch. The phone itself will also charge other devices wirelessly off its back at up to 4.5 watts - Wireless PowerShare Samsung calls it. You get to pick a cutoff point below which the phone will refuse to PowerShare (30% to 90% in 5% increments).
Also, in settings, you get a toggle to enable/disable Fast charging, the Qualcomm QuickCharge 2.0 compliant Adaptive Fast Charging of old. That's the standard that Samsung had been using for ages before it adopted Super Fast charging - the current PD based solution, for which you get a toggle too (this one is on by default). A third toggle lets you disable Fast wireless charging in case, for example, you have a pad with active cooling or blinking LEDs next to your head at night.
Speakers - loudness and quality
The Galaxy S21 Ultra features stereo speakers in a familiar hybrid configuration - one is standalone at the bottom, while the earpiece also serves as a second speaker. With the phone in portrait orientation, the top speaker handles the left channel, while in landscape, they'll make sure they're playing the correct channel orientation.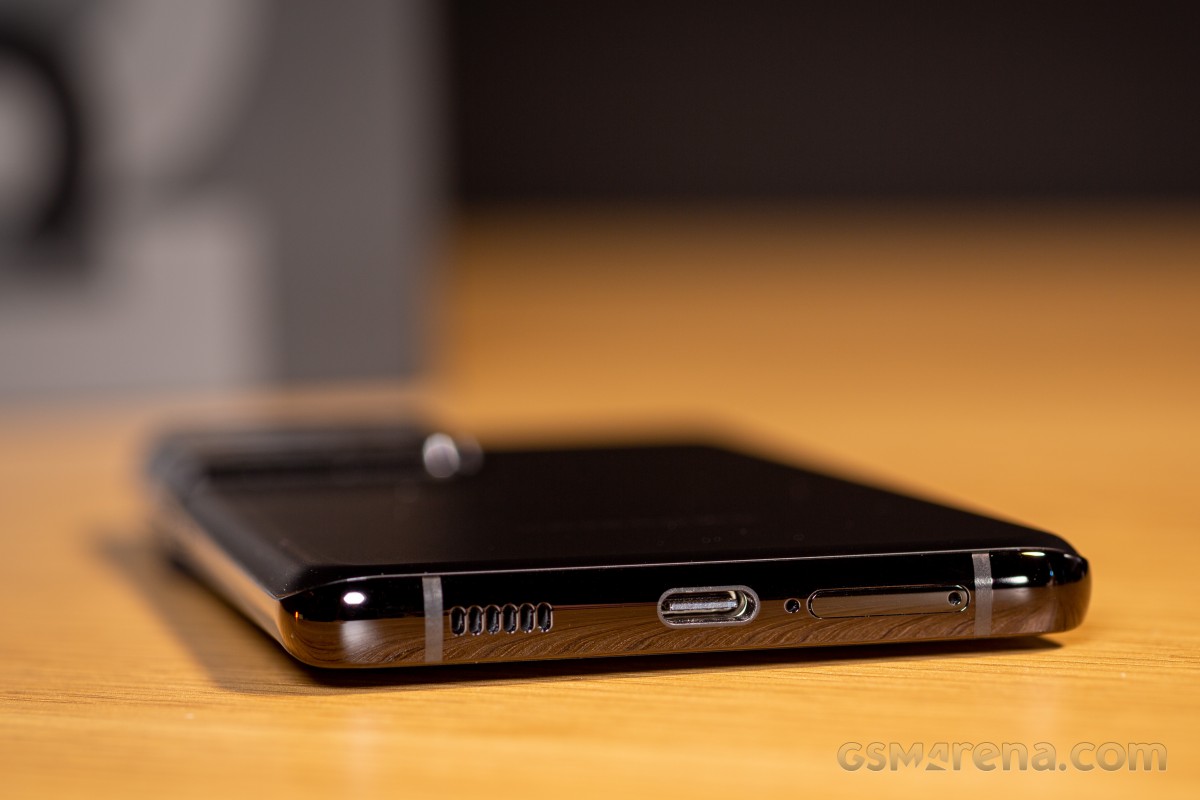 The Galaxy S21 Ultra stereo speaker setup scored a Very Good loudness on our speaker test. The sound quality is good, too. The vocals are well presented, the high notes play nice, though there isn't much bass. You can compare it with the iPhone 12 Pro Max - it is one of the few phones with good bass, though this comes at the expense of the higher frequency range there.
Use the Playback controls to listen to the phone sample recordings (best use headphones). We measure the average loudness of the speakers in LUFS. A lower absolute value means a louder sound. A look at the frequency response chart will tell you how far off the ideal "0db" flat line is the reproduction of the bass, treble, and mid frequencies. You can add more phones to compare how they differ. The scores and ratings are not comparable with our older loudspeaker test. Learn more about how we test here.