Lower resolution, same size and refresh rate
The Galaxy S21+ keeps the previous generation's display size, and it remains at 6.7 inches in diagonal. This year, a downgrade shared by the two non-Ultras is the switch to a lower resolution - the 20:9 panel resolution measures 1080x2400px, resulting in a 395ppi pixel density.
We were inclined to give Samsung a pass on the smaller S21, and even the pixel density on the S21+ is okay. However, settling for 1080p on a high-end Galaxy, a big one at that, isn't okay. Particularly when virtually all of the competition's screens outresolve it - the iPhone 12 Pro is just 6.1 inches yet has more pixels already at 1170x2532px (460ppi), the Mate 40 Pro stretches 6.76" across with 1344x2772px (456ppi), and the OnePlus 8 Pro stands at 6.78" and 1440x3168px (513ppi).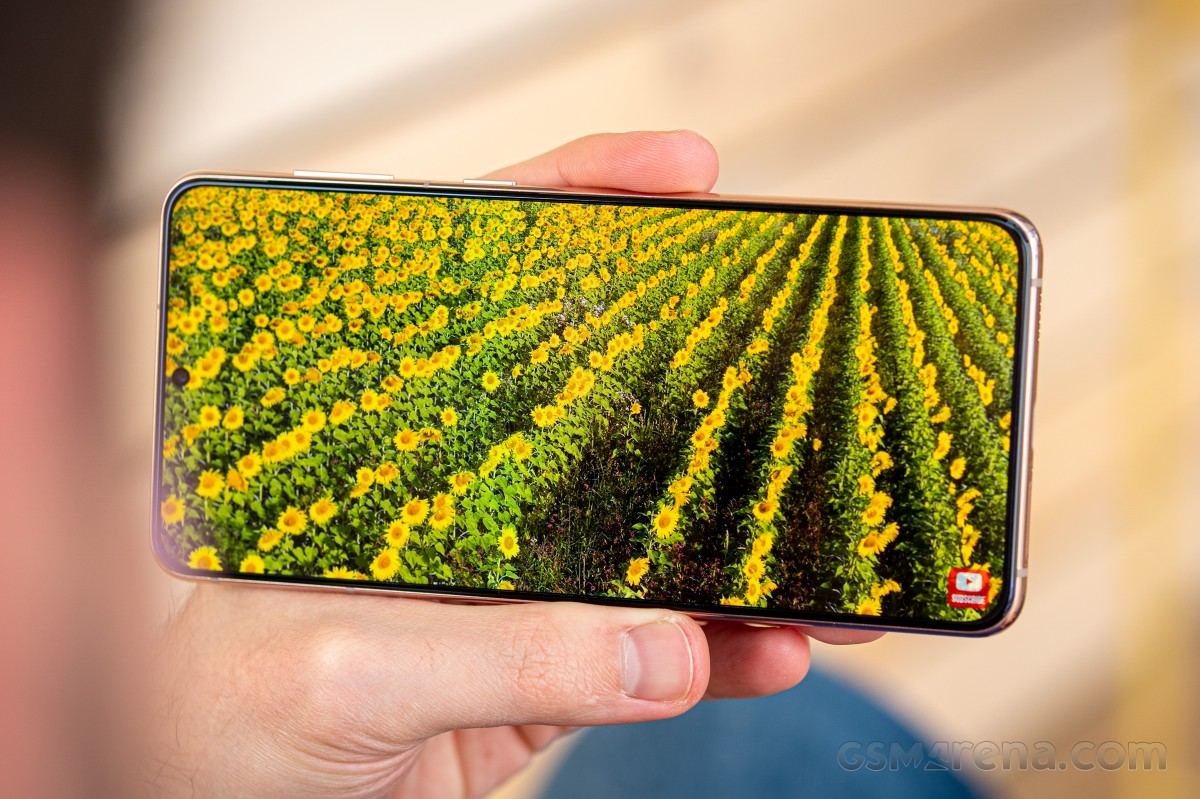 One upgrade compared to the S20 bunch is the Adaptive refresh rate mode, which replaces the High motion smoothness mode of yesteryear. Introduced on the Note20 Ultra, Adaptive mode adjusts the refresh rate depending on activity and content.
The S21+ maxes out a buttery-smooth 120Hz, same as the S20 phones, but should be able to go down to as low as 48Hz when it deems it appropriate, thus aiming to strike a balance between battery life and user experience. The S20 has no such smarts. Still, the S21 Ultra can drop the RR all the way to 10Hz, or at least, so the specs say.
The display is branded Dynamic AMOLED 2X, where the 2X indicates the high refresh rate capability, while the Dynamic part alludes to its HDR10+ support. Samsung says the S21+ has a peak brightness of 1300nits, a bit below the promised 1500 number on the S21 Ultra and the Note20 Ultra, though a good 100nits above the S20+. Those figures are for HDR video watching purposes and can't be attained when lighting up the entire display area - that's just how OLEDs work.
For our standard 75% test swatch coverage, we got 459nits out of the Galaxy S21+ when adjusting the slider manually with the phone indoors in daylight - as good as the Ultra and a couple dozen nits above the S21. Placed under intense direct light, the S21+ boosts its brightness substantially - to 883nits, once again around 40nits more than the smaller phone, but not quite as high as the Ultra's 1023 number. The boost is there in bright ambient conditions whether the Adaptive brightness toggle is on or off. Oh, and with around 90nits higher than the S20+ in these conditions, the real-world results correspond nicely with the difference in the advertised numbers, too.
Display test
100% brightness
Black,cd/m2
White,cd/m2
Contrast ratio
Samsung Galaxy S21+ 5G
0
459
∞
Samsung Galaxy S21+ 5G (Max Auto)
0
883
∞
Samsung Galaxy S21 Ultra 5G
0
458
∞
Samsung Galaxy S21 Ultra 5G (Max Auto)
0
1023
∞
Samsung Galaxy S21 5G
0
416
∞
Samsung Galaxy S21 5G (Max Auto)
0
856
∞
Samsung Galaxy S20+
0
379
∞
Samsung Galaxy S20+ (Max Auto)
0
797
∞
Apple iPhone 12 Pro
0
802
∞
OnePlus 8 Pro
0
538
∞
OnePlus 8 Pro (Max Auto)
0
888
∞
Huawei Mate 40 Pro
0
485
∞
Huawei Mate 40 Pro (Max Auto)
0
807
∞
Xiaomi Mi 10 Pro
0
510
∞
Xiaomi Mi 10 Pro (Max Auto)
0
858
∞
Sony Xperia 1 II
0
333
∞
Sony Xperia 1 II (Max Auto)
0
538
∞
Asus Zenfone 7 Pro
0
529
∞
Asus Zenfone 7 Pro (Max Auto)
0
741
∞
Once again, color rendition is handled in what's now the default way Samsung does it - Vivid mode out of the box, Natural also an option in the menu.
Vivid is a wide color gamut mode with pleasingly rich colors. It returned an average dE2000 of 3.9 for our set of DCI-P3 test swatches, but the white point was shifted around 6 units off the mark, exhibiting a slight, if visible, blue tinge. There's a five-position cool-to-warm slider in Vivid mode, and bumping it one notch to the right rid us of the blue shift and got us a white point within just 2 units off target, while the average deviation dropped to 3.3. At the warmest setting, things go overboard, and whites get yellowish, same as we observed on the S21.
Natural mode is your go-to option for accurate rendition of sRGB content. In this mode, we recorded an average dE2000 of just 1.3 on the S21+, but the white point remained at around 3 units off the mark. Natural mode goes with a notably muted overall color presence, mind you.
A new addition this year is the Eye Comfort Shield. It's yet another implementation of a blue light filter which will adjust the display color according to the time of day (the default Adaptive setting), or let you pick a pre-set interval to engage and do so at an intensity of your choosing.
HDR playback is, naturally, supported in popular streaming apps like Netflix, Amazon Prime Video and YouTube.
Circling back to the refresh rate handling, the S21+ exhibited the same behavior as the S21 proper and slightly different from the Ultra's in one activity or another. The one thing that's entirely consistent between the three is that they will remain at 60Hz for whatever you're doing when you have the Standard setting enabled - that's to be expected.
Opt for the Adaptive mode, however, and you'd be looking at 120Hz whenever you're touching the phone with a drop to 60Hz a couple of seconds after your last interaction. That's the general behavior for most things like the UI, browsers (Chrome, Firefox, Samsung's own) and social media apps (Facebook, Instagram, TikTok), and it is the most natural of approaches.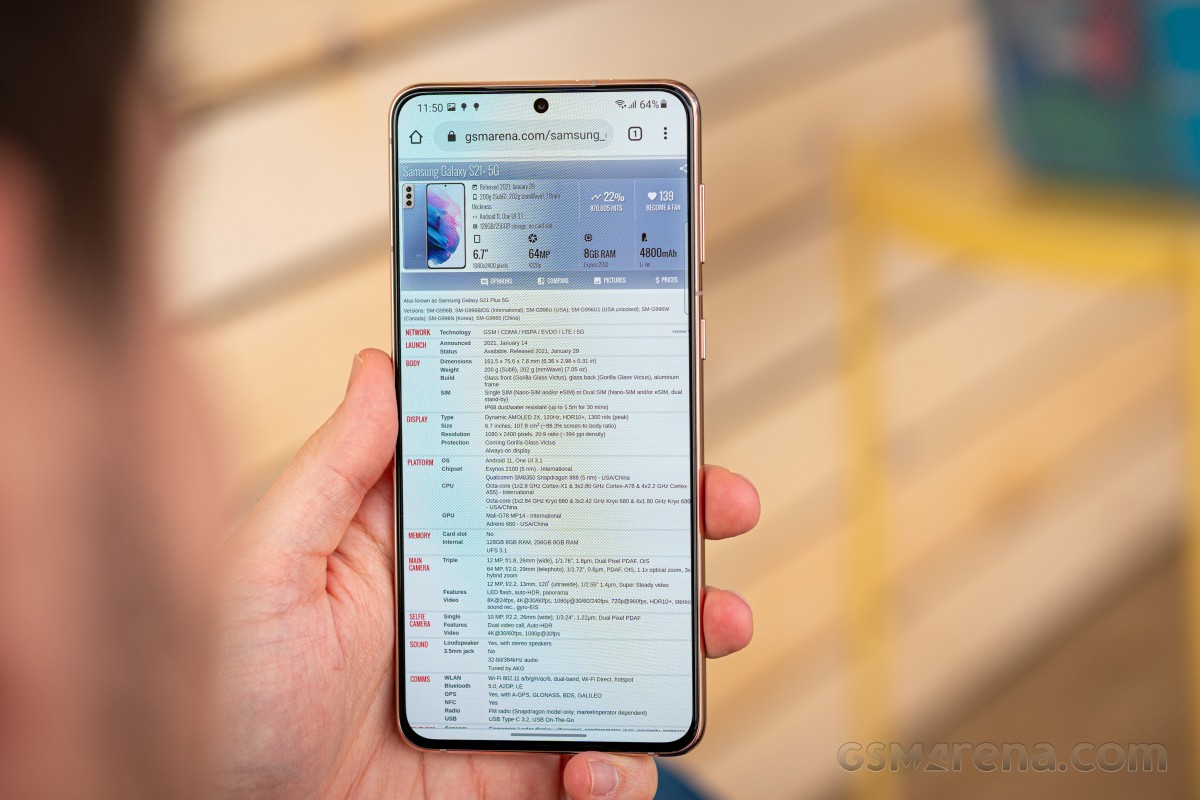 There are various exceptions, a lot of them related to video playing apps. In YouTube, for example, the phone remains at 120Hz when you're playing back 24fps videos, but it does drop to 60Hz for 30fps and 60fps content. It's not tied to HDR either, as it was on the Ultra, which would stick to 120Hz for HDR videos regardless of their frame rate.
In Netflix and Amazon Prime Video, the S21+ will behave similarly - 120Hz for 24fps content, 60Hz for 30fps content, 120Hz in the UI when you touch anything, otherwise 60Hz. Again, that's in contrast to the Ultra, which will base the refresh rate more on the HDR/SDR split, opting for 120Hz for HDR content regardless of frame rate.
As far as games go, the S21 will unlock its high refresh rate for many popular titles that are known to go above 60fps. Among the ones we tried and got 120Hz were Shadowgun Legends, Mortal Kombat, Dead Trigger 2, 1945 Air Force, Alto's Odyssey, and Pac-Man.
Samsung Galaxy S21+ battery life
The Galaxy S21+ is powered by a 4,800mAh battery - a small but appreciated bump compared to last year's model's 4,500mAh. The S21+ is then a lot closer to the S21 Ultra in sheer capacity (5,000mAh) than it is to its more compact sibling, the S21 (4,000mAh).
While there are many differences between the Plus and the Ultra (display resolution and technology, refresh rate handling), the Galaxy S21+ actually posted the same Endurance rating as the S21 Ultra - an excellent 114h result.
They didn't arrive there in the exact same way, however. The S21+ actually outlasted the Ultra in video playback by precisely one hour and was good for 19h of video watching in airplane mode.
The Plus couldn't quite match the Ultra's Wi-Fi web browsing result, though, at nearly 14 hours, it's excellent nonetheless. There's an almost proportional increase in the longevity in these tests coming from the S21 - in fact, the S21+'s numbers are even better than what the battery capacity difference would suggest, and that's before taking into account the bigger display on the Plus.
The voice call result is longer on Plus too, though by just 12-ish percent, though at 31h vs. 27:30h neither is likely to die on you from just talking on it. Then again, the Ultra is even better at 35:32h, but will you want to hold all of its 227-gram heft next to your ear all that long?
We carried out these tests in the Adaptive refresh rate mode, while constantly monitoring the current refresh rate thanks to Android 11's built-in tool. Our web browsing script refreshes pages every 10s, and every refresh triggered a spike in the refresh rate to 120Hz, which then dropped back down to 60Hz 1-2s later. We reckon that's a behavior fairly representative of real-world use - you swipe on the screen, refresh rate shoots to 120Hz, you then read for a bit, it goes down. As for the video playback, the phone maintained a 120Hz refresh rate throughout the test - since it does actually do that when playing back 24fps content, we think that this, too, is a good representation of real-life usage.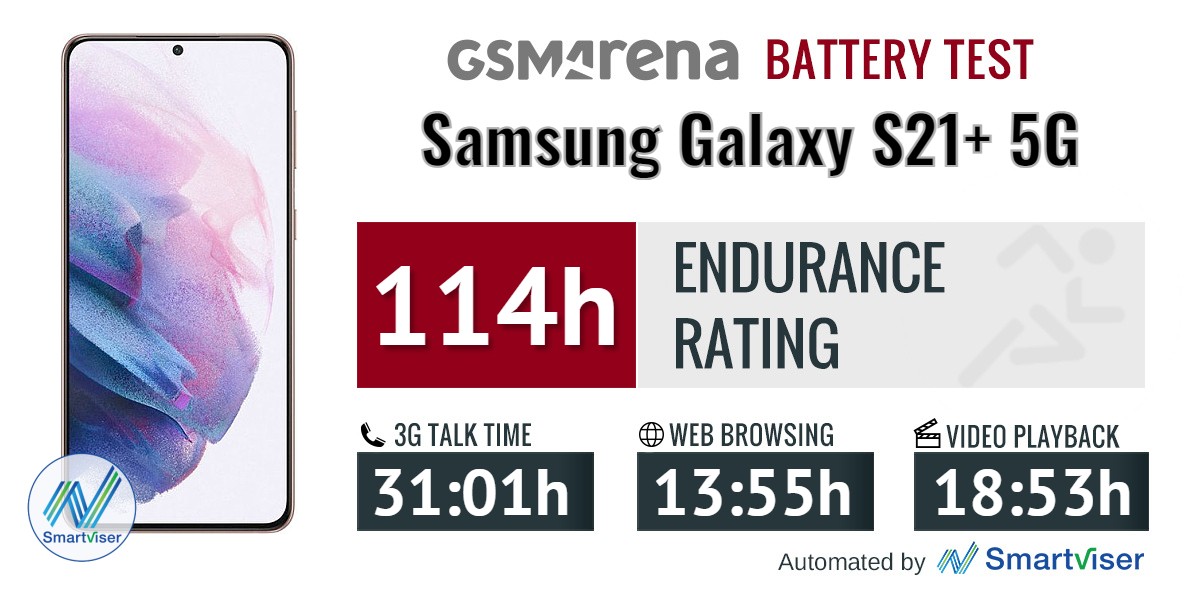 Our battery tests were automated thanks to SmartViser, using its viSer App. The endurance rating above denotes how long a single battery charge will last you if you use the Samsung Galaxy S21+ 5G for an hour each of telephony, web browsing, and video playback daily. We've established this usage pattern so that our battery results are comparable across devices in the most common day-to-day tasks. The battery testing procedure is described in detail in case you're interested in the nitty-gritty. You can check out our complete battery test table, where you can see how all of the smartphones we've tested will compare under your own typical use.
For a bit more external context, the OnePlus 8 Pro lasts about as long in voice calls (28:35h) and video playback (18:03h) as the Galaxy S21+, but is a good 3 hours short in web browsing (10:58h). The iPhone 12 Pro, meanwhile, stands at 18:03h of voice calls (so, a full 13 hours short), 12:15h in web browsing (a less dramatic but still notable 1:40h difference), and 14:06h in vide (about 5 hours less than the Galaxy).
Charging speed
On to the subject of charging. Starting this generation, Samsung flagships ship with no chargers inside the box, so you need to supply your own. The bundled USB-C cable assumes you will have a USB PowerDelivery adapter or one of the later QuickCharge 4 cross-standards units. If you have an older source of juice, you'd better have a USB-A-to-C cable to go with it as well.
The S21+ supports USB PowerDelivery with PPS on top for up to 25W of power. If you don't have anything PD-capable lying around but want to get the maximum charging speed, the most obvious solution is to pick up one of Samsung's 25W adapters, the ones that have been shipping with their higher-end phones since the Note10 generation.
These can now be had at a reduced price in official channels, just as Samsung promised on stage at the S21 launch event - you can have one for $20/€20/£17. At these prices, you'd be getting a bare charger, no cable in the box, but you do have the cable in your S21+ box already. Still, going to a third-party retailer can save you some extra money and maybe even net you an additional cable.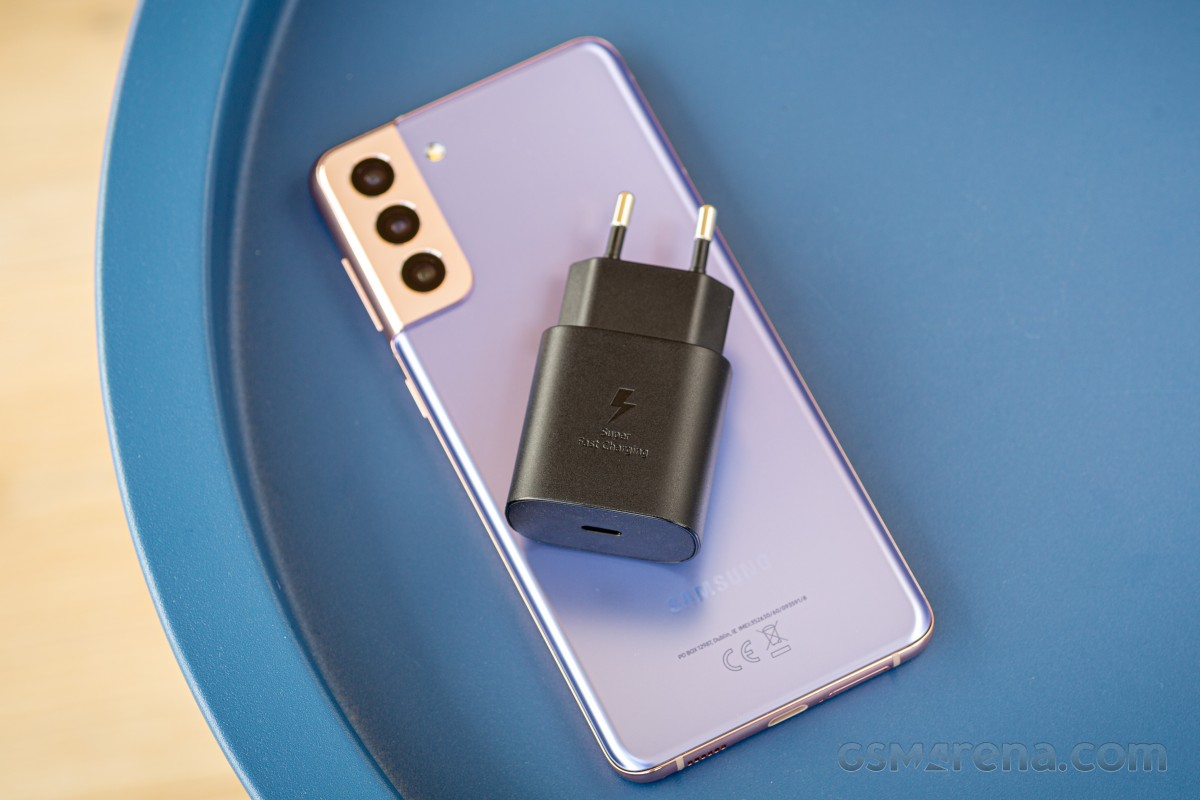 Anyway, we clocked how the S21+ behaved with this 25W unit to see the best-case scenario. A thirty-minute charge from flat will take you to 55%, with a complete top-up requiring 1:11h. These are virtually identical numbers to what we got on the S21 and S21 Ultra, showing that charging times are at least as much if not more a function of targets and power management than they are dependent on battery capacity and maximum charger output.
You can expect the same speed with any good PD adapter rated for 25W or more, with PPS support. If you're going to be reusing whatever you dig up from the bottom of the drawer, you'll need to wait a bit longer.
30min charging test (from 0%)
Xiaomi Mi 10 Pro 5G
77%
OnePlus 8 Pro
63%
Galaxy S20+
62%
Apple iPhone 12 Pro
59%
Galaxy Note20 Ultra (01/2021 retest)
57%
Galaxy S21 5G
55%
Galaxy S21 Ultra 5G
54%
Galaxy S21+ 5G
54%
Sony Xperia 1 II
46%
Apple iPhone 12/Pro (MagSafe)
30%
Time to full charge (from 0%)
Xiaomi Mi 10 Pro 5G
0:50h
Galaxy S20+
0:57h
Galaxy S21 Ultra 5G
1:11h
Galaxy S21+ 5G
1:12h
Galaxy S21 5G
1:13h
Galaxy Note20 Ultra (01/2021 retest)
1:13h
Apple iPhone 12 Pro
1:30h
Sony Xperia 1 II
1:51h
Apple iPhone 12/Pro (MagSafe)
3:00h
The Galaxy S21+ supports wireless charging too, at 10W+ (as per its specsheet) with compatible pads, of which Samsung sells a bunch. The phone itself will also charge other devices wirelessly off its back at up to 4.5 watts - Wireless PowerShare Samsung calls it. You get to pick a cutoff point below which the phone will refuse to PowerShare (30% to 90% in 5% increments).
Also, in settings, you get a toggle to enable/disable Fast charging, the Qualcomm QuickCharge 2.0 compliant Adaptive Fast Charging of old (off by default). That's the standard that Samsung had been using for ages before it adopted Super fast charging - the current PD based solution, for which you get a toggle too (this one is on by default). A third toggle lets you disable Fast wireless charging if you have a pad with active cooling or blinking LEDs next to your head at night.
Speaker test
The Galaxy S21+ is equipped with a stereo speaker setup typical of Samsung's upper echelon models of recent years. The earpiece serves double duty as the second speaker, joining the main one located on the bottom. With the phone in portrait orientation, the top speaker handles the left channel, while in landscape, they'll make sure they're observing the correct channel orientation.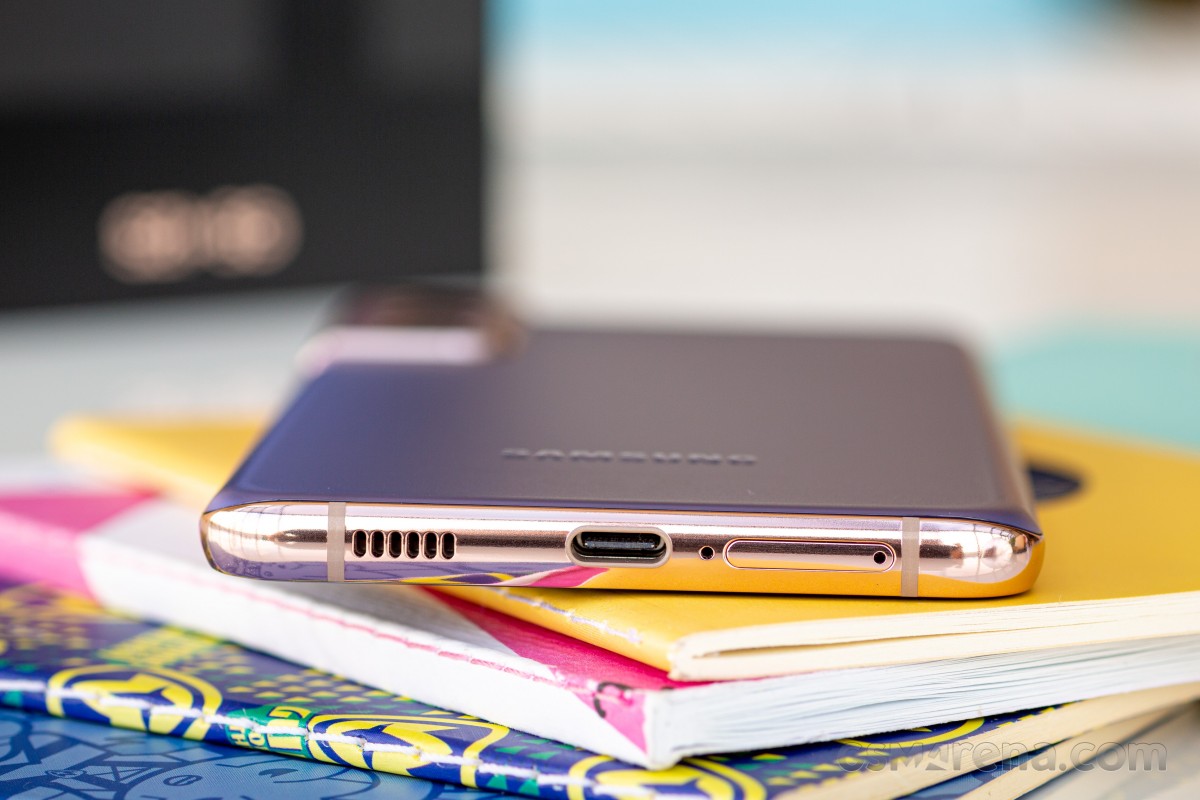 The Plus turned out ever so slightly louder than the vanilla S21, enough to barely squeeze into the 'Very good' category for loudness in our test. As for sound quality, the S21s sound very much alike and deliver pleasant vocals and crisp treble response, though the bass notes are barely there. That's in contrast to the iPhones' approach, which is boomier on the low end but dull in the highs.
Use the Playback controls to listen to the phone sample recordings (best use headphones). We measure the average loudness of the speakers in LUFS. A lower absolute value means a louder sound. A look at the frequency response chart will tell you how far off the ideal "0db" flat line is the reproduction of the bass, treble, and mid frequencies. You can add more phones to compare how they differ. The scores and ratings are not comparable with our older loudspeaker test. Learn more about how we test here.