Android 12 with One UI 4
The Samsung Galaxy S21 FE is the first Galaxy we meet running on the Android 12 with One UI 4 out of the box. You can barely see anything of Android as One UI completely overhauls its interface.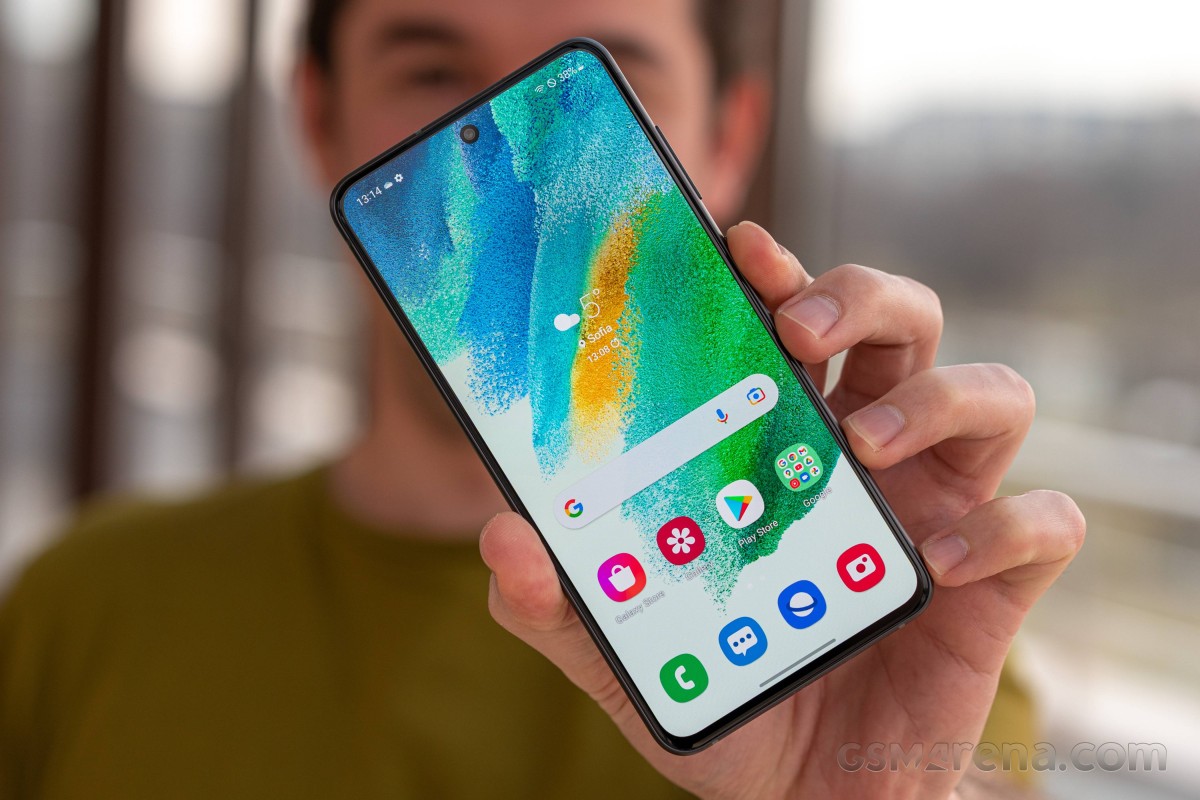 Samsung has brought Android 12's Color Palettes to One UI 4 - these change the accent colors of the entire UI - icons, menus, buttons and even the backgrounds. Like Windows and its Accent colors.
There are also new widgets with rich customization options and new emojis and GIFs available on the keyboard. Improved privacy is also part of OneUI 4 with a new privacy dashboard with various controls and new ways for monitoring permissions.
The lock screen looks the same as before with two monochrome shortcuts - dialer and camera.
The under-display fingerprint reader will likely be the primary method of unlocking for most, but you can still use face unlock either instead or alongside it. It can be more convenient in certain situations, but it generally is less secure since it's just using the selfie camera, meaning tricking it isn't too hard.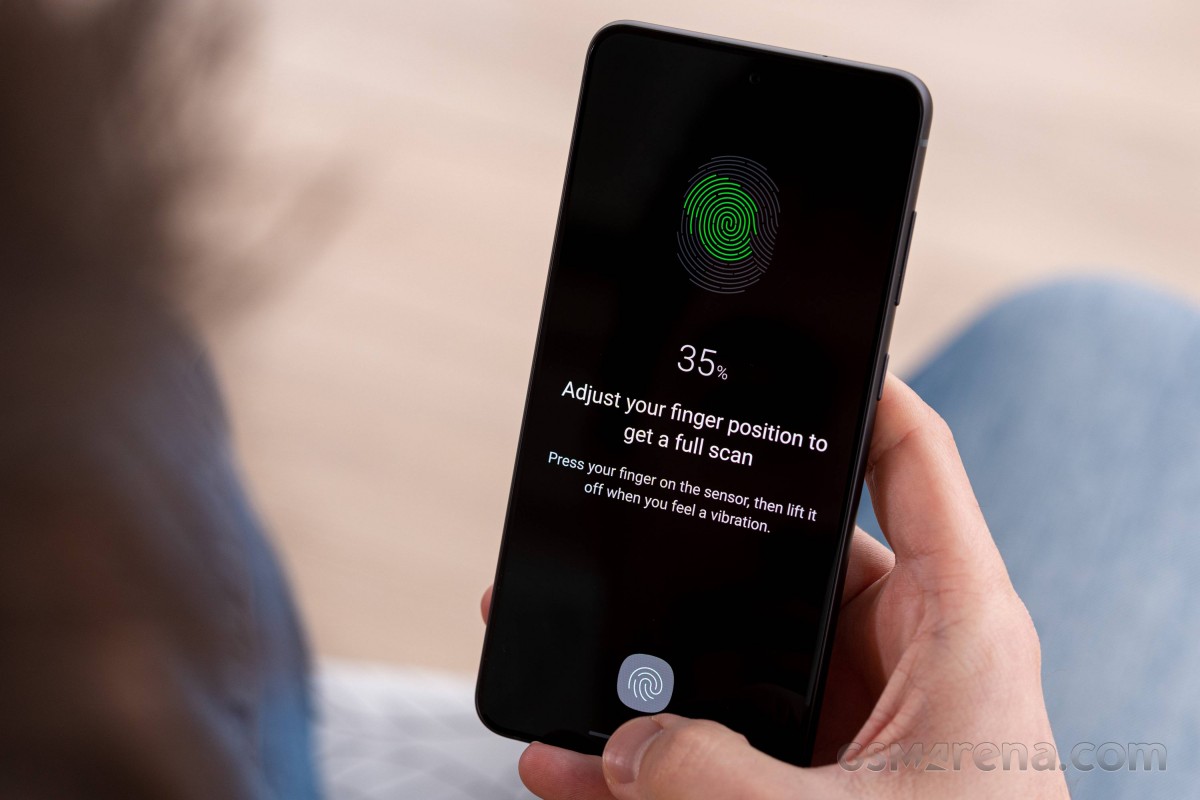 Always-on display is available - it's the simplified version from One UI 3. You can choose between a few clock styles or opt for an Image Clock. Music info is also supported. The feature can be always-off, always-on, scheduled, shown only when new notifications are available, or you can opt for tap to show for 10s.
The OneUI 4 looks even cleaner than v.3.x, but its logic remains the same - there are homescreen, widgets, notification center, task switcher and an app drawer.
One of the new One UI 4 features is Color Palettes. This is the implementation of the vanilla Android 12's Wallpaper colors. There are usually four Color Palette suggestions in addition to the default One UI Blue/Black one. Those are picked automatically by the software, depending on your current wallpaper. The color you choose will become the main one in the newly created theme (think Windows' "accent color").
These accent colors are applied on the dialer, the quick toggles, among other tiny bits of the UI. You can choose to apply them on the app icons as well.
The dialer allows you to pick between two layouts for the in-call screen. You can also set up a background image or video for that screen, though it's going to be all the same for all of your calls - you can't have a different one on a per-person basis.
The Settings menu contains a new Privacy Dashboard. Here you can easily see which apps are using some of the most important (for privacy) permissions. You can control the camera and control access across apps, opt for clipboard access alerts (useful if you copy passwords, social security numbers, IBANs, among others), and there is, of course, a full-blown permission manager of you like to dig deeper.
You get a whole bunch of options for using your Galaxy with other devices to enable various use cases. DeX is the proprietary feature that lets you use the phone as the 'computer' and add a monitor and a keyboard for added productivity - it works wirelessly or over HDMI.
Alternatively, the Link to Windows feature provides you with an interface to your phone from your computer so you can exchange images, manage notifications on your PC or even make calls from it.
Another option along those lines but with more limited potential is Continue apps on other devices. This requires you to be logged in to your Samsung account on both devices, hook them up to the same Wi-Fi network with Bluetooth enabled and use Samsung Internet browser or Samsung Notes. You'll then be able to copy and paste text and images across and open the same tabs in the browser.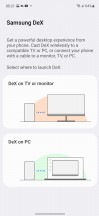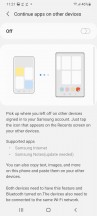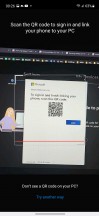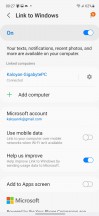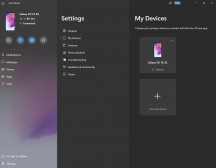 DeX • Continue apps on other devices • Link to Windows
Other staples of proprietary Samsung software include the Edge panels - the panes that show up when you swipe in from the side and provide tools and shortcuts to apps and contacts. Game launcher, the hub for all your games, which also provides options for limiting distraction when gaming is here to stay as well.
Otherwise, the software package is similar to other Samsung phones, with an in-house Gallery app, the Game Launcher app, and a proprietary file manager. Samsung's Internet web browser is also available on the Galaxy S21 Ultra.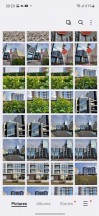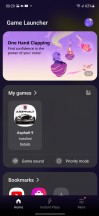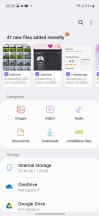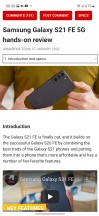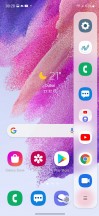 Gallery • Game Launcher • File manager • Internet • Edge panel
The Gallery is where you'd find the new Object Eraser feature. Once you enter photo edit mode, you can opt for object eraser from More options. This is a fancier way of saying smart delete - you either paint over an object or tap on it for automatic selection. And then you hope for the best - if the object's surroundings aren't too complex, you will get a good outcome, otherwise - it's a mixed-bag.
Performance and benchmarks
The international/global variant of the Galaxy S21 FE 5G employs the popular Snapdragon 888 5G chipset by Qualcomm, while the limited/local model found so far in Australia only, runs on the Exynos 2100 SoC by Samsung.
We have the SD888 model for review, and that's what the performance inspection is based on, obviously. We have already reviewed the original Galaxy S21 5G with Exynos 2100, so you can refer to its test results for comparison here.
So, the Snapdragon 888 may not be Qualcomm's current best as it was recently dethroned by the new Snapdragon 8 Gen1 chip. Still, it's one of the best on the market and will surely make everyone happy.
For the unfamiliar, this chip is based on a 5nm manufacturing process. It contains an octa-core processor with a familiar core configuration 1+3+4 - 1x2.84 GHz Kryo 680 Prime (Cortex-X1 derivative) & 3x2.42 GHz Kryo 680 Gold (Cortex-A78 derivative) & 4x1.8 GHz Kryo 680 Silver (Cortex-A55 derivative). The GPU is Adreno 660.
The Galaxy S21 FE 5G is available in three versions, all with LPDDR5 RAM and UFS 3.1 storage - 6GB/128GB, 8GB/128GB and 8GB/256GB. There is no microSD expansion here, the S20 FE was probably the last one with this feature.
And now, it's benchmark time!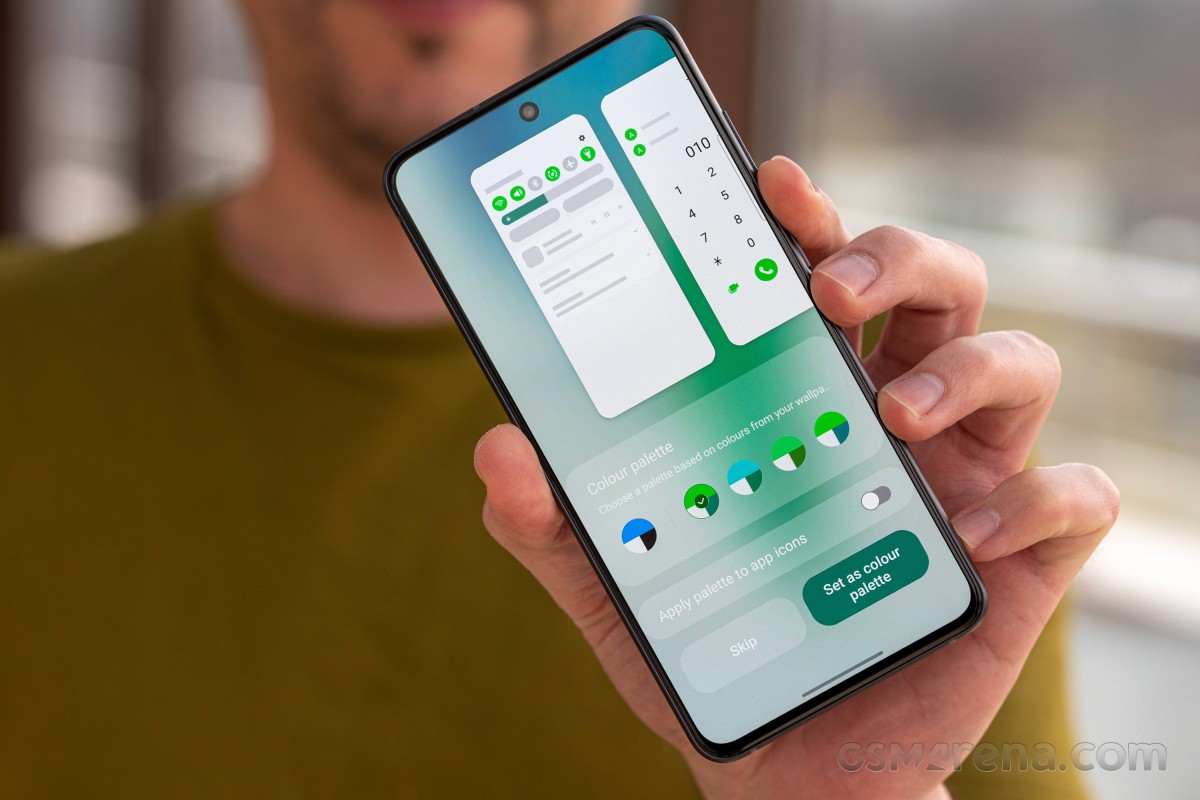 The Snapdragon 888 5G CPU is still one of the best on the market, even if, for some reason, it scores a bit lower than the rest of the SD888-featuring peers.
GeekBench 5 (multi-core)
Higher is better
OnePlus 9 Pro
3636
Asus Zenfone 8
3604
Realme GT 5G
3555
Samsung Galaxy S21 Ultra 5G
3518
Xiaomi Mi 11
3489
Samsung Galaxy S20 FE
3296
Galaxy S21 Ultra 5G (Snapdragon)
3244
Samsung Galaxy S21 5G
3238
Samsung Galaxy S21 FE 5G
3049
Xiaomi 11T
2834
OnePlus Nord 2
2792
Galaxy S20 (60Hz, 1440p)
2750
GeekBench 5 (single-core)
Higher is better
Realme GT 5G
1139
OnePlus 9 Pro
1126
Asus Zenfone 8
1118
Galaxy S21 Ultra 5G (Snapdragon)
1109
Samsung Galaxy S21 Ultra 5G
1107
Samsung Galaxy S21 FE 5G
1096
Xiaomi Mi 11
1085
Samsung Galaxy S21 5G
1032
Galaxy S20 (60Hz, 1440p)
931
Samsung Galaxy S20 FE
906
OnePlus Nord 2
814
Xiaomi 11T
742
Same goes for the GPU - it's an outstanding performer under the 120Hz 1080p screen of the Samsung Galaxy S21 FE.
GFX Manhattan ES 3.1 (onscreen)
Higher is better
Asus Zenfone 8
105
Samsung Galaxy S21 FE 5G
98
Samsung Galaxy S21 5G
95
Galaxy S20 (120Hz, 1080p)
79
Samsung Galaxy S20 FE
77
Xiaomi 11T
72
Realme GT 5G
60
Samsung Galaxy S21 Ultra 5G
58
Galaxy S21 Ultra 5G (Snapdragon)
58
Xiaomi Mi 11
57
OnePlus Nord 2
57
OnePlus 9 Pro
57
Galaxy S20 (60Hz, 1440p)
45
GFX Car Chase ES 3.1 (onscreen)
Higher is better
Asus Zenfone 8
61
Samsung Galaxy S21 FE 5G
56
Realme GT 5G
55
Samsung Galaxy S21 5G
54
Samsung Galaxy S20 FE
45
Galaxy S20 (120Hz, 1080p)
44
Xiaomi 11T
40
OnePlus Nord 2
38
OnePlus 9 Pro
36
Xiaomi Mi 11
33
Samsung Galaxy S21 Ultra 5G
33
Galaxy S21 Ultra 5G (Snapdragon)
33
Galaxy S20 (60Hz, 1440p)
26
3DMark Wild Life Vulkan 1.1 (offscreen 1440p)
Higher is better
Realme GT 5G
5872
OnePlus 9 Pro
5701
Samsung Galaxy S21 Ultra 5G
5691
Xiaomi Mi 11
5673
Asus Zenfone 8
5666
Galaxy S21 Ultra 5G (Snapdragon)
5547
Samsung Galaxy S21 FE 5G
5432
Samsung Galaxy S21 5G
5412
OnePlus Nord 2
4224
Xiaomi 11T
4172
AnTuTu 9 also puts the Galaxy S21 FE among the top-scoring phones right now.
AnTuTu 9
Higher is better
Realme GT 5G
810433
Asus Zenfone 8
799738
Samsung Galaxy S21 FE 5G
719696
Samsung Galaxy S21 5G
650829
OnePlus Nord 2
598022
Xiaomi 11T
590837
We already know the Snapdragon 888 is not that easy to cool and phones with passive cooling usually throttle at some point to avoid overheating. The Galaxy S21 FE is one of those phones. It scored 68% CPU stability and 63% GPU stability on the respective CPU and GPU stress tests. That is in line with most of the SD888 phones.
The phone doesn't get incredibly hot, so there is nothing to worry about. And this throttling appeared only when we ran stress tests and prolonged benchmarking. We saw no such thing in games, or at least it was not enough for us to notice it.
The Galaxy S21 FE is adequately equipped to be a flagship even by 2022 standards. Sure, there is a new chip on the horizon, but for a Fan Edition that's based on the Galaxy S21 series, the S21 FE has exactly what it is supposed to - the favorite hardware among the S21 trio - the SD888. And it can handle everything for the next couple of years, hassle-free, with zero stutters.