Introduction
Galaxy vs. Xperia - seldom have these two been so evenly matched as they are now with the S10+ and the 1. OLED displays, myriads of cameras, premium glass/metal build - it's almost as if they've been conceived in the mind of the same person. Or, you know, market logic has brought both companies to the same general formula. Anyway, we're here to find out who did it better - the Galaxy S10+ or the Xperia 1.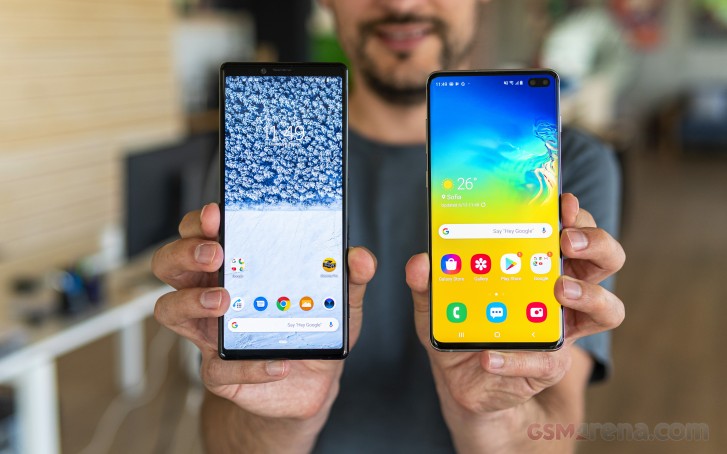 The two models are each of the companies' first phone with a triple rear cam. It's been a more gradual process for Samsung with the S9 adding a telephoto, joined for the next generation by an ultra wide module. Meanwhile, Sony had a one-off fling with black and white on the XZ2 Premium only to follow it up with the single-cam XZ3, but now has the full ultra wide/regular/tele roster just like the Galaxy.
Galaxies have been the poster child for OLED displays with rivals emphasizing the technology's earlier disadvantages, before eventually embracing it and pretty much every high-end phone now uses an OLED panel. So does the Xperia 1 even if it's only the second Sony handset to do so. Ah, but it's an extraordinary OLED this - there's no other 21:9 4K smartphone display on the market.
The table below will give you the broad strokes on the hardware, but for the detailed spec comparison head over here.
Samsung Galaxy S10+
Sony Xperia 1
Build
Aluminum frame, GG6 front, GG5 back
Aluminum frame, GG6 front, GG6 back
Dimensions
157.6x74.1x7.8mm, 175g
167x72x8.2mm, 178g
Display
6.4" OLED, 19:9, 3040:1440px, 522ppi
6.5" OLED, 21:9, 3840:1644px, 643ppi
Rear camera
Main: 12MP, f/1.5-2.4, 26mm
Telephoto: 12MP, f/2.4, 52mm
Wide: 16MP, f/2.2, 12mm
Main: 12MP, f/1.6, 26mm
Telephoto: 12MP, f/2.4, 52mm
Wide: 12MP, f/2.4, 16mm
Front camera
Main: 10MP, f/1.9, 26mm
Depth: 8MP, f/2.2
8MP, f/2.0
Chipset
Snapdragon 855/Exynos 9820
Snapdragon 855
RAM; Storage
8GB/12GB;128GB/5125GB/1TB, microSD
6GB; 64GB/128GB, microSD
OS
Android 9.0 Pie
Android 9.0 Pie
Battery
4100mAh, 15W charging (QC2.0)
3330mAh, 18W charging (USB PD)
Fingerprint reader
Under-display, ultrasonic
Side-mounted, capacitive
Misc
Stereo speakers, 3.5mm jack
Stereo speakers
The Xperia is then taller because of the unusual aspect, but the Galaxy is wider. The S10+ packs more battery, while the 1 has a slightly faster charger. Samsung's going with an under-display fingerprint reader, as opposed to the Sony's side-mounted one.
Both can be had with the same Snapdragon chip, but in the markets where the Xperia will be available, it's mostly the Exynos variety it'll have to fight against. Samsung can offer you up to twice as much RAM, but even in standard trim it has 2GB more than the Xperia's 6 gigs. Both phones boot Android Pie - heavily customized on the S10, near stock on the Xperia.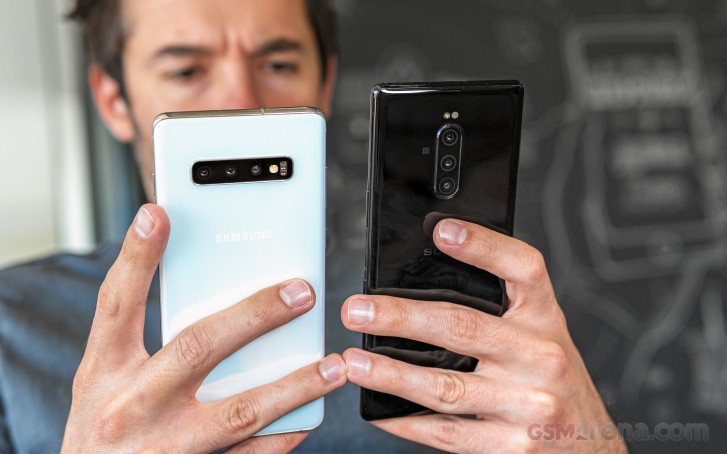 The point we're trying to make is that these two are more similar than different, yet they have small bits that could tip the scales one way or the other, and those are what we're after. Let's get going.
S
I am Sony boy from my childhood days. It tried and tried with many other brands...but experience with Sony is marvelous... Sony phone is like its something connected with your mind and body. Once you with Sony, You never compromise with quality and ...
yeah
M
Both have great processing power. I believe the S10+ has slightly better processing but the difference in CPU isn't anything to ride home about. But the S10+ clearly has more RAM so for multiple apps and productivity I'd say go with Samsung...