Happy meal
Samsung Galaxy Pocket S5300 review: Happy meal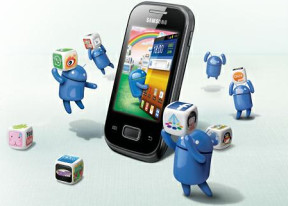 Standard gallery and basic video player
The Samsung Galaxy Pocket comes with the stock Android gallery. It only shows a downsized version of your images, which isn't that insufferable in the case of the Galaxy Pocket and its 2 MP photos.
Images and videos from different folders in the built-in and microSD storage appear in different sub-galleries. Online Picasa albums are supported too.
You can organize the photos by date via a button in the top right corner, which switches between grid and timeline view. In grid view, there's a date slider, which can also be used to display photos chronologically.
The gallery supports finger scrolling or panning so you can skip images without having to return to the default view. Just swipe to the left or right when viewing a photo in fullscreen mode and the previous/next image will appear.
Thanks to multi-touch support pinch zooming is also enabled on the Galaxy Pocket but you can also double tap or use the +/- buttons. Zooming and panning are pretty smooth but there's no kinetic scrolling.
The video player found on the Galaxy Pocket is quite simple. You can use the Gallery or the My Files app to browse videos. The player only manages 3GP and MP4 videos at low resolution. Even 480p videos seemed to be a problem. There's no subtitle support either but at this price range we really can't complain.
Music player
The Samsung Galaxy Pocket uses the TouchWiz music player. It sorts the music in a tabbed interface and applies various filters such as current playlist, all tracks, playlists and albums, artists and composers. You are free to remove some of the filters to make the interface easier to navigate.
The Now playing screen is dominated by the album art. You can swipe sideways to skip tracks from the current playlist back and forth.
Equalizer support lets you enhance the music experience on the Galaxy Pocket. There's also a 5.1 channel virtualization option available when you plug in a pair of headphones.
Stereo FM radio with RDS
The Samsung Galaxy Pocket is equipped with an FM radio with RDS. The interface is simple - there's a tuning dial and you can save as many as 4 stations as favorites. You can also play the radio through the loudspeaker, but the headset still needs to be plugged in to act as an antenna.
Impressive audio quality
The Samsung Galaxy Pocket did quite well in our audio quality test, which came as a nice surprise to us. One would think that when you are pursuing the lowest possible price tag audio output would be one of the first areas where compromises are made, but the Pocket is not cutting corners in this department.
An active external amplifier lets the Galaxy Pocket show its full potential and achieve impressive scores all over the field. It's not the loudest smartphone you can find, but everything else about its output is as good as it should be.
The degradation when headphones come into play consists of a moderate hike in stereo crosstalk, and some extra intermodulation distortion. None of those readings is bad enough to be alarming though, and the other scores are once again great so the overall performance is way better than the price tag suggests.
And here come the full results so you can see for yourselves:
| | | | | | | |
| --- | --- | --- | --- | --- | --- | --- |
| Test | Frequency response | Noise level | Dynamic range | THD | IMD + Noise | Stereo crosstalk |
| Samsung Galaxy Pocket | +0.03, -0.16 | -87.6 | 87.4 | 0.0022 | 0.026 | -85.6 |
| Samsung Galaxy Pocket (headphones attached) | +0.26, -0.07 | -87.3 | 87.2 | 0.0060 | 0.200 | -61.3 |
| Samsung Galaxy Y Duos S6102 | +0.03, -0.25 | -86.1 | 85.7 | 0.0050 | 0.036 | -82.1 |
| Samsung Galaxy Y Duos S6102 (headphones attached) | +0.18, -0.05 | -84.7 | 85.0 | 0.013 | 0.201 | -47.2 |
| Samsung Galaxy Y S5360 | +0.03, -0.32 | -87.0 | 86.8 | 0.0042 | 0.064 | -76.9 |
| Samsung Galaxy Y S5360 (headphones attached) | +0.21, -0.08 | -85.3 | 85.8 | 0.013 | 0.238 | -44.2 |
| Samsung Galaxy Fit S5670 | +0.08, -0.28 | -82.7 | 84.8 | 0.021 | 0.083 | -81.9 |
| Samsung Galaxy Fit S5670 (headphones attached) | +0.21, -0.16 | -82.0 | 84.7 | 0.022 | 0.374 | -46.5 |
| Samsung S5830 Galaxy Ace | +0.11, -0.47 | -84.9 | 86.8 | 0.025 | 0.084 | -82.1 |
| Samsung S5830 Galaxy Ace (headphones attached) | +0.82, -0.22 | -84.5 | 86.7 | 0.083 | 0.628 | -42.3 |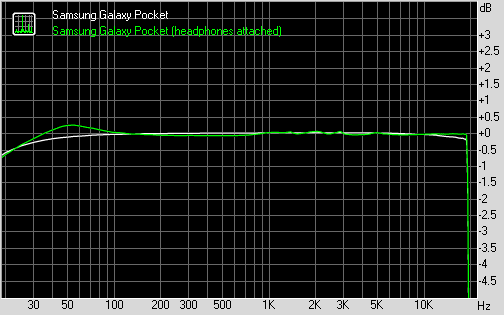 Samsung Galaxy Pocket frequency response
You can learn more about the whole testing process here.
Basic camera
The Samsung Galaxy Pocket uses a very basic 2 MP camera with fixed focus. It's good for 1600 x 1200 resolution stills and offers geotagging.
The camera app user interface is touch-friendly and has built-in features such as smile shot, preset scenes, geotagging, effects, on-screen gridline and panorama mode.
The Galaxy Pocket isn't a cameraphone by any means. The photos that came out offer very little detail, which gets poorer and poorer towards the edges. Colors look washed out and the automatic white balance isn't particularly good when lighting is not at its best - using some of the presets might be a better option.
Check out the samples below to get an idea of the quality.




Samsung Galaxy Pocket camera samples
QVGA video is barely worth mentioning
Video recording must've been way down on the list of priorities when the Galaxy Pocket was designed. The Pocket offers QVGA at 15 fps, which is practically unusable, except for the occasional MMS.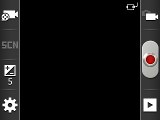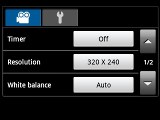 Camcorder app
And here goes an untouched QVGA@15fps sample for direct download.