The other side
Samsung Galaxy Note Edge review: The other side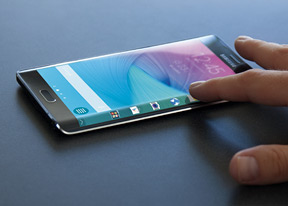 Display
The OLED technology lends itself to flexible screens, which is a lucky coincidence - or part of the master plan - for Samsung since Super AMOLED is its calling card. The screen spans 2,560 x 1,600 pixels, in other words QHD with a 160px strip on the side, the Edge screen.
As we already said, it's a single screen unit, not two joined together even if the software treats them like that sometimes. A curved Gorilla Glass 3 is placed on top for protection. It has chamfered edges, which makes its sides pleasantly smooth, but the metal rim of the phablet is a sharp edge you feel with your fingers as you swipe from the side.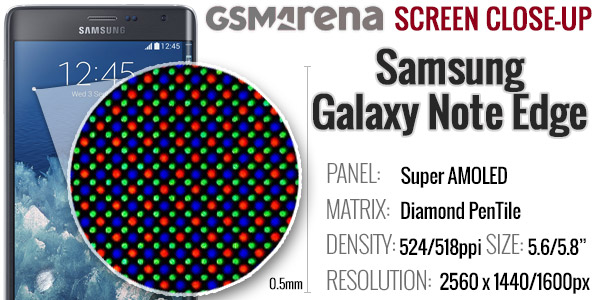 The exact pixel density number is a bit unclear, but the Galaxy Note Edge screen is as sharp as the Note 4 screen in practice. The Super AMOLED is arranged in a diamond-pattern PenTile matrix, but at this pixel density it makes no difference.
The process of bending the screen did have an effect on some of its qualities, but it still has bright colors, stunning contrast and great viewing angles. The viewing angles are important in a unique way - normally you view the screen dead on, but the curved Edge screen covers a good 60° worth of viewing angles in a very small area, so any imperfections will be painfully visible.
That said, the Gorilla Glass does reflect light, which can make the curved section difficult to see in certain lighting conditions.
The screen isn't very bright, slightly darker than the already relatively dim Galaxy Note 4 screen. That's a common disadvantage of OLEDs, but we've seen much brighter ones and they compete with bright LCDs just alright.
Display test
50% brightness
100% brightness
Black, cd/m2
White, cd/m2
Contrast ratio
Black, cd/m2
White, cd/m2
Contrast ratio
Samsung Galaxy Note Edge
0
179
∞
0
351
∞
Samsung Galaxy Note 4
0
291
∞
0
399
∞
LG G3
0.14
109
763
0.72
570
789
Apple iPhone 6 Plus
0.17
208
1197
0.52
705
1361
Lenovo Vibe Z2 Pro
0.23
196
846
0.64
562
876
Samsung Galaxy S5
0
274
∞
0
529
∞
Samsung Galaxy Note 3
0
149
∞
0
379
∞
While the Edge screen presents some issues with reflectivity, the main section of the screen keeps them to a minimum and the Galaxy Note Edge has one of the most legible screens on the market.
Sunlight contrast ratio
Nokia 808 PureView
4.698
Samsung Galaxy Note 4
4.033
Samsung Galaxy Note 3
3.997
Apple iPhone 5
3.997
Apple iPhone 6
3.838
Samsung Galaxy Note Edge
3.799
Samsung Galaxy K zoom
3.675
Nokia Lumia 930
3.567
Apple iPhone 5s
3.565
Samsung Galaxy S5
3.549
Alcatel Idol X+
3.527
Apple iPhone 5c
3.512
Samsung Galaxy Alpha
3.509
Samsung Galaxy Note 3 Neo
3.487
Motorola RAZR MAXX
3.42
Samsung I9300 Galaxy S III
3.419
Nokia Lumia 925
3.402
Gionee Elife S5.5
3.386
Samsung I9505 Galaxy S4
3.352
Samsung Omnia W
3.301
Samsung Galaxy S5 mini
3.174
Samsung I9000 Galaxy S
3.155
Samsung Ativ S
3.129
Samsung I9190 Galaxy S4 mini
3.127
Samsung Galaxy S4 zoom
3.118
Nokia N9
3.069
Apple iPhone 6 Plus
3.023
Samsung Galaxy Note
2.97
Samsung Galaxy Premier
2.958
Sony Xperia Z1
2.95
HTC One S
2.901
Samsung I8730 Galaxy Express
2.861
BlackBerry Q10
2.856
Samsung I9100 Galaxy S II
2.832
Samsung Galaxy S II Plus
2.801
BlackBerry Z30
2.79
Sony Xperia ZR
2.672
Huawei Ascend P1
2.655
Sony Xperia Z3
2.618
Sony Xperia Z3 Compact
2.616
Sony Xperia T3
2.609
BlackBerry Passport
2.595
Nokia Lumia 900
2.562
Motorola Moto G 4G
2.546
HTC One Max
2.537
Nokia Lumia 720
2.512
HTC One
2.504
Motorola Moto G
2.477
Sony Xperia Z
2.462
Xiaomi Mi 4
2.424
Samsung Galaxy S III mini
2.422
Lenovo Vibe Z2 Pro
2.416
LG G Flex
2.407
HTC One (M8)
2.371
Motorola RAZR i
2.366
Meizu MX4
2.366
Sony Xperia ZL
2.352
Samsung Galaxy Note II
2.307
HTC One (M8) for Windows
2.291
Oppo Find 7a
2.279
Alcatel One Touch Hero
2.272
Apple iPhone 4S
2.269
HTC Desire 600 dual sim
2.262
Nokia Asha 311
2.25
LG Nexus 5
2.228
Nokia Lumia 820
2.193
HTC One (E8)
2.185
Nokia Lumia 920
2.17
HTC One X
2.158
Nokia N8
2.144
Nokia Lumia 620
2.142
Nokia 515
2.134
HTC Desire 500
2.129
Xiaomi Redmi Note
2.119
Sony Xperia acro S
2.119
Nokia Lumia 1020
2.103
Oppo Find 5
2.088
Sony Xperia SL
2.078
Nokia Lumia 630
2.056
BlackBerry Z10
2.051
Huawei Ascend Mate7
2.024
Samsung I9295 Galaxy S4 Active
2.022
Apple iPhone 4
2.016
HTC One mini
2.003
Xiaomi Mi 3
2.001
Huawei Ascend P7
1.992
LG G2
1.976
OnePlus One
1.961
Oppo R819
1.957
Sony Ericsson Xperia ray
1.955
Sony Xperia Z2
1.944
Sony Xperia E3
1.943
Nokia Lumia 1320
1.941
HTC One mini 2
1.94
Samsung Galaxy Camera
1.938
Sony Xperia J
1.932
Acer CloudMobile S500
1.931
LG Nexus 4
1.926
LG G Pro 2
1.922
Samsung Galaxy Mega 6.3
1.913
Nokia Asha 308
1.911
HTC Butterfly 2
1.905
Sony Xperia T
1.894
HTC Desire X
1.878
HTC Butterfly
1.873
HTC Windows Phone 8X
1.873
HTC Butterfly S
1.867
Huawei Ascend P6
1.865
Huawei Ascend Mate
1.845
LG G2 mini
1.838
LG G3
1.82
Nokia Lumia 1520
1.813
HTC Desire 616 dual sim
1.797
Sony Xperia V
1.792
HTC Desire 816
1.783
Sony Xperia Z1 Compact
1.772
HTC Desire 700 dual sim
1.769
Sony Xperia U
1.758
Meizu MX3
1.754
LG Optimus G
1.753
Sony Xperia T2 Ultra
1.74
Sony Xperia Z3 Tablet Compact
1.735
Sony Xperia SP
1.733
Oppo Find 7
1.691
LG Optimus 4X HD
1.691
HTC One V
1.685
BlackBerry Q5
1.682
LG Optimus Vu
1.68
Xiaomi Mi Pad 7.9
1.672
LG Optimus GJ
1.666
LG Optimus 3D Max
1.658
HTC Desire V
1.646
Samsung Galaxy Xcover 2
1.632
Samsung Galaxy Ace 3
1.622
Jolla Jolla
1.605
Sony Xperia Z Ultra
1.578
Sony Xperia go
1.577
Samsung Galaxy Ace 2 I8160
1.566
Samsung Galaxy Core
1.563
LG Optimus G Pro
1.552
Motorola Moto E
1.545
LG Optimus 3D
1.542
Nokia Asha 302
1.537
BlackBerry Curve 9320
1.488
Sony Xperia M
1.473
Oppo N1
1.47
Meizu MX 4-core
1.462
Nokia Lumia 610
1.432
Samsung Galaxy S Duos
1.4
Samsung Galaxy Grand Neo
1.393
Sony Xperia M2
1.393
Samsung Galaxy Grand 2
1.38
Sony Xperia E1
1.372
Nokia Lumia 625
1.371
Gigabyte GSmart G1355
1.361
Sony Xperia L
1.351
Samsung Galaxy Mega 5.8
1.35
Xiaomi Redmi 1S
1.35
HTC Desire 510
1.34
Sony Xperia M2 Aqua
1.331
Sony Xperia miro
1.324
Samsung I9082 Galaxy Grand
1.321
Samsung I8530 Galaxy Beam
1.315
HTC Desire C
1.3
Nokia X
1.291
Sony Xperia C
1.283
Nokia Asha 503
1.281
Nokia Asha 501
1.27
LG Optimus L7
1.269
Nokia Lumia 510
1.268
Samsung Galaxy Fame
1.245
LG Optimus L9
1.227
Meizu MX
1.221
Samsung Galaxy Young
1.22
Sony Xperia E
1.215
Nokia XL
1.204
Sony Xperia E dual
1.203
Asus Memo Pad 7 ME176C
1.198
Samsung Galaxy Pocket
1.18
Nokia Asha 305
1.178
Nokia Asha 306
1.175
Sony Xperia neo L
1.169
Sony Xperia tipo
1.166
Nokia Lumia 520
1.161
Samsung S6802 Galaxy Ace Duos
1.148
Samsung Galaxy mini 2
1.114
Colors are punchy as usual, which may not be to everyone's taste so Samsung has included the usual setting menu where you get a choice of several saturation/white balance presets.
S Pen
Like every Note, the Galaxy Note Edge features an S Pen. For this generation, Samsung redesigned the stylus a bit - it's now slimmer (to fit into the thinner phablets), but grooved for improved grip. The S Pen has a similar handling to previous editions, especially if you hold it at its wider side.
Changes under the hood include a new digitizer, which doubles the pressure sensitivity to 2048 levels. This makes handwriting feel more natural. The notes you jot down can be synced to Evernote to view on other devices.




The new S Pen is thinner but offers similar grip
The Galaxy Note Edge will unlock and activate the Air command menu when you pull out the S Pen, which really cuts down the time between grabbing the device and using it. The phablet will remind you if you walk away without putting the stylus back in, so you don't forget it on a table somewhere.
Connectivity
The Samsung Galaxy Note Edge is armed to the teeth in connectivity terms. The mandatory 2G/3G/4G LTE is present with Cat. 6 downlinks thanks to Qualcomm's latest Snapdragon 805 chipset. This gives you download speeds of up to 300Mbps, with 50Mbps worth of uploads. If you missed it in the hardware section, the phablet uses microSIM cards.
In terms of local connectivity, there's dual-band Wi-Fi a/b/g/n/ac, so you can make the best of your home's Internet connection. DLNA is supported in the multimedia apps for sharing content across compatible devices.
Speaking of sharing, the Galaxy Note Edge makes it easy to share the Wi-Fi hotspot info with nearby devices (detected with Bluetooth) using the Quick Connect feature. This saves you the trouble of typing in the Wi-Fi password.
Bluetooth has been bumped up to version 4.1. There aren't any easily noticeable changes since 4.0 but, among the more important ones, Low Energy mode is now supported for connecting to smart watches and some sport sensors. ANT+ is available for such sensors too, so the Galaxy Note Edge will happily talk to whatever sports sensor you have.
NFC is on board for quick pairing and sharing and there's an IR blaster for controlling electronics at home. Samsung's default app mostly handles your AV setup, but third party apps can be used for a wider range of devices.
The Samsung Galaxy Note Edge features a microUSB 2.0 port. It's slower at transferring data than the USB 3.0 port used in a few Samsung devices, but it has a standard size plug and it offers Quick Charge 2.0 and MHL 3.0. With the right adapter, you get 2160p@30fps output so you can watch videos you shot with the Edge in their full resolution. Up to 7.1 surround sound can be output, if the video player supports it (and the pre-installed one does not).
Finally, there's GPS, GLONASS and Beidou receivers. GPS alone is enough on its own but GLONASS provides extra precision, especially in dense urban settings. Beidou is currently available only over China and neighboring regions, but China is an important market for Samsung so it's a nice thing to have on board.
Battery life
The Samsung Galaxy Note Edge has a 3,000mAh Li-Ion battery (11.55Wh). That's about 7% smaller than the 3,220mAh (12.40Wh) battery of the Galaxy Note 4.
It supports Quick Charge 2.0, which promises to fill up half the battery in half an hour with a 2A current. Note that the speed depends on the starting charge - it works best on a nearly empty battery and slows down as the charge percentage climbs up. Which is fine, as this feature is intended for quick top ups on the go.
A bigger problem with the battery life seems to be the rest of the hardware and the software - it's not as finely tuned as that of the Galaxy Note 4, because the differences in battery life are quite major. Turning the screen on has a definite effect, but things like the bespoke video player made an even bigger difference - video playback time is nearly 7 hours shorter. For comparison, the web browser is not customized for the Galaxy Note Edge and takes a much smaller hit.
Update, November, 17: We reset the phone and reran the tests because the standby results were suspicious. This time around the Galaxy Note Edge used noticeably less power just sitting around, which improved its endurance rating - it's still behind the Galaxy Note 4, but the improvement is tangible.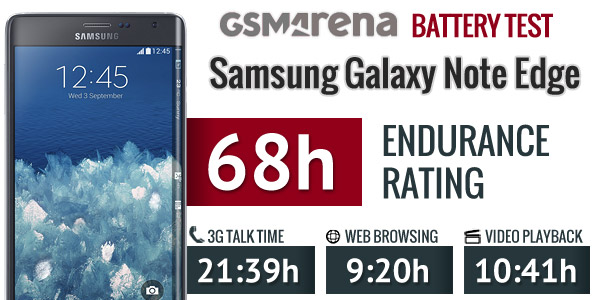 Our battery testing procedure is described in detail in case you want to learn more about it.