Display
The display of the Samsung Galaxy Note 3 is the highlight feature alongside the S Pen support. The diagonal has been bumped by 0.2" (from 5.5" to 5.7"), while the resolution has more than doubled (1080 x 1920, up from 720 x 1280) resulting in a pixel density of 386ppi, which effectively (for the first time in Note history) crosses the Retina 300ppi threshold.
The display technology is, again, Super AMOLED but Samsung has abandoned the RGB design from the Note II and gone for a diamond-shaped PenTile matrix instead. However, at these insane pixel density levels there's no visible pixilation whatsoever, even if you have 20/20 vision.
Here's how what those layouts look under a microscope. The diamond PenTile matrix uses OLED sub-pixels of different sizes as each color has different levels of power efficiency and longevity. Sub-pixel rendering is employed to properly distribute each of the primary colors.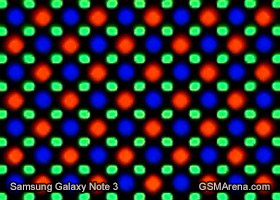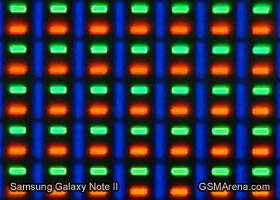 Samsung Galaxy Note 3 display matrix compared to the Note II
The different sub-pixel sizes and PenTile arrangements of a typical AMOLED throw its white balance off, but if you set the Galaxy Note 3 screen on Movie mode it sticks faithfully to sRGB - this includes not only white balance, but also color saturation. Professional Photo Mode uses the wider Adobe RGB instead.
The screen on the Samsung Galaxy Note 3 is among the best we've seen. It has practically infinite contrast, impeccable viewing angles and colors that pop out of the frame like nothing else. Samsung has even made sure the wallpapers available are playing the color saturation up, but in a good way.
Despite some excellent LCDs in top-tier smartphones these days, it's hard to match the Super AMOLED's amazing imagery and deep blacks. The innate lower reflectivity of AMOLED translates in superior sunlight legibility but more on that a little later.
First off, let's look at the numbers. The Samsung Galaxy Note 3, as we said, has a practically unlimited contrast ratio, as individual pixels don't get lit up - AMOLEDs light up only the parts of the screen that display a different color beside black.
The Super AMOLED panel on the Galaxy Note 3 isn't the brightest we've seen, it's actually inferior to the Galaxy S4. However in most cases you won't notice this in practice unless you put the Note 3 side by side with an HTC One or iPhone 5. Note that Auto Brightness mode can set the brightness higher than you can with the brightness slider.
Display test
50% brightness
100% brightness
Black, cd/m2
White, cd/m2
Contrast ratio
Black, cd/m2
White, cd/m2
Contrast ratio
Samsung Galaxy Note 3
0
149
∞
0
379
∞
Sony Xperia Z1
-
-
-
0.38
580
1513
Sony Xperia Z Ultra
-
-
-
0.47
467
1001
Sony Xperia Z
-
-
-
0.70
492
705
Huawei Ascend Mate
0.23
222
982
0.67
711
1053
Samsung Galaxy Mega 6.3
0.12
160
1364
0.32
440
1379
Samsung I9505 Galaxy S4
0
201
∞
0
404
∞
HTC Butterfly S
0.15
165
1117
0.43
451
1044
HTC One
0.13
205
1580
0.42
647
1541
Oppo Find 5
0.17
176
1123
0.51
565
1107
Apple iPhone 5
0.13
200
1490
0.48
640
1320
Under direct sunlight the Galaxy Note 3 is able to retain excellent contrast and stay legible even in the most brightly lit environments. The Galaxy Note 3 was able to match the Apple iPhone 5 and retain the third spot.
Sunlight contrast ratio
Nokia 808 PureView
4.698
Apple iPhone 5
3.997
Samsung Galaxy Note 3
3.997
Samsung I9300 Galaxy S III
3.419
Nokia Lumia 925
3.402
Samsung I9505 Galaxy S4
3.352
Samsung Omnia W
3.301
Samsung Galaxy S
3.155
Samsung Galaxy S4 mini
3.127
Samsung Galaxy S4 zoom
3.118
Nokia N9
3.069
Samsung Galaxy Note
2.970
Sony Xperia Z1
2.950
HTC One S
2.901
Samsung Galaxy S II
2.832
Samsung Galaxy S II Plus
2.801
Huawei Ascend P1
2.655
Sony Xperia ZR
2.672
Nokia Lumia 900
2.562
Nokia Lumia 720
2.512
HTC One
2.504
Sony Xperia Z
2.462
Samsung Galaxy S III mini
2.422
Motorola RAZR i
2.366
Samsung Galaxy Note II
2.307
Apple iPhone 4S
2.269
HTC Desire 600 dual sim
2.262
HTC One X
2.158
Nokia N8
2.144
Oppo Find 5
2.088
BlackBerry Z10
2.051
Apple iPhone 4
2.016
HTC One mini
2.003
LG G2
1.976
Sony Ericsson Xperia ray
1.955
Samsung Galaxy Camera
1.938
HTC Butterfly
1.873
Huawei Ascend P6
1.865
Sony Xperia V
1.792
Sony Xperia U
1.758
LG Optimus 4X HD
1.691
HTC One V
1.685
BlackBerry Q5
1.682
LG Optimus Vu
1.680
LG Optimus GJ
1.666
HTC Desire V
1.646
Sony Xperia Z Ultra
1.578
Samsung Galaxy Core
1.563
LG Optimus G Pro
1.552
LG Optimus 3D
1.542
Nokia Asha 302
1.537
Sony Xperia M
1.473
Nokia Lumia 610
1.432
Gigabyte GSmart G1355
1.361
HTC Desire C
1.300
Nokia Asha 501
1.270
LG Optimus L7
1.269
LG Optimus L9
1.227
Meizu MX
1.221
Sony Xperia E dual
1.203
Samsung Galaxy Pocket
1.180
Sony Xperia tipo
1.166
Samsung Galaxy mini 2
1.114
You can find all about our display testing routines here.
S Pen and S View cover
The S Pen can be placed back into its compartment either side up, the button facing up or down. The stylus is made of matte plastic, with a finely grooved top part that matches the sides of the Note 3.
The new S Pen is about the same size as the Note II's S Pen - only no longer round but flattened instead. The flat sides of the stylus actually allow an even more comfortable grip. The button is positioned on one of those flat sides and is easy to reach.
We also received one of the S View Covers for the Note 3 (note that these are not part of the retail package, but are sold separately). It's even more rectangular than the phablet and looks a lot like a leather-bound notebook except for the window. That window measures around 60 x 60mm (2.36"), much bigger than the window on Galaxy S4's S View Covers.
You can use this window with your fingers or with the S Pen - you can jot down a quick Action Memo, launch the camera and take a photo or control the music player all without opening the cover. When you do open the cover, the screen unlocks automatically (unless you have enabled one of the security lockscreen features).
The S View Cover replaces the cover on the back of the Galaxy Note 3 to minimize the impact on thickness and weight. The window on this cover (as well as the S4 covers) has a thin plastic film that protects the screen underneath, unlike LG's QuickView covers where the window is just a cutout that exposes a portion of the actual screen.
You can also go for the Wallet Flip Cover, which is the same but without the window. This cover earns its name because of a small slot where you can put a credit card or some cash.
Battery life
The modest increase in battery capacity was a bit of a question mark hanging over the Samsung Galaxy Note 3, considering the screen resolution has more than doubled. Yet, the 3,200mAh battery powering the whole thing (up from 3,100 in the Note II) did quite well. The power-efficient Super AMOLED screen was made to count in video-playback and helped the Note 3 achieve an excellent score despite the huge estate to light up. Talk time is great too, web browsing the only element where the Note 3 failed to show a meaningful improvement over its predecessor.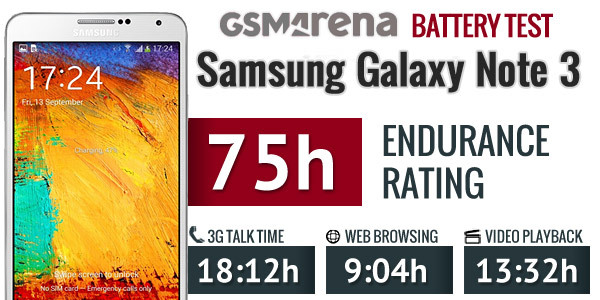 Anyway, with an overall rating of 75 hours, the Note 3 is well ahead of the other phablets we've tested so far. What this number means is that the Note 3 should manage three full days on a single charge if used for one hour each of calls, web browsing and video playback daily.