Galaxy Note8 battery life test - Exynos & Snapdragon models
Let's jump right into the thick of it here, since the Note8's battery life has been a heated topic of discussion lately. Hopefully, at this point, we have all managed to move on from the Note7's exploding battery fiasco. Judging by Samsung's continued apologetic tone and pretty obvious caution in advertising the Note8, the internal fallout hasn't dissipated quite yet. Lessons have been learned, new safety measures well are in place and extravagant battery designs dialed back. All this left the Note8 with a 3,300mAh pack - smaller than the S8+ and Note7 and slightly bigger than the S8.
After rigorously resting the phablet we can confidently dismiss all the rampant endurance concerns. Even with its smaller pack, the Note8 managed a great 89-hour score in our proprietary test. Looking at the numbers in more detail and comparing them to the Galaxy S8 reveals a nice and consistent behavior. 3G talk time, Wi-Fi browsing and video playback all fall in line perfectly. Even the S8+, with its extra juice fairs only marginally better at the latter two tasks, while ending up with a practically identical overall endurance rating due to the much improved stand-by performance on the Note 8 Exynos.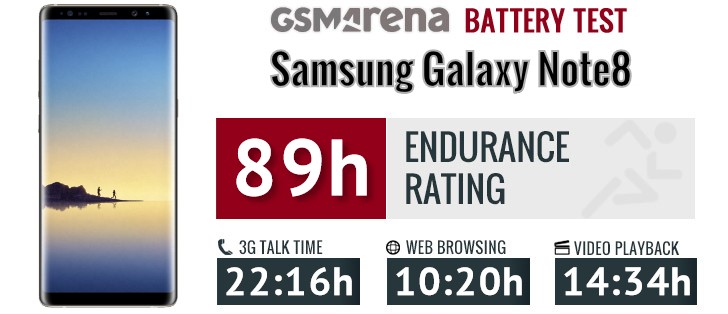 The only logical conclusion to make here is that Samsung really pulled out all the stops in background optimization. In fact, the Exynos Note8 managed over 100 hours more in standby than its Exynos S8+ sibling in the same exact conditions.
A few side notes before we move on. These numbers were scored on an Exynos 8895 unit. Also, for the sake of thoroughness, we ran the tests in 2220 x 1080 pixels and 1480 x 720 pixels modes as well. The minor differences we recorded were in the minutes, and are well within the margin of error of the tests. Perhaps an alternative usage pattern might lead to some meaningful advantages of going low-res, but our experience doesn't point in that direction. We guess one such potential scenario is gaming, but then again you already had the option to limit resolution for games specifically within Game launcher. This falls in line with what we observed while testing the S8 and S8+, as well as re-testing the S7 and S7 edge after the Android Nougat update introduced the option to adjust the resolution.
We managed to get our hands on a US Snapdragon 835 unit as well. Its overall endurance rating turned out quite a bit lower than the Exynos alternative.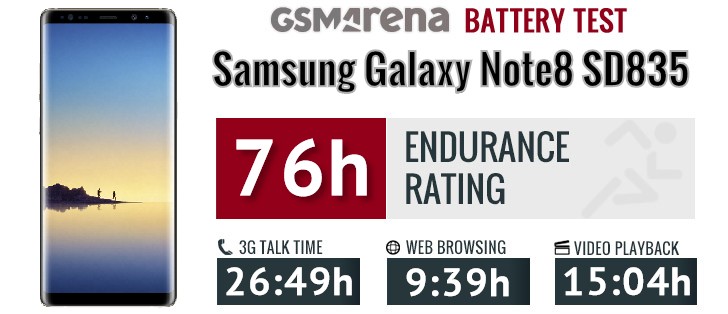 Going through the individual numbers, we see that the web browsing and video playback stats of both models pretty much match up. Our past experience also suggests the Snapdragon 835 has a slightly more efficient modem overall but we also conducted the Snapdragon model's call test on a US network so there might be potential network differences too.
The big dip in the Snapdragon battery performance comes from standby times. Standby performance is not the Snapdragon 835's strong suit and we've hardly gotten more than 200h-230h of standby from any of the recent Snapdragon 835 devices. The stateside Note8 is no exception as its battery lasted 200h in standby. It appears Samsung could only do so much with background optimization on a non-Exynos chip.
The Always On display feature was always going to be a battery drainer, no two ways about it. Samsung's claim that it would cost you 1% per hour seems about right, and it does leave a huge dent in the overall endurance rating.
Since its launch, the AOD setting has been optimized and now allows you to schedule times to activate it. Of course, your mileage will vary depending on how long you keep the phone out of your pocket because the phone turns off AOD once it detects it's lying face down or is in a pocket or purse.
Samsung is still sticking with its Adaptive Fast Charging solution. Frankly, it does a good job filling the 3,300mAh battery from zero to 40% in about 30 minutes. There is also support for Qualcomm's Quick Charge 2.0.
Last, but not least, the Note8 is also capable of wireless charging compliant with both WPC (Qi) and PMA. Samsung will also sell you a fast wireless charging pad, which can fill up the battery nearly as fast as cable.
The battery testing procedure is described in detail in case you're interested in the nitty-gritties. You can also check out our complete battery test table, where you can see how all of the smartphones we've tested will compare under your own typical use.
Connectivity
Since the Note8 shares most of its internals with the S8 pair, it is only natural for connectivity options to carry over as well. The phones are basically identical in this department. Just like with the Infinity Display, the Note8 can't really make a bold claim and capitalize on being first on the scene to break the 1gb/s LTE mark. It is still an amazing accomplishment, though. Both the Snapdragon 835 and Exynos 8895 utilize LTE-A (4CA) Cat16 1024/150 Mbps modems. Yes, both chips are not only very close performance-wise, but should be equally capable of sustaining blazing fast network speeds (as long as your carrier supports them.)
It's worth noting that the Exynos 8895 version supports 5 carrier aggregation, while its Qualcomm counterpart has to get by with 4. In practice, you likely won't be able to reach that high anytime soon so we wouldn't fret over this detail too much.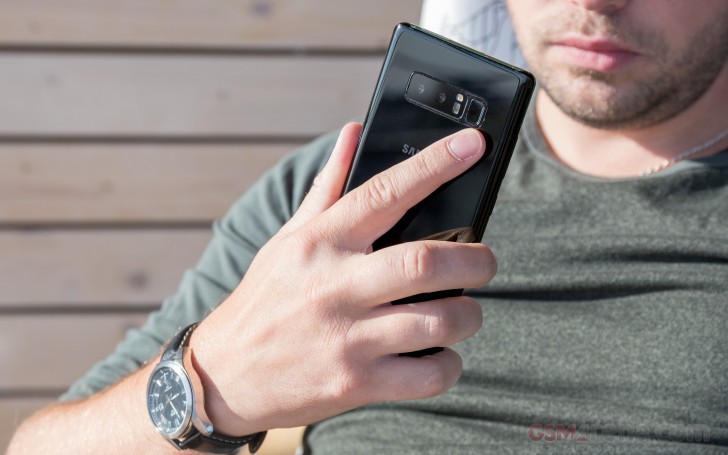 In keeping with Samsung's typical marketing, there are both single and dual SIM versions of the Note8 out there. Region dependent, of course. Unlike with recent Galaxy A models however, the tray here employs a hybrid design. This could potentially be a problem for anyone that doesn't trust the cloud, and it still has high storage requirements - higher than the provided 64GB at any rate.
In terms of local connectivity, you get dual-band Wi-Fi 802.11 a/b/g/n/ac, MU-MIMO, Bluetooth v5.0, with support for A2DP, LE, aptX and ANT+. The particular Bluetooth adapter has a neat trick up its sleeve - streaming audio to two devices at the same time. The feature works pretty well, but perfect sync is not really feasible.
NFC is a given and so is Samsung's proprietary MST technology for card payments in supported markets. Of course, the list gets even longer if you decide to count sensors, of which the Note8 has quite a few: Iris scanner, fingerprint, accelerometer, gyro, proximity, compass, barometer, heart rate, SpO2.
There is a full set of location services supported as well: GPS, Galileo, Glonass and BeiDou.
Samsung might have been a little bit late to the USB Type-C party, but at least the Korean giant took the time to get the implementation right on the S8 pair. The Note8 borrows the same excellent setup. That is to say, a fast USB 3.1 data link, behind the port, capable of speeds of up to 10 Gbit/s. However, the real icing on the cake lies in the phone's support for video output through a cable connection to the port - an increasingly rare feature, even among flagships.
Samsung opted to include the versatile DisplayPort Alternate Mode, which is how the phone manages to drive a display with the DeX dock. And before you call us out on the fact that the latter has HDMI output, consider that DisplayPort is versatile enough to be backward compatible with VGA, DVI and HDMI through the use of passive and active adapters, depending on the use case. We are yet to receive official confirmation on this, but as far as we know, DisplayPort 1.3 should be behind the video out feature and thus theoretically capable of up to 4K@120Hz or even 5K@60Hz and 8k@30Hz.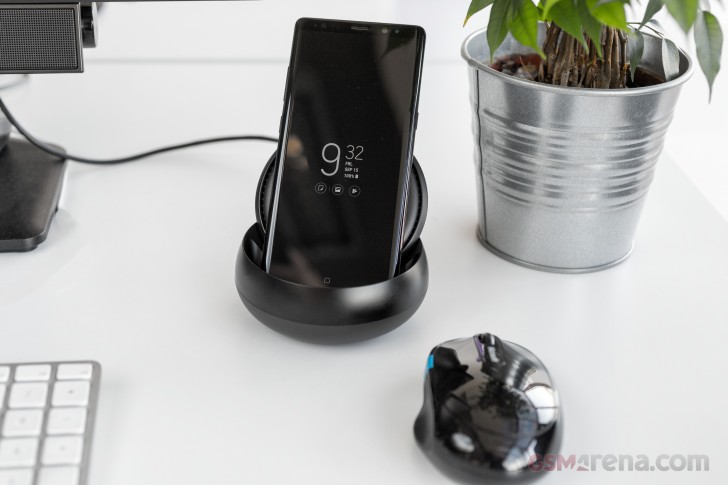 In real-life terms however, the most practical way for users to output video from the Note8 will be through the DeX dock (usually purchased separately but sometimes bundled with the phone). This is especially true now that Samsung is giving one away for free with the device in most markets. It has a specific video output mode designed to mirror the device screen at up to 4K. Using DeX for its main desktop-replacement UI functionality only nets you a resolution of 1080p.
Dex has not managed to gain much traction so far, but it really has its strong points. Samsung has solid partnerships in place and already has a very usable set of apps functioning well in desktop mode including, but not limited to a Microsoft office suite and a fully-featured browser.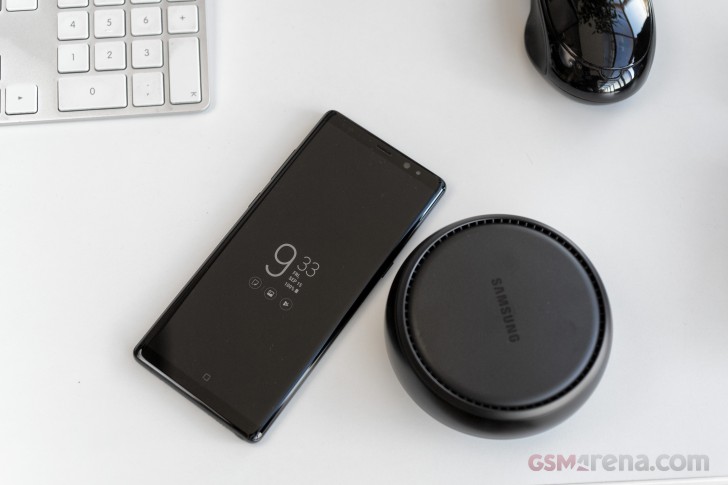 Of course, beyond wired connectivity, the Note8 has its Smart View interface to support an assortment of wireless display sharing protocols, including Miracast and Google's proprietary Chromecast. MirrorLink is also part of the mix. If you have already invested in something like a compatible car entertainment system, the phone upgrade won't break your setup.
Finally, a tiny piece of bad news: since this is a flagship and one starved for space, Samsung didn't feel the need to cram in an FM receiver.