Same, but better - the S Pen
The S Pen on the Galaxy Note20 Ultra is the same one you'd find on the Note10 family. That is to say - the stylus itself is unchanged, but the experience has gotten better. Samsung made a big deal of the improved latency on the Note20 Ultra - the 9ms here vs. the Note10's 42ms may sound like arbitrary numbers with little meaning behind them but in reality the difference is seen and felt in the responsiveness when using the S Pen. It's a combined effort between the new display's 120Hz high refresh rate and 240Hz touch sampling, and what Samsung calls 'AI point prediction' - based on the trajectory of your pen input the phone anticipates where to draw the next point.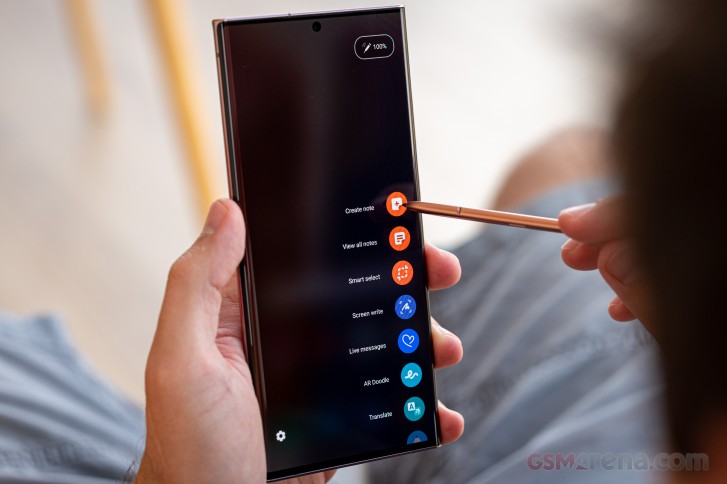 The Note20 non-Ultra isn't as great in this respect, its latency standing at 26ms. So probably just the AI thing is at work there, since the hardware doesn't seem any different than on the Note10 family.
The other new S Pen bit on the Note20 Ultra (that's also present on the stripped down model) is Anywhere actions. With the Note9, Samsung made the S Pen 'active' by fitting it with a capacitor, a gyroscope and an accelerometer, thus enabling gesture input from the S Pen at a distance. You could use the stylus to operate the camera, the Gallery app, the music player, even PowerPoint (because 'productivity'). But those gestures and S Pen button presses only worked in select few apps on the Note9 and Note10 to do select pre-determined actions - so 'somewhere' actions. With the Note20 you get actions that work anywhere. Not that you'd necessarily want to use them.
Of the five newly added actions, three are there for navigation - Back, Recent apps, and Home. We're struggling to see the use case in which you need to navigate your way around the phone by waving the S Pen, but it could just be us refusing to think outside the box. Then there's Smart Select and Screen Write, two S Pen features that are readily available from the Air command menu which pops up as soon as you pull out the S Pen, or is a press of the stylus' button away.
On the other hand, you can assign each of these new Anywhere actions to a function of your choosing, or you can set it to launch any app on the phone and that could come in handy. Additionally, you can disable each action individually.
Which brings us to another point - in our attempts to use the Anywhere actions we also got some misinterpreted gestures when trying to navigate the camera app with the S Pen - perhaps the one app where the Air actions are actually useful, fiddly or not. The way we're seeing it, Anywhere actions will be a gamechanger to a handful of people who have their specific use cases for it. So far, we're not seeing one.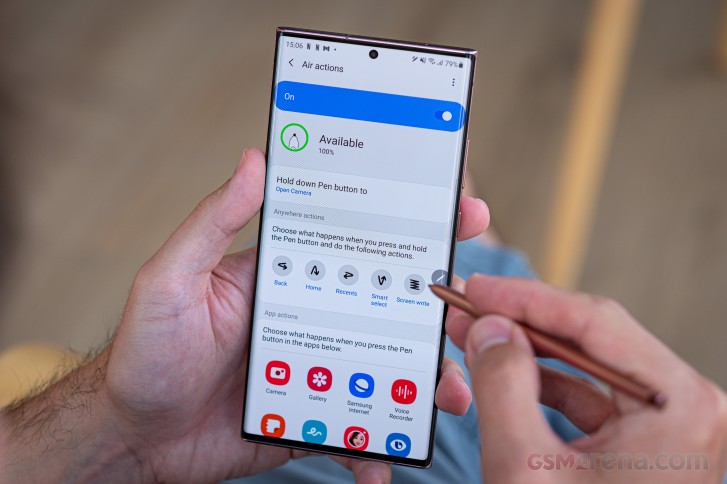 Back to basics. Screen-off memo is available, letting you just pull out the stylus when the phone is in standby and go right ahead and write a note, which you can then pin to the always-on display or save for later reference.
When you pull out the S Pen with the phone unlocked, the Air command menu appears (that's the default setting, you can turn it off). There are pre-set shortcuts here, which you can customize, and those can be either S Pen features or shortcuts to apps.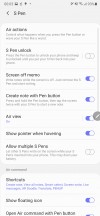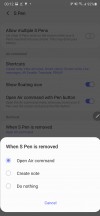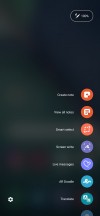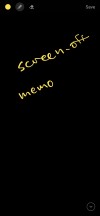 S Pen settings • Behavior upon removal • Air command • Screen off memo
Advanced screenshot capture is one of the S Pen's main use cases. Smart select allows you to take differently shaped screenshots, extract text from them, or pin them on the screen. Alternatively, you can create short GIF animations. Then there's Screen write that takes a fullscreen snap that you can write on with the full set of different pens and brushes (and then crop, if you will). See - there are so easily accessible that Anywhere actions for them seem like a solution in search of a problem.
There are numerous other smaller use cases for the S Pen as part of the Air view set of actions. For, example, you can hover over an image in the gallery for an enlarged preview, or over a calendar entry for more details. You can also scroll up and down by hovering the S-Pen over the edge of the screen.
DeX goes wireless
Samsung's phone-based Desktop eXperience feature has gotten a new twist with the Note20 Ultra - it now works wirelessly. Theoretically, all Miracast-compatible smart TVs should work, but Samsung, being Samsung, recommends using a Samsung TV released in 2019 or sooner. Well, we had an LG B8 OLED on hand for testing purposes - rather obviously not a Samsung and released in 2018, and it worked just fine. Well, it did complain that the TV wasn't optimized for the task, to no practical consequence.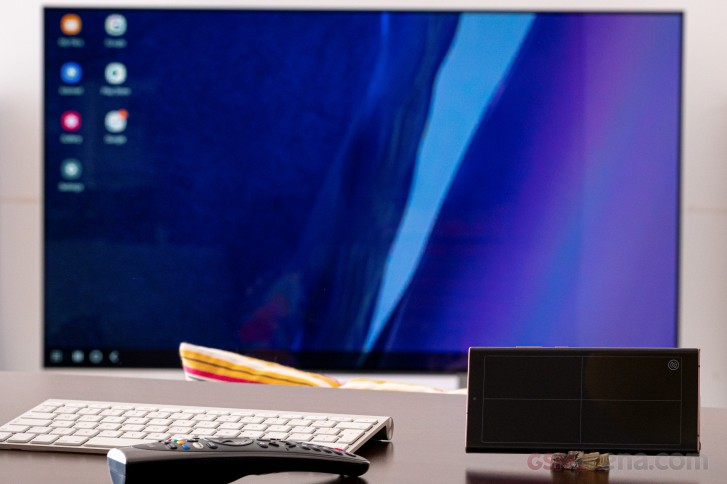 Speaking of, the LG Magic remote functioned as a mouse within DeX - its pointer served as the cursor, a press on the scroll wheel worked for clicks, scrolling the wheel worked for scrolling. We connected a wireless mouse into the TV and that worked like a charm as well. Apparently, Miracast has a provision for a return channel, a realization that had us moderately astonished and questioning our previously held beliefs.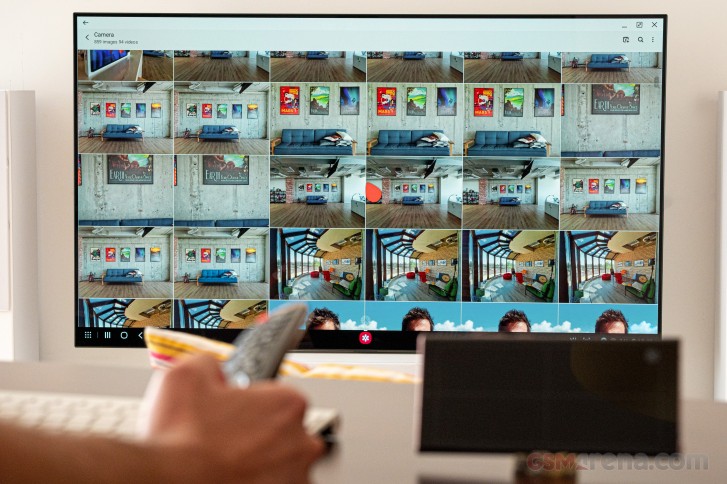 Okay, enough with LG in this Samsung review, let's get back on track. Wireless DeX has a toggle in the quick settings, you tap on that and the Note20 Ultra will search for compatible TVs. A couple of confirmations to avoid casting your Note's photos on your neighbor's TV and you're good to go. On this particular TV, DeX showed up as a quarter-sized window in the lower right corner, but maximizing it was a matter of a button press on the TV's end.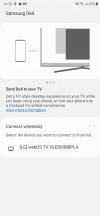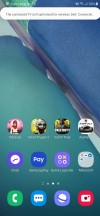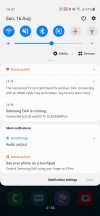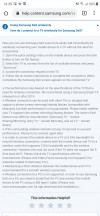 DeX: Connecting • LG TV not optimized, of course • A ton of notifications • Instructions
You're then greeted by a Windows-like UI with a task bar on the bottom and a desktop of sorts where shortcuts to some of your apps live. In the lower left corner, you have buttons that take you to your 'app drawer' and task switcher, as well as a home and a back key. The opened apps are in the middle, while a status area is the right of the task bar.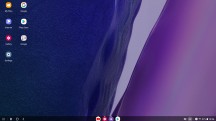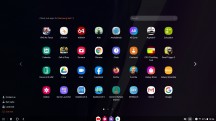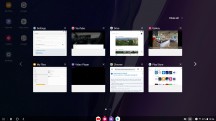 DeX: Desktop • App drawer • Task switcher
Apps while in DeX mode open up in a window that can be moved around and can be maximized. We couldn't readily find a way to resize the windows or get two apps in a split-screen fashion - the task switcher offered no such option.
The settings menu said that the contraption was running in FullHD resolution and that can't be changed for wireless DeXing.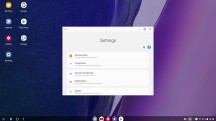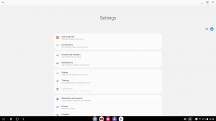 DeX: Windowed app • Full-screen app • Resolution is set to FullHD
If you don't have a Magic remote (one of LG TV's greatest features, some say) or a mouse handy, you can use the Note20 Ultra itself as a touch pad. Numerous gestures are supported, with up to 4 fingers, and you can set the touch pad mode to engage when launching DeX as opposed to enabling it manually every time. You can also use the S Pen for pointing in one of two modes - pressing on the screen, or just hovering.
Our experience with the touch pad was a bit frustrating, however - it's that extra bit too laggy. Surprisingly, the remote or wireless mouse gave us a much more responsive behavior, which is counter-intuitive since in this scenario signal needs to travel both ways.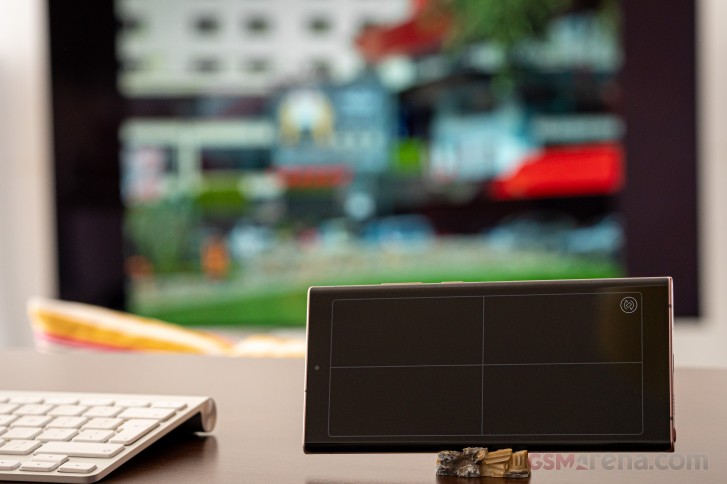 For keyboard purposes, you have several options too. The default one is to use the phone and its keyboard pops up on its screen whenever text input is required. An alternative is to have an on-screen keyboard on the TV, though that's a much less pleasing typing experience, Magic remote or not. You can also pair a wireless keyboard to the phone, and use that. The last option, which we didn't try, but we see no reason why it wouldn't work, is to have a keyboard attached to the TV - if it supports a mouse, why not a keyboard?
Anyway, that's how it works, though it does not answer the one pressing question - what are you going to do with it? The most obvious answer is to share your photos with a roomful of people - for that there's hardly an easier way. For productivity, on the other hand, you're better off with good old wired DeX, which will give you more pixels and less lag. Even so, wireless DeX is pretty cool, here's hoping it makes it to more Galaxies with future updates.