Two real cameras on the back, 32MP selfies
The Galaxy M53 comes with a reworked camera system compared to the previous model. In principle, you get two real cameras - a big-sensor main one and a more modest ultrawide, plus a couple of sidekicks. In a way, that makes it closer to the M51's 2+2 arrangement than the M52 5G's 2+1, but what comes after the plus is rarely exciting to begin with.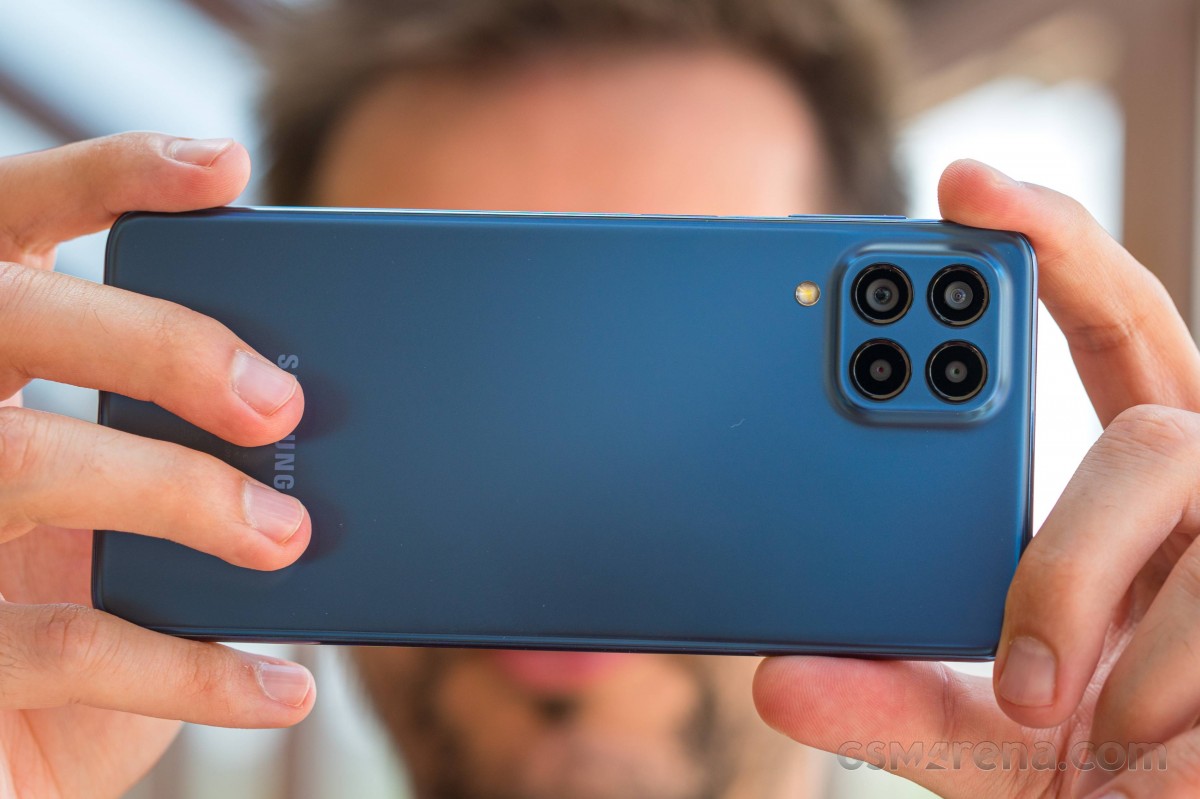 The primary camera is built around the Samsung Isocell HM6 sensor. This 1/1.67" imager is one of the latest designs with the tiniest of pixels - 0.64µm, but it does have a whole 108 million of them. A Nonapixel color filter array means you get nine-to-one binning and 12MP resulting images by default. The lens has an f/1.8 aperture and the EXIF data reports a wide 23mm equivalent focal length.
The ultrawide is, predictably, even wider - 13mm the files say. It's gotten a resolution downgrade and the number is 8MP now, down from 12MP on the M52 5G. The Sony IMX 355 sensor is a popular one - it's used on the Galaxy A33, as well as the Realme 9 Pro+ and the Reno7 5G, to name a few. Similarly to all those implementations, the ultrawide camera on the M53 doesn't have autofocus.
Which brings us to the pair of 2MP auxiliary cameras. One is labeled 'macro', the other is a depth sensor. As you can see, the macro isn't the half-decent 5MP unit Samsung used on last-year's M52 5G and on models higher up the lineup, but an even more basic one.
There are no changes on the front - the M53 uses the 32MP selfie camera (Sony IMX 616) found on the M52 5G and the M51, as well as the A52s and A53 (and possibly countless other models). It outputs 12MP images by default - Samsung's usual if slightly illogical numbers manipulation for its 32MP selfie cams.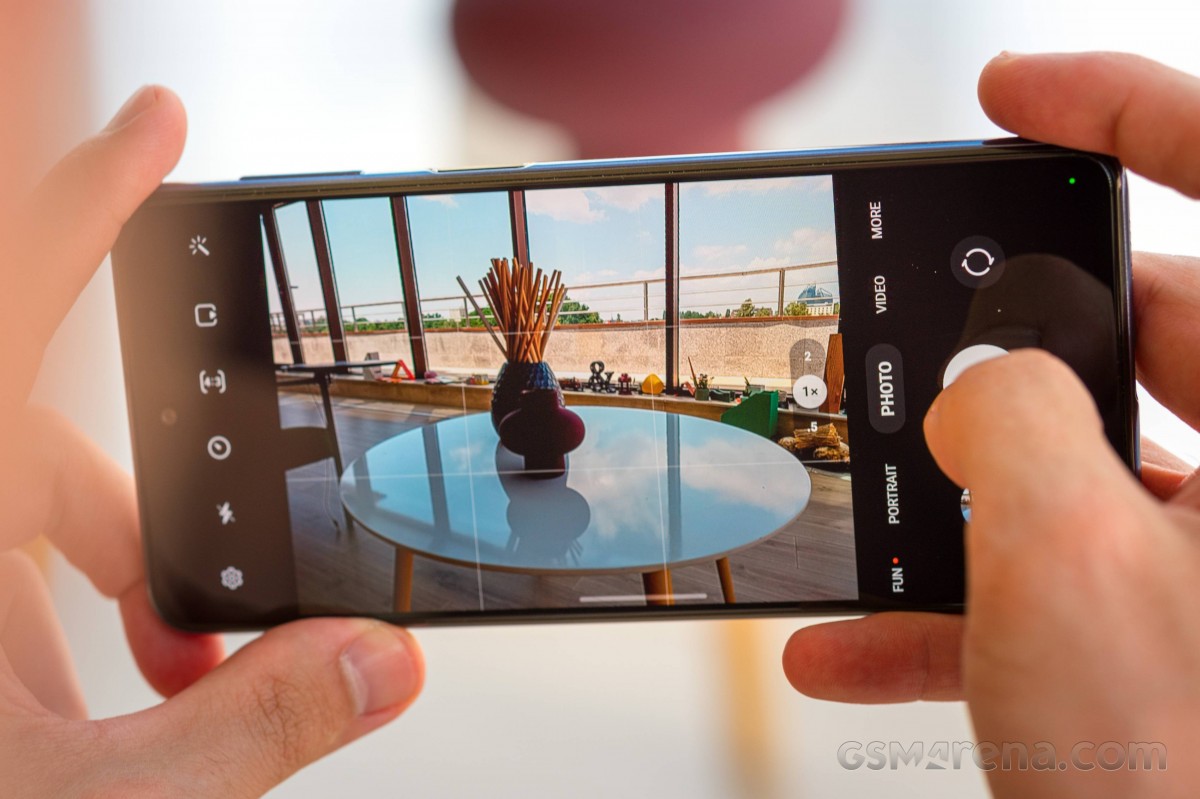 The camera app is the same one you'd find on every Samsung phone these days. Swiping left and right will switch between all available modes, and there's an option to re-arrange or remove some of the modes from the viewfinder. Vertical swipes in either direction will switch between front and rear cameras.
The settings icon is located in the upper left corner of the screen and you don't get separate setting screens for photos and videos since the options aren't that many in total. Grid lines, location data, Screen optimizer, etc. - the usual stuff can be found there. The full resolution mode on the primary camera is triggered from the aspect options, which is a rather unintuitive bit, but that's how Samsung does it.
There's a Pro mode, too, where you get granular exposure controls (ISO and shutter speed, plus exposure compensation) and manual focus with peaking, but no live histogram or the option to operate anything but the main cam.
Daylight image quality
Main camera photos from the Galaxy M53 (Scene optimizer On, Auto HDR On) are very good. The software enhancements don't get overboard and you get pleasingly lively color without oversaturation. We had no issues with white balance either. Dynamic range is great and we're seeing both great global contrast, as well as well developed tonal extremes.
On a pixel level things are generally good and there's a lot of detail captured. That detail can have an overall artificial and processed look, but not in a standout way - that feels like the consensus in the midrange and it's not like Samsungs are known for their organic-looking foliage either. There's no noise to speak of.
You can zoom in to 2x from the zoom selector, but the results are best viewed at fit to screen level. You get the same colors and dynamic range as you would at 1x (it's the same camera after all), but up-close examination reveals heavy-handed sharpening and an overall softness. These are still perfectly good for tossing on social media, just don't pixel peep into them.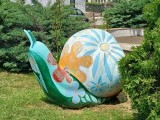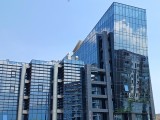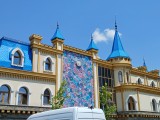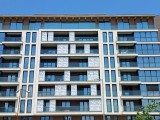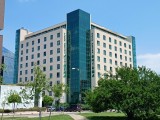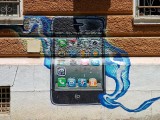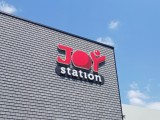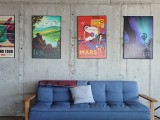 Daylight samples, main camera (2x)
The full-resolution shots do contain some finer detail and you could start there if you want to get some more natural processing for your photos too. You don't get the benefits of HDR when shooting this way though, so you can expect to lose detail at the far ends of your histogram (the snail shot is very revealing in this respect).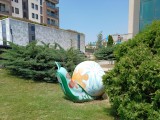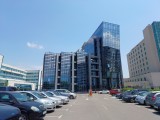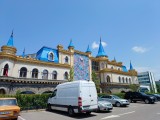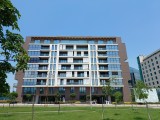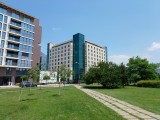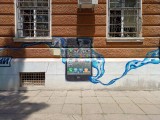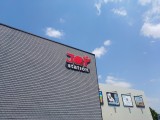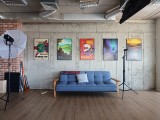 Daylight samples, main camera, 108MP
The ultrawide camera isn't quite a match for the main one when it comes to dynamic range, but it's pretty excellent nonetheless as far as ultrawides go, even more so the midrange ones. Colors are likable too, if a little extra punchy compared to what the main camera puts out. Pixel-level detail is decent, but ultimately not as good as on the predecessor.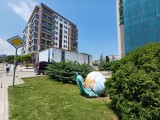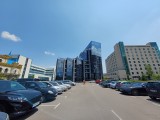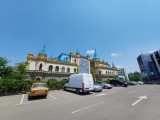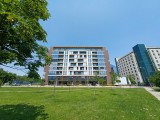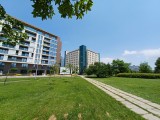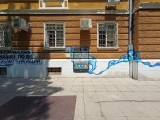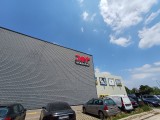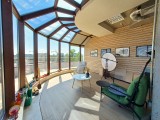 Daylight samples, ultrawide camera
Low-light image quality
The Galaxy M53 is somewhat out of its element in low light, particularly in the regular Photo mode. Even the main camera tends to expose too dark for our liking and it's also got limited dynamic range so not only are your shadows too deep but the highlights are burnt too. Detail is okay in midtones, but way soft and noisy in the shadows.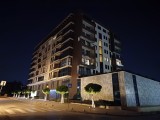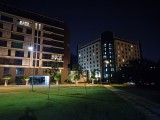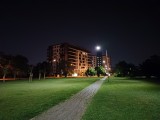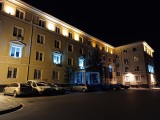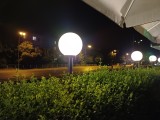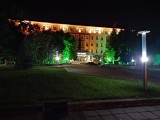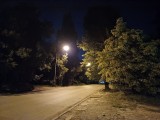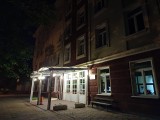 Low-light samples, main camera
Night mode does help a lot. Most noticeable is the improvement in highlight rendition - light sources are well contained and there's now detail around them. There's a more subtle boost in the shadows too, though perhaps a bit more wouldn't hurt. Sharpness does drop a little, however, particularly noticeable in the previously crispier midtones.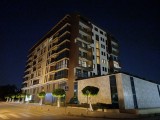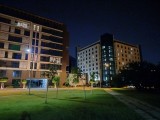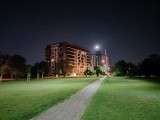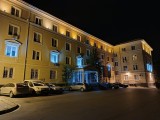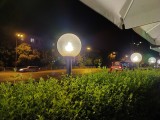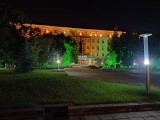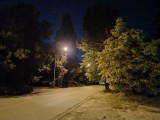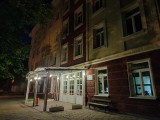 Low-light samples, main camera, Night mode
The lack of Night mode at the 2x zoom level doesn't help its case in the dark and these aren't looking great. What would normally be the saving grace - decent tonal rendition, so the photos could okay acceptable at fit to screen magnification - isn't happening here and we wouldn't be shooting at 2x on the Galaxy M53 at night.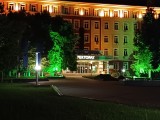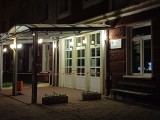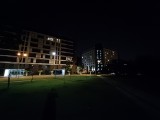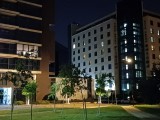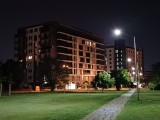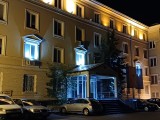 Low-light samples, main camera (2x)
The ultrawide doesn't inspire confidence in the dark when shooting in Photo mode. It can't quite expose brightly enough and it too lacks the dynamic range to render highlights as anything but pure white. It's also losing its grip on color in general and the photos can look desaturated. Detail is soft and noisy too.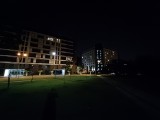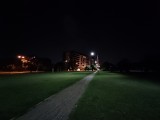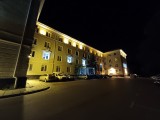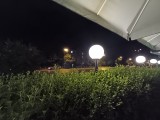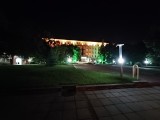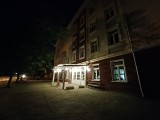 Low-light samples, ultrawide camera
Night mode improves things, making the photos a lot nicer tonally. Highlights are brought down, shadows get a boost and color comes back to life. There's not a lot of good to be said about the detail - there is some of it, but you'd best avoid 1:1 examination.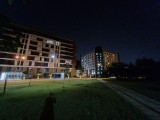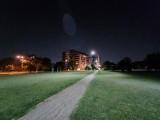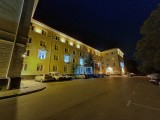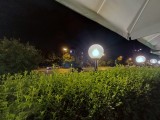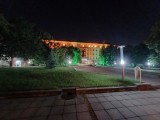 Low-light samples, ultrawide camera, Night mode
Once you're done with the real world samples, head over to our Photo compare tool to see how the Samsung Galaxy M53 stacks up against the competition.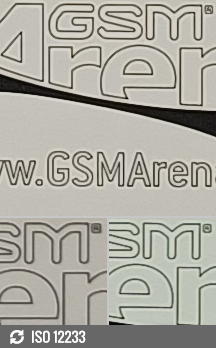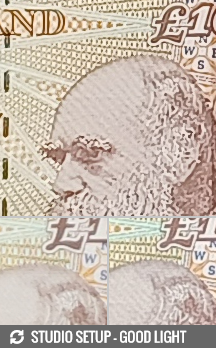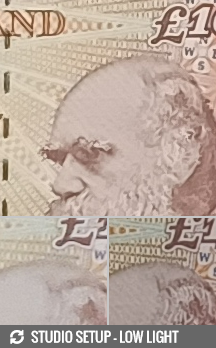 Samsung Galaxy M53 against the Xiaomi 11 Lite NE 5G and the Realme 9 Pro+ in our Photo compare tool
Close-ups
We already revealed our feelings for the 2MP 'macro' camera but here are a few samples to illustrate its performance. There's simply not a lot of detail in 2MP and just because you can fill the frame with relatively small objects doesn't mean you'll get nice shots.
Then again, if 2MP screens is how you'll be consuming the images, perhaps this is an easier way to get there than cropping from the main camera's photos. Having said that, the main camera can focus down to about 8cm of subject distance, so you'd be better off doing the extra cropping work, or even just using it in its native field of view.
Portrait mode
Portrait mode does a good job with subject isolation though more complex scenes can confuse it - check out the plant in the first sample. Then again, the rendition of the wooden wall panelling is more competent than usual. Perhaps the default blur level (5/7) is a bit too strong and can readily reveal the artificial nature of the bokeh, but you do get to tone it down as you shoot or after the fact in the gallery.
Selfies
Selfies on the Galaxy M53 come out at 12MP by default and aren't half bad. There's some noise in the darker areas, but detail is generally very good, though it can have an oversharpened look in contrastier scenes where HDR working overtime. Speaking of, dynamic range is nicely wide, and even backlit scenes have correctly exposed subjects and well contained highlights. Color rendition is somewhat restrained in terms of saturation, but there are no color casts and skin tones are looking good.
Portrait mode is similarly capable as on the main camera and is competent at isolating you from the background. There's the occasional small mix-up around clothes, but we encountered no outright blunders.
Selfies at the nominal 32MP resolution can be extra detailed in well lit scenes, if grainier than ideal. Even slightly dimmer scenes can push the ISO beyond the sensor's comfort level and the combined effects of noise reduction and aggressive sharpening make for less appealing shots (third sample). We often observed a sort of a double image with these - the left ear and jawline in the last two images. Overall, not bad, but why would you want 32MP selfies?
Video recording
The Galaxy M53 can record video at up to 4K30 with its main camera (1080p at 60fps too, if you're into that), or 1080p at 30fps with the ultrawide. Technically you could record at 4K30 with zoom all the way up to 10x, but you should perhaps refrain from going beyond 2x. The selfie camera supports the same modes as the main one too - so both 4K30 and 1080p60 are available.
In settings, you get a toggle to enable h.265 encoding (Samsung opts for the HEVC designation), otherwise the less efficient h.264 codec is used by default. Stabilization is only available in 1080p at 30fs, but not at 60fps and not in 4K.
The main camera's 4K footage (48Mbps bit rate) is very good. We're especially fond of the lively colors and wide dynamic range. Detail is good too, and even if it does exhibit a very heavily sharpened texture if you stare at frame grabs from up close, it looks nicely crispy when playing.
1080p30 isn't too great though - in those clips the sharpening halos and overall overprocessed look are hard to overlook. 1080p60 is the same on a pixel level, but with noticeably lower color saturation - still okay, just not quite as vivid. We'd just stick to 4K30.
It's a similar conclusion we're drawing from the 2x zoom samples. The 4K30 footage may not be the sharpest around, but it's of noticeably higher quality than what you'd get in 1080p mode.
The ultrawide doesn't do 4K (the one on the M52 5G could), but its 1080p30 is alright for a midrange ultrawide. We're liking the colors and dynamic range, it's just that detail is looking a little too soft.
There's no stabilization in 4K so if you want the high resolution, which you probably do since 1080p isn't great, you'd need to provide the M53 with outside support. If you do choose to shoot while walking, the stabilization in 1080p30 is okay, only camera shake can occasionally cause focus hunting. The ultrawide doesn't suffer from that.
Here's a glimpse of how the Samsung Galaxy M53 compares to rivals in our Video compare tool. Head over there for the complete picture.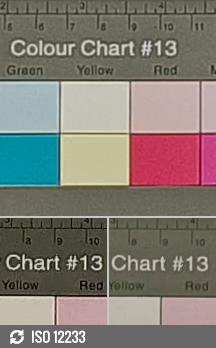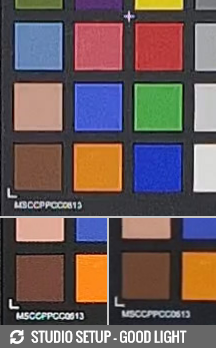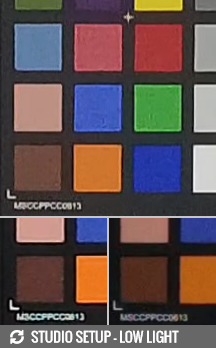 Samsung Galaxy M53 against the Xiaomi 11 Lite NE 5G and the Realme 9 Pro+ in our Video compare tool