Solid, if somewhat basic, 6.7-inch AMOLED display
The Galaxy M51 comes with a 6.7-inch SuperAMOLED Plus display. Its resolution is 1080x2400px in a 20:9 aspect ratio for a pixel density of 393ppi. It's missing a feature most midrangers have covered - a high refresh rate. The M51 has a conventional 60Hz panel.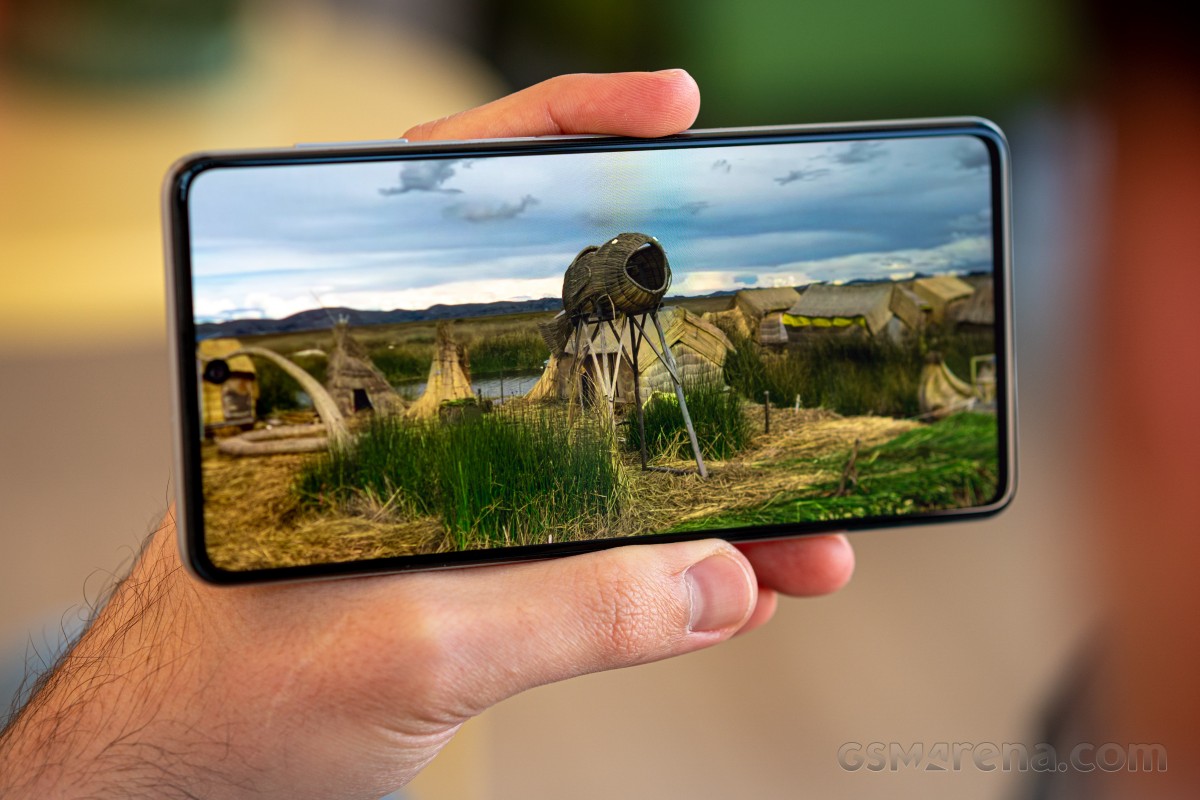 It's not a bad panel, however. We measured a maximum brightness of 677nits in Adaptive mode under direct light and 373nits when operating the slider manually. The auto boost doesn't take it as high as flagships, but it's easily bright enough, while the manual maximum brightness is about on par with typical Samsung OLED behavior. The OnePlus Nord and the Reno4 Pro can indeed go brighter when the ambient light calls for it, but the Realme 7 Pro is capped a good 100nits lower.
Display test
100% brightness
Black,cd/m2
White,cd/m2
Contrast ratio
Samsung Galaxy M51
0
373
∞
Samsung Galaxy M51 (Max Auto)
0
677
∞
Samsung Galaxy A71
0
398
∞
Samsung Galaxy A71 (Max Auto)
0
515
∞
OnePlus Nord
0
323
∞
OnePlus Nord (Max Auto)
0
756
∞
Xiaomi Poco X3 NFC
0.354
460
1299:1
Xiaomi Poco X3 NFC (Max Auto)
0.515
631
1225:1
Realme 7 Pro
0
459
∞
Realme 7 Pro (Max Auto)
0
585
∞
Xiaomi Redmi Note 9 Pro
0.355
456
1285:1
Xiaomi Redmi Note 9 Pro (Max Auto)
0.487
616
1265:1
Sony Xperia 10 II
0
379
∞
Sony Xperia 10 II (Max Auto)
0
520
∞
Motorola Moto G8 Power
0.341
500
1466:1
Motorola Moto G8 Power (Max Auto)
0.53
741
1398:1
Motorola Moto G 5G Plus
0.349
443
1269:1
Motorola Moto G 5G Plus (Max Auto)
0.466
543
1165:1
Oppo Reno4 Pro
0
508
∞
Oppo Reno4 Pro (Max Auto)
0
843
∞
The M51 is also capable of reasonably faithful color reproduction. Vivid and Natural color modes are available. Natural is the one tuned for sRGB content, and in our testing, it delivered an average deltaE2000 of 2.5, which qualifies as 'color accurate' just fine. Naturally, this sRGB-focused 'Natural' mode has a subjectively muted overall look.
Good thing then that out of the box you're getting the Galaxy M51's display set to 'Vivid' where the gamut is wide, and the colors are punchy. We tested this mode with DCI-P3 color swatches and got an average deviation of 3.7 units, which is almost there, too. This deviation is not bad overall, but there was a cold bluish tint to whites (deltaE of 8). That can be fixed by nudging the five-position cool-to-warm slider a notch to the right or all the way to the warmest setting, each delivering an average deltaE of around 3 and whites within 4 units off the mark.
No HDR claims are coming from the M51's specs pages, but the phone does play back HDR versions of compatible content on YouTube and Amazon Prime Video. There's no HDR playback available in Netflix, however, even though the phone meets the Widevide Level 1 specification for DRM.
Samsung Galaxy M51 battery life
The Galaxy M51's chief claim to fame is battery life - the 7,000mAh cell inside it is the biggest we've seen on a major brand phone. With great capacity, indeed, comes great endurance, as our testing proved.
We clocked a whopping 53 hours of voice calls on a single charge of the M51, an all-time record the Galaxy holds jointly with the Moto G9 Plus. The M51 is also good for 25+ hours of looping videos offline or 17 hours of Wi-Fi web browsing - impressive stuff. Factoring in the standby performance, we arrive at an overall Endurance rating of 156h for the Galaxy M51.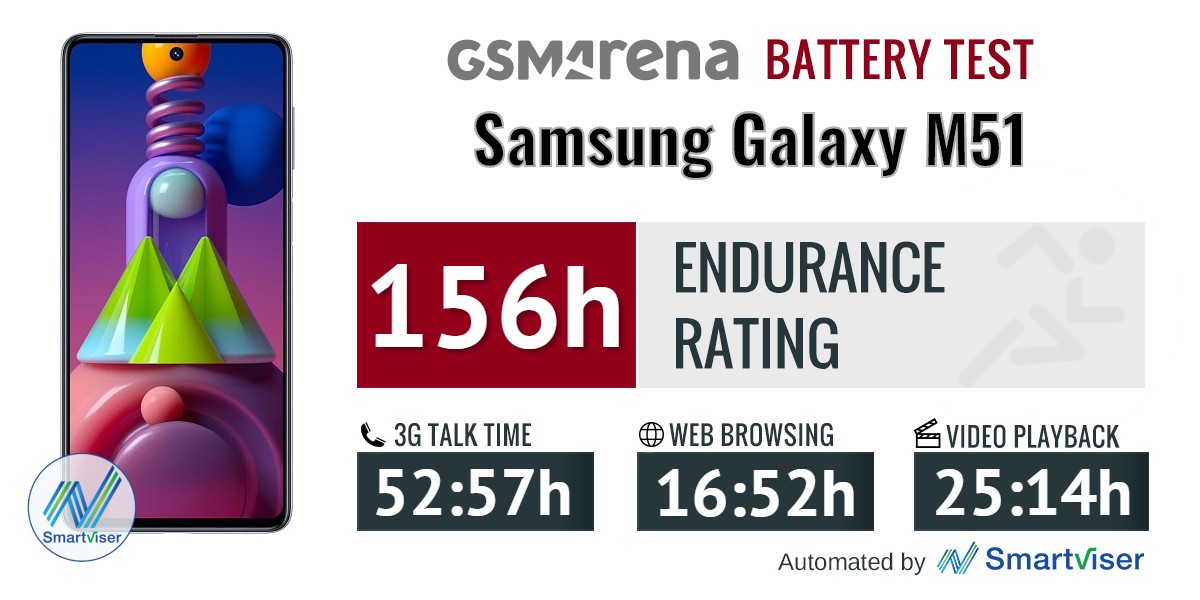 Our battery tests were automated thanks to SmartViser, using its viSer App. The endurance rating above denotes how long a single battery charge will last you if you use the Samsung Galaxy M51 for an hour each of telephony, web browsing, and video playback daily. We've established this usage pattern so that our battery results are comparable across devices in the most common day-to-day tasks. The battery testing procedure is described in detail in case you're interested in the nitty-gritty. You can check out our complete battery test table, where you can see how all of the smartphones we've tested will compare under your own typical use.
Battery charging
The Galaxy M51 not only has a big battery, but also comes with a beefy charger to top it - it's supplied with the same 25W adapter that you'd get with a Note or an S-series flagship, an adapter that even the S20 FE doesn't get.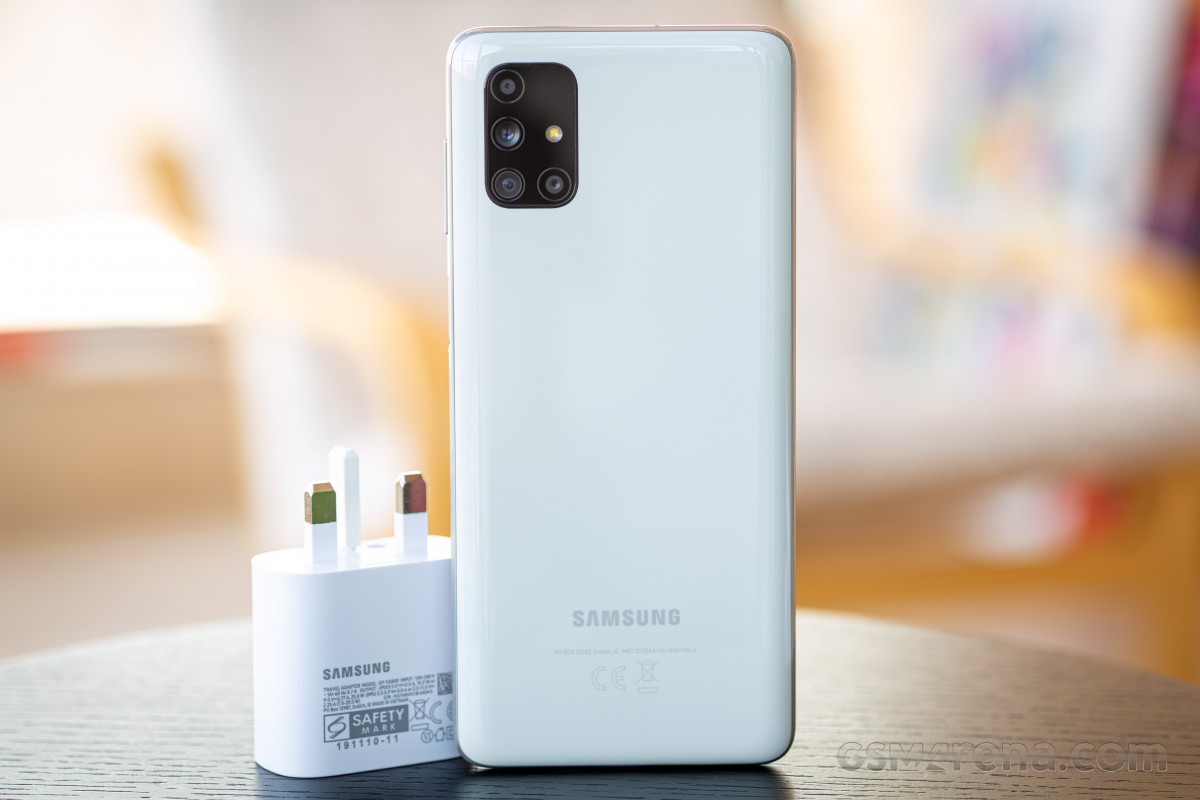 Using this charger, you'd be looking at 1:47h for a full charge from flat and 35% in the battery indicator 30 minutes into the process. Neither result is impressive in absolute terms, but you come to appreciate them when you consider the 7,000mAh capacity and the battery life that you can actually get from a 35% charge.
30min charging test (from 0%)
Oppo Reno4 Pro
98%
Realme 7 Pro
94%
Xiaomi Mi 10T Lite 5G
68%
vivo V20
66%
Xiaomi Redmi Note 9 Pro
63%
OnePlus Nord
60%
Sony Xperia 10 II
60%
Poco X3 NFC
55%
Xiaomi Mi Note 10 Lite
53%
Samsung Galaxy A71
51%
Samsung Galaxy M51
35%
Samsung Galaxy A51
35%
Motorola One Fusion+
30%
Samsung Galaxy M30s
21%
Time to full charge (from 0%)
Oppo Reno4 Pro
0:31h
Realme 7 Pro
0:37h
Xiaomi Mi 10T Lite 5G
0:58h
vivo V20
0:59h
OnePlus Nord
1:05h
Xiaomi Redmi Note 9 Pro
1:11h
Xiaomi Mi Note 10 Lite
1:14h
Poco X3 NFC
1:15h
Samsung Galaxy A71
1:21h
Sony Xperia 10 II
1:30h
Samsung Galaxy M51
1:47h
Samsung Galaxy A51
2:14h
Speaker test
The Galaxy M51 has a single speaker, Samsung doesn't like fitting stereo speakers in the midrange phones. It's not a particularly loud speaker either, scoring an 'Average' mark in our testing, the same as the A71. Compared to the A71, the M51 has a more hollow output with a less pronounced treble response. It's one of those speakers that are adequate but in no way great. Cheaper phones can be had with better sounding speakers, stereo at that, like the Poco X3 NFS or the Motorola Moto G8 Power.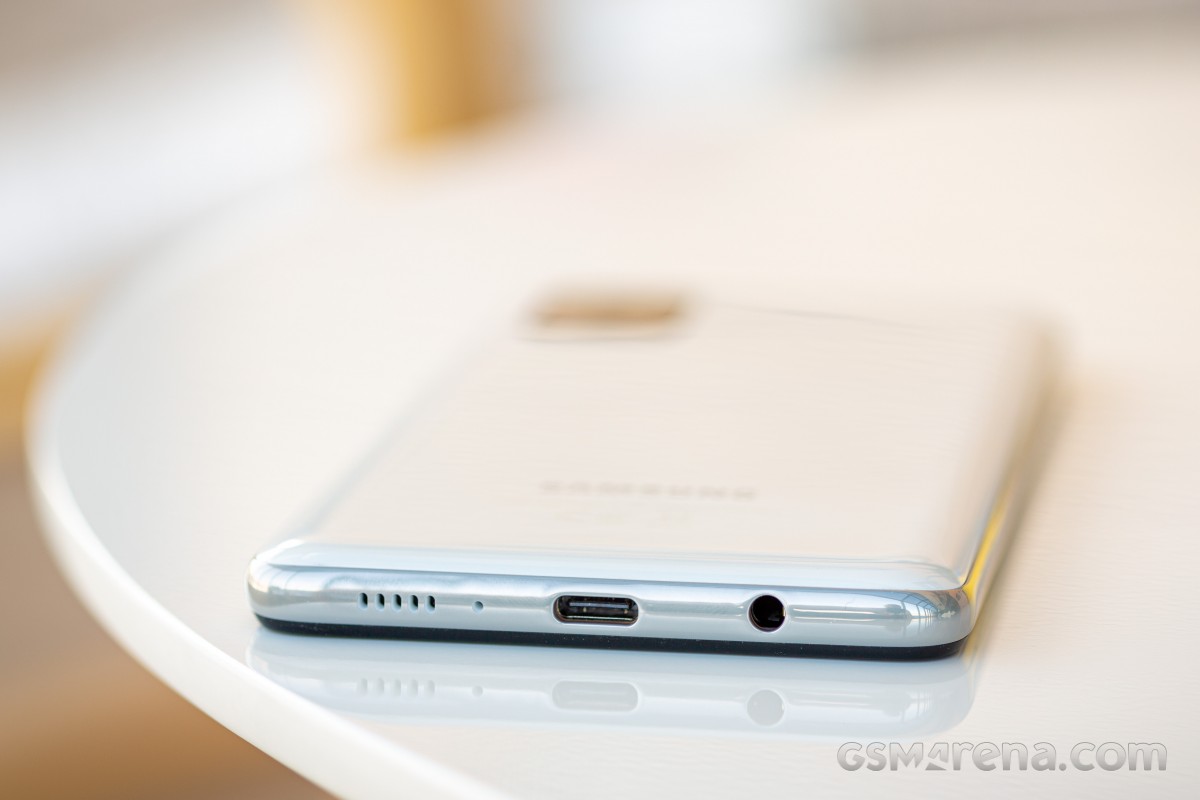 Use the Playback controls to listen to the phone sample recordings (best use headphones). We measure the average loudness of the speakers in LUFS. A lower absolute value means a louder sound. A look at the frequency response chart will tell you how far off the ideal "0db" flat line is the reproduction of the bass, treble, and mid frequencies. You can add more phones to compare how they differ. The scores and ratings are not comparable with our older loudspeaker test. Learn more about how we test here.
Audio output quality
We've recently discontinued our audio output quality test.
The reason for that is that most phones that arrived for testing were already excellent in this regard and whatever difference there was, it was marginal and probably indistinguishable to anything but our lab equipment.