Just the job
Samsung Galaxy J5 (2017) review: Just the job
Gallery
The Samsung Gallery has been focused on Stories for a while now. Stories are shared, collaborative albums - that means your friends can add their own photos from the party or just a Story on a shared theme (e.g. sunsets).
Several image editing tools are available - from basic cropping, to collage making, to a more capable editor (which supports image correction, effects and drawing).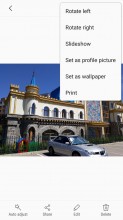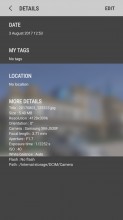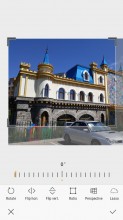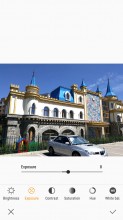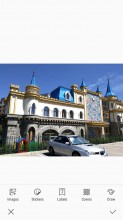 Viewing an image • Image details • Powerful editor
Video player
There is no video player app pre-installed, so the Gallery handles the videos by default. Like with the music player, you can grab the traditional Samsung one from the Galaxy Essentials collection in Galaxy Apps (the Video Editor is there too). Even if you don't, the Gallery app is up to the task. It has full subtitle support with advanced features to modify their appearance.
The app also lets you play only the audio track of the video. A pop-up view is supported, which you can resize with a pinch gesture - don't look for resizing handles. There is even a convenient interface for quickly creating animated GIFs out of your clips.
Google Play Music for music playing
Google Play Music is the default player for your tunes on the Galaxy J5 (2017). It can play your local files, as well as stream music from the cloud and it's backed by Samsung's extensive sound enhancements.
They include the SoundAlive tool, which has an intuitive interface for tuning the equalizer. Presets and two simple dials are available for basic users, and there is a manual 9-band equalizer for more advanced users.
Adapt Sound is even simpler. It tunes the EQ to your hearing and your particular pair of ears and headphones by playing multiple frequencies and asking how well you hear them. Smart Volume automatically adjusts the volume of tracks from multiple sources.
UHQ sound resolution enhancer is available as well for upscaling compressed audio. There are also features such as Surround sound emulation and Tube Amp Pro simulator.
FM radio
J > S, at least in one area - the Galaxy J5 (2017) has an FM radio receiver. The app interface is clean and simple, there's RDS (you need to enable it settings) and a recorder - not much more you can ask for.
Audio output is solid
The Samsung Galaxy J5 (2017) demonstrated perfectly clean output when hooked up to an active external amplifier. Its loudness was high too so a great start for the mid-ranger.
Volume remained unchanged when we hooked up our standard headset, while the drop in output quality was acceptable. Stereo quality went to below average and a small amount of intermodulation distortion crept in, but the other readings remained excellent, so not much to frown at, really.
Test
Frequency response
Noise level
Dynamic range
THD
IMD + Noise
Stereo crosstalk
Samsung Galaxy J5 (2017)
+0.03, -0.01
-85.0
85.8
0.0039
0.021
-90.3
Samsung Galaxy J5 (2017) (headphones attached)
+0.25, -0.12
-84.0
84.0
0.083
0.215
-59.1
Samsung Galaxy J7 (2017)
+0.01, -0.03
-92.8
92.8
0.0032
0.031
-92.3
Samsung Galaxy J7 (2017) (headphones attached)
+0.23, -0.15
-92.1
91.8
0.013
0.223
-77.3
Sony Xperia L1
+0.10, -0.11
-93.6
92.9
0.0090
0.013
-93.8
Sony Xperia L1 (headphones)
+0.79, -0.10
-92.9
91.9
0.010
0.420
-53.1
Nokia 5
+0.02, -0.03
-94.3
92.8
0.0035
0.019
-91.9
Nokia 5 (headphones)
+0.00, -0.09
-92.4
89.9
0.0041
0.016
-68.6
Xiaomi Redmi 4
+0.06, -0.02
-94.3
90.8
0.0024
0.0089
-94.0
Xiaomi Redmi 4 (headphones)
+0.06, -0.04
-93.8
90.6
0.035
0.044
-79.5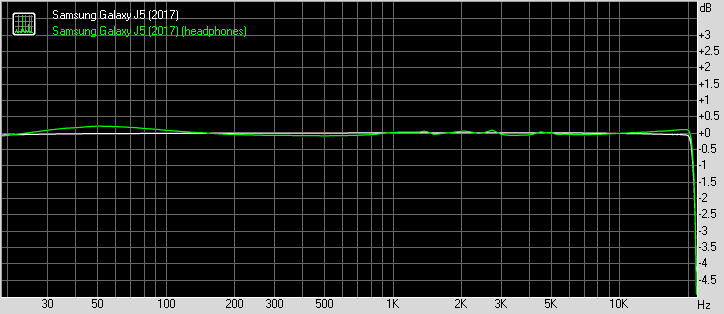 Samsung Galaxy J5 (2017) frequency response
You can learn more about the tested parameters and the whole testing process here.