Excellent display
The Samsung Galaxy Alpha uses a 4.7" Super AMOLED display with 720p resolution and 312ppi pixel density. That's a first for a Samsung phone - the Galaxy S III was a 4.8" 720p screen while the Galaxy S5 mini has a 4.5" 720p screen, both close but not the same.



A 4.7" Super AMOLED screen with 720p resolution
Anyway, the latest generation of Super AMOLED boasts improved sunlight legibility and color accuracy along with reduced power usage. As usual viewing angles are stunning.
The 300ppi may not be cutting edge these days, but it's enough by our books. It's really hard to actually see any imperfections though if you look close enough you can spot the telltale signs of the PenTile matrix.
It's the diamond pattern arrangement that Samsung has been using for a couple of generations of Super AMOLED, which does look better than the regular PenTile arrangement.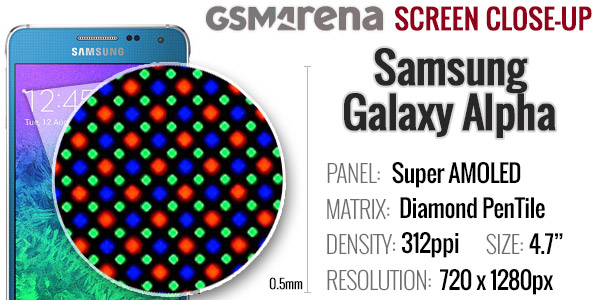 The Galaxy Alpha screen proved slightly brighter than the Galaxy S5 mini screen though not quite as bright as the big Galaxy S5. Outdoors in the summer sun, the brightness comes a bit short.
Black levels are perfect though resulting in an impressive contrast ratio.
The Sony Xperia Z1 Compact has amazing contrast too and it's a potential competitor to the Alpha (though the upcoming Z3 Compact is where the real battle will be).
Display test
50% brightness
100% brightness
Black, cd/m2
White, cd/m2
Contrast ratio
Black, cd/m2
White, cd/m2
Contrast ratio
Samsung Galaxy Alpha
0
228
∞
0
456
∞
Samsung Galaxy S5
0
274
∞
0
529
∞
Samsung Galaxy S5 mini
0
226
∞
0
432
∞
Samsung I9190 Galaxy S4 mini
0
166
∞
0
396
∞
Sony Xperia Z1 Compact
-
-
-
0.34
626
1819
LG G2 mini
0.12
91
752
0.52
398
748
HTC One mini 2
0.19
220
1141
0.42
501
1196
Apple iPhone 5s
0.14
163
1145
0.49
596
1219
Super AMOLEDs rely on their low reflectivity for good sunlight legibility so even with an average brightness (compared to LCDs) the Galaxy Alpha screen is among the best we've tested in our Sunlight legibility test. It's practically as good as the Galaxy S5 screen or the Apple iPhone 5s screen.
Aside from Android minis, the Alpha will also fight it out with the new iPhone, so this is an important comparison. Of course the iPhone 6 is the real target and we have no measurements of that but if the iPhone 5s is of any indication, it should offer great sunlight legibility as well.
Sunlight contrast ratio
Nokia 808 PureView
4.698
Apple iPhone 5
3.997
Samsung Galaxy Note 3
3.997
Samsung Galaxy K zoom
3.675
Apple iPhone 5s
3.565
Samsung Galaxy S5
3.549
Alcatel Idol X+
3.527
Apple iPhone 5c
3.512
Samsung Galaxy Alpha
3.509
Samsung Galaxy Note 3 Neo
3.487
Motorola RAZR MAXX
3.42
Samsung I9300 Galaxy S III
3.419
Nokia Lumia 925
3.402
Gionee Elife S5.5
3.386
Samsung I9505 Galaxy S4
3.352
Samsung Omnia W
3.301
Samsung Galaxy S5 mini
3.174
Samsung I9000 Galaxy S
3.155
Samsung Ativ S
3.129
Samsung I9190 Galaxy S4 mini
3.127
Samsung Galaxy S4 zoom
3.118
Nokia N9
3.069
Samsung Galaxy Note
2.97
Samsung Galaxy Premier
2.958
Sony Xperia Z1
2.95
HTC One S
2.901
Samsung I8730 Galaxy Express
2.861
BlackBerry Q10
2.856
Samsung I9100 Galaxy S II
2.832
Samsung Galaxy S II Plus
2.801
BlackBerry Z30
2.79
Sony Xperia ZR
2.672
Huawei Ascend P1
2.655
Nokia Lumia 900
2.562
HTC One Max
2.537
Nokia Lumia 720
2.512
HTC One
2.504
Motorola Moto G
2.477
Sony Xperia Z
2.462
Xiaomi Mi 4
2.424
Samsung Galaxy S III mini
2.422
LG G Flex
2.407
HTC One (M8)
2.371
Motorola RAZR i
2.366
Sony Xperia ZL
2.352
Samsung Galaxy Note II
2.307
Oppo Find 7a
2.279
Alcatel One Touch Hero
2.272
Apple iPhone 4S
2.269
HTC Desire 600 dual sim
2.262
Nokia Asha 311
2.25
LG Nexus 5
2.228
Nokia Lumia 820
2.193
HTC One (E8)
2.185
Nokia Lumia 920
2.17
HTC One X
2.158
Nokia N8
2.144
Nokia Lumia 620
2.142
Nokia 515
2.134
HTC Desire 500
2.129
Sony Xperia acro S
2.119
Nokia Lumia 1020
2.103
Oppo Find 5
2.088
Sony Xperia SL
2.078
Nokia Lumia 630
2.056
BlackBerry Z10
2.051
Samsung I9295 Galaxy S4 Active
2.022
Apple iPhone 4
2.016
HTC One mini
2.003
Xiaomi Mi 3
2.001
Huawei Ascend P7
1.992
LG G2
1.976
Oppo R819
1.957
Sony Ericsson Xperia ray
1.955
Sony Xperia Z2
1.944
Nokia Lumia 1320
1.941
HTC One mini 2
1.94
Samsung Galaxy Camera
1.938
Sony Xperia J
1.932
Acer CloudMobile S500
1.931
LG Nexus 4
1.926
LG G Pro 2
1.922
Samsung Galaxy Mega 6.3
1.913
Nokia Asha 308
1.911
Sony Xperia T
1.894
HTC Desire X
1.878
HTC Windows Phone 8X
1.873
HTC Butterfly
1.873
HTC Butterfly S
1.867
Huawei Ascend P6
1.865
Huawei Ascend Mate
1.845
LG G2 mini
1.838
LG G3
1.82
Nokia Lumia 1520
1.813
HTC Desire 616 dual sim
1.797
Sony Xperia V
1.792
HTC Desire 816
1.783
Sony Xperia Z1 Compact
1.772
HTC Desire 700 dual sim
1.769
Sony Xperia U
1.758
Meizu MX3
1.754
LG Optimus G
1.753
Sony Xperia T2 Ultra
1.74
Sony Xperia SP
1.733
LG Optimus 4X HD
1.691
Oppo Find 7
1.691
HTC One V
1.685
BlackBerry Q5
1.682
LG Optimus Vu
1.68
LG Optimus GJ
1.666
LG Optimus 3D Max
1.658
HTC Desire V
1.646
Samsung Galaxy Xcover 2
1.632
Samsung Galaxy Ace 3
1.622
Jolla Jolla
1.605
Sony Xperia Z Ultra
1.578
Sony Xperia go
1.577
Samsung Galaxy Ace 2 I8160
1.566
Samsung Galaxy Core
1.563
LG Optimus G Pro
1.552
Motorola Moto E
1.545
LG Optimus 3D
1.542
Nokia Asha 302
1.537
BlackBerry Curve 9320
1.488
Sony Xperia M
1.473
Oppo N1
1.47
Meizu MX 4-core
1.462
Nokia Lumia 610
1.432
Samsung Galaxy S Duos
1.4
Samsung Galaxy Grand Neo
1.393
Sony Xperia M2
1.393
Samsung Galaxy Grand 2
1.38
Sony Xperia E1
1.372
Nokia Lumia 625
1.371
Gigabyte GSmart G1355
1.361
Sony Xperia L
1.351
Samsung Galaxy Mega 5.8
1.35
Sony Xperia miro
1.324
Samsung I9082 Galaxy Grand
1.321
Samsung I8530 Galaxy Beam
1.315
HTC Desire C
1.3
Nokia X
1.291
Sony Xperia C
1.283
Nokia Asha 503
1.281
Nokia Asha 501
1.27
LG Optimus L7
1.269
Nokia Lumia 510
1.268
Samsung Galaxy Fame
1.245
LG Optimus L9
1.227
Meizu MX
1.221
Samsung Galaxy Young
1.22
Sony Xperia E
1.215
Nokia XL
1.204
Sony Xperia E dual
1.203
Samsung Galaxy Pocket
1.18
Nokia Asha 305
1.178
Nokia Asha 306
1.175
Sony Xperia neo L
1.169
Sony Xperia tipo
1.166
Nokia Lumia 520
1.161
Samsung S6802 Galaxy Ace Duos
1.148
Samsung Galaxy mini 2
1.114
Colors are beautifully rendered on the Samsung Galaxy Alpha's screen but everybody have their own preferences when it comes to color saturation. The Screen mode option lets you pick between more saturated or more accurate options for the saturation.
There's a slider in the notification area to adjust the screen brightness. If you enable auto brightness that slider biases the automatic setting towards brighter or darker. You can enable an automatic screen tone adjustment, which promises to improve battery life by adjusting screen settings to the image it's displaying.
Another option is Smart stay, which prevents the display from locking while you're looking at it. This way you can keep the screen timeout at a short setting (say, 30 seconds) without the annoyance of having to manually keep the screen on while reading a longer article.
If you're wondering what's with all the battery saving tips, it's because the battery capacity of the Galaxy Alpha is lower than we're used to on a 4.5+ inch phone. The battery tests will reveal if those tips were necessary or not.
Battery life
The 1,860mAh battery capacity blinked like a warning beacon on the Samsung Galaxy Alpha spec page but we're glad the phone makes the best out of it. We've only tested the version with an Exynos 5430 chipset so far so keep in mind that the Snapdragon 801 version might have a somewhat different endurance.
The 52 hours endurance rating is on par with what an iPhone 5s achieves, though the Sony Xperia Z1 Compact has a noticeably lead on both. It remains to be seen what the iPhone 6 and Xperia Z3 Compact, the true Galaxy Alpha rivals, will be like.
With the Alpha, talk time is solid but the tests that involve the full processing power and display staying on are somewhat unimpressive.
Adding the standby battery performance allowed us to come up with an endurance rating of 52h - that should be good enough for a day of heavy usage, two if you don't push it as hard.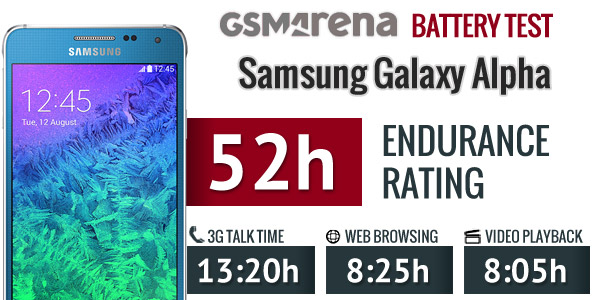 You can find more details in our blog post. More details on how battery life is tested is available if you're curious.
Connectivity
The Samsung Galaxy Alpha comes loaded with wireless connectivity features. It starts with LTE Cat. 6 (up to 300Mpbs down, 50Mbps up) to match what the latest Snapdragon 805 can offer. Regular 2G and 3G connectivity is of course supported, too.
Local connectivity is no slower, the phone packs a MIMO (2x2) antenna setup for dual-channel connectivity. That's different from dual-band (which the Alpha also has), it means that it can use 80MHz of the Wi-Fi spectrum instead of the usual 40MHz for enhanced speed. Wi-Fi a/b/g/n/ac standards are supported as are Wi-Fi Direct and Miracast screen mirroring.
The Galaxy Alpha has the Download booster features - for native apps it can download simultaneously from Wi-Fi and from LTE to combine their speeds. Unless you're connected to a really slow Wi-Fi network we don't see much use in it though.
Additional local connectivity includes Bluetooth 4.0 LE and ANT+, both of which are low-power and can be used to connect with wireless sports accessories (to be used with the S Health app or third-party apps). NFC rounds off the wireless connectivity section.
The Galaxy Alpha relies on a standard microUSB 2.0 port for charging and wired data connectivity. USB 3.0 ports are rare and require a fairly large adapter. The port is USB OTG-enabled meaning you can attach USB accessories to it (e.g. a thumb drive). What we miss here is wired TV out either via MHL or SlimPort.