Display
The Samsung Galaxy A9 (2016) comes with a massive 6" Super AMOLED display. That's the biggest unit yet unless we count the Tab S tablets.
It has 1080p resolution, like the other A-series phones. It's a bit of a stretch on this diagonal - most people won't mind, but in some cases, you can see a slight cross-hatch effect. There was also the flicker issue - it's imperceptible to the human eye, but the display flickers slightly (especially at lower brightness settings), which may cause irritation.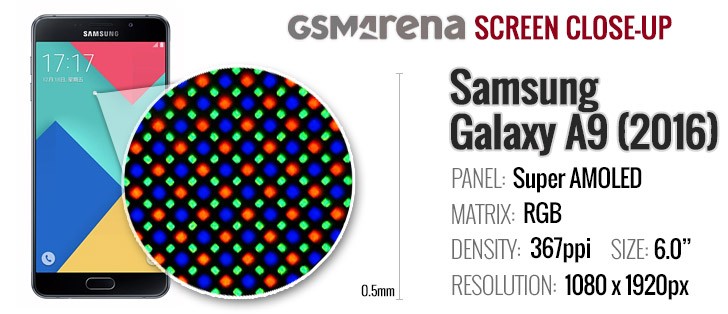 Other than that the display is a knockout. If you want perfectly calibrated color output, just switch to the Basic color mode as it comes with an average color deviation (deltaE 2000) of only 1.6 and a maximum of just 3.5. The other color modes are less color accurate but will probably be more eye pleasing due to their higher contrast.
The screen is impressively bright too, maxing out at just over 600nits when set on Auto mode. If you prefer full control, Manual mode gives you a maximum of 425nits. This, combined with the awesome AMOLED contrast, makes for a great viewing experience.
Display test
100% brightness
Black, cd/m2
White, cd/m2
Contrast ratio
Samsung Galaxy A9 (2016)
0.00
426.6
∞
Samsung Galaxy A9 (2016) max auto
0.00
609.2
∞
Samsung Galaxy A7 (2016)
0.00
425
∞
Samsung Galaxy A7 (2016) max auto
0.00
536
∞
Samsung Galaxy Note5
-
439
∞
Samsung Galaxy Note5 max auto
-
620
-
Samsung Galaxy S6 edge+
-
410
∞
Samsung Galaxy S6 edge+ max auto
-
540
-
Huawei Mate 8
0.346
471
1361
Huawei Nexus 6P
0.00
352
∞
Microsoft Lumia 950XL
0.00
335
∞
Microsoft Lumia 950XL (max auto)
0.00
705
∞
Oppo R7 Plus
-
351
∞
Under bright sunlight, the Galaxy A9 screen remains perfectly legible even at the 400 or so nits that you get from Manual mode.
Sunlight contrast ratio
Samsung Galaxy S6 edge+
4.615
HTC One A9
4.274
Samsung Galaxy S6 edge
4.124
Samsung Galaxy Note5
4.09
Huawei Nexus 6P
4.019
OnePlus X
3.983
Oppo R7s
3.964
Samsung Galaxy A7 (2016)
3.918
Samsung Galaxy A5
3.895
Samsung Galaxy J7 outdoor
3.879
Samsung Galaxy J2 outdoor
3.873
Samsung Galaxy A8
3.859
Apple iPhone 6
3.838
Microsoft Lumia 950XL
3.837
Samsung Galaxy A9 (2016)
3.817
Motorola Moto X (2014)
3.816
Samsung Galaxy A5 (2016)
3.789
Apple iPhone 6s
3.783
Meizu Pro 5
3.781
Vivo X5Pro
3.706
Samsung Galaxy A7
3.679
BlackBerry Priv
3.645
Apple iPhone 6s Plus
3.53
Microsoft Lumia 950
3.512
Oppo R7 Plus
3.499
Samsung Galaxy J7
3.422
Meizu MX5
3.416
Oppo R7
3.32
Samsung Galaxy J2
3.235
Motorola Moto X Play
3.222
Lenovo Vibe Shot
3.113
LG Nexus 5X
3.092
Huawei Mate S
3.073
Microsoft Lumia 640 XL
3.065
Apple iPhone 6 Plus
3.023
Samsung Galaxy Note
2.97
Huawei Mate 8
2.949
HTC One S
2.901
Sony Xperia Z5
2.876
Microsoft Lumia 550
2.851
Sony Xperia Z5 compact
2.784
LG V10
2.744
Xiaomi Redmi 3
2.735
Sony Xperia M5
2.69
Xiaomi Mi 4i
2.641
Xiaomi Mi 4c
2.574
Microsoft Lumia 640
2.563
Motorola Moto G 4G
2.546
Oppo F1
2.528
Sony Xperia Z5 Premium
2.525
Sony Xperia M4 Aqua
2.503
Motorola Moto G
2.477
Huawei G8
2.471
Sony Xperia Z
2.462
Xiaomi Mi 4
2.424
Huawei Honor 7
2.406
ZUK Z1 by Lenovo
2.382
HTC One E9+
2.305
Sony Xperia C5 Ultra
2.253
Xiaomi Redmi Note 3 (MediaTek)
2.249
Sony Xperia C4 Dual
2.235
Motorola Moto G (2014)
2.233
LG Nexus 5
2.228
Huawei P8
2.196
Xiaomi Redmi Note 2
2.166
OnePlus Two
2.165
HTC One X
2.158
Archos 50 Diamond
2.134
Xiaomi Redmi Note
2.119
Huawei P8lite
2.078
Moto G 3rd gen max manual
2.026
Sony Xperia E4g
1.972
OnePlus One
1.961
Meizu m2 note
1.892
BlackBerry Leap
1.892
HTC Butterfly
1.873
ZTE Nubia Z9 mini
1.759
Sony Xperia U
1.758
Asus Zenfone Selfie
1.68
Motorola Moto E (2nd Gen)
1.675
ZTE Nubia Z9
1.659
Motorola Moto E
1.545
Sony Xperia M
1.473
Xiaomi Redmi 2
1.311
Sony Xperia C
1.283
Meizu MX
1.221
Connectivity
The Samsung Galaxy A9 (2016) is available in single-SIM form, as well as several dual-SIM flavors.The key difference between them is where does the second SIM go - on some models it displaces the microSD, on others it goes on a second tray (our review unit, SM-A9000, is like that).
The phone is officially rated at LTE Cat. 4 support - that's up to 150Mbps downloads and up to 50Mbps uploads. That's strange since Snapdragon 652's X8 modem supports the Cat. 7 standard - 300Mbps down, 100Mbps up.
Anyway, you get 3G/4G only for one SIM - the one selected as data SIM. The other is limited to 2G/EDGE.
You can connect to the fastest available Wi-Fi network at 2.4GHz or 5GHz, 802.11ac is supported too.
Additional wireless connections include Bluetooth 4.1, NFC and ANT+. Positioning methods cover American GPS, Russian GLONASS and Chinese Beidou.
Wired connections are served by the microUSB 2.0 port, which does USB On-The-Go for peripherals, but lacks MHL (or other) for TV out.
Battery life
The Samsung Galaxy A9 (2016) has a massive 4,000mAh battery and we expect a lot from it, based on experience with the smaller A-phones. Those were using the older S615 chipset, though, this A9 unit has a Snapdragon 652.
The results are stellar, with an Endurance rating of 103 hours (in single-SIM mode), the Galaxy A9 is the longest-lasting Samsung phone save for the S6 active. With a second SIM the gas needle barely moves, the A9 lasted 98 hours.
The talk time is great at 33 hours, literally more talking than you can do in a day. The web browsing longevity is impressive, not Huawei Mate 8 impressive, but among the best aside from a few outliers. For video playback, the Galaxy A9 (2016) came second only to the LG G Flex.