Bigger, brighter, faster 90Hz, 6.7-inch AMOLED display
Samsung has stepped up its display game on the Galaxy A series this year. The Galaxy A32, A52 and A72 all constitute a solid upgrade in the display department over their predecessors. High refresh rate is making a debut in the Galaxy A family, and it's not just limited to one device either. All of the above models have new, smooth 90Hz panels. The A72 has a 6.7-inch diagonal, which is slightly bigger than the 6.5-inches on the A52 and one of the reasons some users might consider picking it up instead.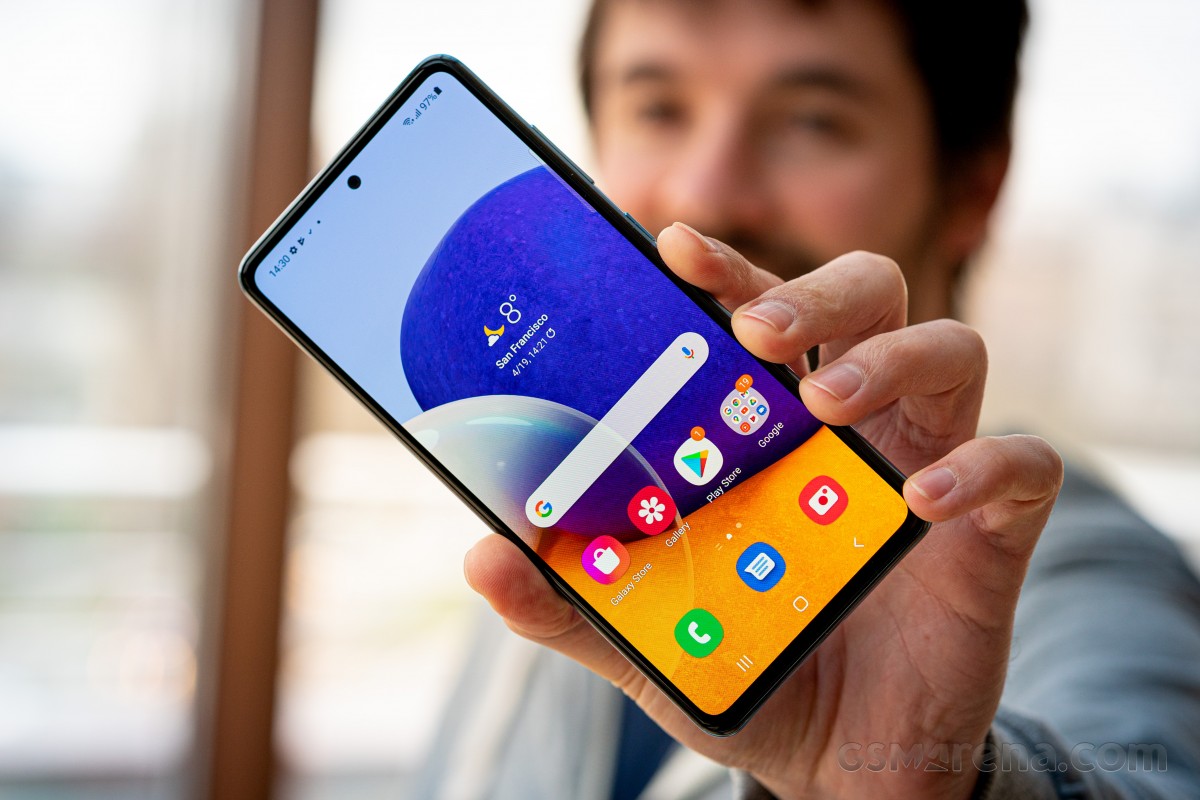 Not only are the new panels faster, but they are also brighter. Both the Galaxy A52 and A72 are marketed as having 800 nits of peak brightness. We managed to easily achieve this in bright lighting conditions, with max auto reaching 825 nits in our tests. This makes the A72 perfectly usable outdoors, even in sunlight.
Display test
100% brightness
Black,cd/m2
White,cd/m2
Contrast ratio
Xiaomi Mi 11 Lite 4G (Max Auto)
0
826
∞
Samsung Galaxy A72 (Max Auto)
0
825
∞
Samsung Galaxy A32 (Max Auto)
0
814
∞
Samsung Galaxy A52 (Max Auto)
0
794
∞
Xiaomi Redmi Note 10 Pro (Max Auto)
0
725
∞
Poco F3 (Max Auto)
0
716
∞
Xiaomi Redmi Note 10 (Max Auto)
0
682
∞
Samsung Galaxy M51 (Max Auto)
0
677
∞
Realme 8 Pro (Max Auto)
0
627
∞
Realme 7 Pro (Max Auto)
0
585
∞
Samsung Galaxy A42 5G (Max Auto)
0
570
∞
Poco X3 Pro (Max Auto)
0.4
534
1335:1
Samsung Galaxy A71 (Max Auto)
0
515
∞
Poco F3
0
511
∞
Xiaomi Mi 11 Lite 4G
0
476
∞
Xiaomi Redmi Note 10
0
475
∞
Realme 7 Pro
0
459
∞
Poco X3 Pro
0.327
458
1401:1
Xiaomi Redmi Note 10 Pro
0
457
∞
Realme 8 Pro
0
454
∞
Samsung Galaxy A71
0
398
∞
Samsung Galaxy A72
0
396
∞
Samsung Galaxy A42 5G
0
395
∞
Samsung Galaxy A32
0
393
∞
Samsung Galaxy A52
0
386
∞
Samsung Galaxy M51
0
373
∞
In typical Samsung fashion, the Galaxy has two color profiles available in settings - Vivid (default) and natural. The former comes with a color tone slider, as well as custom white point adjustment.
Natural is meant to target the sRGB color space, which it manages relatively well, though not as well as the Galaxy A52. The white point itself is nearly perfect. It's just the rendition of green that is slightly off. It is still a great panel, though, especially in Vivid mode, where colors look great and have that desirable OLED "punch" to them.
One thing the new generation of panels on the A series lacks, however, is HDR video capabilities. Or at least official HDR certification.
At least Widevine L1 support is present.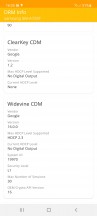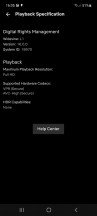 Widevine and Netflix capabilities
Samsung has also included blue light protection, called Eye comfort shield. It has an adaptive setting that gradually adjusts colors throughout the day, if you are into that, as well as a simpler schedule option. You can also have Dark mode on a schedule.
High refresh rate handling
A 90Hz refresh rate is more or less "entry-level" high refresh rate by today's standards. It is just a basic step above 60Hz, but still a noticeable one. The extra smoothness is particularly apparent while scrolling and is much appreciated. Going by past experience, the jump from the standard 60Hz to 90Hz is generally not too tasking on battery life either.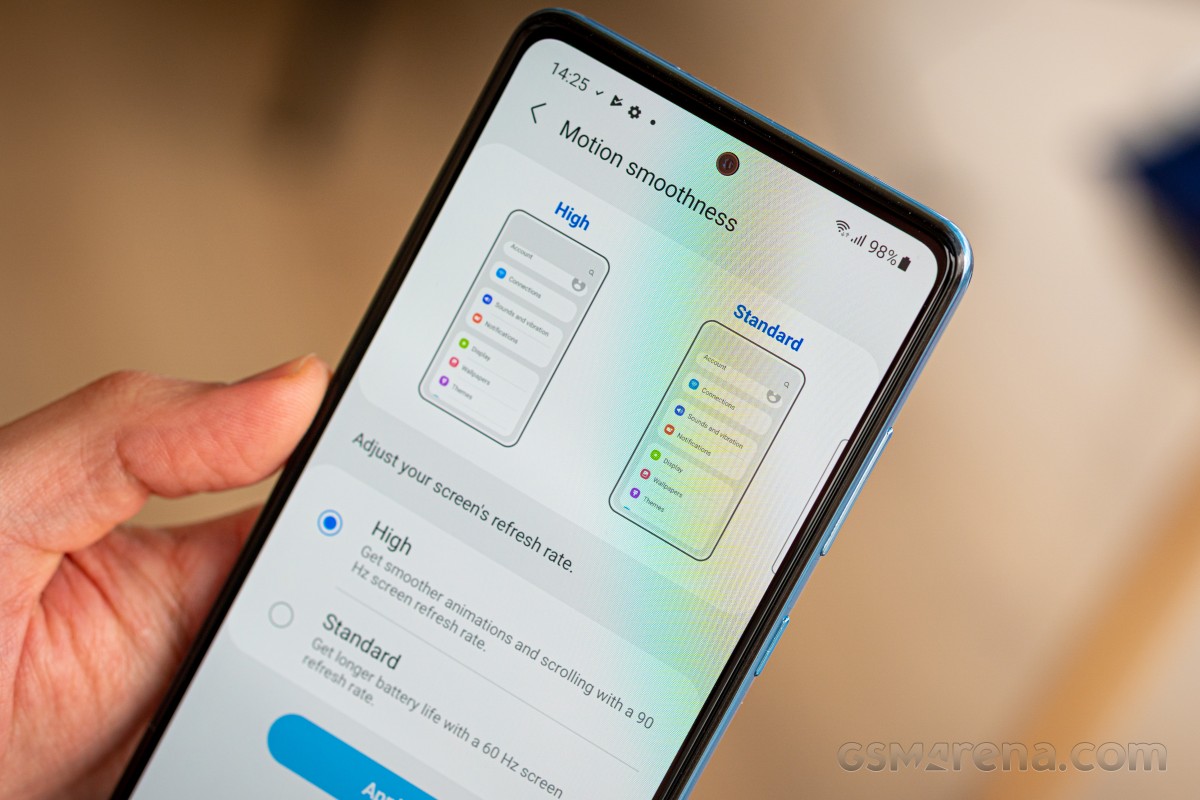 The Galaxy A72 doesn't promise any "smart" or adaptive refresh rate handling. Instead, it just has two aptly-named options in display settings - High and Standard. These, pretty-much lock refresh rate to 90Hz and 60Hz, respectively.
While in High refresh rate mode, most apps just run at 90Hz, including most of the Google suite, like Drive, Gmail, Play Store. All the browsers we tried behaved in the same way. So do other popular apps like Netflix, Facebook, Instagram, TikTok and Snapchat.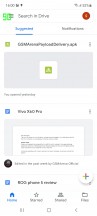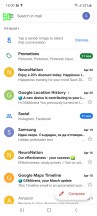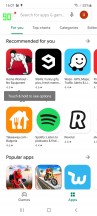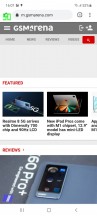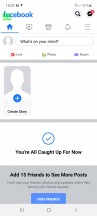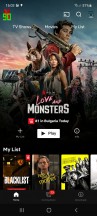 Apps running at 90Hz: Drive • Gmail • Play Store • Chrome • Facebook • Netflix
This is all fine and dandy for the extra smoothness, but ideally, you would still want to play videos back in 60Hz instead of 90Hz. Even if the delta in battery usage is not that significant as it would be with a 120Hz or 144Hz panel, there is still no reason to waste that battery life. Unfortunately, Google Photos, YouTube and the Netflix app we already mentioned, as well as the built-in Video player, cannot automatically drop down to 60Hz and stick to 90Hz in High refresh rate mode. Not ideal.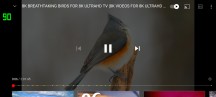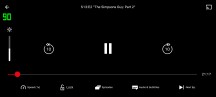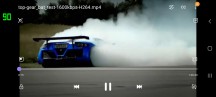 Apps also running at 90Hz: YouTube • Netflix • Video player
We just remain hopeful that Samsung will eventually inject some extra "smarts" into the system via software updates. It can definitely be done one way or another with clever software. Even something as simple as an "exclusion list" would be enough. Certain apps already specifically mandate 60Hz operation for one reason or another that override the 90Hz refresh rate in High refresh rate mode. Notable examples include Google Maps and the Camera app, as well as other apps that use a Maps UI component or call up a camera viewfinder.
Finally, we naturally tried some games on the Galaxy A72 that are known to support higher refresh rate panels. However, the thing is that often anything past the 60fps mark is a big ask for the Adreno 618 GPU inside the phone. Even with the help of the performance optimizations and resolution scaler offered by the Samsung Game Launcher.
Still, it is at least encouraging to see that the Galaxy A72 runs these titles with 90Hz enabled on its panel instead of dropping down to 60Hz. Of course, that is not to say that it always manages 90fps to saturate said refresh rate. Still, if you keep the games fairly simple and light, there are plenty of titles that can run at a smoother-than-60 refresh rate on the Galaxy A72 and provide a superior experience.
Battery life
The Galaxy A72 packs a 5,000 mAh battery - 500 mAh more than the A52. Not a bad accomplishment, considering both phones share the same 8.4mm thickness, with the A72 weighing just 4 grams more at 203 grams. That's pretty efficient use of space. It has the exact same 500 mAh bump up from the last-get Galaxy A71, as well.
As per the whole refresh rate situation, we made sure to run both our video and web tests at both 90Hz and 60Hz. The difference in endurance numbers is by no means massive, but it is noticeable. Ultimately, we decided to use the 90Hz web browsing results and the 60Hz video playback results for the final endurance calculation, resulting in a solid total of 117 hours in our proprietary testing.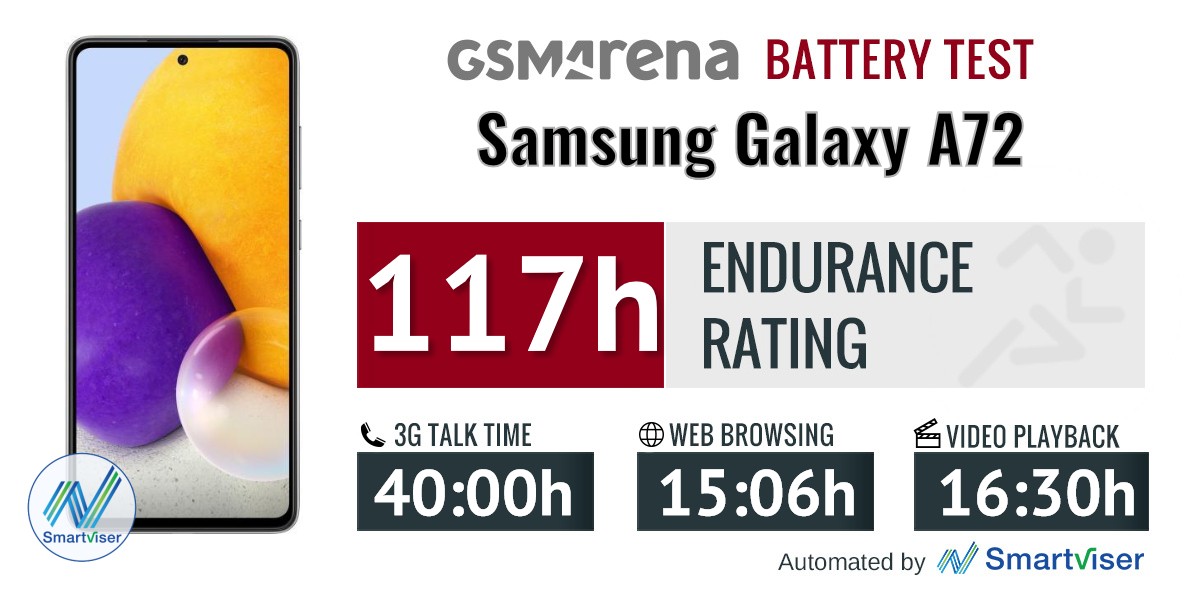 This is simply because playing video back at 90Hz is simply wasteful. If you decide to not bother with switching refresh rates down for video playback, you end up with around an hour and a half less of total video playback and a 114-hour total rating - nothing to scoff at. On the flip side, if you decide to just stay at 60Hz all around, you can end up with an endurance rating of 121 hours from the Galaxy A72.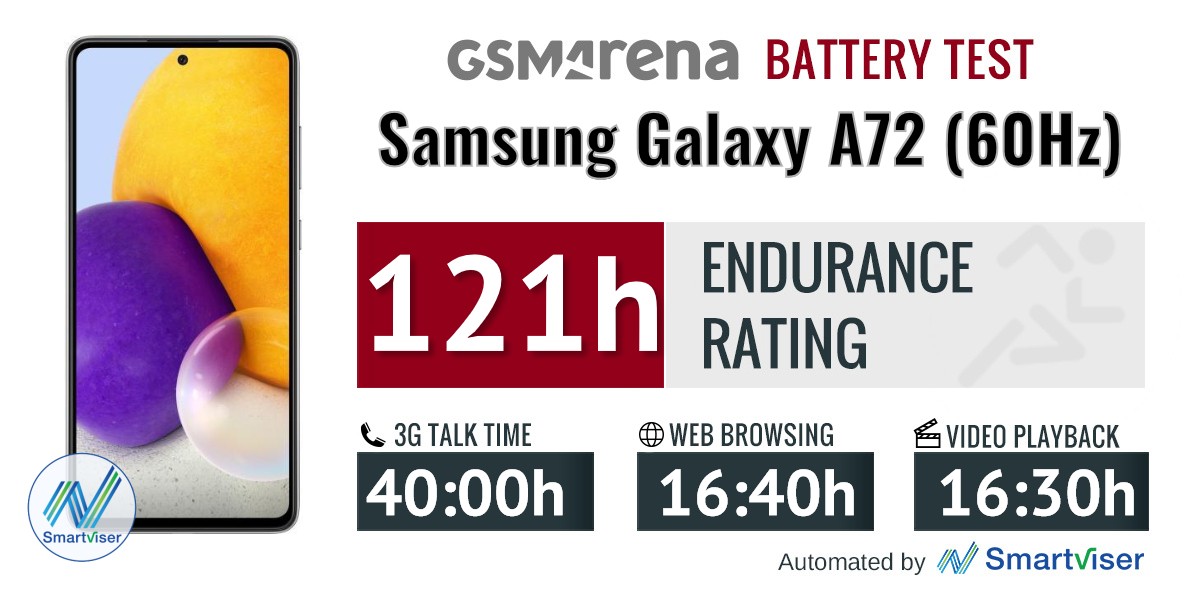 These results are well in line with what we have come to expect out of a Snapdragon 720G chipset and a big 5,000 mAh battery. For context, you can check out the Xiaomi Redmi Note 9 Pro. Though, that phone has a 60Hz LCD.
Our battery tests were automated thanks to SmartViser, using its viSerDevice app. The endurance rating denotes how long the battery charge will last you if you use the device for an hour of telephony, web browsing, and video playback daily. More details can be found here.
All test results shown are achieved under the highest screen refresh rate mode. You can adjust the endurance rating formula manually so it matches better your own usage in our all-time battery test results chart where you can also find all phones we've tested.
Charging speed
The Galaxy A72 arguably has a much more straightforward charging situation compared to the A52. While 25W PD support is a new addition on the latter and there is not compatible charger in the box, the A72 simply inherits its 25W PD charging from the A71 and the A70 before that. The proper charger is included in the box, alongside a compatible Type-C to Type-C cable.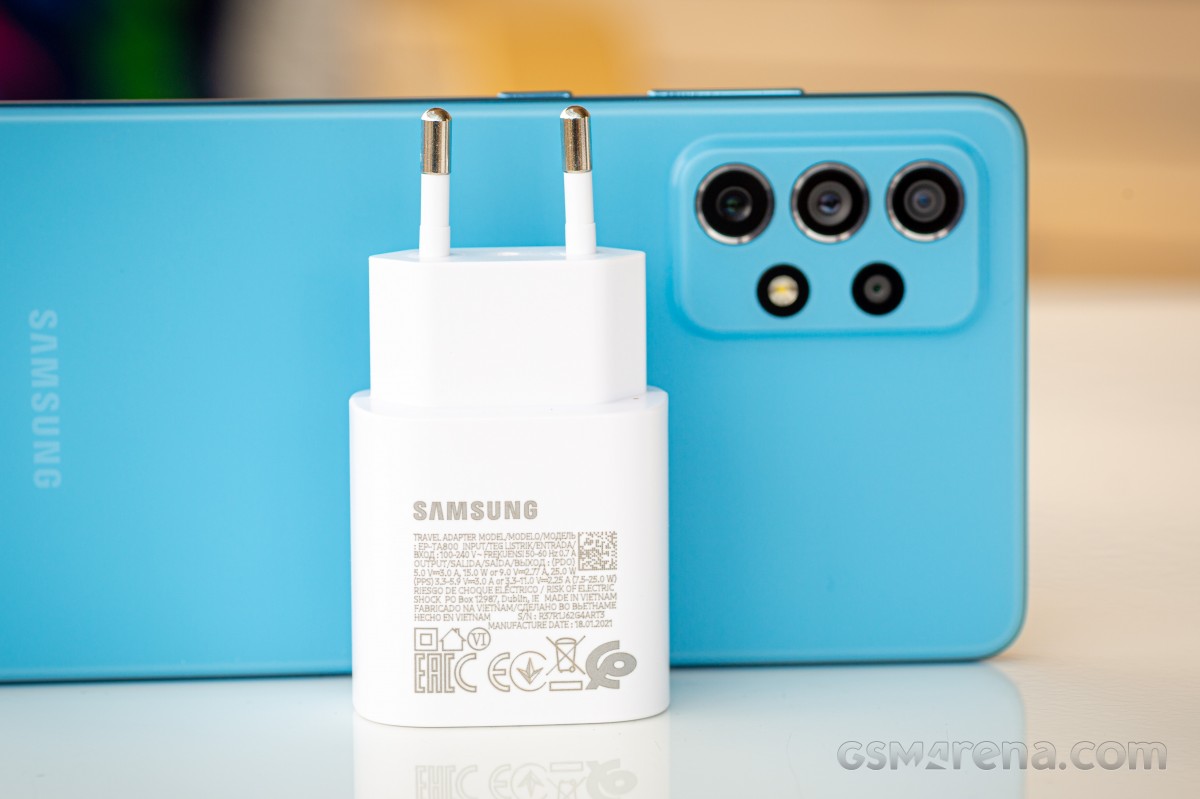 This definitely makes our life a bit easier since we don't need to test two different chargers with the A72, but the same goes for users, too.
30min charging test (from 0%)
Xiaomi Mi 11 Ultra
89%
Realme 8 Pro
88%
Poco F3
67%
Xiaomi Redmi Note 10
65%
Xiaomi Poco F2 Pro
60%
Samsung Galaxy A72
54%
Samsung Galaxy S21 Ultra 5G
54%
Samsung Galaxy A52 (25W)
52%
Samsung Galaxy A71
51%
Xiaomi Redmi Note 10 Pro
50%
Poco X3 Pro
50%
Samsung Galaxy Note20 Ultra 5G
43%
Samsung Galaxy A52
34%
Poco M3
25%
Time to full charge (from 0%)
Xiaomi Mi 11 Ultra
0:37h
Realme 8 Pro
0:38h
Poco F3
0:56h
Xiaomi Poco F2 Pro
1:05h
Poco X3 Pro
1:08h
Samsung Galaxy S21 Ultra 5G
1:11h
Xiaomi Redmi Note 10
1:13h
Samsung Galaxy A72
1:15h
Samsung Galaxy A71
1:21h
Xiaomi Redmi Note 10 Pro
1:21h
Samsung Galaxy Note20 Ultra 5G
1:23h
Samsung Galaxy A52 (25W)
1:30h
Samsung Galaxy A52
2:03h
Poco M3
2:30h
25W PD is clearly not the fastest charging standard around. However, it still clocks in decent charging times while also maintaining reasonable temperatures and not putting too much unnecessary strain on the battery pack. This should theoretically aid with long-term battery health and longevity.
The charging speeds with the 25W charger are pretty similar to what we've already seen on other Samsung devices, like the S21 family and the Note20 devices. In essence, you are getting pretty much the best Samsung currently offers.
Speaker test
One of the nifty generational improvements on the Galaxy A72, as well as its smaller A52 sibling, is a stereo speaker setup. It is not a "proper" stereo setup, though. There is only one dedicated bottom-firing speaker on the A72. The other channel is handled by the amplified earpiece, making this a hybrid stereo setup. Even so, it makes a noticeable difference in multimedia consumption, which is greatly appreciated.
It is not the cleanest, nor the loudest speaker setup around. Even so, it managed to best many of its mid-range competitors with a maximum of -26.4 LUFS, earning it a "good" loudness score. This was achieved using the default settings, which is to say Dolby Atmos turned off and the Equalizer set to normal. Turning Dolby Atmos On expectedly lowers the maximum volume a bit, down to -28 LUFS.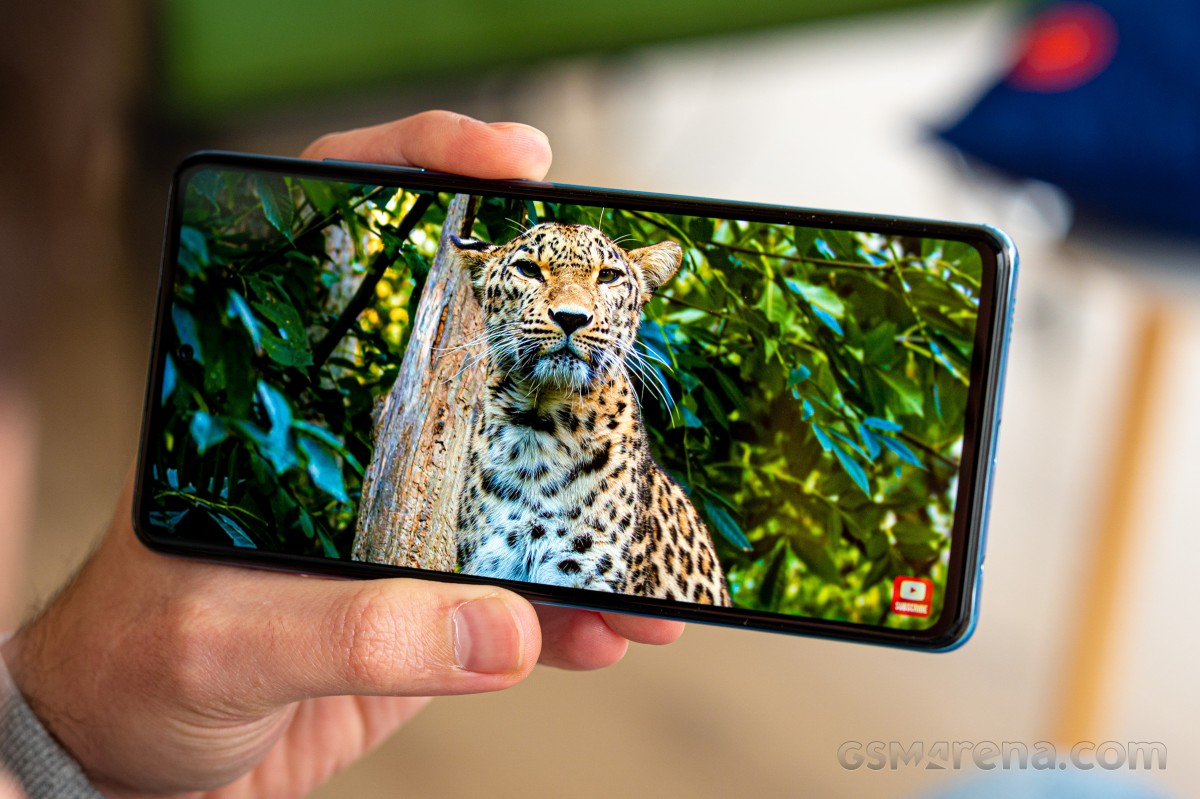 The Galaxy A72 actually has a rather feature-rich set of audio options. The Dolby Atmos implementation includes presets for movies, music and voice, as well as an automatic option. As a nifty bonus on top of that - Dolby Atmos for gaming specifically picks up and optimizes certain sounds, like footsteps in-game, for a slight competitive advantage.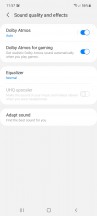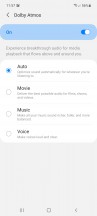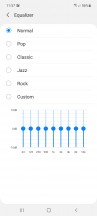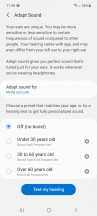 Dolby Atmos, equalizers and Adapt sound on the Galaxy A72
In our testing, Dolby Atmos managed to offer slight improvements in frequency response in the extreme lows without really altering the rest of the curve in any substantial way. If you elect to leave it off, you will get more loudness overall, though that is hardly vital for multimedia consumption when the phone is typically going to be quite close to your ears. In any case, it is better to have the option and potentially elect not to use it than not have it at all.
Rounding off the audio section, the Galaxy A72 also has an advanced equalizer, as well as Samsung's Adapt sound system, which can tune the audio profile to your specific personal needs and preferences.
Use the Playback controls to listen to the phone sample recordings (best use headphones). We measure the average loudness of the speakers in LUFS. A lower absolute value means a louder sound. A look at the frequency response chart will tell you how far off the ideal "0db" flat line is the reproduction of the bass, treble, and mid frequencies. You can add more phones to compare how they differ. The scores and ratings are not comparable with our older loudspeaker test. Learn more about how we test here.