Dual SIM telephony
The Samsung Galaxy A7 has strong reception and the in-call sound is loud. You can use the In-call sound equalizer to tune the audio (say, soft or clear sound) or if you use a headset you can let Adapt sound to tune the equalizer automatically.
The dialer is the familiar TouchWiz app and features all the basics - smart dial, quick dial and even a video call button. When calling someone (or they are calling you), the phone will remind you when you last spoke.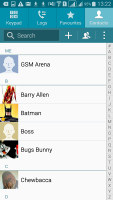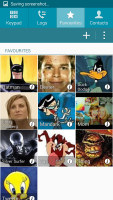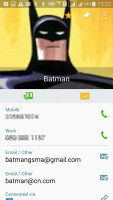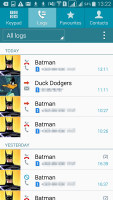 Phonebook • favorites • contact details • call log
For the dual-SIM Version, you can enable and disable individual cards and toggle the always on feature - this lets you receive incoming calls on one card, even when the other is active (but uses more battery, of course). You can pick which card is used for voice and video calls and which SIM provides the data. Note that on some models SIM2 is limited to 2G only (slow data and no video calls).
The dialer is part of a tabbed app that also houses the Logs. Those are very detailed and show not only calls, but messages too and you can filter by various types of events (missed call, received message, etc.). There's even a search feature if you need to look up calls from just one number or contact.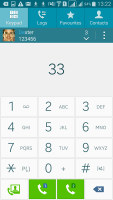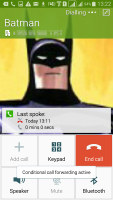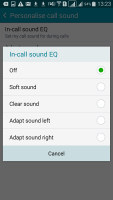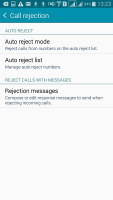 Dialer • last spoken reminder • in-call equalizer • call rejection options
We performed our traditional loudspeaker test on the Samsung Galaxy A7 and found it a mixed back. It scored an Average, well below the Excellent of the Galaxy Note 4, but it can be quite loud with the right ringtone. It was much quieter when used for hands-free talking though.
| | | | | |
| --- | --- | --- | --- | --- |
| Speakerphone test | Voice, dB | Pink noise/ Music, dB | Ringing phone, dB | Overall score |
| Samsung Galaxy A5 | 57.9 | 60.7 | 66.6 | Below Average |
| Apple iPhone 6 Plus | 67.3 | 65.7 | 66.5 | Below Average |
| Samsung Galaxy A7 | 64.8 | 66.3 | 73.5 | Average |
| Samsung Galaxy Note 3 N9005 | 70.5 | 66.6 | 78.0 | Good |
| LG G3 | 70.2 | 66.6 | 80.2 | Good |
| BlackBerry Passport | 76.6 | 71.9 | 76 | Very Good |
| Samsung Galaxy Note 4 | 74.7 | 73.5 | 81.6 | Excellent |
Messaging, email and text input
The Messages app gives you a row to fill with the most important contacts. It displays messages grouped into threads and handles both regular texts and MMS messages. On a dual-SIM phone there are two Send buttons so it's easy to use either card.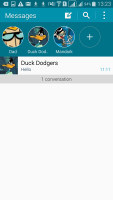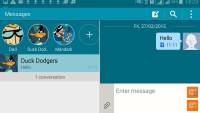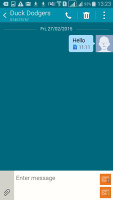 Messages app • split-screen UI in landscape • viewing a single thread
In landscape mode, the list of threads goes on the left, while messages in the selected thread go on the right. You can use pinch zoom to change the font size and fully customize the background and speech bubbles. Spam messages can be blocked with the built-in filter and links in messages can be disabled to prevent accidental clicks on links from spam. Yet another feature lets you schedule messages, say for a birthday or for parking.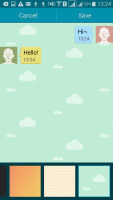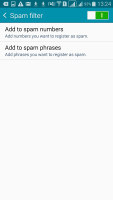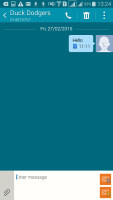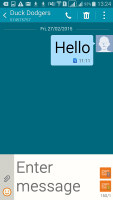 Customizing the look of the app • built-in spam filter • pinch zooming to change the font size
The Galaxy A7 comes with two email apps - the ubiquitous Gmail and the Android Email app. It supports multiple accounts and has a reasonably modern UI, but since the Gmail app gained support for third-party servers we prefer it overall.
Gmail is smart about categorizing messages and grouping them - e.g. all promotions go in a folder, all social network messages in another and so on, keeping the Primary folder clean and containing only the important stuff.
The Samsung keyboard offers an extra number row, which can be used to insert pre-written phrases by longpressing a particular number. You can use swipes on the keyboard to move the cursor or as an alternative to tap typing.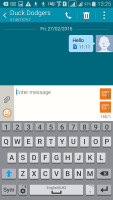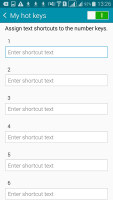 Samsung keyboard • landscape keyboard
A small floating keyboard is available in addition to the squished one-handed keyboards. There's intelligent predictive text feature that can learn from your messages (even your contacts' messages), your email and your social networking accounts. These are disabled by default and need your permission to activate.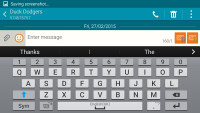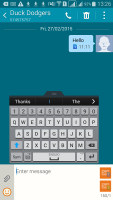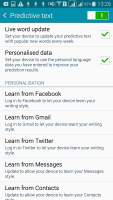 Landscape keyboard • floating keyboard • additional keyboard options