Alphabet soup
Samsung Galaxy A5 (2017) review: Alphabet soup
Camera
The Galaxy A5 (2017)'s primary camera is based on a 16MP sensor that sits behind a 27mm-equiv. lens with an f/1.9 aperture. It's lost the optical stabilization, unfortunately - last year's model had that. Autofocus is also contrast-detect only - or at least no phase detection is being advertised. There is a single-LED flash, but that's been Samsung's treatments of its flagships, so why should the A-series be any better.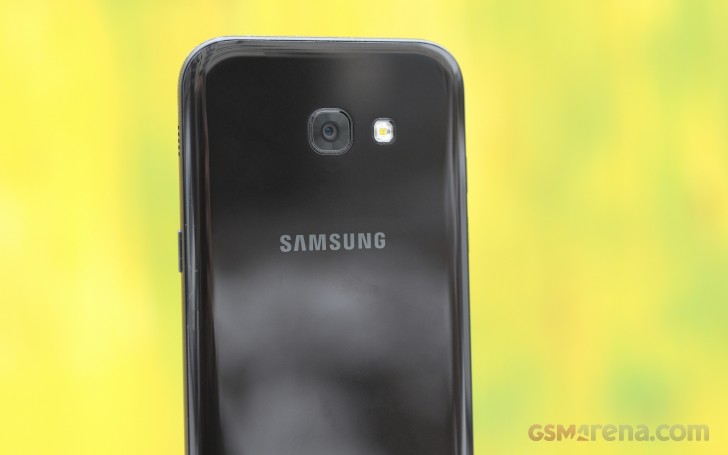 The camera interface has not received substantial changes. Grace UX has brought only minor refinements like swipe gestures.
As usual for Samsung smartphones, you can launch the camera with a quick double press on the Home key. The viewfinder greets you with only a flash mode toggle and a shortcut to settings.
From here you can swipe down to switch between the front and rear cameras, which is much appreciated even if not very original (LG says hi!). Swiping to the left gives you a panel with color filters, while in the other pane you get access to the shooting modes.
That's where HDR mode resides - there is no Auto HDR like on flagships and the HDR mode is a swipe and a tap away, instead of just a tap. A Pro mode is present too, though that's clearly a huge overstatement - you get control over exposure compensation, ISO and white balance presents, plus a metering mode selector, but no manual focus and no manual shutter speed. We gather the 'pro' could pass for 'program', but not 'professional', really.
Image quality is quite good, with low noise and minimal signs of noise reduction. Colors are pleasingly vivid too, without being over the top - in this weather it's mostly the iPhone graffiti in the second image that can testify to that, but it's enough (also the Photo compare tool down below). Dynamic range is good, though in extreme cases like the 4th and 5th sample you're bound to end up with blown highlights.
HDR needs to be engaged manually, there's no Auto and certainly no live preview like on the flagships. In high-contrast scenarios you might be wise to take a shot in normal and HDR mode, just in case. It does what it promises without much drama - shadows get a modest boost, and some detail in the highlights is salvaged, adding up to a very natural-looking image. Some might prefer a little less subtlety here.
We've seen better panoramas than the ones coming out of the Galaxy A5 (2017), but then again, we've seen better weather too, though certainly not lately. Anyway, the A5's panoramas are about 1,800px tall, detail is about average, and stitching is very good, of course provided there are no moving objects.
As promised, here are the shortcuts to the Photo compare tool, where you can pixel-peep to your heart's content. We've pre-selected the Galaxy S6 and the Huawei P9, but you can pick any two of the smartphones we've tested.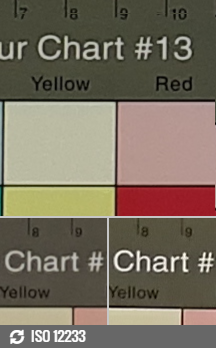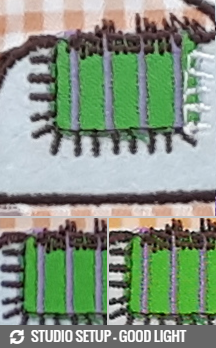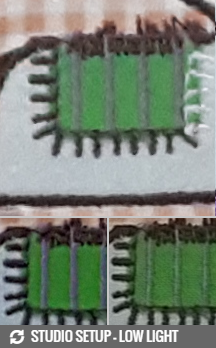 Samsung Galaxy A5 (2017) against the Galaxy S6 and the Huawei P9 in our Photo compare tool
Selfie camera
The selfie camera on the Galaxy A5 (2017) is another 16MP f/1.9 unit, though naturally not of the same caliber as the rear one with the same numbers. For one, the front-facer lacks autofocus, and you'd think that's a non-issue for a cam used almost exclusively at arm's length. It would have been, had the focus distance been tuned to arm's length shooting, and that's not the case.
Which is sad, because at the proper distance the results are superb, only that means just your face is in the frame, and presumes some serious interest in your pores. At arm's length everything's a blur.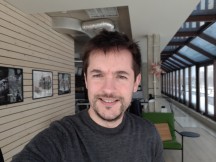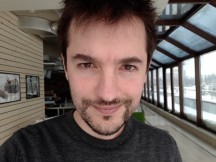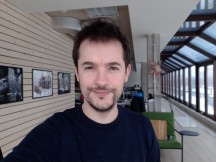 Selfie samples: At arm's length • Close-up best focus • Beautification on
The evenly matched pixel count prompted us to make a comparison between the front and rear cameras, and... well... makes you wonder just how crucial composition needs to be for it to make such a trade-off in quality worth it.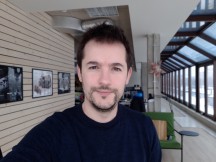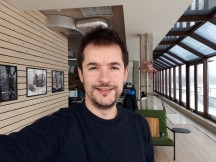 Front camera selfie • Rear camera selfie
Video camera
The Galaxy A5 (2017) captures video up to 1080p/30fps, so no 4K recording out of this one. We've sort of grown used to expecting a phone in this price range to be able to do it - damn you, OnePlus 3.
The A5's videos are encoded with a 17Mbps bitrate, the usual number, while audio gets a generous 256Kbps, stereo.
The FullHD video output is good, with nice levels of detail and low noise. Colors are rendered quite well too, though once again you're better off looking at the Video compare tool to get a better idea. Audio, by the way, is surprisingly clear, and it can't be down to just the bitrate.
An unedited sample (10s, 22MB) straight out of the camera is waiting for you to download from our server and examine in detail.
Finally, the Video compare tool is a good place to go and check how the A5 (2017)'s video output stacks up against the rest.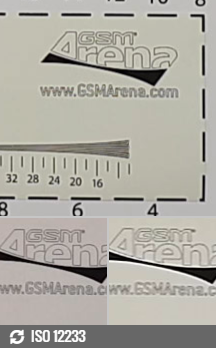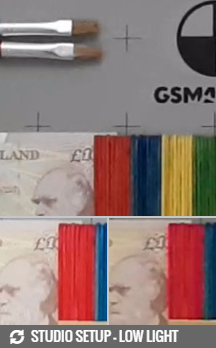 Samsung Galaxy A5 (2017) against the Galaxy S6 and the Huawei P9 in our Video compare tool