Alphabet soup
Samsung Galaxy A5 (2017) review: Alphabet soup
Display
The Galaxy A5 (2017) like all self-respecting Galaxies packs a Super AMOLED display. The A5 in particular is smack in the middle between the 4.7-inch A3 (2017) and the 5.7-inch A7 (2017) in terms of diagonal, and its 5.2-inch panel has FullHD resolution. That amounts to a 424ppi density but the Diamond Pixel arrangement makes that less sharp than a competing LCD with equal number of subpixels for each color. It's still plenty sharp though.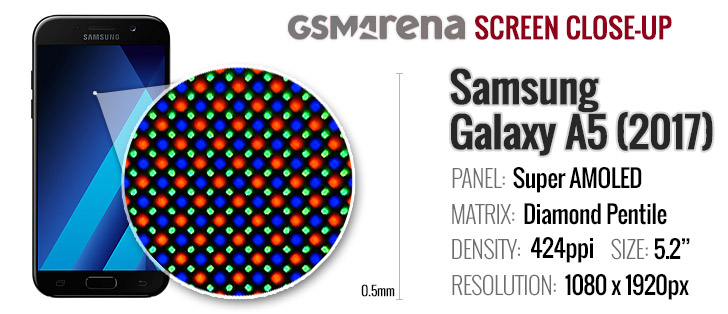 The display can give you that AMOLED punch that's become synonymous with the tech, at the expense of color accuracy. In Adaptive mode average DeltaE is 5.3 with Red waaay off at 11.2, but also quite inaccurate whites. Switch to basic mode, however, and you're treated to an excellently calibrated display with an average DeltaE of just 2.0 and a maximum of 3.2. Cinema and Photo modes are somewhere in between - whatever floats your boat.
Maximum brightness is excellent, particularly if you engage the Auto mode, in which case the display gets a healthy boost in bright conditions. That said, last year's model could pump out more nits in Auto mode. Even so, the A5 (2017)'s numbers are right up there with the S7 flagship - excellent. Contrast is infinite, it's Super AMOLED's treat for you. With a minimum brightness of just 1.8 nits night-time scrolling sessions won't strain your eyes either.
Display test
100% brightness
Black, cd/m2
White, cd/m2
Contrast ratio
Samsung Galaxy A5 (2016)
0
421
∞
Samsung Galaxy A5 (2016) max auto
0
601
∞
Samsung Galaxy A5 (2017)
0
413
∞
Samsung Galaxy A5 (2017) max auto
0
559
∞
Samsung Galaxy A3 (2017)
0
408
∞
Samsung Galaxy A3 (2017) max auto
0
518
∞
Samsung Galaxy S7
0
391
∞
Samsung Galaxy S7 max auto
0
563
∞
Samsung Galaxy S7 edge
0
392
∞
Samsung Galaxy S7 edge max auto
0
610
∞
Samsung Galaxy S6
0
363
∞
Samsung Galaxy S6 max auto
0
619
∞
Huawei Honor 8
0.34
374
1101
Huawei Honor 8 (Max auto)
0.34
395
1161
Honor 8
0.37
460
1243
Huawei nova
0.25
385
1540
Huawei P9
0.46
500
1094
OnePlus 3
0
433
∞
OnePlus 3T
0
447
∞
As for sunlight legibility, the AMOLED A5 for 2017 is on par with last year's model, and slightly better than the A3 (2017), but none of them is a match for this or last year's flagships. In fact, the A5 (2017) sunlight contrast ratio is virtually identical to the budget J7 (2016) - sounds great from that phone's perspective, not as flattering from the A5's. That said, only top-of-the-line LCD-equipped phones can post such results (the likes of the iPhone 7 and Xperia XZ), and it's not them that the A5 is facing, pricey as it may be.
Sunlight contrast ratio
Samsung Galaxy S6 edge+
4.615
Samsung Galaxy S7 edge
4.439
OnePlus 3
4.424
Samsung Galaxy S7
4.376
HTC One A9
4.274
Samsung Galaxy Note7
4.247
Samsung Galaxy A3
4.241
OnePlus 3T
4.232
Google Pixel XL
4.164
ZTE Axon 7
4.154
Samsung Galaxy S6
4.124
Samsung Galaxy S6 edge
4.124
Samsung Galaxy Note5
4.09
Huawei Nexus 6P
4.019
OnePlus X
3.983
Vivo Xplay5 Elite
3.983
Apple iPhone 7
3.964
Oppo R7s
3.964
Huawei P9 Plus
3.956
Meizu Pro 6 Plus
3.935
Lenovo Moto Z
3.931
Samsung Galaxy A7 (2016)
3.918
Samsung Galaxy C5
3.911
Samsung Galaxy C7
3.896
Samsung Galaxy A5
3.895
Samsung Galaxy J7 outdoor
3.879
Samsung Galaxy J2 outdoor
3.873
Samsung Galaxy A8
3.859
Samsung Galaxy A9 (2016)
3.817
Motorola Moto X (2014)
3.816
Samsung Galaxy A5 (2017)
3.804
Samsung Galaxy J7 (2016) outdoor mode
3.802
LG V20 Max auto
3.798
Xiaomi Redmi Pro
3.798
Sony Xperia XZ
3.795
Samsung Galaxy A5 (2016)
3.789
Apple iPhone 6s
3.783
Meizu Pro 5
3.781
Microsoft Lumia 650
3.772
Samsung Galaxy J7 (2016)
3.756
Oppo F1 Plus
3.709
Vivo X5Pro
3.706
Sony Xperia X Compact
3.694
Samsung Galaxy A3 (2017)
3.688
Apple iPhone SE
3.681
Huawei Mate 9
3.68
Samsung Galaxy A7
3.679
Meizu PRO 6
3.659
BlackBerry Priv
3.645
Apple iPhone 7 Plus
3.588
Apple iPhone 6s Plus
3.53
Motorola Moto Z Play
3.526
Samsung Galaxy J3 (2016) outdoor mode
3.523
Samsung Galaxy J3 (2016)
3.523
Acer Jade Primo
3.521
Microsoft Lumia 950
3.512
Oppo R7 Plus
3.499
nubia Z11
3.466
Samsung Galaxy J7
3.422
Meizu MX5
3.416
LG V20
3.402
Oppo R9s
3.352
Oppo R7
3.32
Xiaomi Mi 5s
3.276
Samsung Galaxy J2
3.235
Sony Xperia X Performance
3.234
Xiaomi Mi Note 2
3.228
Motorola Moto X Play
3.222
Huawei P9
3.195
Lenovo Vibe Shot
3.113
Motorola Moto X Force
3.105
LG Nexus 5X
3.092
Huawei Mate S
3.073
Microsoft Lumia 640 XL
3.065
Sony Xperia X
2.989
Huawei Mate 8
2.949
Xiaomi Redmi 3S
2.913
Sony Xperia XA Ultra
2.906
LG G5
2.905
HTC One S
2.901
Xiaomi Redmi 3s Prime
2.893
Xiaomi Mi 5s Plus
2.884
Sony Xperia Z5
2.876
Microsoft Lumia 550
2.851
Lenovo Moto M
2.813
Xiaomi Redmi 3 Pro
2.803
Sony Xperia Z5 compact
2.784
Meizu MX6
2.751
LG V10
2.744
Xiaomi Redmi 3
2.735
Sony Xperia M5
2.69
Xiaomi Redmi 4 Prime
2.679
Huawei P9 Lite
2.679
Vivo V3Max
2.659
Xiaomi Mi Mix
2.658
Xiaomi Mi 4i
2.641
Sony Xperia XA
2.609
Motorola Moto G4 Plus (max auto)
2.582
Motorola Moto G4 Plus
2.582
Xiaomi Mi 4c
2.574
LeEco Le Max 2
2.567
Microsoft Lumia 640
2.563
Asus Zenfone 3 ZE552KL
2.563
Lenovo K6 Note
2.544
Lenovo Moto G4
2.544
Oppo F1
2.528
Sony Xperia Z5 Premium
2.525
Huawei Honor 7 Lite / Honor 5c
2.506
Sony Xperia M4 Aqua
2.503
Oppo F1s
2.481
Motorola Moto G
2.477
Lenovo Vibe K5 Plus
2.473
Huawei G8
2.471
Huawei nova
2.467
Sony Xperia Z
2.462
Lenovo Vibe K5
2.459
Meizu m3 max
2.447
Huawei Honor 7
2.406
Sony Xperia E5
2.386
ZUK Z1 by Lenovo
2.382
HTC 10
2.378
Samsung Galaxy J5 (2016)
2.378
Meizu m1 note
2.362
Huawei nova plus
2.329
HTC One E9+
2.305
Alcatel One Touch Hero
2.272
Apple iPhone 4S
2.269
Lenovo Vibe K4 Note
2.254
Sony Xperia C5 Ultra
2.253
Xiaomi Redmi Note 3 (MediaTek)
2.249
Sony Xperia C4 Dual
2.235
Xiaomi Mi Note
2.234
Motorola Moto G (2014)
2.233
Huawei P8
2.196
Huawei Honor 6
2.169
Xiaomi Redmi Note 2
2.166
OnePlus Two
2.165
HTC One X
2.158
Xiaomi Redmi Note 4
2.145
LG Aka
2.145
Archos 50 Diamond
2.134
Xiaomi Redmi Note
2.119
Acer Liquid X2
2.084
Huawei P8lite
2.078
Moto G 3rd gen max manual
2.026
Xiaomi Mi Max
1.996
Sony Xperia E4g
1.972
OnePlus One
1.961
Meizu m3 note
1.923
Meizu m2 note
1.892
BlackBerry Leap
1.892
ZTE Nubia Z9 mini
1.759
Sony Xperia U
1.758
Asus Zenfone Selfie
1.68
Motorola Moto E (2nd Gen)
1.675
ZTE Nubia Z9
1.659
Jolla Jolla
1.605
Motorola Moto E
1.545
Sony Xperia M
1.473
HTC Desire C
1.3
Sony Xperia C
1.283
Meizu MX
1.221
Sony Xperia E
1.215
Connectivity
The Galaxy A5 (2017) is well-stocked on connectivity options. Samsung specifies Cat.6 LTE (300Mbps downlink, 50Mbps uplink), with a disclaimer that it may vary by region and carrier, and since the Exynos 7880 itself supports Cat.7 you may want to check locally if the 100Mbps DL speed is of such crucial importance to you (you know who you are).
There are single SIM and dual SIM versions, each of them with two card slots. In each case there's a dedicated microSD slot as well - on single SIM models (such as the one we had) there's no cutout for the second SIM in the top slot (presumably, no contacts and hardware, maybe?).
There is also dual-band Wi-Fi a/b/g/n/ac, Bluetooth v4.2 (but no detail on aptX for high-quality audio), NFC and MST (for Samsung Pay, where available), and an FM radio receiver. There is no IR transmitter, though.
A Type-C port is in charge of charging, but only adheres to USB 2.0 spec, so you're limited to a 'measly' 480Mbps theoretical maximum transfer speeds. USB OTG is supported for attaching peripherals, but there's no MHL support for wired video output. Thankfully, there's a 3.5mm headphone jack.
Samsung Galaxy A5 (2017) battery life
The Galaxy A5 (2017) is powered by a 3,000mAh battery - oh, look, it's the same capacity as the Galaxy S7. And this one has fewer pixels to render, plus a chipset that should be more frugal than the thirsty flagship number-crunchers.
Well, indeed it is. The Galaxy A5 (2017) only fell short of the S7's time in the voice call test, and just by an hour and a quarter. At close to 22h its result is still perfectly acceptable.
It gets better in the screen-on disciplines. It takes 14 and a half hours of our Wi-Fi web browsing test to deplete the A5's battery - a remarkable feat, even if the smaller A3 (2017) does outlast it by an hour. The S7, on the other hand, can't even make it to 10h.
In video playback the A5 crosses the 16-hour mark before calling it quits - another superb performance. The flagship is closer here, but still falls short by an hour and a half.
As for standby, we've tested the phone both with the Always On Display feature engaged and then turned off. While it does take a massive toll on standby time (and consequently on the overall endurance rating), you should bear in mind that our testing can't account for the phone turning off the display completely when it's in a pocket, for example. So, presumably, actual real-world standby with the AOD on should be much better.
The overall endurance rating of 95h is an excellent result and is a testament to the inherent benefits of having a 14nm chipset on board - be it an Exynos or a Snapdragon.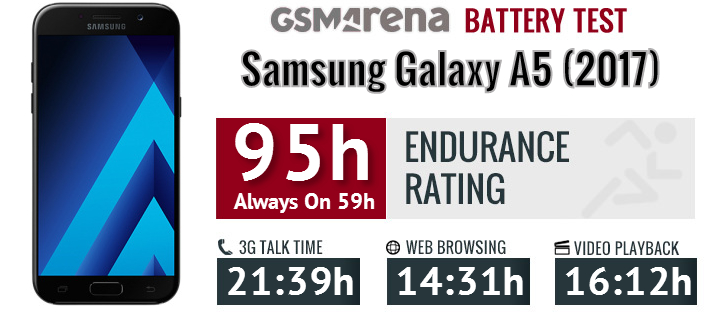 The battery testing procedure is described in detail in case you're interested in the nitty-gritties. You can also check out our complete battery test table, where you can see how all of the smartphones we've tested will compare under your own typical use.