Standing tall
Samsung Galaxy A5 (2016) review: Standing tall
Display
The Samsung Galaxy A5 (2016) features a Super AMOLED display, Samsung's specialty. It's a 5.2" 1080p screen rather than the 5.1" QHD unit on the Galaxy S6. Not that either number has a particularly huge impact on the experience.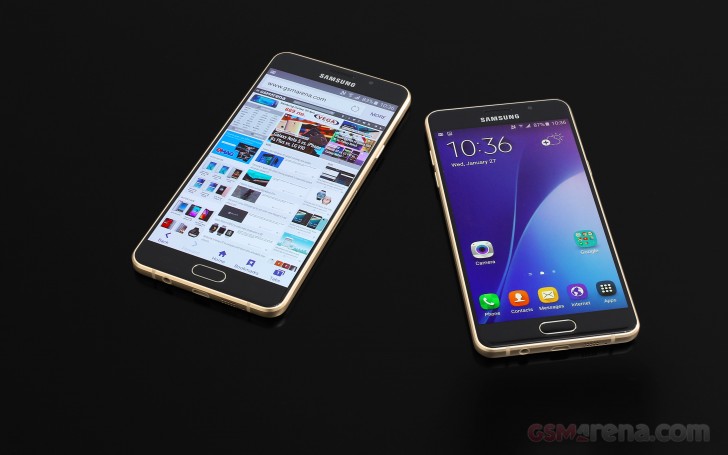 One thing we noticed is a slight flicker - practically all AMOLED displays (and some LCDs) have that effect, it's just that the effect is stronger on the A5. You can't really notice it with the naked eye, but the effect doesn't have to be visible to have an impact (some people can get headaches from screen flicker). At higher brightness the effect is less visible, it becomes strongest below 40% of the max brightness.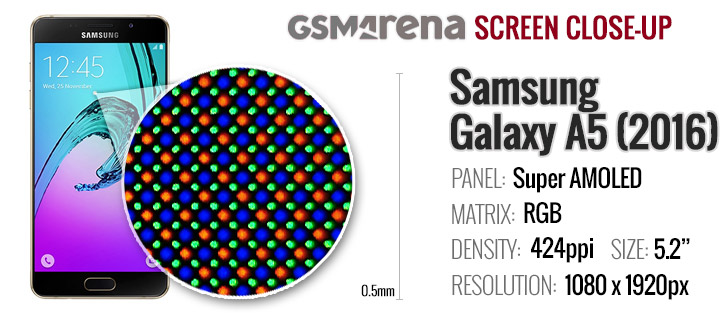 The Galaxy A5 (2016) screen can scale its brightness from very dark 2.1nits (suitable for late night viewing) to very bright. At full blast on manual you get 420nits, a good reading slightly below the median maximum, but auto mode can push it as high as 600nits.
As far as color rendering is concerned, the Galaxy A5 is spectacularly accurate in the provided Basic mode with an average DeltaE of 1.3. Color accuracy on the default Adaptive mode however is only average (Avg. DeltaE of 8.1).
Display test
Black, cd/m2
White, cd/m2
Contrast ratio
Samsung Galaxy A5
0.00
398
∞
Samsung Galaxy A5 (2016)
0.00
421
∞
Samsung Galaxy A5 (2016) max auto
0.00
601
∞
Samsung Galaxy S6
0.00
473
∞
Apple iPhone 6s
0.36
536
1481
Sony Xperia Z5
0.59
583
986
HTC One A9
-
366
∞
OnePlus X
0.00
340
∞
Xiaomi Mi 4c
0.28
452
1609
Even at manual mode's maximum of 420nits the display remains perfectly legible, but you can get even better performance if you toggle the Auto mode.
Sunlight contrast ratio
Samsung Galaxy S6 edge+
4.615
HTC One A9
4.274
Samsung Galaxy S6
4.124
Samsung Galaxy S6 edge
4.124
Samsung Galaxy Note5
4.09
Huawei Nexus 6P
4.019
OnePlus X
3.983
Oppo R7s
3.964
Samsung Galaxy A5
3.895
Samsung Galaxy J7 outdoor
3.879
Samsung Galaxy J2 outdoor
3.873
Samsung Galaxy A8
3.859
Apple iPhone 6
3.838
Motorola Moto X (2014)
3.816
Samsung Galaxy A5 (2016)
3.789
Apple iPhone 6s
3.783
Meizu Pro 5
3.781
Vivo X5Pro
3.706
BlackBerry Priv
3.645
Apple iPhone 6s Plus
3.53
Microsoft Lumia 950
3.512
Oppo R7 Plus
3.499
Samsung Galaxy J7
3.422
Meizu MX5
3.416
Oppo R7
3.32
Samsung Galaxy J2
3.235
Motorola Moto X Play
3.222
Lenovo Vibe Shot
3.113
LG Nexus 5X
3.092
Huawei Mate S
3.073
Microsoft Lumia 640 XL
3.065
Apple iPhone 6 Plus
3.023
Samsung Galaxy Note
2.97
Huawei Mate 8
2.949
HTC One S
2.901
Sony Xperia Z5
2.876
Microsoft Lumia 550
2.851
Sony Xperia Z5 compact
2.784
LG V10
2.744
Xiaomi Redmi 3
2.735
Sony Xperia M5
2.69
Xiaomi Mi 4i
2.641
Xiaomi Mi 4c
2.574
Microsoft Lumia 640
2.563
Motorola Moto G 4G
2.546
Sony Xperia Z5 Premium
2.525
Sony Xperia M4 Aqua
2.503
Motorola Moto G
2.477
Huawei G8
2.471
Sony Xperia Z
2.462
Huawei Honor 7
2.406
ZUK Z1 by Lenovo
2.382
HTC One E9+
2.305
Sony Xperia C5 Ultra
2.253
Xiaomi Redmi Note 3
2.249
Sony Xperia C4 Dual
2.235
Motorola Moto G (2014)
2.233
LG Nexus 5
2.228
Huawei P8
2.196
Xiaomi Redmi Note 2
2.166
OnePlus Two
2.165
HTC One X
2.158
Archos 50 Diamond
2.134
Xiaomi Redmi Note
2.119
Huawei P8lite
2.078
Moto G 3rd gen max manual
2.026
Sony Xperia E4g
1.972
OnePlus One
1.961
BlackBerry Leap
1.892
Meizu m2 note
1.892
HTC Butterfly
1.873
ZTE Nubia Z9 mini
1.759
Sony Xperia U
1.758
Asus Zenfone Selfie
1.68
Motorola Moto E (2nd Gen)
1.675
ZTE Nubia Z9
1.659
Motorola Moto E
1.545
Sony Xperia M
1.473
Xiaomi Redmi 2
1.311
Sony Xperia C
1.283
Meizu MX
1.221
The Galaxy A5 (2016) does not have a Display mode setting like some other Samsung's. You don't really need one though - the display is calibrated and produces some of the most accurate colors you can see on mobile. It has an average deltaE of 1.3 and a maximum of just 2.2 - lower than the average for most displays out there.
Connectivity
The Samsung Galaxy A5 (2016) has a SingleSIM and DualSIM models, though which one you get is region dependent. Whether the microSD card has a dedicated slot or it replaces SIM 2 also changes by region. Either way, the A5 has LTE Cat. 6 connectivity for fast mobile data.
Local connectivity is handled by Wi-Fi a/b/g/n, no 802.11ac but that's not a huge omission. You do get Bluetooth 4.1 and ANT+ for low-power connections to sports wearables.
There's also NFC and MST (Samsung's proprietary tech that emulates magnetic cards) for Samsung Pay. They are paired with a fingerprint reader and allow you to pay with your phone at checkout, at least in the several pilot markets for the service.
The microUSB 2.0 port lacks MHL, but it does support USB On-The-Go for accessories (storage or input peripherals). The port also supports fast charging (Quick Charge 2.0 equivalent), though there's no wireless charging.
Also, the Galaxy A5 (2016) has FM radio, isn't that neat? We know many have moved on to streaming, but sometimes plain, old FM is more reliable than Internet services (no need to pay for data either).
Battery life
The phone has a 2,900mAh battery, not bad for its size, especially considering the Galaxy S6 has 2,550mAh.
The Smart Manager monitors app usage and will optimize apps that you haven't used for a while (preventing them from suddenly draining the battery).
Also, here you'll find two modes - Power saving mode and Ultra power saving mode. For both, you get an estimate of how much battery life you can expect if you enable the mode.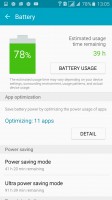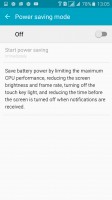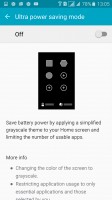 The battery info screen in the Smart Manager • Power saving • Ultra power saving
With a bigger battery and a less demanding chipset, the Galaxy A5 (2016) aced the battery test. It posted an endurance rating of 91 hours with just one SIM. With both SIM slots occupied that dropped to 77 hours, but the standby battery draw remained very low.
The individual tests were very impressive too - you can talk for nearly 21 hours straight or browse the web for 10 hours. Or watch a 12-hour movie marathon.
Compared to the Galaxy S6 you get a noticeable boost in endurance, while the individual tests are largely the same. The S6 does last an hour longer when browsing the web though.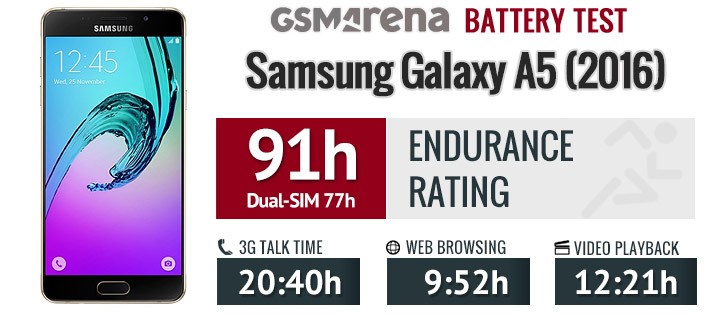 Note that these results are for the Galaxy A5 (2016) with Snapdragon 615, there's also a version with the Exynos 7580 chipset.
In 2016 we're transitioning to using a fixed 200nit screen brightness for our battery tests instead of merely positioning the brightness slider at 50% which worked out to a relatively random brightness level.
The level of 200nits, which we've chosen for our tests, has become somewhat of an industry standard. But more importantly, it's both the median and average value of the brightness levels at which we've tested all reviewed devices so far. This means our older battery life results will remain relevant and comparable.