Display
The Samsung Galaxy A52 5G packs a superior 120Hz AMOLED panel compared the A52 4G's 90Hz display of the same 6.5-inch diagonal and 2,400 x 1,080 px resolution. The support for HDR10+ is another feature exclusive to the 5G model, but that comes with a catch we'll get back to in a bit. A flat sheet of Gorilla Glass 5 is tasked with protecting the screen in both phones though.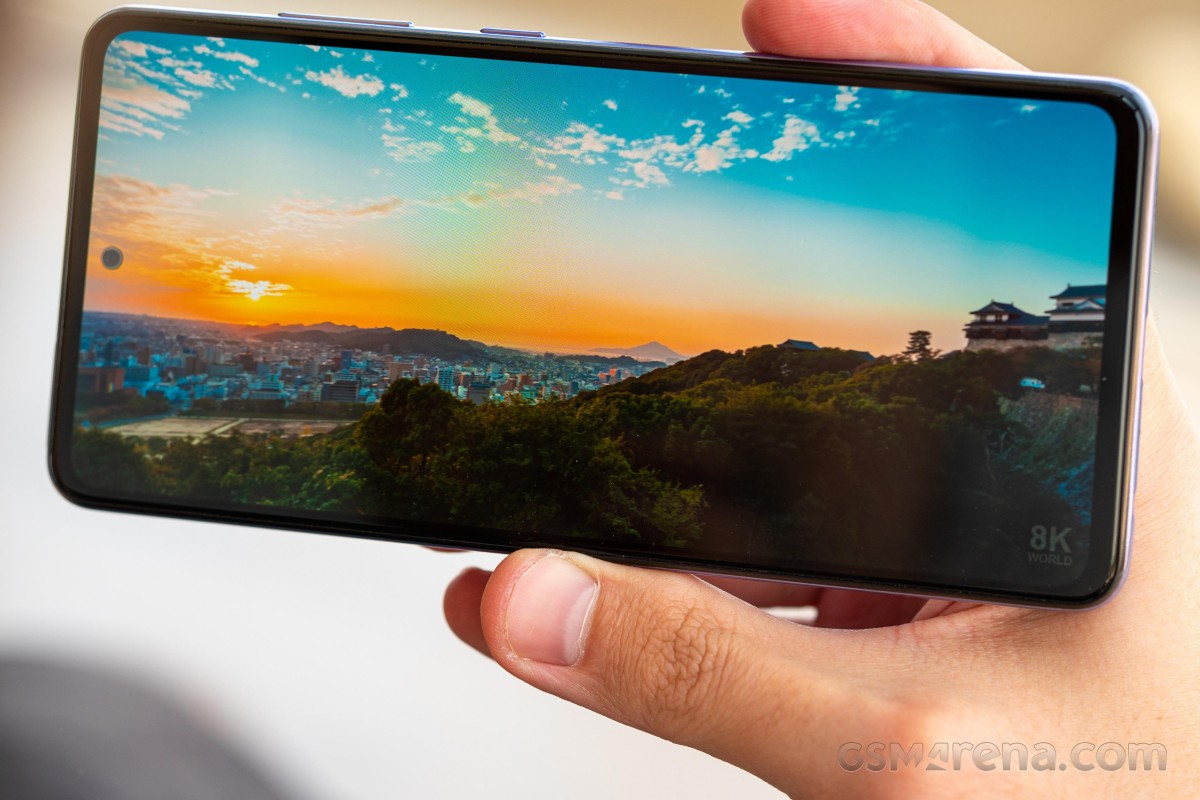 We completed our traditional brightness measurements. The display maxes out at 378 nits when brightness is adjusted manually. Samsung advertises a sunlight-mode brightness of 800 nits and indeed, when we exposed the A52 5G display to bright light, its screen lit up as high as 787 nits.
The minimum brightness at point white we measured was 1.7 nits, so no issues with usage in a dark room either.
Display test
100% brightness
Black,cd/m2
White,cd/m2
Contrast ratio
Samsung Galaxy A52 5G
0
378
∞
Samsung Galaxy A52 5G (Max Auto)
0
787
∞
Samsung Galaxy A52
0
386
∞
Samsung Galaxy A52 (Max Auto)
0
794
∞
Samsung Galaxy A42 5G
0
395
∞
Samsung Galaxy A42 5G (Max Auto)
0
570
∞
OnePlus Nord 2 5G
0
438
∞
OnePlus Nord 2 5G (Max Auto)
0
633
∞
Samsung Galaxy S20 FE
0
404
∞
Samsung Galaxy S20 FE (Max Auto)
0
823
∞
Poco X3 Pro
0.327
458
1401:1
Poco X3 Pro (Max Auto)
0.4
534
1335:1
Poco F3
0
511
∞
Poco F3 (Max Auto)
0
716
∞
Realme GT 5G
0
443
∞
Realme GT 5G (Max Auto)
0
650
∞
Samsung Galaxy A72
0
396
∞
Samsung Galaxy A72 (Max Auto)
0
825
∞
Samsung Galaxy A32
0
393
∞
Samsung Galaxy A32 (Max Auto)
0
814
∞
Samsung Galaxy A32 5G
0.286
426
1490:1
Samsung Galaxy A32 5G (Max Auto)
0.338
497
1470:1
The screen is tuned to comply with the DCI-P3 (Vivid mode) or sRGB (Natural mode) color spaces. The accuracy is great for the Vivid profile - the colors are not too saturated, but the white and gray hues are a bit bluish. The Natural mode yields perfect colors accuracy with an average deltaE of 1.8.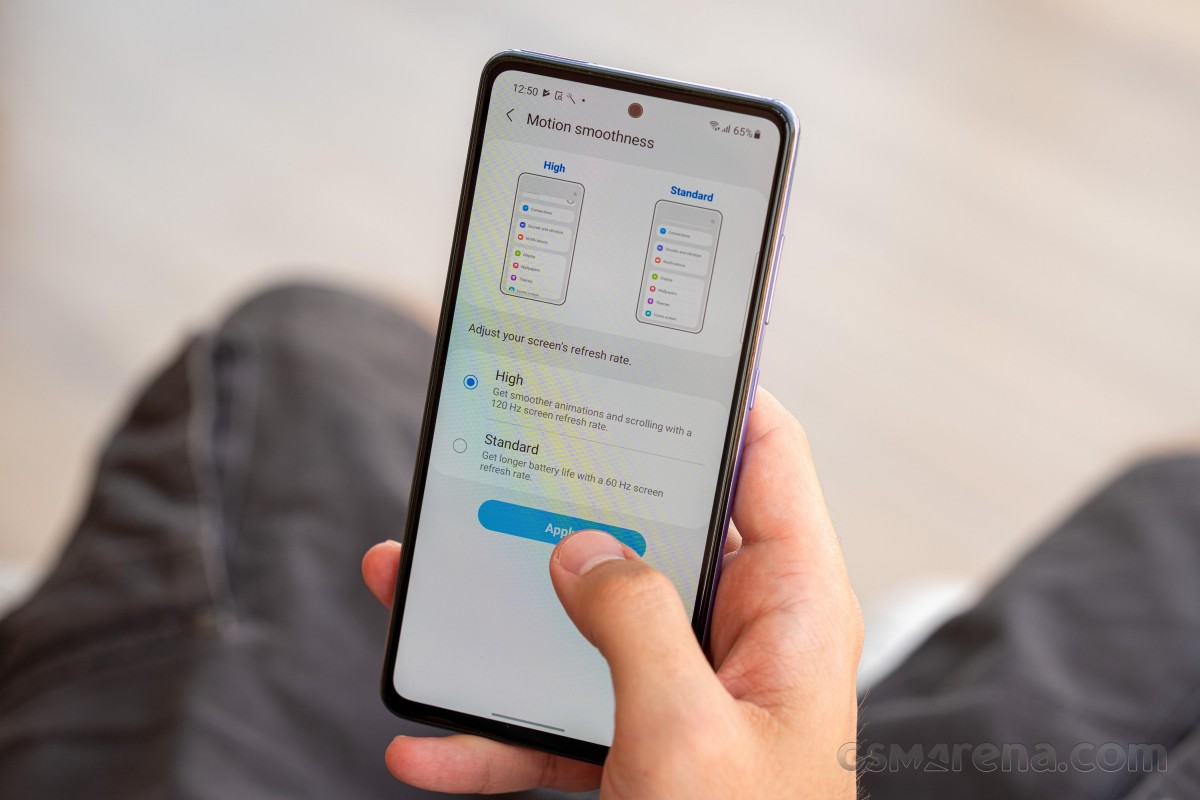 The Galaxy A52 5G offers two options for refresh rate - 60Hz (Standard) and 120Hz (High) Motion Smoothness. In either case it's a fixed frame rate with no adaptive adjustments, which may end up hurting battery life.
When using the 120Hz mode all apps work at 120Hz, including YouTube, Netflix, benchmarks, games, social networks. This doesn't mean all games can reach 120fps, in fact, with the Adreno 619 GPU most can barely hit 60fps.
There are apps that specifically mandate 60Hz operation for one reason or another and those would of course run at the lower refresh rate, but they are the exceptions to the rule. Notable examples include Google Maps and the Camera app, as well as apps that use a Maps UI component or call up a camera viewfinder.
Finally, let's talk about the HDR capabilities. The screen is recognized as HDR10 and HDR10+ capable by all hardware-reading apps. YouTube streams HDR10 content easily, but Netflix and Prime Video consider the Galaxy A52 5G as not supporting HDR even though it has Widevine L1 DRM. Usually, we'd say Samsung and the third-party developers will sort this out soon, but since the Galaxy A52 5G isn't advertised as having and HDR10 screen, we'd say that's highly unlikely and the HDR10+ support will remain dormant.
Battery life
The Galaxy A52 5G has the same battery as the A52 - a 4,500 mAh cell. This is fairly standard capacity for the mid-range and it delivered some good battery life scores.
The 5G Galaxy A52 posted impressive scores throughout our battery life test. It posted a 111h endurance rating, a bit more than the Galaxy A52's. The 5G version clocked north of 32 hours of 3G calls, nearly 13 hours on web browsing, and 19 hours when playing videos. The Galaxy A52 5G also demonstrated some good standby performance.
We always carry our video playback test at 60Hz as almost all HRR-capable phones display videos at 60Hz no matter the selected refresh rate. Well, that's not the case with the Galaxy A52 5G - if 120Hz is selected, videos will be shown at 120Hz. This mode lowers the video score down to 14:42h and the total endurance rating falls to 105h, which is still a great achievement.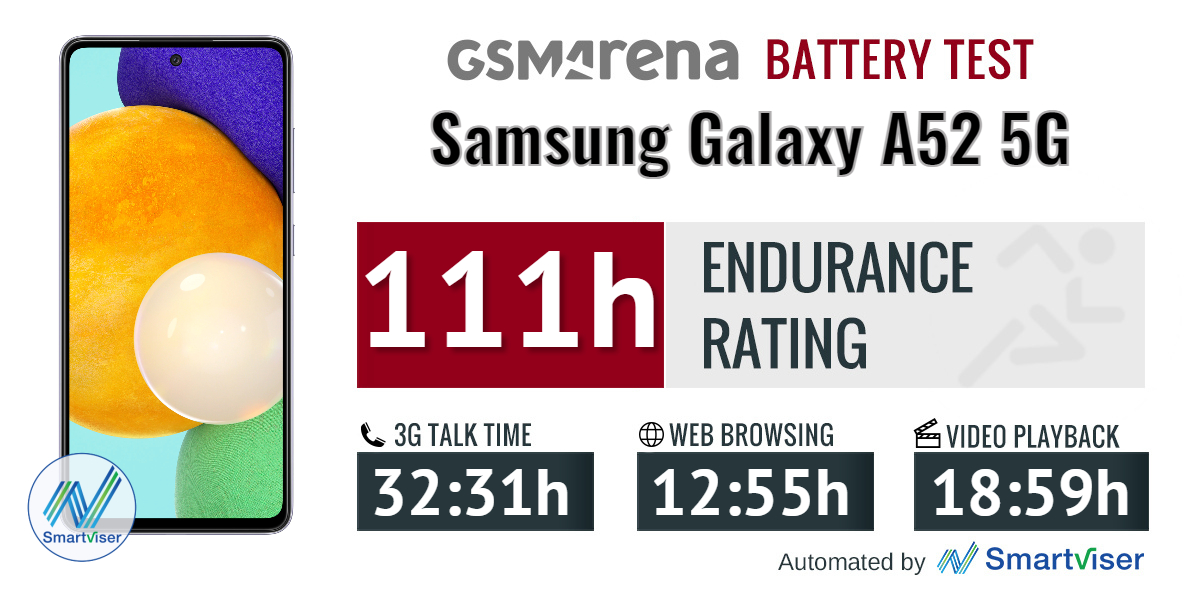 Our battery tests were automated thanks to SmartViser, using its viSerDevice app. The endurance rating denotes how long the battery charge will last you if you use the device for an hour of telephony, web browsing, and video playback daily. More details can be found here.
Video test carried out in 60Hz refresh rate mode. Web browsing test done at the display's highest refresh rate whenever possible. Refer to the respective reviews for specifics. To adjust the endurance rating formula to match your own usage - check out our all-time battery test results chart.
Charging speed
The Samsung Galaxy A52 5G supports 25W Adaptive Fast Charging, but the phone ships with a 15W Charger (5V/2A or 9V/1.67A). If you want to recharge your A52 5G faster, you'd need to buy the 25W Samsung power or a different 25W+ Power Delivery adapter separately.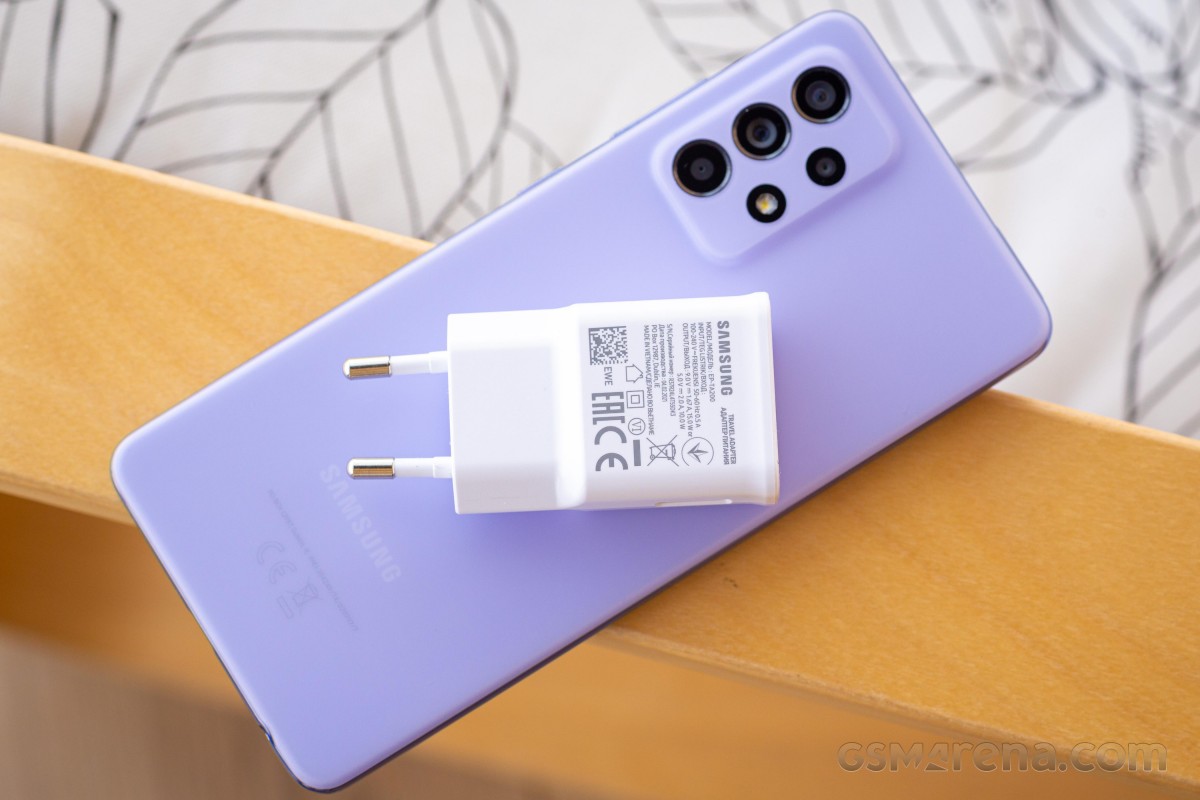 Using the bundled charger, you can refill 34% of the depleted battery in 30 minutes. Definaely among the lower scores out there even in the mid-range.
30min charging test (from 0%)
Higher is better
OnePlus Nord 2
98%
Realme 8 Pro
88%
Poco F3
67%
Samsung Galaxy S20 FE (25W)
57%
Samsung Galaxy A52 (25W)
52%
Poco X3 Pro
50%
Xiaomi Redmi Note 10 Pro
50%
Samsung Galaxy S20 FE (15W)
37%
Samsung Galaxy A52
34%
Samsung Galaxy A52 5G
34%
Realme 8 5G
29%
Samsung Galaxy A42 5G
27%
A full charge requires 1 hour and 39 minutes, which is speedier than the regular Galaxy A52 and an overall decent achievement. The full charge times of the Galaxies are all over the place though, so it appears there's room for tuning with firmware updates.
Time to full charge (from 0%)
Lower is better
OnePlus Nord 2
0:31h
Realme 8 Pro
0:38h
Poco F3
0:56h
Poco X3 Pro
1:08h
Samsung Galaxy S20 FE (25W)
1:10h
Xiaomi Redmi Note 10 Pro
1:21h
Samsung Galaxy A52 (25W)
1:30h
Samsung Galaxy S20 FE (15W)
1:35h
Samsung Galaxy A52 5G
1:39h
Samsung Galaxy A42 5G
2:01h
Samsung Galaxy A52
2:03h
Realme 8 5G
2:20h
Neither of the charging scores is impressive in absolute terms, but let's not forget we are charging a rather large 4,500mAh battery.
Speakers
The Galaxy A52 5G just like many of the recent Galaxy A phones offers stereo speakers. There is only one dedicated bottom-firing speaker on the A52 5G, while the earpiece handles the role of the second speaker. Impressively, from what we can hear - both pieces sound very well balanced and offer equal loudness, which is not always the case with earpiece speakers.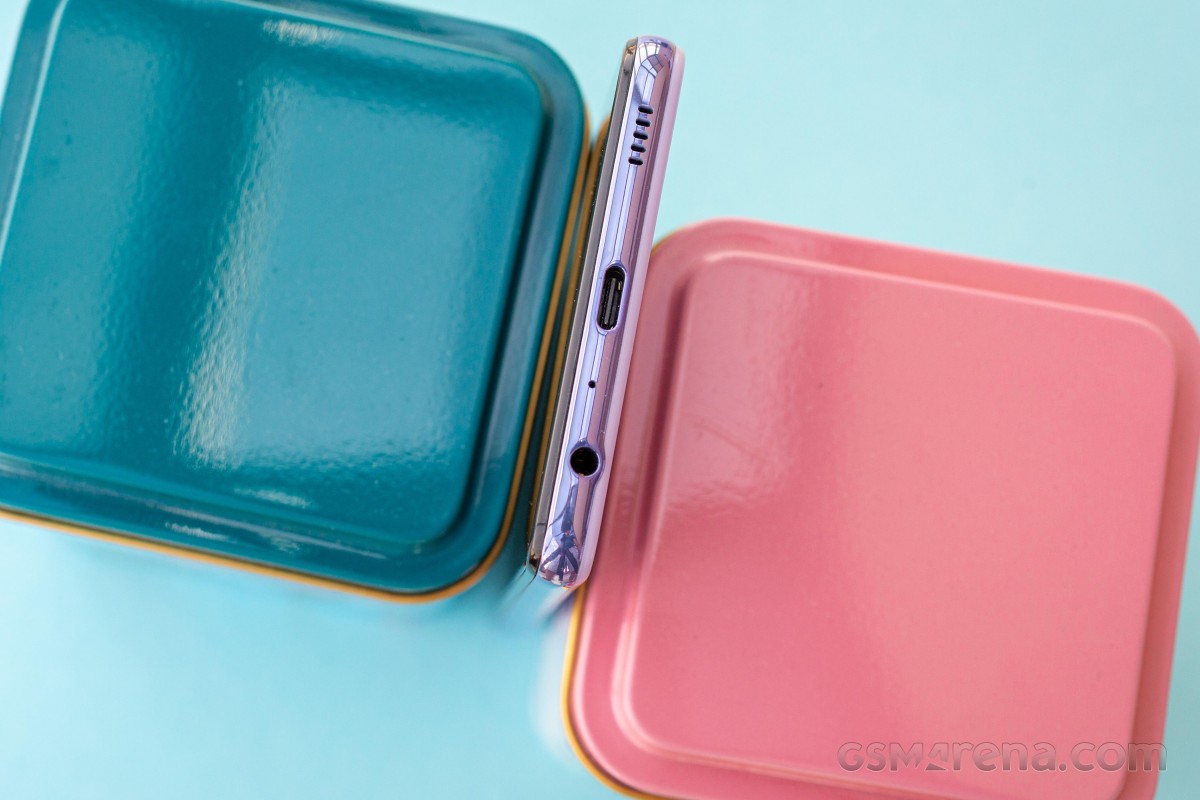 The A52 5G's setup is not the cleanest, nor the loudest around. It achieved a "good" loudness score with Dolby Atmos turned off and the Equalizer set to normal. Turning Dolby Atmos on expectedly lowers the volume a bit.
We'd describe the sound quality as "good', too. It offers well-presented mid-tones, the high notes are okay, while the bass is barely there. Far from the best sounding speakers on a phone, obviously, but we've heard a lot worse, so we'd say we are happy with what we experience on the A52 5G.
Use the Playback controls to listen to the phone sample recordings (best use headphones). We measure the average loudness of the speakers in LUFS. A lower absolute value means a louder sound. A look at the frequency response chart will tell you how far off the ideal "0db" flat line is the reproduction of the bass, treble, and mid frequencies. You can add more phones to compare how they differ. The scores and ratings are not comparable with our older loudspeaker test. Learn more about how we test here.
The Galaxy A52 5G offers a lot of customizations when it comes to audio. The Dolby Atmos implementation includes presets for movies, music and voice, as well as an automatic option. As a nifty bonus on top of that - Dolby Atmos for gaming specifically picks up and optimizes certain sounds, like footsteps in-game, for a slight competitive advantage.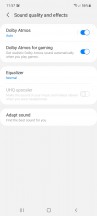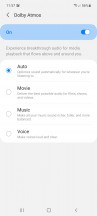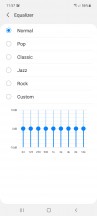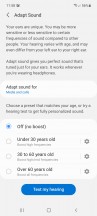 Dolby Atmos, equalizers and Adapt sound on the Galaxy A72
Rounding off the audio section, the Galaxy A52 5G also has an advanced equalizer, as well as Samsung's Adapt sound system, which can tune the audio profile to your specific personal needs and preferences.