Display
The Samsung Galaxy A42 5G packs a large 6.6-inch Super AMOLED display with 720 by 1600 pixels in a tall 20:9 aspect ratio. It is an Infinity-U panel, meaning it has a waterdrop-shaped cutout for the selfie camera.
While the first Galaxy A40 had Gorilla Glass 3 for protection, the A41, and A42 specs mention nothing about the glass origin. Whether it's Corning-made or not, it is of the tempered kind for sure.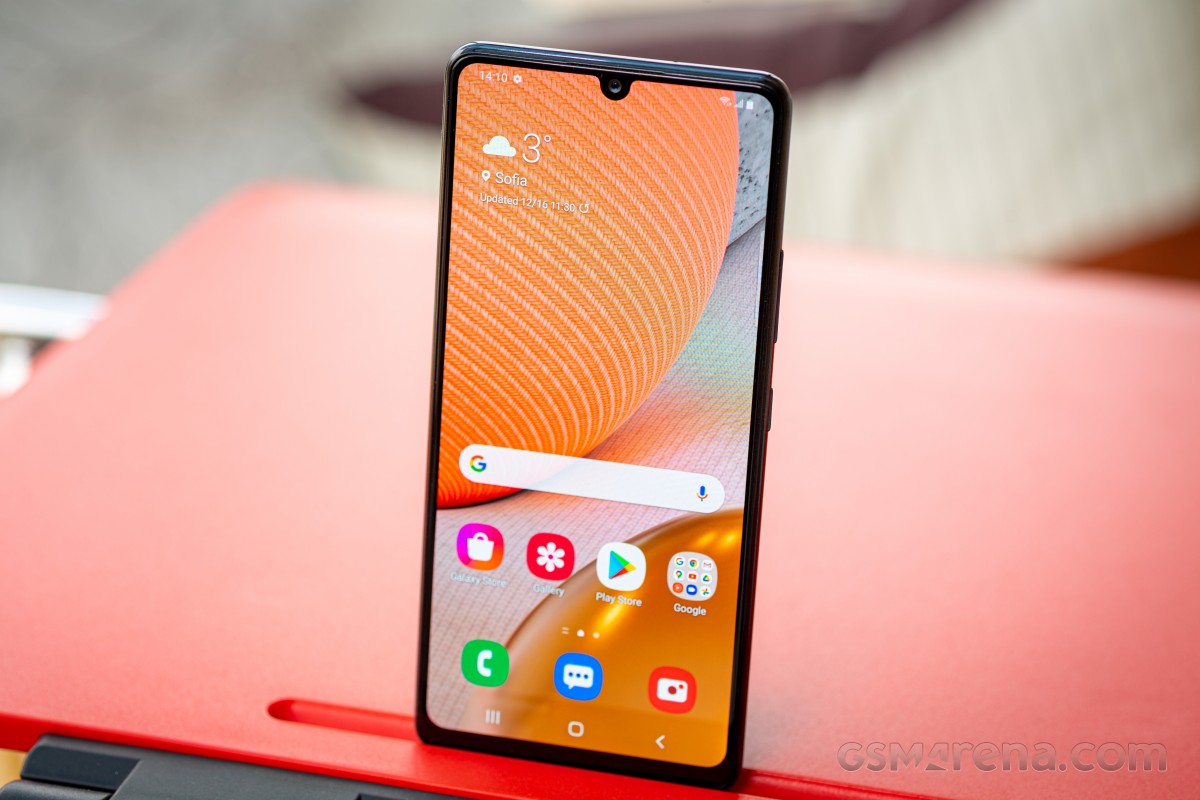 The lower screen resolution and sharpness - 266ppi in the case of A42 - is somewhat disappointing and a noticeable downgrade since the previous A4x phones. Yet, putting such a powerful chipset under the HD screen will offer unmatched gaming performance, and that's the best silver lining we could have hope for.
The screen is one of Samsung's SuperAMOLEDs, and it sure behaves like any other. We measured a very good (for an OLED) 395 nits of maximum brightness in our tests. The Galaxy A42 5G has an overdrive mode in Auto mode when the ambient light is bright. In these conditions, it will boost its brightness up to 570 nits.
And thanks to OLED tech, the screen's contrast ratio is amazing, with blacks nice and inky.
The minimum brightness at the far left of the scrubber is just 1.8 nits - a great one, too.
Display test
100% brightness
Black,cd/m2
White,cd/m2
Contrast ratio
Samsung Galaxy A42 5G
0
395
∞
Samsung Galaxy A42 5G (Max Auto)
0
570
∞
Samsung Galaxy A41
0
417
∞
Samsung Galaxy A41 (Max Auto)
0
624
∞
Samsung Galaxy M51
0
373
∞
Samsung Galaxy M51 (Max Auto)
0
677
∞
Samsung Galaxy A40
0
410
∞
Samsung Galaxy A40 (Max Auto)
0
548
∞
Xiaomi Mi 10T Lite
0.348
476
1368:1
Xiaomi Mi 10T Lite (Max Auto)
0.455
596
1310:1
Realme 7 Pro
0
459
∞
Realme 7 Pro (Max Auto)
0
585
∞
Realme 7 5G
0.376
484
1287:1
Realme 7 5G (Max Auto)
0.667
571
856:1
Xiaomi Poco X3 NFC
0.354
460
1299:1
Xiaomi Poco X3 NFC (Max Auto)
0.515
631
1225:1
Color rendition is handled Samsung-ly with the usual Natural/Vivid approach. Natural aims to reproduce sRGB content truthfully, and we measured an incredibly good average deltaE of 2.2.
The Vivid mode offers a 5-position cool-to-warm slider. The default mid-point on the slider will get you an average deltaE of 3.9 against DCI-P3 targets with strangely off 100% blue and red.
One more thing you'd be happy to learn is the presence of Widevine L1 DRM support on the Galaxy A42 5G. This means you can watch your favorite streaming services in high definition, yes even stream in 1080p even if the screen is just 720p. Note that HDR10 is not supported by the A42 display and none of the apps we tried streamed content in HDR.
Battery life
Another significant change since the previous Galaxy A4 models is the bumped-up battery capacity. The new Galaxy A42 5G now packs a 5,000mAh battery, up from 3,500mAh within the Galaxy A41.
With this new battery, lower-res screen, and Qualcomm chip, the Galaxy A42 5G achieved an outstanding endurance rating of 144 hours in our battery life test. It did extraordinary in web browsing, video playback, talk time, and even standby performance.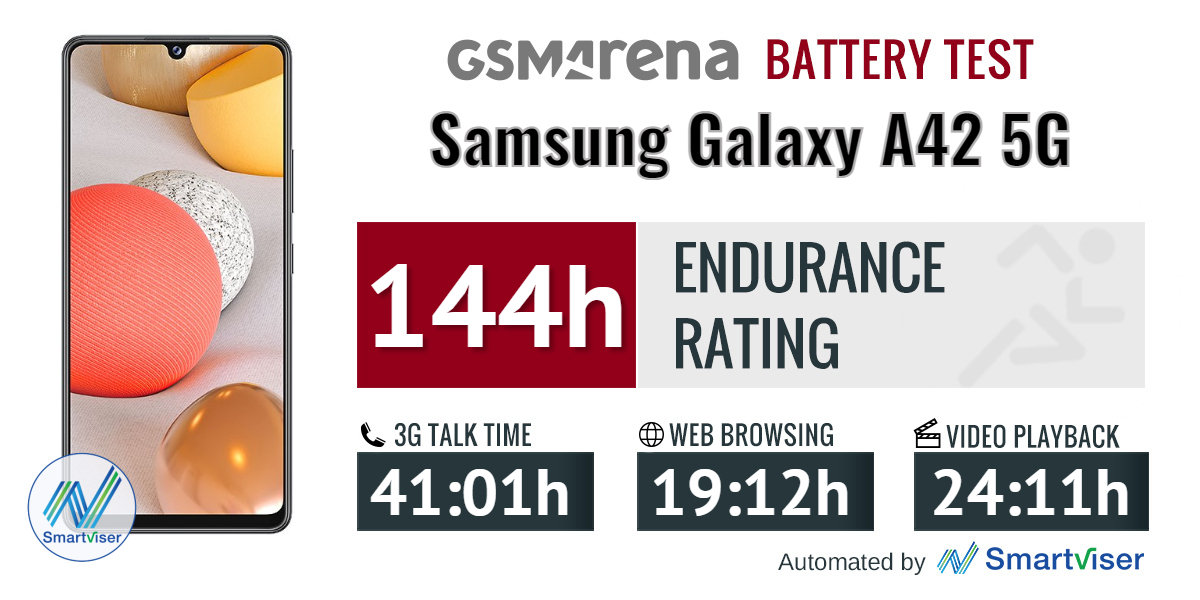 Our battery tests were automated thanks to SmartViser, using its viSerDevice app. The endurance rating above denotes how long a single battery charge will last you if you use the Samsung Galaxy A42 5G for an hour each of telephony, web browsing, and video playback daily. We've established this usage pattern so that our battery results are comparable across devices in the most common day-to-day tasks. The battery testing procedure is described in detail in case you're interested in the nitty-gritty. You can check out our complete battery test table, where you can see how all of the smartphones we've tested will compare under your own typical use.
Charging speed
The Samsung Galaxy A42 5G supports 15W Adaptive Fast Charging (5V/2A or 9V/1.67A), and such power adapter ships with the phone. We don't expect it to recharge that beefy 5,000mAh that fast, but it should do enough for the class.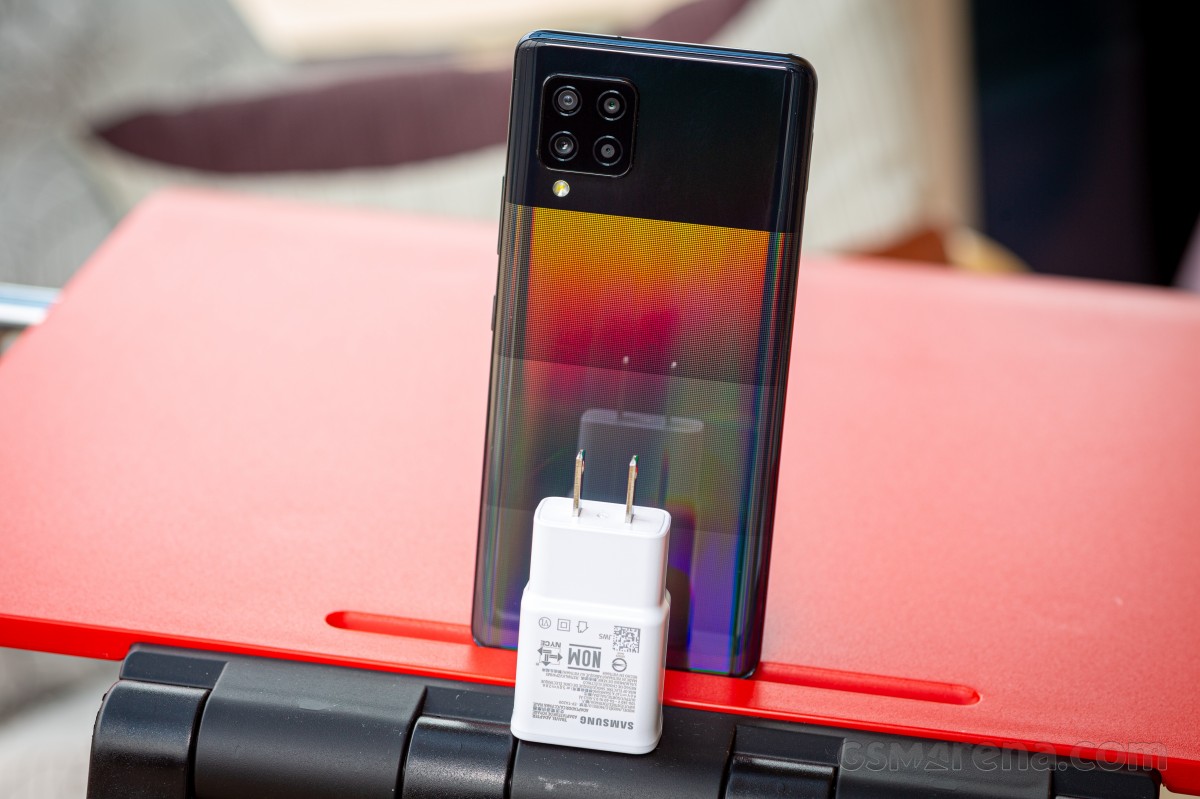 So, using this charger, you can refill 27% of the depleted battery in 30 minutes, 78% in 90 minutes, while a full charge requires 2 hours. Neither result is impressive in absolute terms, but let's not forget we are charging a massive 5,000mAh battery.
30min charging test (from 0%)
Realme 7 Pro
94%
Xiaomi Mi 10T Lite 5G
68%
OnePlus Nord N10 5G
65%
Apple iPhone 12 mini
60%
Realme 7 5G
57%
Samsung Galaxy A41
38%
Oppo Reno4 Z 5G
36%
Motorola Moto G 5G Plus
35%
Samsung Galaxy M51
35%
Samsung Galaxy A42 5G
27%
Time to full charge (from 0%)
Realme 7 Pro
0:37h
OnePlus Nord N10 5G
0:52h
Xiaomi Mi 10T Lite 5G
0:58h
Realme 7 5G
1:06h
Apple iPhone 12 mini
1:29h
Samsung Galaxy M51
1:47h
Oppo Reno4 Z 5G
1:55h
Samsung Galaxy A41
2:00h
Samsung Galaxy A42 5G
2:01h
Motorola Moto G 5G Plus
2:10h
Speaker
The Galaxy A42 5G has a single bottom-firing speaker. Unfortunately, the speaker is rather quiet, and it scored a Below Average mark on our loudness test.
The good news is the speaker is a massive improvement over the A41's as far as audio quality is concerned. It offers rich sound with well-presented mid- and high-tones, and there is even some bass. Just use our tool and hear this for yourself.
Use the Playback controls to listen to the phone sample recordings (best use headphones). We measure the average loudness of the speakers in LUFS. A lower absolute value means a louder sound. A look at the frequency response chart will tell you how far off the ideal "0db" flat line is the reproduction of the bass, treble, and mid frequencies. You can add more phones to compare how they differ. The scores and ratings are not comparable with our older loudspeaker test. Learn more about how we test here.