Display
The Samsung Galaxy A41 has a 6.1" Super AMOLED display with 1080 by 2400 pixels in a tall 20:9 aspect ratio. It is an Infinity-U panel, meaning it's got a waterdrop-shaped cutout for the selfie camera. We are not sure of the screen glass origin, it's either made by Corning or not, but it is most definitely of the tempered kind.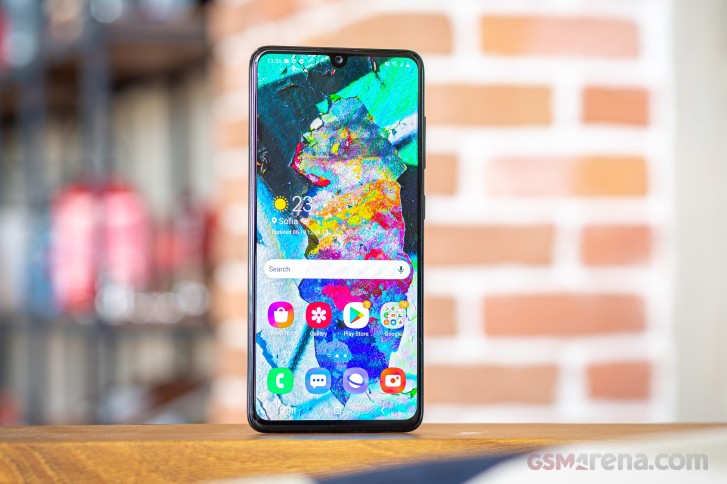 So, it's a Samsung AMOLED, and it sure behaves like one. We measured an excellent (for an OLED) 417 nits of max brightness in our tests. The Galaxy A41 has a max auto mode on top of this, which allows it to boost its brightness up to 625 nits temporarily. That makes it usable outdoors, under direct sunlight without any issues.
And thanks to OLED tech, the screen's contrast ratio is amazing with blacks nice and inky.
The minimum brightness at the far left of the scrubber is just 2.2 nits - a great one.
Display test
100% brightness
Black,cd/m2
White,cd/m2
Contrast ratio
Samsung Galaxy A41
0
417
∞
Samsung Galaxy A41 (Max Auto)
0
624
∞
Samsung Galaxy A51
0
413
∞
Samsung Galaxy A51 (Max Auto)
0
636
∞
Samsung Galaxy A31
0
423
∞
Samsung Galaxy A31 (Max Auto)
0
635
∞
Motorola One Fusion+
0.319
454
1423:1
Motorola One Fusion+ (Max Auto)
0.4
562
1405:1
Huawei P40 Lite
0.425
461
1085:1
Huawei P40 Lite (Max Auto)
0.501
515
1028:1
Samsung Galaxy A40
0
410
∞
Samsung Galaxy A40 (Max Auto)
0
548
∞
Apple iPhone SE (2020)
0.434
670
1544:1
Sony Xperia 10 II
0
379
∞
Sony Xperia 10 II (Max Auto)
0
520
∞
Xiaomi Redmi Note 9S
0.303
421
1389:1
Xiaomi Redmi Note 9S (Max Auto)
0.42
575
1369:1
Xiaomi Redmi Note 9 Pro
0.355
456
1285:1
Xiaomi Redmi Note 9 Pro (Max Auto)
0.487
616
1265:1
Color rendition is handled familiarly - the Natural/Vivid approach Samsung introduced recently. Natural aims to reproduce sRGB content truthfully, and we measured an incredibly good average deltaE of 2.0.
The Vivid mode offers a 5-position cool-to-warm slider. The default mid-point on the slider will get you an average deltaE of 4.2 against DCI-P3 targets with strangely off 100% and not-so-accurate accurate whites - moderately shifted towards blue to the tune of a deltaE of 4. You can improve the whites and grays by opting for the warmest setting.
One more thing you'd be happy to learn is the presence of Widevine L1 DRM support on the Galaxy A41. This means you can watch your favorite streaming services in high definition. Note that HDR10 is not supported by the A41 display.
Battery life and charging
The Galaxy A41 is a compact smartphone, and for its size and weight, Samsung has still managed to fit a relatively large 3,500 mAh battery. It supports 15W charging through its 9V/1.67A or 5V/2A charger - it replenishes 38% of its depleted battery in 30 mins and about 67% in 1 hour.
The Galaxy A41 clocked an outstanding 102 hours of endurance in our series of proprietary tests, with solid scores across the board.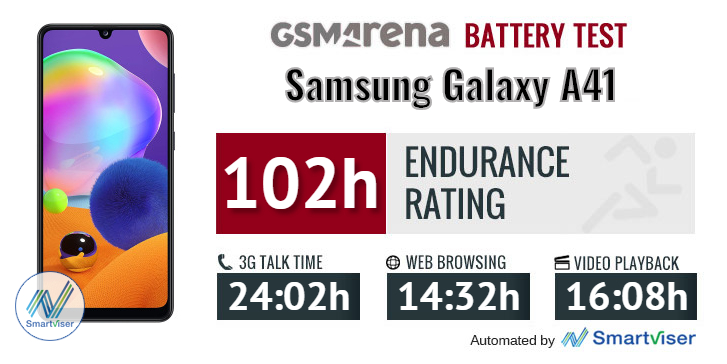 Our battery tests were automated thanks to SmartViser, using its viSer App. The endurance rating above denotes how long a single battery charge will last you if you use the Samsung Galaxy A41 for an hour each of telephony, web browsing, and video playback daily. We've established this usage pattern so that our battery results are comparable across devices in the most common day-to-day tasks. The battery testing procedure is described in detail in case you're interested in the nitty-gritty. You can check out our complete battery test table, where you can see how all of the smartphones we've tested will compare under your own typical use.
Speaker
The Galaxy A41 has a single speaker at its disposal, and it is a bottom-firing unit. Unfortunately, the speaker is rather quiet and is mostly tuned to boost louder mid-tones.
As quiet as it may be, it does surprisingly well with vocals and even manages to retain some of the lower bass frequencies. While we wouldn't go and praise it for music listening by any stretch of the imagination, it seems to be doing rather well among its budget peers. It is perfectly serviceable for following dialog in movies and tv shows.
Use the Playback controls to listen to the phone sample recordings (best use headphones). We measure the average loudness of the speakers in LUFS. A lower absolute value means a louder sound. A look at the frequency response chart will tell you how far off the ideal "0db" flat line is the reproduction of the bass, treble, and mid frequencies. You can add more phones to compare how they differ. The scores and ratings are not comparable with our older loudspeaker test. Learn more about how we test here.
Audio output quality
We've recently discontinued our audio output quality test.
The reason for that is that most phones that arrived for testing were already excellent in this regard and whatever difference there was, it was marginal and probably indistinguishable to anything but our lab equipment.