Telephony
The Samsung Galaxy A3 (2017) comes in single-SIM and dual-SIM flavors (we have the single-SIM version). There's no indication that the phone supports VoLTE.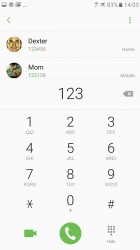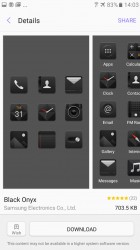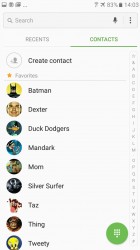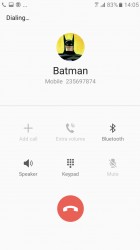 Dialer • Call log • All contacts • In-call screen
There's native support for blocking incoming calls - you can block specific numbers and all anonymous calls.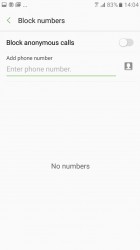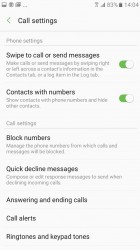 Blocking unwanted calls • More call settings
Loudspeaker
The loudspeaker on the Samsung Galaxy A3 (2017) is in an unusual position, but you're unlikely to block it (at least not unintentionally). It posted a Good mark, matching the Galaxy S7 and iPhone 7. The audio is clean even at max volume, but the speaker needs the right sound to be loud - for music it's closer to average loudness.
| | | | | |
| --- | --- | --- | --- | --- |
| Speakerphone test | Voice, dB | Pink noise/ Music, dB | Ringing phone, dB | Overall score |
| Sony Xperia X Compact | 64.1 | 65.1 | 69.5 | Below Average |
| Xiaomi Redmi 4 Prime | 63.1 | 67.3 | 71.3 | Average |
| Samsung Galaxy A3 (2017) | 66.1 | 66.9 | 75.5 | Good |
| Samsung Galaxy S7 | 69.5 | 69.3 | 71.1 | Good |
| Apple iPhone 7 | 67.6 | 73.2 | 75.7 | Good |
| Huawei nova | 69.2 | 71.9 | 80.6 | Very Good |
| Huawei Mate 9 | 83.1 | 74.5 | 85.0 | Excellent |
Messaging and text input
Samsung preloaded its own Messaging app to handle SMS/MMS instead of using Google's Allo (which isn't even available out of the box). The app has a clean but powerful interface, much of its functionality hides behind a slide-out menu on the right.
This menu lets you view all photos (or even general attachments) in a conversation, sort of like a two-person gallery. You can also insert canned responses, block numbers (or just mute notifications for the contact) as well as pin the conversation thread so it's always on top.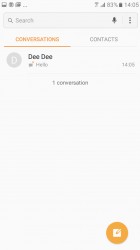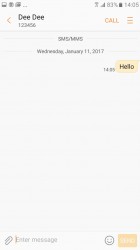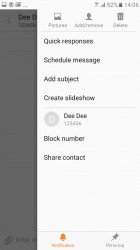 Threaded view • Chatting with Dee Dee • Slide-out menu
You can insert smilies and photos, similar to popular chat apps (except that files are sent over MMS).
The Samsung Keyboard handles text input. It can be heavily customized - you can resize it (in height and width), hide the number row and add additional symbols (punctuation on long key press).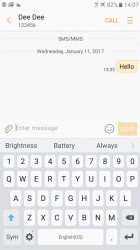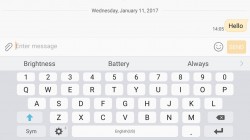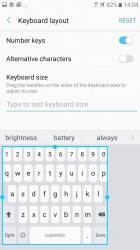 Samsung Keyboard: Portrait • Landscape • Resizing
Swipe input can be tasked with one of two tasks - move the cursor or text input. A High contrast mode is available for people with poor eyesight.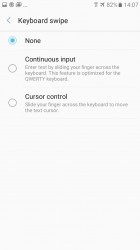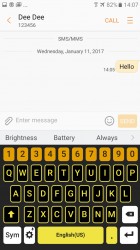 Swipe input • High contrast mode
Other apps
Samsung's S Health is available and it can track your walks/runs and your sleep. With help from the right accessory, it can track a lot more - it works with Samsung's activity trackers, of course, but you can connect heart rate monitors, bike sensors, smart scales, even blood pressure and glucose monitors. Both Bluetooth 4.0 LE and ANT+ accessories are available.
For those who need motivation, you can challenge a friend and compete to win virtual crowns. You also get a global leaderboard so you know where you stand. S Health can cooperate with a number of third-party apps (from Withings and others).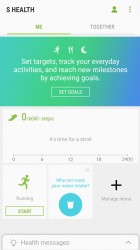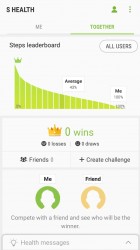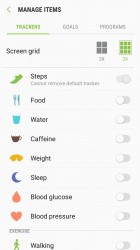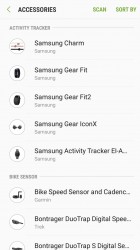 S Health: Main screen • Leaderboard • Tracked stats • Compatible accessories
The Calendar starts in a split-screen view - dates go on top, events on the bottom.
The File manager shows the most recent files by default and supports basic folder operations as well as compression.
Finally, there's Galaxy Apps, an alternative source of apps. A number of Samsung apps are available here, including ones not pre-installed on the Galaxy A3 (2017). You can also find freebies and exclusives here.