Display
The Samsung Galaxy A3 (2017) is loaded with a 4.7" Super AMOLED screen, guarded by Gorilla Glass 4. The screen has 720p resolution, which works out to 312ppi pixel density, close enough to that of the Xperia X Compact and iPhone 7. The screen isn't as sharp, though, the Super AMOLED matrix makes a crosshatch pattern visible (not an issue with the other two phones, which use LCD).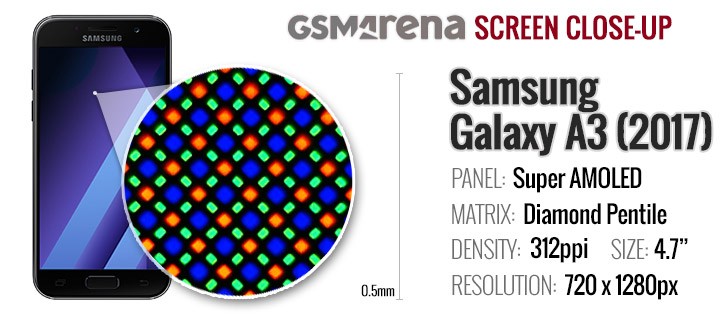 That aside, the Super AMOLED screen is still a champ when it comes to sunlight legibility and color accuracy and the A3 screen is no exception.
When setting the brightness manually, the Galaxy A3 (2017) tops out at 408nits, silghtly above what the Galaxy S7 managed. With automatic brightness, the maximum goes up to 518 nits, which is comparable with the Xperia X Compact. Overall, the screen is quite bright for an OLED (especially if you use it with Auto brightness) and can rub shoulders with premium phones.
Display test
100% brightness
Black, cd/m2
White, cd/m2
Contrast ratio
Samsung Galaxy A3 (2017)
0
408
∞
Samsung Galaxy A3 (2017) max auto
0
518
∞
Samsung Galaxy S7
0.00
391
∞
Samsung Galaxy S7 max auto
0.00
563
∞
Apple iPhone 7
0.35
561
1603
Apple iPhone 7 (max auto)
0.40
656
1640
Sony Xperia X Compact
0.44
534
1225
Huawei nova
0.25
385
1540
Oppo F1
0.46
408
897
Xiaomi Redmi 4 Prime
0.475
528
1112
At minimum, the screen puts out a mere 1.8nits, which should be comfortable for reading even in pitch dark. There's an adjustable Blue light filter too so that using the phone late in the evening will not interfere with your quality of sleep (if studies are to be believed).
The sunlight legibility matched the Xperia X Compact and sits somewhat behind the iPhone 7. That's still a good deal better than many similarly priced phones and it only gets better when you enable Auto brightness mode.
Sunlight contrast ratio
Samsung Galaxy S6 edge+
4.615
Samsung Galaxy S7 edge
4.439
OnePlus 3
4.424
Samsung Galaxy S7
4.376
HTC One A9
4.274
Samsung Galaxy Note7
4.247
Samsung Galaxy A3
4.241
OnePlus 3T
4.232
Google Pixel XL
4.164
ZTE Axon 7
4.154
Samsung Galaxy S6 edge
4.124
Samsung Galaxy Note5
4.09
Huawei Nexus 6P
4.019
Vivo Xplay5 Elite
3.983
OnePlus X
3.983
Oppo R7s
3.964
Apple iPhone 7
3.964
Huawei P9 Plus
3.956
Meizu Pro 6 Plus
3.935
Lenovo Moto Z
3.931
Samsung Galaxy A7 (2016)
3.918
Samsung Galaxy C5
3.911
Samsung Galaxy C7
3.896
Samsung Galaxy A5
3.895
Samsung Galaxy J7 outdoor
3.879
Samsung Galaxy J2 outdoor
3.873
Samsung Galaxy A8
3.859
Samsung Galaxy A9 (2016)
3.817
Motorola Moto X (2014)
3.816
Samsung Galaxy J7 (2016) outdoor mode
3.802
Xiaomi Redmi Pro
3.798
LG V20 Max auto
3.798
Sony Xperia XZ
3.795
Samsung Galaxy A5 (2016)
3.789
Apple iPhone 6s
3.783
Meizu Pro 5
3.781
Microsoft Lumia 650
3.772
Samsung Galaxy J7 (2016)
3.756
Oppo F1 Plus
3.709
Vivo X5Pro
3.706
Sony Xperia X Compact
3.694
Samsung Galaxy A3 (2017)
3.688
Apple iPhone SE
3.681
Huawei Mate 9
3.68
Samsung Galaxy A7
3.679
Meizu PRO 6
3.659
BlackBerry Priv
3.645
Apple iPhone 7 Plus
3.588
Apple iPhone 6s Plus
3.53
Motorola Moto Z Play
3.526
Samsung Galaxy J3 (2016)
3.523
Samsung Galaxy J3 (2016) outdoor mode
3.523
Acer Jade Primo
3.521
Microsoft Lumia 950
3.512
Oppo R7 Plus
3.499
nubia Z11
3.466
Samsung Galaxy J7
3.422
Meizu MX5
3.416
LG V20
3.402
Oppo R9s
3.352
Oppo R7
3.32
Xiaomi Mi 5s
3.276
Samsung Galaxy J2
3.235
Sony Xperia X Performance
3.234
Xiaomi Mi Note 2
3.228
Motorola Moto X Play
3.222
Huawei P9
3.195
Lenovo Vibe Shot
3.113
Motorola Moto X Force
3.105
LG Nexus 5X
3.092
Huawei Mate S
3.073
Microsoft Lumia 640 XL
3.065
Sony Xperia X
2.989
Huawei Mate 8
2.949
Xiaomi Redmi 3S
2.913
Sony Xperia XA Ultra
2.906
LG G5
2.905
HTC One S
2.901
Xiaomi Redmi 3s Prime
2.893
Xiaomi Mi 5s Plus
2.884
Sony Xperia Z5
2.876
Microsoft Lumia 550
2.851
Lenovo Moto M
2.813
Xiaomi Redmi 3 Pro
2.803
Sony Xperia Z5 compact
2.784
Meizu MX6
2.751
LG V10
2.744
Xiaomi Redmi 3
2.735
Sony Xperia M5
2.69
Huawei P9 Lite
2.679
Xiaomi Redmi 4 Prime
2.679
Vivo V3Max
2.659
Xiaomi Mi Mix
2.658
Xiaomi Mi 4i
2.641
Sony Xperia XA
2.609
Motorola Moto G4 Plus
2.582
Motorola Moto G4 Plus (max auto)
2.582
Xiaomi Mi 4c
2.574
LeEco Le Max 2
2.567
Microsoft Lumia 640
2.563
Asus Zenfone 3 ZE552KL
2.563
Lenovo K6 Note
2.544
Lenovo Moto G4
2.544
Oppo F1
2.528
Sony Xperia Z5 Premium
2.525
Huawei Honor 7 Lite / Honor 5c
2.506
Sony Xperia M4 Aqua
2.503
Oppo F1s
2.481
Motorola Moto G
2.477
Lenovo Vibe K5 Plus
2.473
Huawei G8
2.471
Huawei nova
2.467
Sony Xperia Z
2.462
Lenovo Vibe K5
2.459
Meizu m3 max
2.447
Huawei Honor 7
2.406
Sony Xperia E5
2.386
ZUK Z1 by Lenovo
2.382
Samsung Galaxy J5 (2016)
2.378
HTC 10
2.378
Meizu m1 note
2.362
Huawei nova plus
2.329
HTC One E9+
2.305
Alcatel One Touch Hero
2.272
Apple iPhone 4S
2.269
Lenovo Vibe K4 Note
2.254
Sony Xperia C5 Ultra
2.253
Xiaomi Redmi Note 3 (MediaTek)
2.249
Sony Xperia C4 Dual
2.235
Xiaomi Mi Note
2.234
Motorola Moto G (2014)
2.233
Huawei P8
2.196
Huawei Honor 6
2.169
Xiaomi Redmi Note 2
2.166
OnePlus Two
2.165
HTC One X
2.158
Xiaomi Redmi Note 4
2.145
LG Aka
2.145
Archos 50 Diamond
2.134
Xiaomi Redmi Note
2.119
Acer Liquid X2
2.084
Huawei P8lite
2.078
Moto G 3rd gen max manual
2.026
Xiaomi Mi Max
1.996
Sony Xperia E4g
1.972
OnePlus One
1.961
Meizu m3 note
1.923
BlackBerry Leap
1.892
Meizu m2 note
1.892
ZTE Nubia Z9 mini
1.759
Sony Xperia U
1.758
Asus Zenfone Selfie
1.68
Motorola Moto E (2nd Gen)
1.675
ZTE Nubia Z9
1.659
Jolla Jolla
1.605
Motorola Moto E
1.545
Sony Xperia M
1.473
HTC Desire C
1.3
Sony Xperia C
1.283
Meizu MX
1.221
Sony Xperia E
1.215
The default Adaptive screen setting pushes colors outside the sRGB triangle, the extra saturation and contrast this mode provides makes images pop. If you want something more accurate, you can use AMOLED Photo (average deltaE 3.7, max 7.4) or AMOLED Cinema (average 2.7, max 7.5).
Traditionally, the most accurate mode is Basic, which drops the average deltaE to an impressive 1.5. All colors are rendered at < 2 deltaE, it's the whites that push the maximum to 4 (which is still quite impressive). The small 720p screen is not perfect for photo viewing, but it will give you true to life colors if you want them (and when you want them).
There are color sliders that allow you to fine tune the display (only in Adaptive mode), but without calibration hardware you can't do better than the preset modes.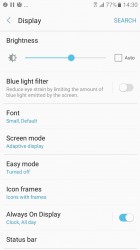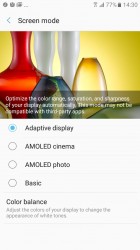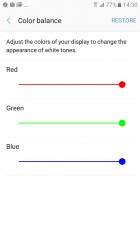 Display settings • Screen modes • Manual color balance
The Samsung Galaxy A3 (2017) has to be among the most affordable Android phones with an Always-On Display. It is exactly as capable as that of the S7 and can show several clock designs (including ones that focus on the calendar) and notification icons from third-party apps.
Passive information is great (it was the main purpose of Google Now, for example) and we think Always-On Displays will become more common as the price of such displays falls.
Connectivity
The Samsung Galaxy A3 (2017) leaves no option unchecked when it comes to connectivity. It boasts LTE Cat. 6 (300/50Mbps), optional dual-SIM, fast Wi-Fi 802.11ac, Samsung Pay with NFC and MST, USB-C, there's even an FM radio. Really, only the IR blaster has been omitted.
The 300/50Mbps top LTE speed is achieved with 2 Carrier Aggregation (2CA). The Wi-Fi meanwhile uses only one channel, providing a top speed of 433Mbps. Low-power connections are available in the form of Bluetooth 4.2 LE and ANT+.
The USB-C port is wired only for USB 2.0 speed and there's no MHL support, meaning you can't use USB accessories or get wired TV out.
There's no word on aptX support (for high quality Bluetooth audio), so you may want to make good use of that wired headphone jack.
Battery life
The Samsung Galaxy A3 (2017) comes with a 2,350mAh battery, basically the same as its predecessor. Samsung didn't upgrade the fuel tank, but it did use a more efficient engine - the 14nm Exynos 7870 Octa chipset. From our experience, chipsets built on a 14nm fabrication process offer stellar battery life so we had our expectations high for the Galaxy A3 (2017) right from the get-go.
The official specs promise 17 hours of talk time on a 3G network, 17 hours of browsing on Wi-Fi and 17 hours again when it comes to watching videos. Our tests (done at 200nits) came quite close to those official specs. We measured better talk time, while the other two readings came in a bit short.
That's massively good battery life, very few phones offer this level of battery endurance for web and video. And most of them are huge phones with huge batteries. The iPhone 7 lasts hours - the Xperia X Compact too.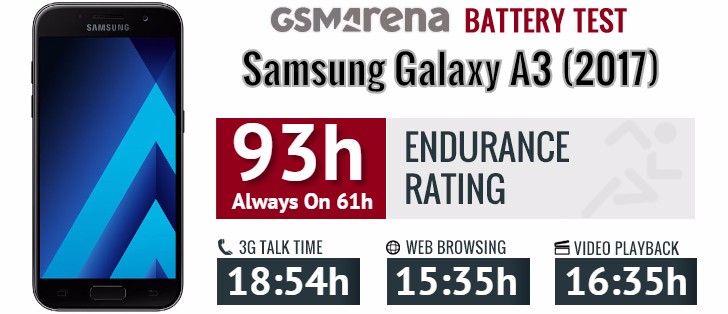 Our Galaxy A3 (2017) unit came with the standard Samsung Fast Charger. Trying it out, we managed to get 37% charge (from 0%) in half an hour, which isn't particularly fast. A complete charge took 90 minutes, a pretty good pace.
The battery testing procedure is described in detail in case you're interested in the nitty-gritties. You can also check out our complete battery test table, where you can see how all of the smartphones we've tested will compare under your own typical use.
Note that the 93 hour endurance rating is with the Always On Display (AOD) feature turned off. We measured 61 hours with it on, but note that this can vary quite a bit depending on how you use the phone - AOD dims in the dark and shuts off in your pocket, so your mileage will vary based on your usage pattern.
Outside of everything mentioned so far, the Samsung Galaxy A3 (2017) software offers a few advanced power-saving features. There are two modes, each of which can impose various limits - maximum brightness, chipset clock speed, Internet use and (of course) disable the Always On Display. You get an estimate of how much extra endurance you'll gain with each mode.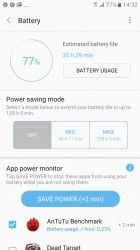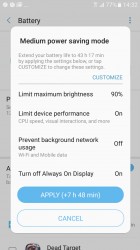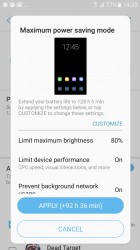 Battery features • Medium power saving mode • Maximum power saving mode