Basic 720p LCD display
Arguably, the most unfortunate downgrade on the 5G Galaxy A32, compared to its vanilla sibling, is in the display department. The modern, smooth and power-efficient 90Hz Super AMOLED FHD+ panel that the A32 4G has been swapped for a 720p 60Hz LCD on the 5G model. Quite unfortunate.
The display diagonal of the A32 5G is ever so slightly bigger at 6.5 inches, compared to the 6.4 inches on the vanilla (both 20:9). That doesn't really result in more noticeable screen real estate, but it does contribute further to the unfortunate pixel density calculation, which works out to 270 ppi on the Galaxy A32 5G, compared to 411 ppi on the vanilla A32. That being said, it's not like the display looks particularly fuzzy. The difference only becomes noticeable if you put it next to a higher-res display.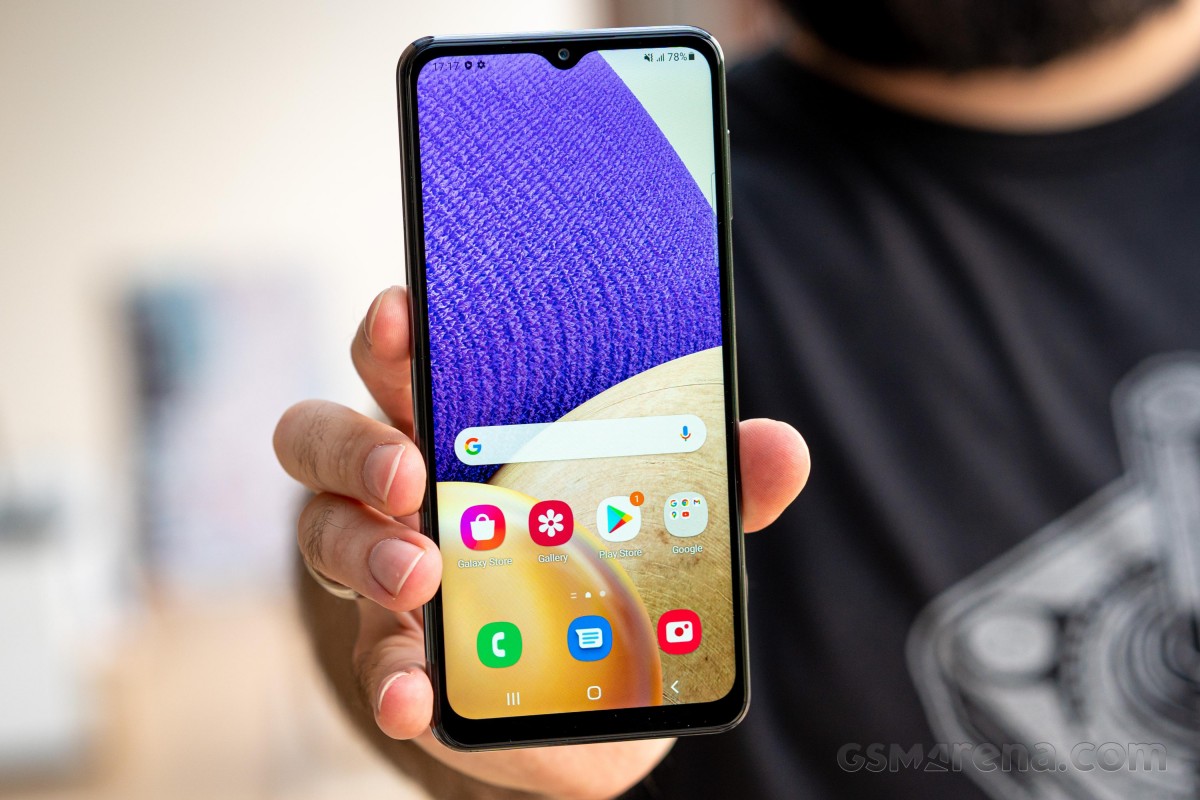 The move away from AMOLED on to LCD is also rather disappointing. To be clear, there are amazing LCD displays out there, the one on the Galaxy A32 5G is just not one of them. Besides skipping out on certain nice extras, like the higher power efficiency of OLED with darker colors and its true blacks, there is also a lot to be said about the colors on this particular panel. Simply put - they aren't good.
The overall palette is a bit dull and lacks saturation—especially when compared to the typical OLED "pop" on other phones.
The color reproduction is quite inaccurate as well. Samsung's target for the panel seems to be the sRGB color space, but the individual color points aren't even close to being considered color-accurate. The blues are particularly off, and indeed there is a cold hue all-around on the A32 5G.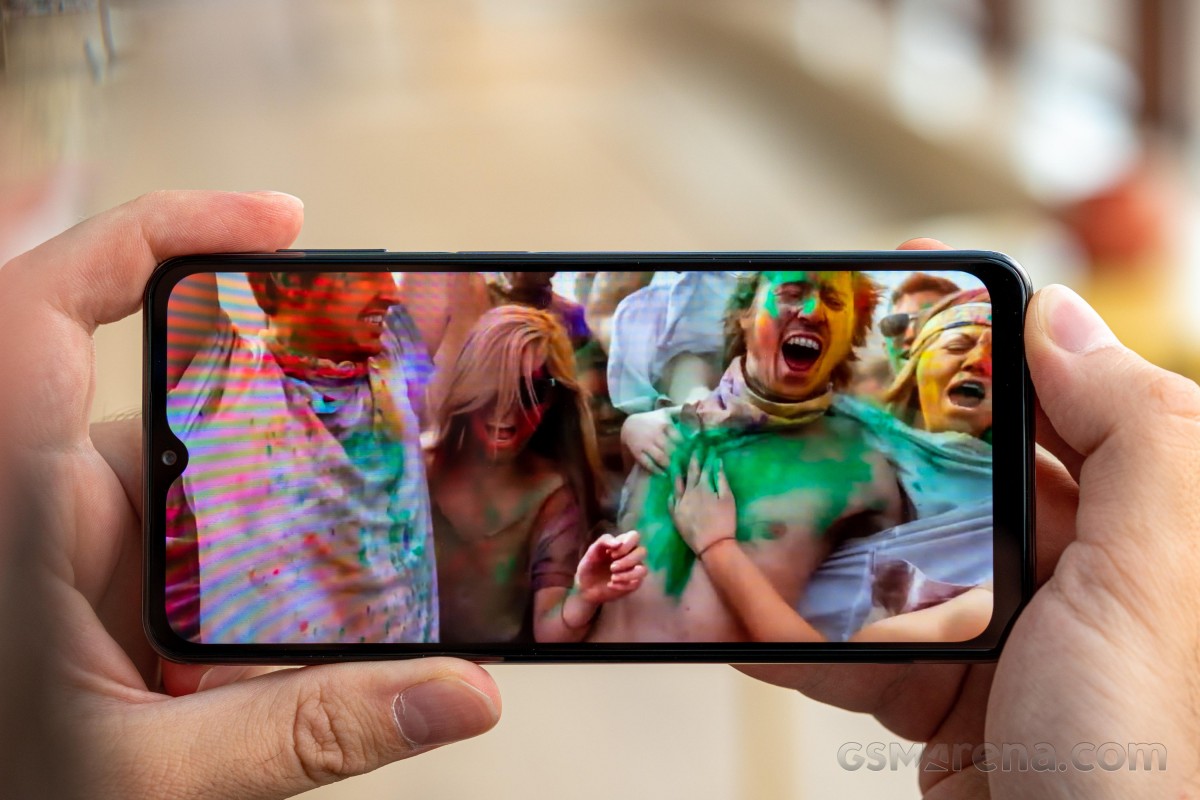 That might have actually been a fixable issue with some slight color temperature adjustment; however, the Galaxy A32 has no color profiles or controls at all. No sliders, no adjustments. What you see is what you get. That's an unfortunate and not easily-justifiable omission in our view.
Brightness and contrast are hardly spectacular either. The Galaxy A32 5G tops out at 426 nits of brightness with the slider cranked to max. There is a max auto mode that boosts brightness a bit further, but just to 497 nits. That's not enough to be comfortably usable on a sunny day. Usable, but not pleasant. It is also potentially interesting to note that there doesn't seem to be a conventional light sensor on the A32 5G. At least none of the apps we tried managed to get raw readings out of one. However, auto-brightness, including the ability to reach the max auto output both work reliably.
Display test
100% brightness
Black,cd/m2
White,cd/m2
Contrast ratio
Samsung Galaxy A32 (Max Auto)
0
814
∞
Xiaomi Redmi Note 10 (Max Auto)
0
682
∞
Realme 8 (Max Auto)
0
657
∞
Xiaomi Poco X3 NFC (Max Auto)
0.515
631
1225:1
Realme 8 5G (Max Auto)
0.408
577
1414:1
Poco M3 Pro 5G (Max Auto)
0.366
536
1464:1
Poco X3 Pro (Max Auto)
0.4
534
1335:1
Samsung Galaxy A32 5G (Max Auto)
0.338
497
1470:1
Xiaomi Redmi Note 10 5G (Max Auto)
0.275
492
1789:1
Samsung Galaxy A21s (Max Auto)
0.384
491
1279:1
Xiaomi Redmi Note 10
0
475
∞
Samsung Galaxy A12 (Max Auto)
0.349
472
1352:1
Realme 8 5G
0.334
472
1413:1
Xiaomi Poco X3 NFC
0.354
460
1299:1
Poco X3 Pro
0.327
458
1401:1
Realme 8
0
458
∞
Poco M3 (Max Auto)
0.277
439
1585:1
Samsung Galaxy A32 5G
0.286
426
1490:1
Poco M3 Pro 5G
0.28
413
1475:1
Samsung Galaxy A21s
0.317
408
1287:1
Samsung Galaxy A02s
0.23
406
1765:1
Samsung Galaxy A12
0.292
398
1363:1
Poco M3
0.252
395
1567:1
Samsung Galaxy A32
0
393
∞
Xiaomi Redmi Note 10 5G
0.21
377
1795:1
The panel on the A32 5G has a basic 60Hz refresh rate - not bad in itself. However, pixel response time is pretty poor, as well, which results in noticeable motion fringing and smearing in things like fine text while scrolling. There is no HDR support on the Galaxy A32 5G. Not that we expected any.
Also, since the display has a native HD+ resolution, the supported Widevine level is mostly irrelevant. Still, we checked, and the A32 5G has the highest L1 certification, meaning that, theoretically, it could be served streams all the way up to 4K by services like Netflix. The latter naturally only offers HD on the A32 5G, though.
Battery life
The Galaxy A32 5G packs a 5,000 mAh battery, just like its vanilla sibling. Pretty good, in terms of raw capacity, but not entirely ideal, considering the A32 5G is considerably thicker at 9.1mm, heavier and overall bigger in every way, without offering more battery capacity.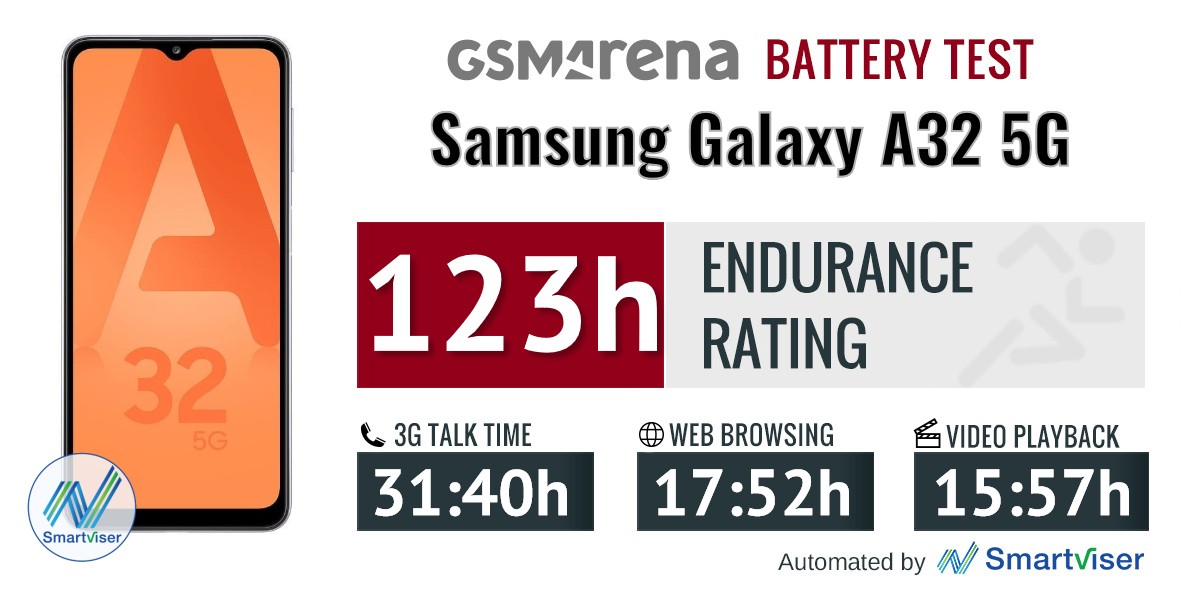 Our battery tests were automated thanks to SmartViser, using its viSerDevice app. The endurance rating denotes how long the battery charge will last you if you use the device for an hour of telephony, web browsing, and video playback daily. More details can be found here.
That pretty much covers the "salty" bit, but looking at the actual endurance numbers leaves little to be desired. The Galaxy A32 5G makes great use of its battery, scoring a total of 123 hours. That's about as much as we managed to get out of the vanilla A32 at 60Hz and definitely better than its default 90Hz mode.
The individual test numbers are also quite similar between the two, which makes sense. The A32 5G managed to do a bit better in web browsing, since its LCD doesn't have to work as hard to render the mostly white webpage backgrounds. On the flip side, it didn't get any savings from displaying black bars around our 16:9 test video. In any case, the numbers are well in line.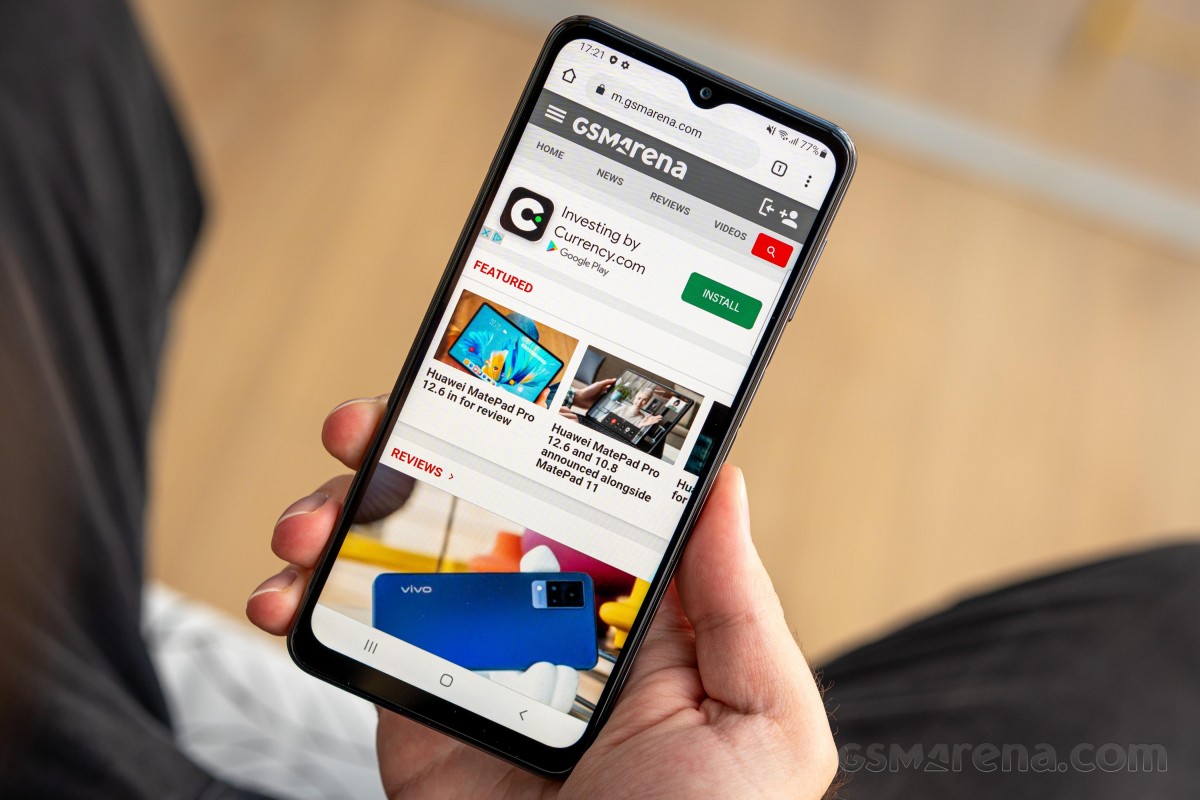 The A32 5G is one of the first devices to pass through our office with a MediaTek Dimensity 720 5G chipset. To be fair, it is not too dissimilar from the Dimensity 700, nor the 800U, for that matter, in terms of CPU and GPU cores, as well as the 7nm manufacturing process. The latter, however, sets it apart nicely from the MediaTek Helio G80 inside the vanilla Galaxy A32, which is based on a 12nm process. Likely related to that, the A32 5G seems to do markedly better in our standby test. That is to say a bit, but enough to make a noteworthy difference.
All and all - a great all-around showing from the Galaxy A32 5G in the battery department.
All test results shown are achieved under the highest screen refresh rate mode. You can adjust the endurance rating formula manually so it matches better your own usage in our all-time battery test results chart where you can also find all phones we've tested.
Charging speed
As most lower-end Samsungs, the Galaxy A32 5G ships with a 15W adapter with Samsung Adaptive Fast Charging stamped on it, a name (and technology) that dates some 6-7 years back.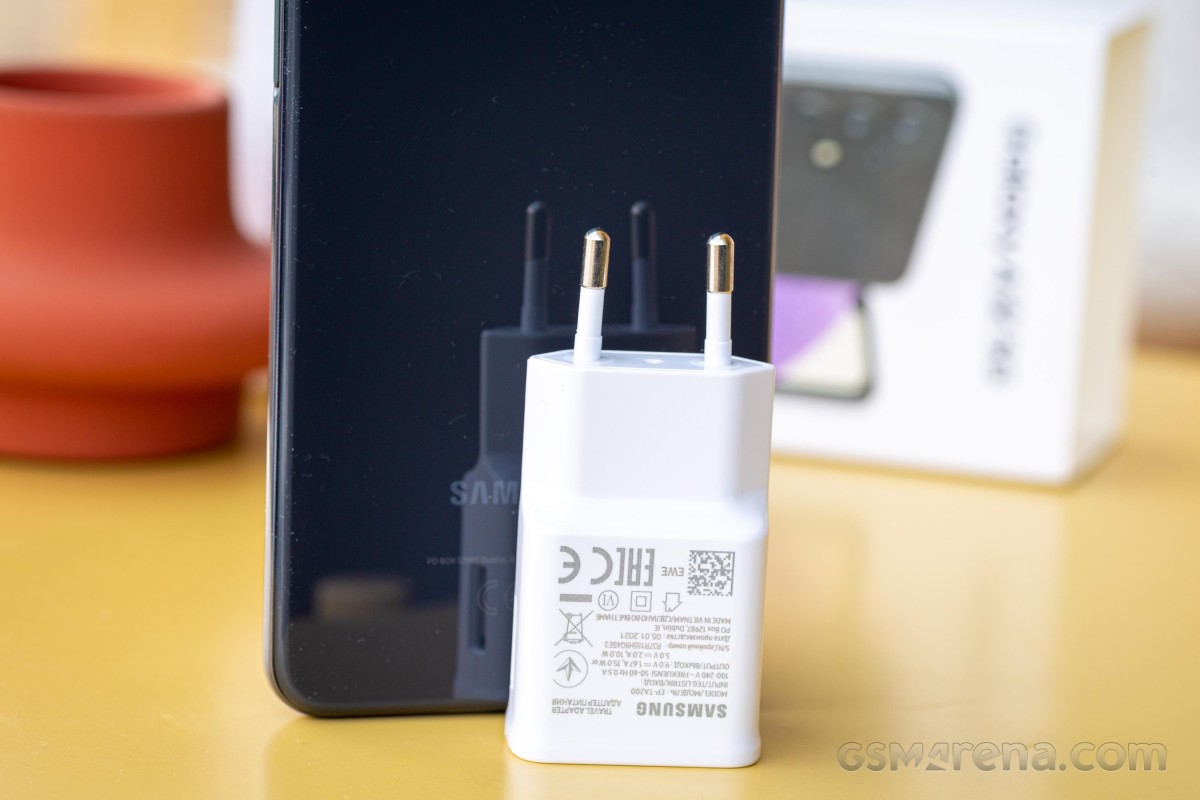 Using it, the A32 5G charges from flat to full in 2:24h, with 23% showing in the battery indicator half an hour into the process. It's slower than most in the class, but about on par with other recent Samsung devices with a similar battery capacity and charging rate, which has been known to fluctuate in some lesser Samsung models.
30min charging test (from 0%)
Xiaomi Redmi Note 10
65%
OnePlus Nord N10 5G
65%
Realme 8
56%
Samsung Galaxy A52 (25W)
52%
Poco X3 Pro
50%
Poco X3 Pro
50%
Samsung Galaxy A52
34%
Xiaomi Redmi Note 10 5G
33%
Poco M3 Pro 5G
33%
Poco M3 Pro 5G
33%
Samsung Galaxy A02s
30%
Realme 8 5G
29%
Samsung Galaxy A32
25%
Samsung Galaxy A32 5G
23%
Samsung Galaxy A12
20%
Time to full charge (from 0%)
OnePlus Nord N10 5G
0:52h
Poco X3 Pro
1:08h
Poco X3 Pro
1:08h
Realme 8
1:09h
Xiaomi Redmi Note 10
1:13h
Samsung Galaxy A52 (25W)
1:30h
Xiaomi Redmi Note 10 5G
2:00h
Poco M3 Pro 5G
2:00h
Poco M3 Pro 5G
2:00h
Samsung Galaxy A52
2:03h
Samsung Galaxy A32
2:19h
Realme 8 5G
2:20h
Samsung Galaxy A32 5G
2:24h
Samsung Galaxy A02s
2:36h
Samsung Galaxy A12
3:03h
Speaker test
The Galaxy A32 5G has a single bottom-firing speaker - acceptable in its budget price range, though not ideal, since a stereo setup is attainable at its budget. At the very least, a hybrid stereo setup with the earpiece would have been appreciated.
On the flip side, the speaker on the A32 5G is a bit louder than that on the vanilla A32. Enough so to push it into the Average rating. To be clear, overall, that is still not impressive, but at least Samsung seems to have managed to make good use of the extra space inside the body of the A32 5G.
Frequency response is about on par. That is to say, not overly impressive either. The Galaxy A32 5G doesn't have any built-in equalizers or optimizers for its loudspeaker. There is Dolby Atmos under audio settings, but that is just for headphones.
Use the Playback controls to listen to the phone sample recordings (best use headphones). We measure the average loudness of the speakers in LUFS. A lower absolute value means a louder sound. A look at the frequency response chart will tell you how far off the ideal "0db" flat line is the reproduction of the bass, treble, and mid frequencies. You can add more phones to compare how they differ. The scores and ratings are not comparable with our older loudspeaker test. Learn more about how we test here.