6.4-inch Super AMOLED panel
The Galaxy A31 is one of the cheaper options with an OLED panel in Samsung's current lineup. Most budget options beyond that rely on PLS TFT. This alone is a reason to consider going for an A31. Super AMOLED might be an older generation technology in Samsung's roster at this point, but it still offers solid performance.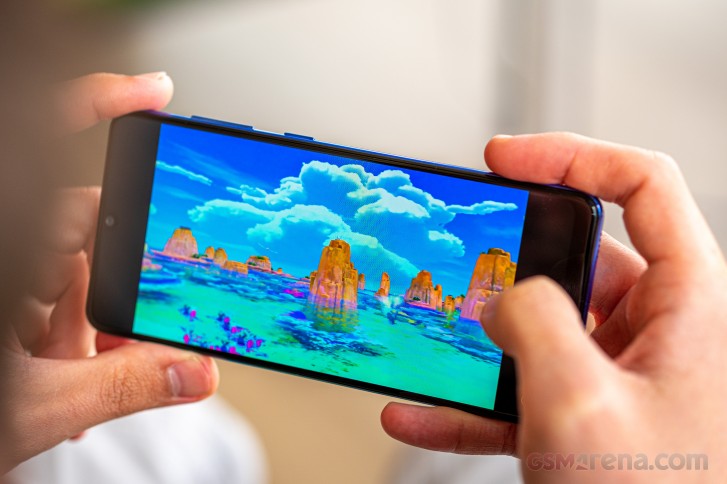 We measured a respectable 420 nits of max brightness in our tests. The Galaxy A31 has a max auto mode on top of this, which allows it to boost its brightness up to 635 nits temporarily. That makes it usable outdoors, under direct sunlight without any issue.
And thanks to OLED tech, the screen's contrast ratio is amazing with blacks nice and inky.
Display test
100% brightness
Black,cd/m2
White,cd/m2
Contrast ratio
Xiaomi Redmi K30 (Max Auto)
0.527
714
1355:1
Samsung Galaxy M30s (Max Auto)
0
642
∞
Samsung Galaxy A51 (Max Auto)
0
636
∞
Samsung Galaxy A31 (Max Auto)
0
635
∞
Samsung Galaxy A41 (Max Auto)
0
624
∞
Xiaomi Redmi Note 9 Pro (Max Auto)
0.487
616
1265:1
Nokia 7.2 (Max Auto)
0.421
585
1390:1
Xiaomi Redmi Note 9S (Max Auto)
0.42
575
1369:1
Xiaomi Redmi K30
0.399
550
1378:1
Nokia 7.2
0.371
498
1342:1
Huawei P40 Lite
0.425
461
1085:1
Xiaomi Redmi Note 9 Pro
0.355
456
1285:1
Realme 6
0.343
451
1315:1
Realme X
0
448
∞
Samsung Galaxy M30s
0
441
∞
Samsung Galaxy A31
0
423
∞
Xiaomi Redmi Note 9S
0.303
421
1389:1
Samsung Galaxy A41
0
417
∞
Samsung Galaxy A51
0
413
∞
FullHD, or rather, 1080 x 2400 pixels, in this case, look perfectly sharp on the 6.4-inch diagonal with a pixel density of around 411 ppi. Samsung's panels have been growing steadily in vertical direction. The 20:9 aspect ratio is more or less the current norm and the Galaxy A31 shares in that trend.
Samsung has a good track record of offering displays that are not only bright, but also perform well with color reproduction. That is true for the Galaxy A31. In its default Vivid mode, it managed to score an average deltaE2000 of 5.1, with a considerable maximum deviation of 14.4 in red. Colors have that distinct OLED "punchy" look in this mode. The exaggerated red channel results in a "hotter" overall color profile, for lack of a better term. If you find that a bit off-putting, the brightness settings section includes both a simple cool and warm slider, as well as custom white point adjustment, which we appreciate.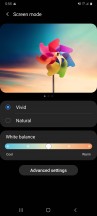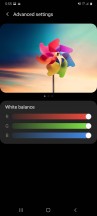 Color modes and custom white point
Natural mode is what you should opt for if you want accurate colors. We measured an impressive average deltaE 2000 of just 1.8 in this mode and a maximum of 4.7 in green, with other colors keeping a noticeably smaller variance. Naturally, our first instinct was to try and dial back the misbehaving green channel in the custom white point menu. However, it's only available in vivid mode. After a lot of fiddling, we didn't manage to get a better calibration that the one Samsung already offers in Natural mode. Still, the results we measured in Natural mode are already enough for the panel to be considered color-accurate.
There is no fancy HDR support on the Galaxy A31. Not that we would expect it in its price segment. However, the phone has Widevine L1 certification, meaning it can take advantage of HD and higher streaming resolutions through services like Netflix and Amazon Prime Video.
Battery life
The Galaxy A31 packs a beefy 5,000 mAh battery pack. Bigger than the 4,000 mAh in the Galaxy A51 and bigger still than the 3,500 mAh in the Galaxy A41. The Galaxy M21 and M31 do offer-up a whopping 6,000 mAh, which might be important for context.
The Galaxy A31 managed an impressive 124 hours of endurance in our proprietary test, with solid scores across the board, in every sub-category. There isn't anything to complain about in this department.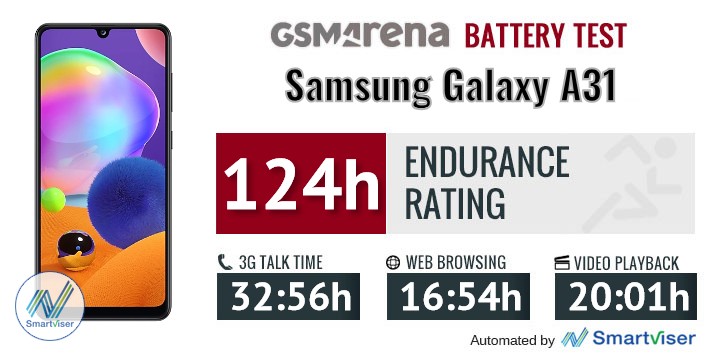 Our battery tests were automated thanks to SmartViser, using its viSer App. The endurance rating above denotes how long a single battery charge will last you if you use the Samsung Galaxy A31 for an hour each of telephony, web browsing, and video playback daily. We've established this usage pattern so that our battery results are comparable across devices in the most common day-to-day tasks. The battery testing procedure is described in detail in case you're interested in the nitty-gritty. You can check out our complete battery test table, where you can see how all of the smartphones we've tested will compare under your own typical use.
Charging on the Galaxy A31 and the current Galaxy A and Galaxy M families, in general, is capped at 15W. That's nothing to phone home about on the modern smartphone scene. Still, there is an argument to be made about mitigating battery degradation over time by going for a tamer charging speed.
Charging from zero, we managed to get around 30% of the battery charge back in 30 minutes, with a full charge taking almost 3 hours (2:48h). Perfectly serviceable on a budget device but far from chart-topping.
Speaker test
The Galaxy A31 only has a single speaker at its disposal. It is a bottom-firing unit, which makes it less than ideal for multimedia consumption.
The speaker is not particularly loud and is mostly tuned to boost louder mid-tones. Still, it does surprisingly well with vocals and even manages to retain some of the lower bass frequencies. While we wouldn't go and praise it for music listening by any stretch of the imagination, it seems to be doing rather well among its budget peers. It is perfectly serviceable for following dialog in movies and tv shows.
Use the Playback controls to listen to the phone sample recordings (best use headphones). We measure the average loudness of the speakers in LUFS. A lower absolute value means a louder sound. A look at the frequency response chart will tell you how far off the ideal "0db" flat line is the reproduction of the bass, treble, and mid frequencies. You can add more phones to compare how they differ. The scores and ratings are not comparable with our older loudspeaker test. Learn more about how we test here.
Audio output quality
We've recently discontinued our audio output quality test.
The reason for that is that most phones that arrived for testing were already excellent in this regard and whatever difference there was, it was marginal and probably indistinguishable to anything but our lab equipment.