90Hz LCD display
The display on the Galaxy A22 5G isn't particularly impressive on paper. This is one of the notable areas of downgrade compared to the vanilla A22, which gets a Super AMOLED 90Hz, HDR-capable panel instead.
Even so, it is worth pointing out that the regular A22 has an HD+ display, whereas the panel on the A22 5G has a nice and crisp resolution of 1080 x 2400 pixels, which works out to about 399 ppi.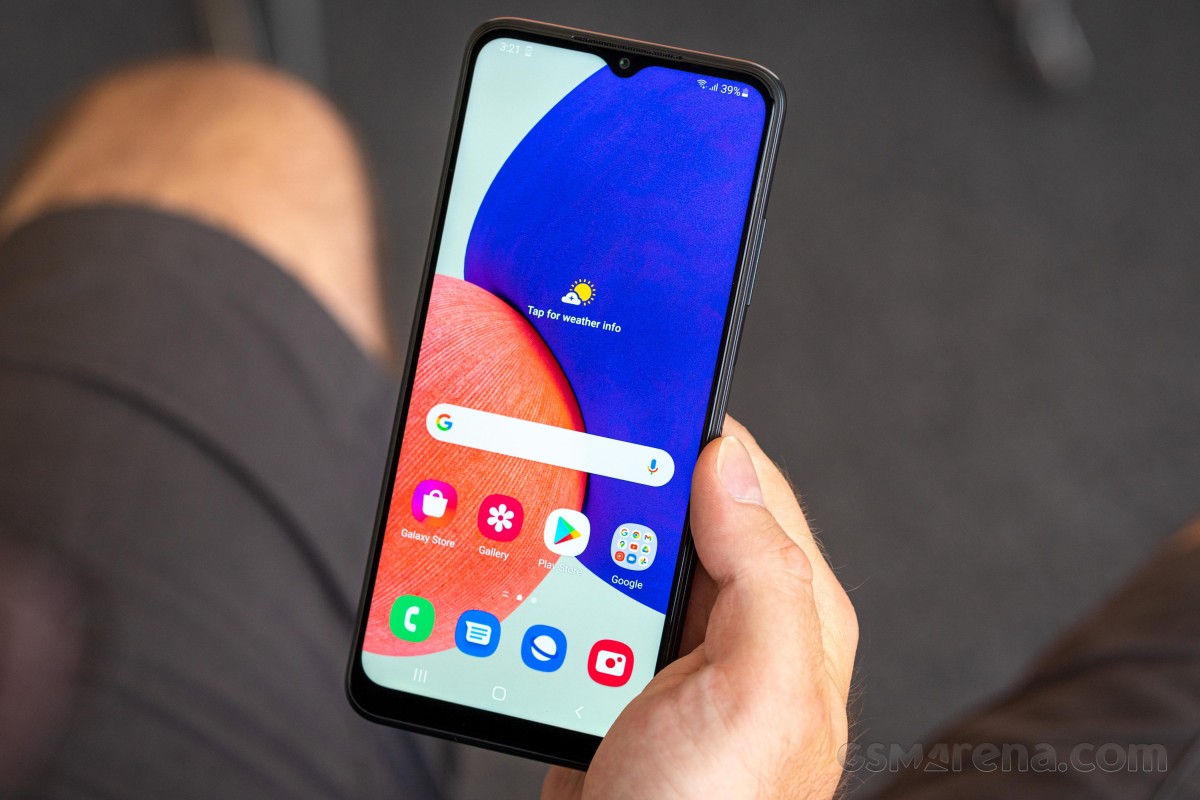 Furthermore, the A22 5G arguably has its bigger-brother A32 5G beat in the display department, as well, mostly due to its higher resolution and 90Hz native refresh rate. The arguable bit is mostly coming down to maximum brightness, where the A32 5G has a slight edge. To be fair, though, neither panel is particularly bright in the first place, with the A22 5G managing a maximum of 385 nits in our testing, with no max auto mode beyond that. Usable, but mostly a struggle outdoors. Contrast is very decent, though, since the A22 5G has nice blacks.
Display test
100% brightness
Black,cd/m2
White,cd/m2
Contrast ratio
Samsung Galaxy A52 (Max Auto)
0
794
∞
Xiaomi Redmi Note 10 Pro (Max Auto)
0
725
∞
Poco F3 (Max Auto)
0
716
∞
Xiaomi Redmi Note 10 (Max Auto)
0
682
∞
Realme 8 (Max Auto)
0
657
∞
OnePlus Nord CE 5G (Max Auto)
0
607
∞
Realme 8 5G (Max Auto)
0.408
577
1414:1
Poco M3 Pro 5G (Max Auto)
0.366
536
1464:1
Poco X3 Pro (Max Auto)
0.4
534
1335:1
Poco F3
0
511
∞
Samsung Galaxy A32 5G (Max Auto)
0.338
497
1470:1
Xiaomi Redmi Note 10 5G (Max Auto)
0.275
492
1789:1
Xiaomi Redmi Note 10
0
475
∞
Samsung Galaxy A12 (Max Auto)
0.349
472
1352:1
Realme 8 5G
0.334
472
1413:1
Poco X3 Pro
0.327
458
1401:1
Realme 8
0
458
∞
Xiaomi Redmi Note 10 Pro
0
457
∞
OnePlus Nord CE 5G
0
429
∞
Samsung Galaxy A32 5G
0.286
426
1490:1
Poco M3 Pro 5G
0.28
413
1475:1
Samsung Galaxy A12
0.292
398
1363:1
Samsung Galaxy A52
0
386
∞
Samsung Galaxy A22 5G
0.236
385
1631:1
Xiaomi Redmi Note 10 5G
0.21
377
1795:1
Since we are already comparing panels, it is also worth noting that the slow pixel response times and spearing we noticed with the Galaxy A32 5G is nowhere to be found on the A22 5G. It does much better in this respect, in both 60Hz and 90Hz modes.
Colors on the Galaxy A22 5G are far from accurate, even more so than what we measured with the A32 5G. Samsung clearly seems to be targeting the sRGB color space but failing with color accuracy rather badly. Greens and particularly blues are badly misaligned. And not just oversaturated, which we would understand, as a desire to deliver more "pop". No, the default color profile is just cold and bluish overall.
Unfortunately, there is no way to tweak colors either. Just like many other cheaper Samsung models, the A22 5G lacks color profiles or any fine adjustments.
There is no HDR support on the A22 5G. Software reporting confirms this fact as well, and so does the Netflix app. On the upside, we are quite happy to see Netflix offering FullHD as its maximum resolution. Actually, the A22 5G has the highest L1 certification, meaning that, theoretically, high-resolution streaming is possible with services like Netflix.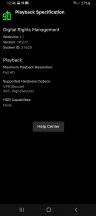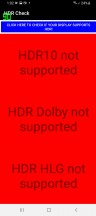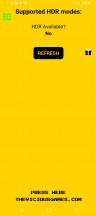 Netflix playback capabilities • No HDR
High refresh rate handling
The Galaxy A22 5G has a simple and straightforward approach to its 90Hz refresh rate. There are two modes in display settings for Motion smoothness - Standard and High. Standard locks everything to 60Hz, while High basically locks everything to 90Hz.
This has its positives and negatives, for sure, the latter mostly boiling down to the battery-wasting potential in certain situations, like watching video.
On the other hand, if you are aware of how the logic is set up and are remember to toggle down to 60Hz for things like movie watching sessions - everything else remains simple and straightforward.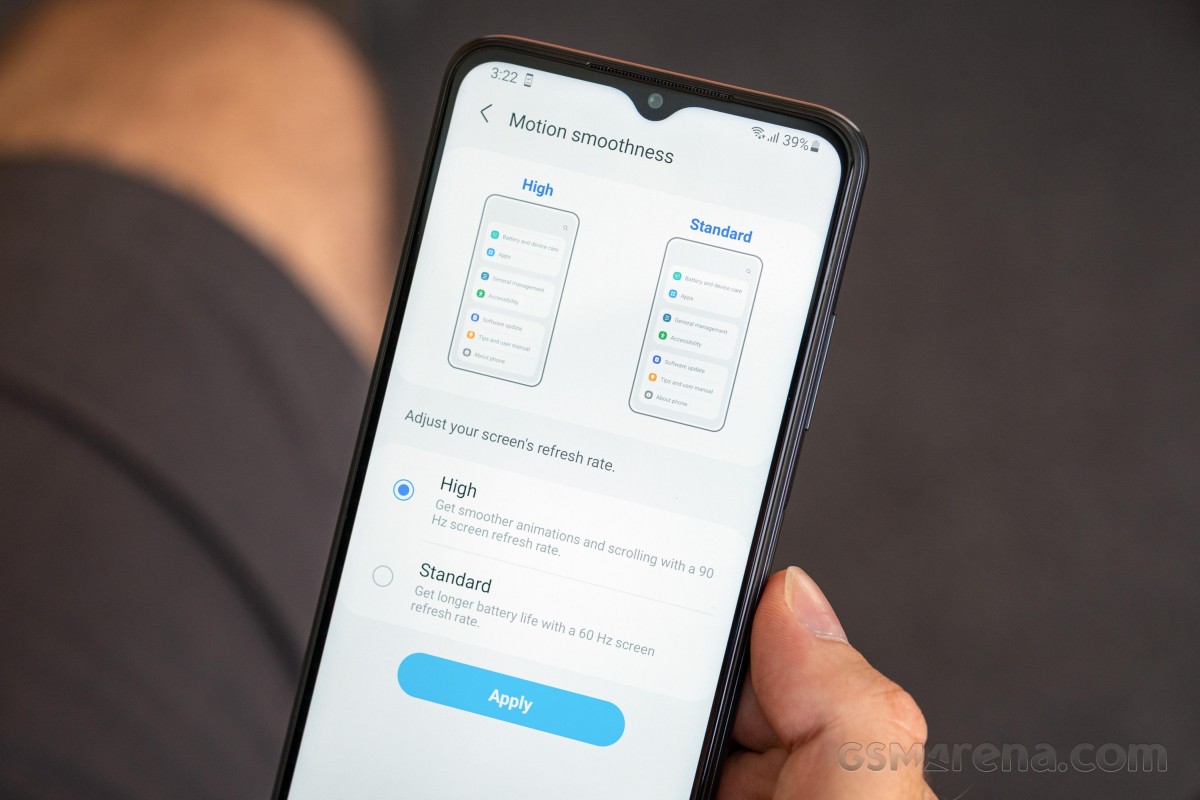 Both Chrome and the Samsung browser, which we tried, take full advantage of the 90Hz refresh rate of the display, as verified by the Blurbusters UFO test.
Samsung never promised any automatic refresh rate switching. Plus, having such logic implemented in a poor way has been known to cause issues with utilizing high refresh rate modes on other devices, especially for gaming. With this simple binary system in place, we managed to get a noticeably smoother (higher than 60fps) experience from pretty much every high-refresh-rate-supported game we tried.
The only situation we managed to find where the A22 5G switched down to 60Hz on its own was in the camera app. This is perfectly expected, since the camera viewfinder is one of those Android UI components that traditionally requires 60Hz to function properly. The same is typically true for the Google Maps UI, though, oddly enough, the A22 5G runs that at 90Hz, without any noticeable issues, at first glance.
Battery life
The Galaxy A22 5G has a beefy 5,000 mAh battery. It also has a fairly beefy profile, in relative terms, measuring 9mm, compared to the vanilla Galaxy A22's 8.4mm. Pretty much exactly the difference in thickness between the Galaxy A32 5G and its vanilla counterpart. Both of the 5G variants also have a bit of hollow space underneath their rear panels, which all adds up to us being a bit salty that Samsung didn't cram a bit more juice into them. Never mind, 5,000 mAh is plenty for sure.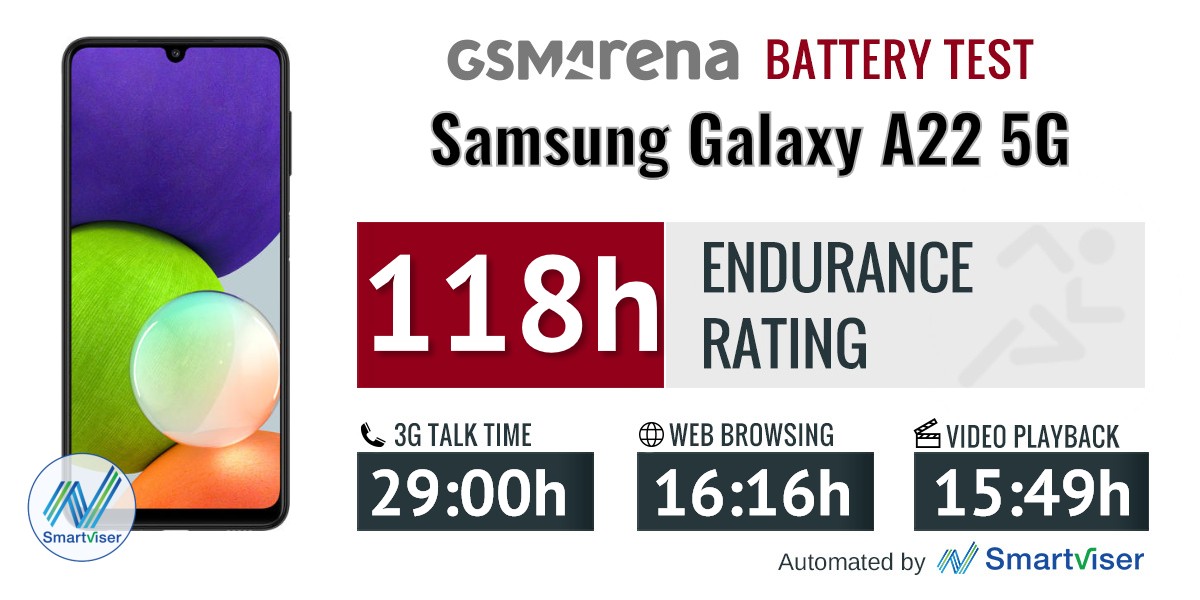 Let's talk numbers, though. In our proprietary test routine, the A22 5G managed a respectable 118 hours of total endurance. Not too shabby and looking at our battery database, about what we would expect from a Dimensity 700 chipset and a 5,000 mAh battery.
However, this score is near the bottom end of that scale, alongside the Realme 8 5G. We have seen notably better battery endurance from the same hardware combo on Xiaomi devices, like the Xiaomi Redmi Note 10 5G and the Poco M3 Pro 5G. Not by much, but overall, it does seem that Samsung falls a bit behind in on-screen scenarios.
It is important to note that as per our testing methodology, the 118 hours total endurance score was achieved by running web tests at the maximum 90Hz refresh rate of the Galaxy A22 5G, whereas the video portion was specifically running at 60Hz since that makes the most sense overall.
Here is the A22 5G running its web browsing tests at a fixed 60Hz to the tune of a bit over 30 minutes of extra endurance in that test, which was enough to bump total endurance up to 119 hours.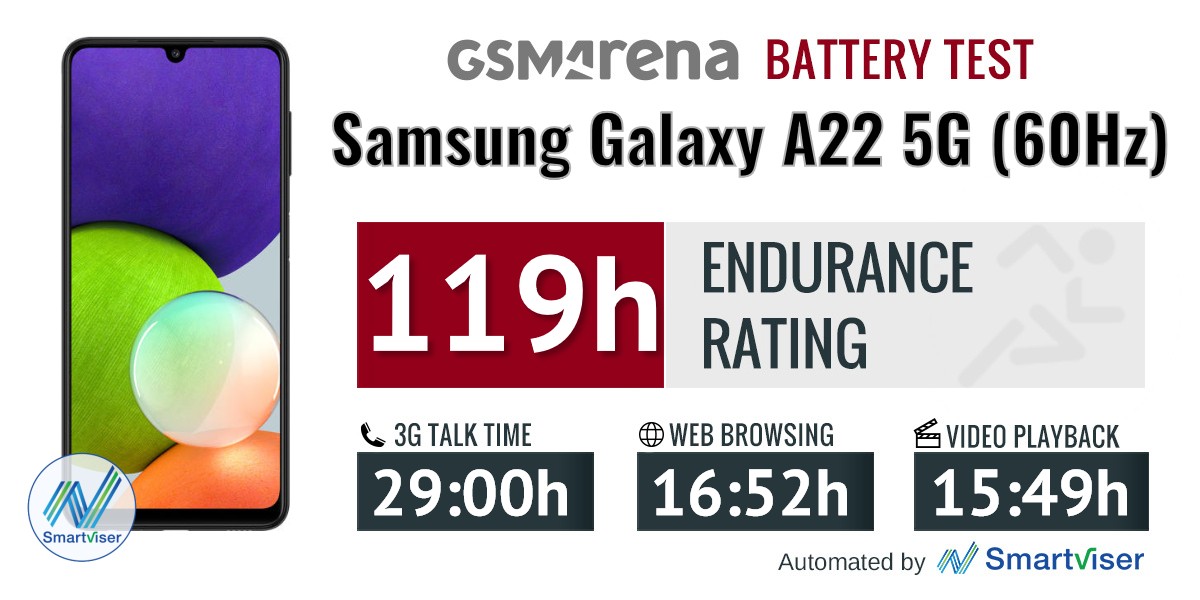 Our battery tests were automated thanks to SmartViser, using its viSerDevice app. The endurance rating denotes how long the battery charge will last you if you use the device for an hour of telephony, web browsing, and video playback daily. More details can be found here.
Video test carried out in 60Hz refresh rate mode. Web browsing test done at the display's highest refresh rate whenever possible. Refer to the respective reviews for specifics. To adjust the endurance rating formula to match your own usage patterns check out our all-time battery test results chart where you can also find all phones we've tested.
Charging speed
For charging, the Galaxy A22 has the familiar, old Samsung-staple that is 15W Adaptive Fast Charging (based on Quick Charge 2.0). You get a matching charger in the box. Nothing special overall. In fact, the Galaxy A22 5G has one of the slowest charging rates around, compared to its competitors. Using it, the A22 5G charges from flat to full in 2:29h, with 23% showing in the battery indicator half an hour into the process. Right around what we would expect from 15W AFC on a 5,000 mAh battery. At least you get faster charging than lesser Galaxies like the A02s and A12, if that counts for something.
30min charging test (from 0%)
Higher is better
Xiaomi Redmi Note 10
65%
Realme 8
56%
Samsung Galaxy A52 (25W)
52%
Poco X3 Pro
50%
Samsung Galaxy A52
34%
Xiaomi Redmi Note 10 5G
33%
Poco M3 Pro 5G
33%
Samsung Galaxy A02s
30%
Realme 8 5G
29%
Samsung Galaxy A32
25%
Samsung Galaxy A22 5G
23%
Samsung Galaxy A32 5G
23%
Motorola Moto G50
23%
Samsung Galaxy A12
20%
Time to full charge (from 0%)
Lower is better
Poco X3 Pro
1:08h
Realme 8
1:09h
Xiaomi Redmi Note 10
1:13h
Samsung Galaxy A52 (25W)
1:30h
Xiaomi Redmi Note 10 5G
2:00h
Poco M3 Pro 5G
2:00h
Samsung Galaxy A52
2:03h
Samsung Galaxy A32
2:19h
Realme 8 5G
2:20h
Samsung Galaxy A32 5G
2:24h
Samsung Galaxy A22 5G
2:29h
Motorola Moto G50
2:35h
Samsung Galaxy A02s
2:36h
Samsung Galaxy A12
3:03h
Speaker test
Like most other non-flagship Samsungs, the Galaxy A22 5G has a single loudspeaker placed on the bottom of the phone. And, like most other non-flagship Samsungs, it's not particularly impressive in terms of loudness - the A22 5G earned an 'Average' rating for loudness in our 7-track test, just like the A32 5G.
On the flip side, the speaker on the A22 5G is a bit louder than that on the vanilla A32. Enough so to push it into the Average rating. To be clear, overall, that is still not impressive, but at least Samsung seems to have managed to make good use of the extra space inside the body of the A22 5G.
Frequency response is pretty similar on all three. That is to say, not overly impressive either. The Galaxy A22 5G doesn't have any built-in equalizers or optimizers for its loudspeaker. There is Dolby Atmos under audio settings, but that is just for headphones.
It is potentially worth noting that if you are willing to forego 5G connectivity, most competitors at this price point, like the Redmi Note 10 Pro and Poco X3, tend to offer a stereo speaker setup.
Use the Playback controls to listen to the phone sample recordings (best use headphones). We measure the average loudness of the speakers in LUFS. A lower absolute value means a louder sound. A look at the frequency response chart will tell you how far off the ideal "0db" flat line is the reproduction of the bass, treble, and mid frequencies. You can add more phones to compare how they differ. The scores and ratings are not comparable with our older loudspeaker test. Learn more about how we test here.