One UI 4.1 Core on top of Android 12
The Galaxy A13 ships with an up-to-date software package, including Android 12 and Samsung's custom One UI 4.1. While 4.1 is the latest version of the popular custom software layer, the Galaxy A13 gets the "One UI 4.1 Core" trimmed-down version.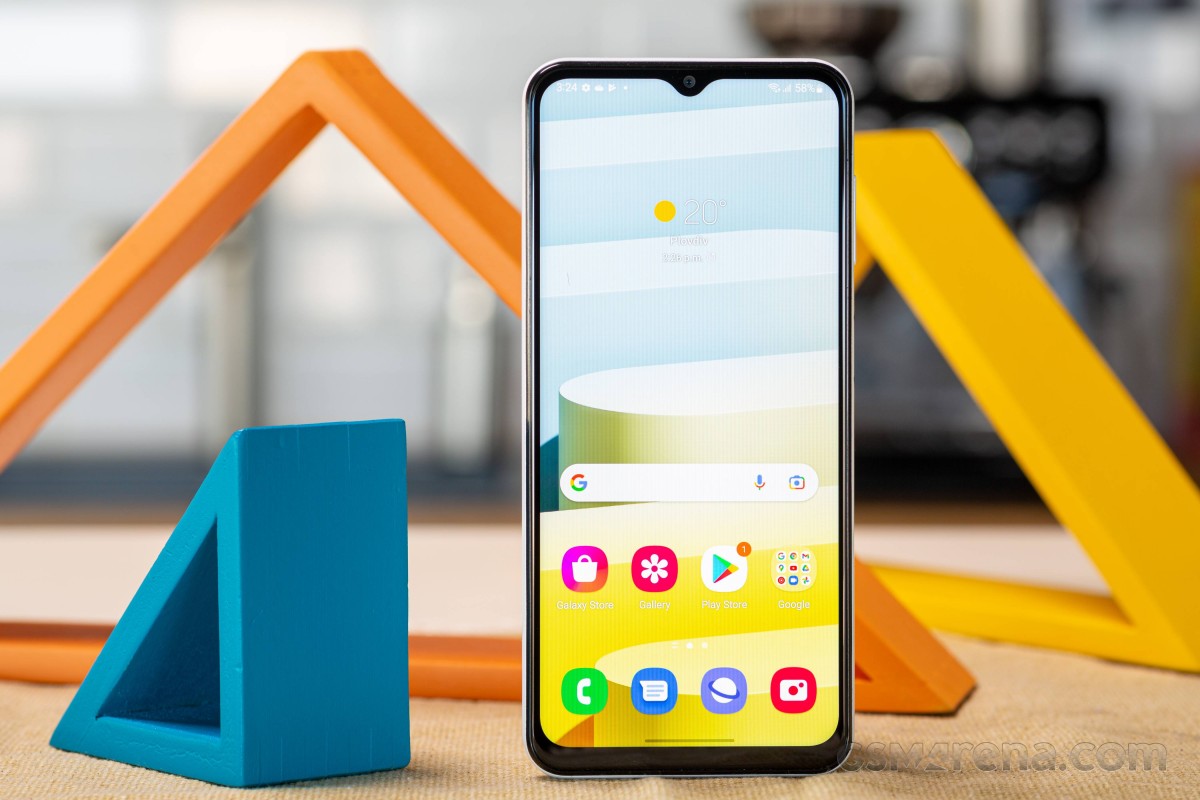 We get why Samsung tried to include a light software layer on the Galaxy A13 as possible. Its Exynos 850 chipset is starved for power. So much so that it often struggles to run the UI smoothly and stutters and slows down even while browsing menus. Not a great experience at all.
The Core version of One UI cuts a few apps and services to make the launcher easier on system resources. What didn't make the cut - Samsung Pay service (GPay is available), Easy Mode, the Bixby assistant, Windows Link service, and the Good Lock app for advanced customizations. Secure Folder is missing as well, but interestingly enough, there is Knox on the A13 and even advertised on the official specs page for its malware and threat protection.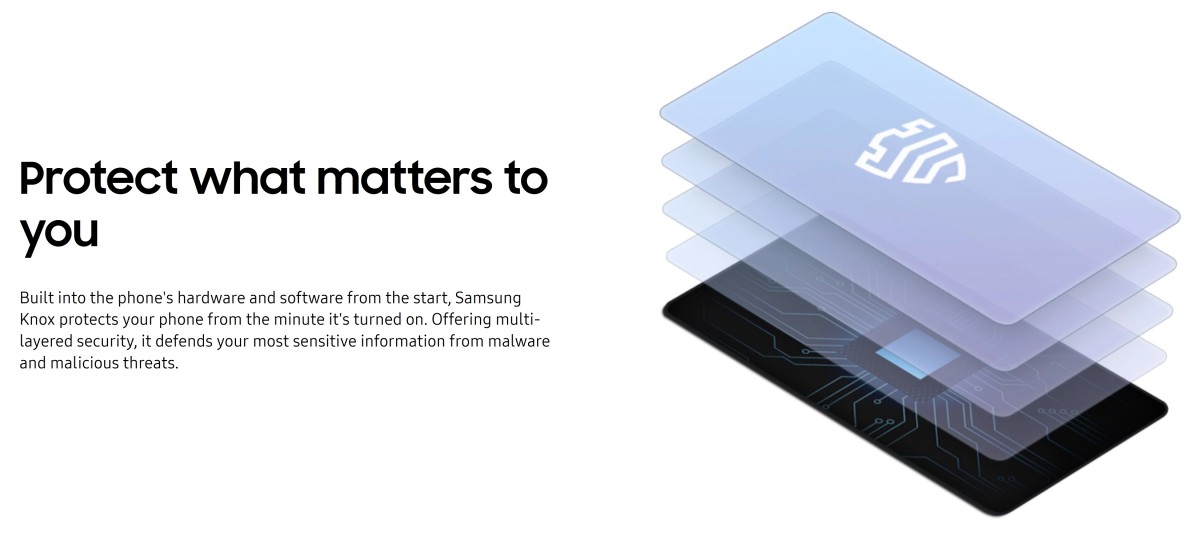 Samsung's Music Share and Smart View are not available either. We suspect few people will miss these on such a basic phone. The Samsung Game Launcher is absent too, but Game Booster is a part of One UI 4.1 Core. Samsung Smart Widgets, Edge Panels and the fancy Object Eraser in the gallery app are also not available, but the new Color palettes are here.
The Galaxy A13 does not support Always-on Display. Its default lock screen has two shortcuts - dialer and camera, but you can pick different apps. The lock screen has a wellbeing widget - you can now keep track of how much time you've spent on your phone without even unlocking it.
Unlocking the screen with the side-mounted fingerprint scanner is a breezy experience - the reader is always-on and has superb accuracy and speed.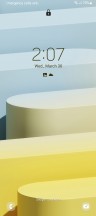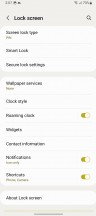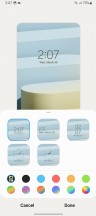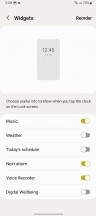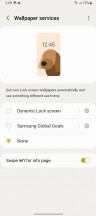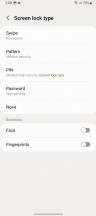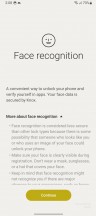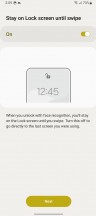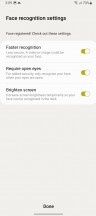 Lockscreen, widgets and unlocking
If you are coming from a slightly older version of One UI, you might notice that pulling the notification shade covers the entire screen underneath, even if there's just one notification card or none. Previously, a portion of the screen below the last notification still remained visible, just darkened.
Notification history is a nifty feature that was originally introduced with Android 11, and it is present here. It is turned off by default, though.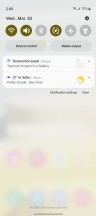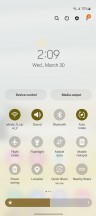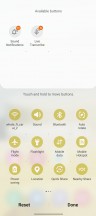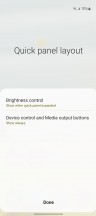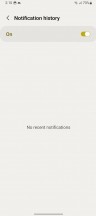 Notification shade, quick toggles and notification history
All of the standard layout adjustments and toggles for the quick panel and taskbar are accounted for. There are Bubbles notifications for messaging apps - you'll find these in the 'Floating notifications' submenu, where you can alternatively turn both of them off and opt for the old-school cards-only interface.
Another fairly new addition you might notice coming from an older Android is the reworked multimedia controls originally introduced with Android 11. You get the active audio playback apps right below the quick toggles, and swiping to the side switches between the apps.
The Media screen was already available on One UI 2.5 pre-Android 11, and it offers similar functionality for picking the output device. The volume control panel has gotten a makeover too, and now the four sliders are vertical instead of the horizontal ones of One UIs past.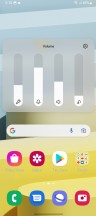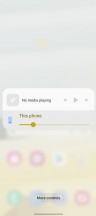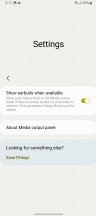 Multimedia and volume controls
The Android experience with One UI is rather straightforward and familiar.
There are plenty of system navigation options, with a few tweaks and layouts available for gestures, as well as old-school button controls, even the really-old original style, with the back button on the right side.
One UI has always offered plenty of customizability, and One UI 4.1 Core on the Galaxy A13 is no exception. You get wallpapers and services like Dynamic lock screen and Samsung Global Goals. There is also a whole tone of themes and wallpapers to choose from through Samsung Themes - many free as well.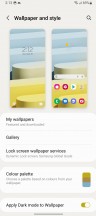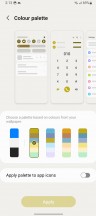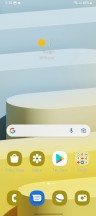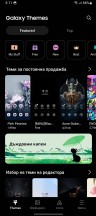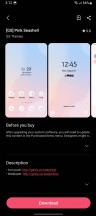 Rich customization and theming options
As we mentioned, the new Color palette feature is present. It allows you to match the accent colors of the UI and even stock app icon colors to the colors in your wallpaper.
The One UI dialer app lends itself to plenty of customization too. There are two different layouts for the in-call screen to choose from. You can also set up a background image or video for that screen, though it's going to be all the same for all of your calls - you can't have a different one on a per-person basis.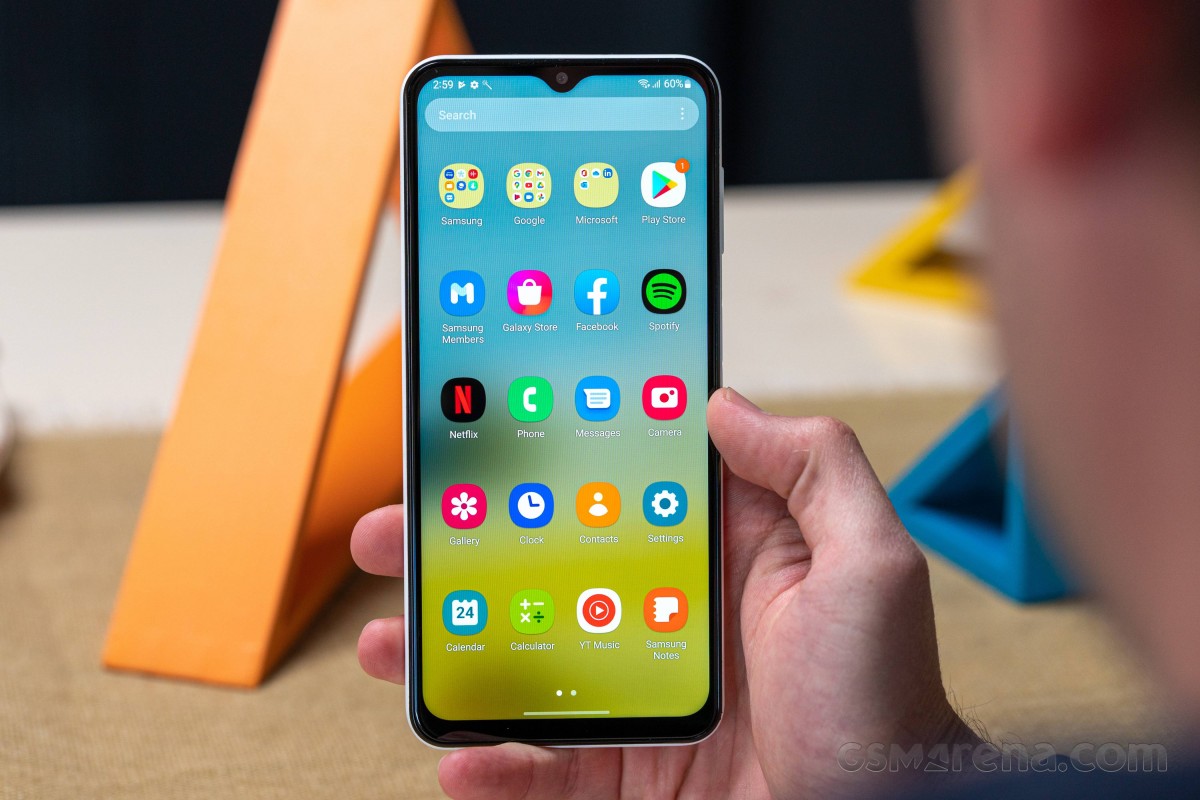 The settings menu has recently undergone a subtle but meaningful makeover. Subcategories are made more legible by using a dot separator and extra spacing, while recent searches are now shown as bubbles instead of a list. Additionally, there's a newly added feature to search settings by hashtags - for conceptually related things found in different places in the menu.
The Galaxy A13 comes with Samsung's own Gallery, Internet browser and Notes app. The gallery notably lacks Samsung's fancy new Object Eraser feature. The Galaxy Store offers its own different selection of apps compared to the Google Play Store, though many do overlap and can be downloaded and updated through either repository.
Beyond all of this, the A13 comes loaded with a standard set of apps from Samsung, Microsoft and Google.
Granted, the list has gotten a bit extensive, but there is nothing here that we would consider bloat in the traditional sense. Well, Facebook and LinkedIn are a bit borderline. Anything you don't personally like or appreciate having on your device can be easily uninstalled or, failing that - disabled.
Overall, One UI remains one of the best and most polished custom Android experiences out there. It is chuck-full of useful features. Even in this lighter One UI 4.1 Core version, the Galaxy A13 is running. Unless you simply have a preference for a clean AOSP experience, there really isn't much to dislike about One UI itself.
There is, however, plenty to be unhappy about the way it runs on the Galaxy A13. It is very much not a fluent and smooth experience. There are plenty of slowdowns and stutters all over the place in animations and transitions. Slow app load times and even app switching and background operation issues due to the limited resources of the phone. The Exynos 850 seems to really be struggling to keep up with the otherwise excellent One UI 4.1 Core.
Performance and benchmarks
Power is arguably the biggest Achilles' heel of the Galaxy A13. It is equipped with the Samsung Exynos 850 chipset. On the surface, it doesn't look too bad. It is a chip from 2020, built on a reasonably efficient 8nm LPP process.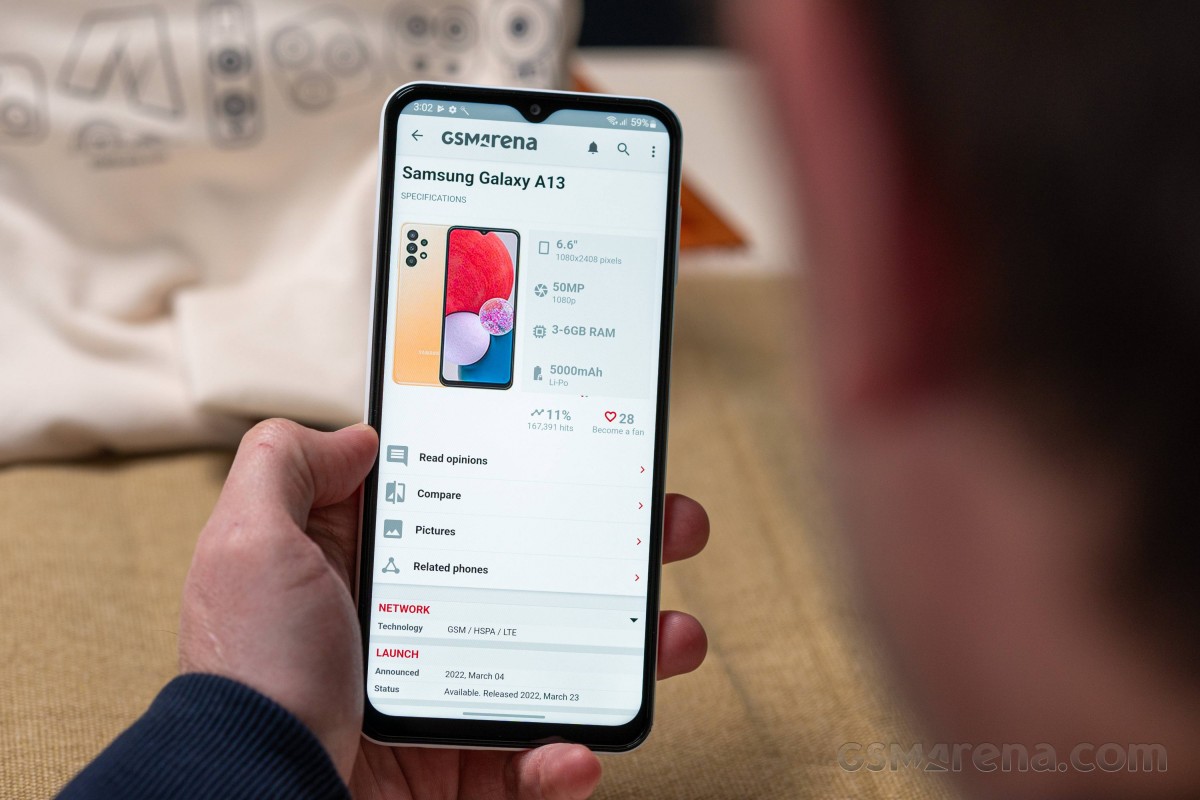 The CPU setup consists of eight symmetrical Cortex-A55 cores, which came out in 2018 and are starting to show their age. All eight cores are capable of speeds up to 2.0 GHz.
Our review unit is equipped with 4GB of LPDDR4X RAM and 128GB of eMMC 5.1 storage, which makes it the second best available config, with the top one upping RAM to 6GB. Probably the weakest link in the proverbial chain here, though, is the GPU. The Exynos 850 is running a single Mali-G52 graphical core, and that's it. It's not a particularly powerful core, to begin with, but for some odd reason, Samsung decided to just include one of it. It really struggles to deliver, especially on the Galaxy A13, which has a FullHD+ display.
Let's kick things off with some CPU loads and GeekBench. The Galaxy A13 is struggling. Even more so, in fact, than its Samsung Galaxy A21s sibling, which is also running the Exynos 850 chipset. Perhaps the Android 10 OS that the device was running at the time of its review and potentially its One UI skin were lighter, or it might be optimization issues.
GeekBench 5 (multi-core)
Higher is better
Poco M4 Pro
1836
Poco M4 Pro 5G
1797
Poco X3 NFC
1777
Samsung Galaxy A22 5G
1719
Realme 8
1690
Xiaomi Redmi Note 11
1662
Xiaomi Redmi Note 10
1599
Poco M3
1398
Samsung Galaxy A22
1372
Xiaomi Redmi 10
1294
Nokia G21
1193
Samsung Galaxy A21s
1100
Samsung Galaxy A12
1034
Samsung Galaxy A03s
889
Samsung Galaxy A13
588
Samsung Galaxy A02s
495
GeekBench 5 (single-core)
Higher is better
Poco M4 Pro 5G
597
Poco X3 NFC
568
Samsung Galaxy A22 5G
560
Xiaomi Redmi Note 10
534
Realme 8
533
Poco M4 Pro
523
Samsung Galaxy A22
376
Xiaomi Redmi Note 11
376
Xiaomi Redmi 10
361
Nokia G21
311
Poco M3
308
Samsung Galaxy A21s
184
Samsung Galaxy A03s
179
Samsung Galaxy A12
169
Samsung Galaxy A13
153
Samsung Galaxy A02s
131
Even the Galaxy A03s with its meager MediaTek Helio P35 and the A12 with the same chipset embarrassingly have the A13 beat. Even the Nokia G21, with its exotic and unpopular Unisoc T606, has a lead in the CPU department.
Basically, any other chipset you can get in this price range seems to be more capable.
AnTuTu is a bit more favorable to the Galaxy A13 since it gets to strut its higher resolution, newer software and newer features and APIs over some of its rivals. Even so, the A13 is still miles behind the most powerful phones in its price range.
AnTuTu 8
Higher is better
Realme 8
298328
Poco M4 Pro 5G
296721
Poco X3 NFC
283750
Samsung Galaxy A22 5G
242155
Xiaomi Redmi Note 11
228044
Xiaomi Redmi Note 10
218788
Samsung Galaxy A22
185358
Poco M3
177904
Samsung Galaxy A13
122822
Samsung Galaxy A12
107189
Samsung Galaxy A21s
107157
Samsung Galaxy A03s
103465
Samsung Galaxy A02s
90811
AnTuTu 9
Higher is better
Realme 8
357488
Poco M4 Pro 5G
353663
Poco M4 Pro
318444
Xiaomi Redmi Note 11
244526
Samsung Galaxy A22 5G
223188
Nokia G21
171299
Samsung Galaxy A22
165959
Samsung Galaxy A13
136286
Samsung Galaxy A03s
101299
The meager single Mali-G52 core is significantly contributing to these poor compound AnTuTu benchmark scores. Some of the higher difficulty tests like the Aztek runs even failed to execute and crashed due to limited resources a few times.
GFX Aztek ES 3.1 High (onscreen)
Higher is better
Realme 8
12
Poco X3 NFC
11
Samsung Galaxy A22
9.2
Samsung Galaxy A22 5G
8.4
Poco M4 Pro
8.3
Samsung Galaxy A21s
7.1
Nokia G21
6
Xiaomi Redmi Note 10
5.6
Samsung Galaxy A12
4.6
Xiaomi Redmi Note 11
4.6
Samsung Galaxy A02s
3.5
Samsung Galaxy A13
3.3
Poco M3
2.8
GFX Aztek ES 3.1 High (offscreen 1440p)
Higher is better
Realme 8
7.7
Samsung Galaxy A22 5G
5.5
Poco M4 Pro
5.5
Xiaomi Redmi Note 10
3.7
Samsung Galaxy A22
3.3
Xiaomi Redmi Note 11
3.1
Poco M3
2.8
Samsung Galaxy A13
2.2
Nokia G21
1.9
Samsung Galaxy A12
1.5
Samsung Galaxy A02s
1.2
GFX Aztek Vulkan High (onscreen)
Higher is better
Realme 8
11
Poco X3 NFC
11
Samsung Galaxy A22
9.4
Samsung Galaxy A22 5G
7.8
Poco M4 Pro
7.7
Samsung Galaxy A21s
6.6
Nokia G21
5.6
Xiaomi Redmi Note 10
5.3
Xiaomi Redmi Note 11
4.8
Poco M3
4.1
Samsung Galaxy A12
3.8
Samsung Galaxy A02s
3.5
Samsung Galaxy A13
3.4
GFX Aztek Vulkan High (offscreen 1440p)
Higher is better
Realme 8
7.5
Samsung Galaxy A22 5G
5.1
Poco M4 Pro
5.1
Poco M3
4.2
Xiaomi Redmi Note 10
3.5
Xiaomi Redmi Note 11
3.1
Samsung Galaxy A22
2.9
Samsung Galaxy A13
2.3
Nokia G21
1.8
Samsung Galaxy A12
1.2
Samsung Galaxy A02s
1.1
The numbers are firmly in the single digits, and hence we can't even begin to have any discussions about "playable frame rates".
Even as we go lower down the stack into older OpenGL ES 3.1 tests, the Galaxy A13 just can't break double-digit territory.
GFX Car Chase ES 3.1 (onscreen)
Higher is better
Realme 8
18
Samsung Galaxy A22
16
Poco X3 NFC
16
Poco M4 Pro 5G
13
Samsung Galaxy A22 5G
12
Poco M4 Pro
12
Samsung Galaxy A21s
11
Nokia G21
8.9
Xiaomi Redmi Note 10
7.9
Xiaomi Redmi Note 11
6.8
Samsung Galaxy A02s
6.1
Poco M3
5.9
Samsung Galaxy A03s
5.5
Samsung Galaxy A13
5.2
Samsung Galaxy A12
5
GFX Car Chase ES 3.1 (offscreen 1080p)
Higher is better
Realme 8
20
Poco X3 NFC
19
Poco M4 Pro 5G
16
Samsung Galaxy A22 5G
14
Poco M4 Pro
14
Samsung Galaxy A22
9.3
Xiaomi Redmi Note 10
9.3
Xiaomi Redmi Note 11
8
Poco M3
7.2
Samsung Galaxy A13
6.2
Samsung Galaxy A21s
6
Nokia G21
5.2
Samsung Galaxy A03s
3.5
Samsung Galaxy A02s
3.4
Samsung Galaxy A12
3.3
GFX Manhattan ES 3.1 (onscreen)
Higher is better
Samsung Galaxy A22
30
Realme 8
29
Poco X3 NFC
27
Poco M4 Pro 5G
23
Samsung Galaxy A22 5G
21
Poco M4 Pro
21
Samsung Galaxy A21s
19
Nokia G21
17
Xiaomi Redmi Note 10
15
Samsung Galaxy A03s
14
Samsung Galaxy A12
13
Samsung Galaxy A02s
12
Xiaomi Redmi Note 11
12
Poco M3
11
Samsung Galaxy A13
8.3
GFX Manhattan ES 3.1 (offscreen 1080p)
Higher is better
Realme 8
33
Poco X3 NFC
33
Poco M4 Pro 5G
26
Samsung Galaxy A22 5G
24
Poco M4 Pro
24
Xiaomi Redmi Note 10
17
Samsung Galaxy A22
15
Xiaomi Redmi Note 11
15
Poco M3
13
Samsung Galaxy A13
9.4
Samsung Galaxy A21s
9.4
Nokia G21
8.5
Samsung Galaxy A03s
7.9
Samsung Galaxy A12
7.7
Samsung Galaxy A02s
6.1
Mind you, there is an extra layer of unfortunate circumstance here. While we appreciate the inclusion on a FullHD+ display on the Galaxy A13 for its added sharpness that meant that the already struggling Mali-G52 is forced to render at that native resolution in benchmarks.
GFX Manhattan ES 3.0 (onscreen)
Higher is better
Realme 8
48
Samsung Galaxy A22
42
Poco M4 Pro 5G
37
Poco M4 Pro
33
Poco X3 NFC
33
Samsung Galaxy A22 5G
31
Samsung Galaxy A21s
28
Nokia G21
24
Xiaomi Redmi Note 10
21
Samsung Galaxy A03s
19
Samsung Galaxy A12
19
Xiaomi Redmi Note 11
18
Poco M3
17
Samsung Galaxy A02s
16
Samsung Galaxy A13
14
GFX Manhattan ES 3.0 (offscreen 1080p)
Higher is better
Realme 8
53
Poco X3 NFC
44
Poco M4 Pro 5G
40
Poco M4 Pro
37
Samsung Galaxy A22 5G
32
Samsung Galaxy A22
24
Xiaomi Redmi Note 10
24
Xiaomi Redmi Note 11
21
Poco M3
19
Samsung Galaxy A13
16
Samsung Galaxy A21s
16
Nokia G21
14
Samsung Galaxy A12
12
Samsung Galaxy A03s
11
Samsung Galaxy A02s
9.3
This explains the major disparity in on-screen test numbers between the Galaxy A13 and the A21s, which, although running the same chipset and GPU has and HD+ display.
Granted, you can set games to run at lower resolution and most modern mobile game engines are smart enough to drastically scale back quality and all sorts of graphical parameters to accommodate even the weakest of chips.
3DMark SSE ES 3.1 (offscreen 1440p)
Higher is better
Poco X3 NFC
2689
Realme 8
2610
Samsung Galaxy A22 5G
2391
Xiaomi Redmi Note 10
1471
Samsung Galaxy A22
1361
Xiaomi Redmi Note 11
1316
Poco M3
1175
Nokia G21
962
Samsung Galaxy A21s
888
Samsung Galaxy A13
886
Samsung Galaxy A02s
438
Samsung Galaxy A12
365
3DMark SSE Vulkan 1.0 (offscreen 1440p)
Higher is better
Realme 8
2639
Poco X3 NFC
2495
Samsung Galaxy A22 5G
2257
Samsung Galaxy A22
1383
Xiaomi Redmi Note 10
1372
Xiaomi Redmi Note 11
1267
Poco M3
1106
Samsung Galaxy A13
931
Nokia G21
930
Samsung Galaxy A21s
901
Samsung Galaxy A12
612
Samsung Galaxy A02s
489
3DMark Wild Life Vulkan 1.1 (offscreen 1440p)
Higher is better
Realme 8
1486
Poco M4 Pro 5G
1232
Samsung Galaxy A22 5G
1104
Poco M4 Pro
1099
Samsung Galaxy A22
691
Samsung Galaxy A13
510
Xiaomi Redmi Note 10
482
Xiaomi Redmi Note 11
439
Nokia G21
403
Poco M3
368
Even so, the Galaxy A13 is only suitable for the most basic and lightweight casual games. Preferably ones with 2D graphics.
The Galaxy A13 remains cool to the touch even with prolonged loads. That, however, doesn't mean that the chipset itself doesn't accumulate heat over time. Plastic is just a good insulator. This is apparently exactly what's happening since the Galaxy A13 still thermal-throttles and loses a chunk of its performance after a while of sustained load. Not a major chunk, but there isn't a lot of it. Still, there are no jarring and sunned drops down and then back up, so we can't criticize the thermal-throttling behavior overall.
There is no point beating about the bush. Overall performance on the Galaxy A13 is poor. The Exynos 850 chipset is simply not capable of delivering a fluent experience in most modern games and is even struggling to drive the Samsung One UI 4.1 Core. This might be a case of simply asking too much of said hardware and optimization, or further stripping down the UX could potentially help. In its current state, however, the Galaxy A13 simply fails to deliver a satisfactory user experience in terms of speed, responsiveness and fluidity. And sadly, that is an unfortunate conclusion we rarely arrive at these days.