Unimpressive 6.6-inch PLS LCD display
The Galaxy A13 comes with a spacious 6.6-inch display. It has a 20:9 aspect ratio and a resolution of 1080 x 2408 pixels, which works out to about 400 ppi density.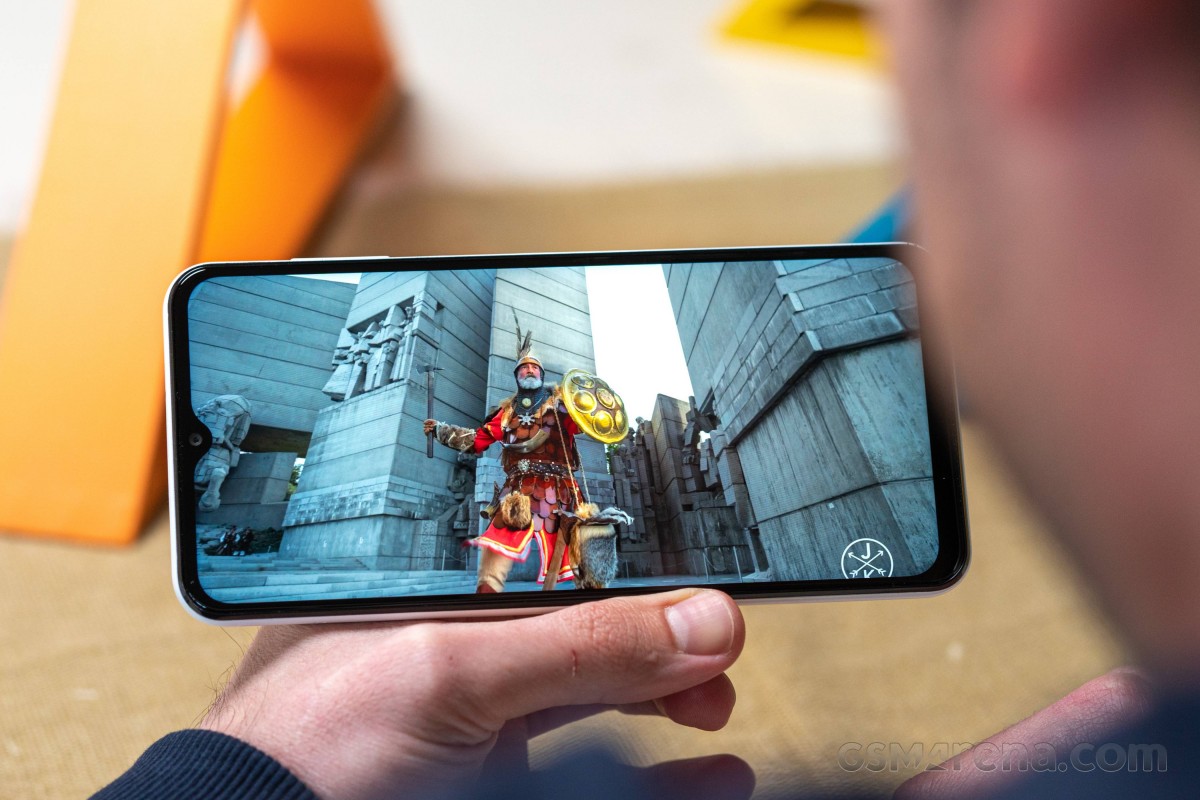 The panel identifies itself as SyncMaster 8224 and is a PLS TFT LCD, which is basically Samsung's variation on IPS technology for anyone not familiar with the matter.
The display on the Galaxy A13 is unfortunately held back by its sluggish pixel response.
The Galaxy A13 is not too shabby in terms of brightness and contrast. It gets just shy of 500 nits on the slider in manual mode. As we mentioned, there is an auto-brightness mode too, and it can boost brightness beyond that. We measured numbers as high as 587 nits. Not class-leading, but not bad at all and decently usable outdoors. Also, we reiterate that while auto-brightness and hence the brightness boost are present, they don't always work as expected and are far from reliable due to the absence of an actual light sensor on the A13.
Display test
100% brightness
Black,cd/m2
White,cd/m2
Contrast ratio
Xiaomi Redmi Note 11 (Max Auto)
0
736
∞
Xiaomi Redmi Note 10 (Max Auto)
0
682
∞
Realme 8 (Max Auto)
0
657
∞
Xiaomi Poco X3 NFC (Max Auto)
0.515
631
1225:1
Xiaomi Redmi Note 9 Pro (Max Auto)
0.487
616
1265:1
Samsung Galaxy A22 (Max Auto)
0
597
∞
Samsung Galaxy A13 (Max Auto)
0.448
587
1310:1
Poco M3 Pro 5G (Max Auto)
0.366
536
1464:1
Poco M4 Pro 5G (Max Auto)
0.33
510
1545:1
Nokia G21 (Max Auto)
0.333
500
1502:1
Samsung Galaxy A13
0.376
498
1324:1
Xiaomi Redmi Note 10 5G (Max Auto)
0.275
492
1789:1
Samsung Galaxy A03s
0.284
488
1718:1
Xiaomi Redmi 10 (Max Auto)
0.4
477
1193:1
Xiaomi Redmi Note 10
0
475
∞
Samsung Galaxy A12 (Max Auto)
0.349
472
1352:1
Xiaomi Redmi Note 11
0
465
∞
Xiaomi Poco X3 NFC
0.354
460
1299:1
Realme 8
0
458
∞
Xiaomi Redmi Note 9 Pro
0.355
456
1285:1
Poco M3 (Max Auto)
0.277
439
1585:1
Nokia G21
0.268
437
1631:1
Poco M3 Pro 5G
0.28
413
1475:1
Poco M4 Pro 5G
0.264
410
1553:1
Samsung Galaxy A12
0.292
398
1363:1
Xiaomi Redmi 10
0
396
1494:1
Poco M3
0.252
395
1567:1
Samsung Galaxy A22
0
391
∞
Samsung Galaxy A22 5G
0.236
385
1631:1
Xiaomi Redmi Note 10 5G
0.21
377
1795:1
While measuring the brightness on our Galaxy A13 review unit, we also noticed that it is quite uneven. That's not a major deal on a relatively small display, and you probably won't be able to notice it in practice. But still, it's indicative of lower-quality panel.
An arguably bigger issue is pixel response time. The Galaxy A13 refreshes its panel at a standard 60Hz, and even then, its pixels are slow to react, which leads to smearing and ghosting, particularly with fine text in motion. There is the occasional animation stutter and slowdown while rendering the UI itself due to the underpowered chipset, too, which just adds to the nasty visual artifacts and smearing, but a decent part of it is still to blame on the panel.
Color accuracy is mediocre. The Galaxy A13 lacks any sort of color modes or color adjustments, which is typical for lower-end Samsung devices, so you don't get to tune it either.
The default color profile seems to target the DCI-P3 color space instead of the narrower and easier sRGB for some reason. While the primary colors aren't too far off, and the range is there, the calibration is off, and everything is noticeably cold and blue.
Unsurprisingly, there is no HDR support on the Galaxy A13. Neither the display can handle HDR content nor can the hardware decode HDR streams.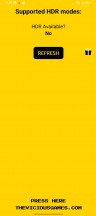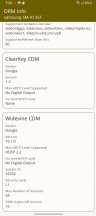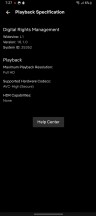 No HDR support • Widevine L1 allows for FullHD streaming
On the plus side, there is the highest Widevine L1 DRM certification, which means that the Galaxy A13 has access to HD and higher quality streams on services like Netflix. The latter was more than happy to offer-up FullHD quality and match the native resolution of the display.
Battery life
The Samsung Galaxy A13 has a big 5,000 mAh battery which is great to see. Also, while the Exynos 850 is far from the best performing chipset, it is quite power-efficient with its 8nm process. So we weren't surprised to see the Galaxy A13 scoring an impressive 114 hours of total endurance in our testing.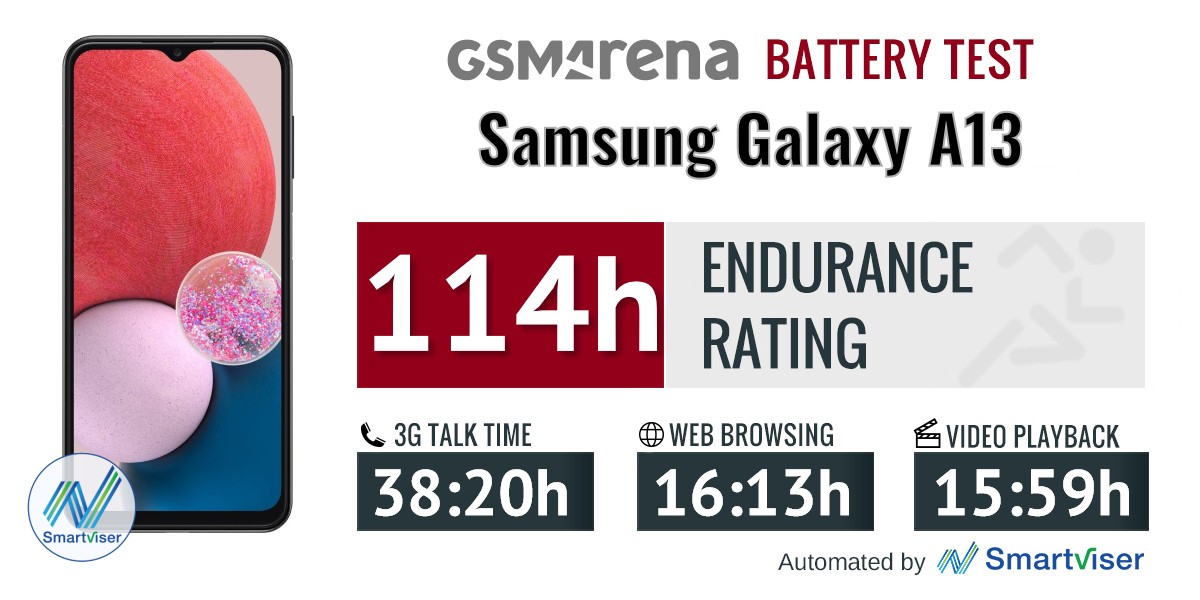 The Shannon 318 LTE modem inside the Exynos 850 is far from cutting edge with just Cat.7 LTE speeds, but it sips power and manages both impressive standby and call times. Both on-screen test results are great too.
Our battery tests were automated thanks to SmartViser, using its viSerDevice app. The endurance rating denotes how long the battery charge will last you if you use the device for an hour of telephony, web browsing, and video playback daily. More details can be found here.
Video test carried out in 60Hz refresh rate mode. Web browsing test done at the display's highest refresh rate whenever possible. Refer to the respective reviews for specifics. To adjust the endurance rating formula to match your own usage patterns check out our all-time battery test results chart where you can also find all phones we've tested.
Charging speed
The Galaxy A13 isn't particularly speedy when it comes to charging. It can charge at a maximum rate of 15W which it seems to be happy to get from one of Samsung's current 25W PD chargers just as well as the old style Samsung Adaptive Fast Charging bricks.
30min charging test (from 0%)
Higher is better
Xiaomi Redmi Note 10
65%
Realme 8
56%
Poco X3 NFC
55%
Poco M4 Pro 5G
54%
Xiaomi Redmi Note 11
51%
Realme 8s 5G
50%
Nokia G21 (65W PD)
37%
Poco M3 Pro 5G
33%
Samsung Galaxy A02s
30%
Samsung Galaxy A31
30%
Realme 8i
30%
Samsung Galaxy A13
27%
Samsung Galaxy A21s
26%
Xiaomi Redmi 10
26%
Poco M3
25%
Samsung Galaxy A22
23%
Samsung Galaxy A22 5G
23%
Nokia G21
22%
Samsung Galaxy A12
20%
Samsung Galaxy A03s
15%
Time to full charge (from 0%)
Lower is better
Poco M4 Pro 5G
1:07h
Realme 8
1:09h
Xiaomi Redmi Note 10
1:13h
Realme 8s 5G
1:14h
Poco X3 NFC
1:15h
Xiaomi Redmi Note 11
1:18h
Poco M3 Pro 5G
2:00h
Nokia G21 (65W PD)
2:09h
Xiaomi Redmi 10
2:13h
Samsung Galaxy A13
2:18h
Samsung Galaxy A22
2:20h
Realme 8i
2:21h
Samsung Galaxy A22 5G
2:29h
Poco M3
2:30h
Samsung Galaxy A02s
2:36h
Samsung Galaxy A31
2:48h
Nokia G21
2:49h
Samsung Galaxy A12
3:03h
Samsung Galaxy A03s
3:38h
The A13 managed to go from dead to just shy of 30% in 30 minutes, and a full charge takes well over two hours.
Again, not particularly speedy, but we've seen worse from budget devices as well.
Speaker test
The Galaxy A13 has a single bottom-firing speaker at its disposal. It managed an Average loudness score in our testing. It should be noted that due to its positioning, it is relatively easy to cover the speaker up, which you should be aware of. The quality of the output is far from impressive either with overpronounced treble and non-existent bass.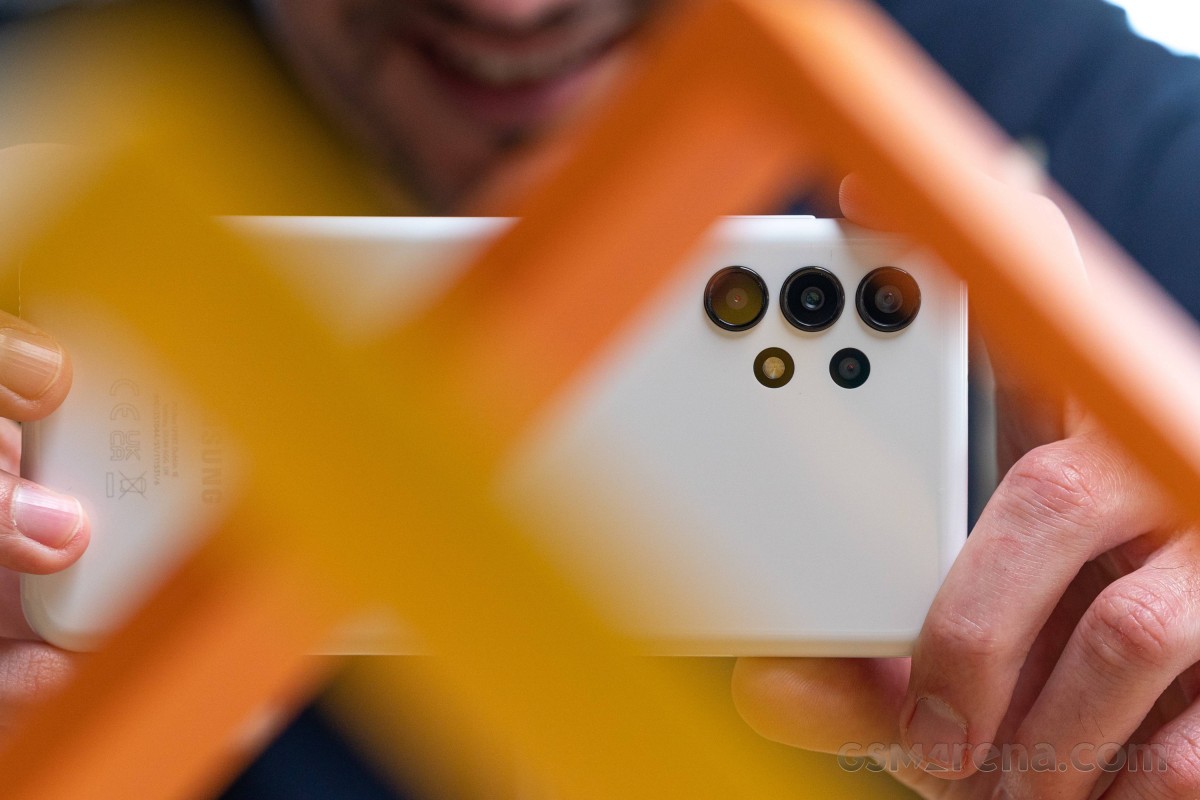 In terms of audio quality, the A13 actually sounds decent. Frequency response isn't too far off recent Samsung flagships like the S22. However, the sound stage is understandably narrower, without nearly as much depth to it. There is practically no bass. Highs still sound fairly clean even at max volume, though, which is nice. Overall, not bad for a budget phone, though a better stereo speaker setup is potentially attainable in this price range.
Unlike display settings, the Galaxy A13 actually has a few tweaks and adjustments available for audio.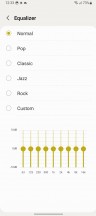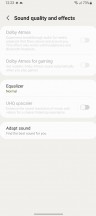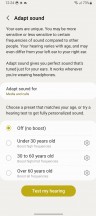 Audio settings: Equalizer • Dolby Atmos • Adapt Sound
There is a fairly in-depth equalizer with presets as well as custom controls. The A13 also has Dolby Atmos support. It only works on stereo headsets and Bluetooth speakers, not the built-in loudspeaker. Last but not least Adapt Sound is Samsung's long-standing feature to automatically tune audio cased on your personal hearing and age.
Use the Playback controls to listen to the phone sample recordings (best use headphones). We measure the average loudness of the speakers in LUFS. A lower absolute value means a louder sound. A look at the frequency response chart will tell you how far off the ideal "0db" flat line is the reproduction of the bass, treble, and mid frequencies. You can add more phones to compare how they differ. The scores and ratings are not comparable with our older loudspeaker test. Learn more about how we test here.