Adequate 6.5-inch LCD
The Galaxy A12 remains one of few phones in Samsung's lineup to not use an OLED display. It's a PLS panel or Samsung's take on the IPS LCD. At 6.5 inches in diagonal, it's anything but small, so if you're looking for screen estate, the A12 delivers. The 1600x720px resolution stretches a bit thin on this size - pixel density works out to 270ppi, though if you're not deliberately looking at fine texts from up close, you should be okay.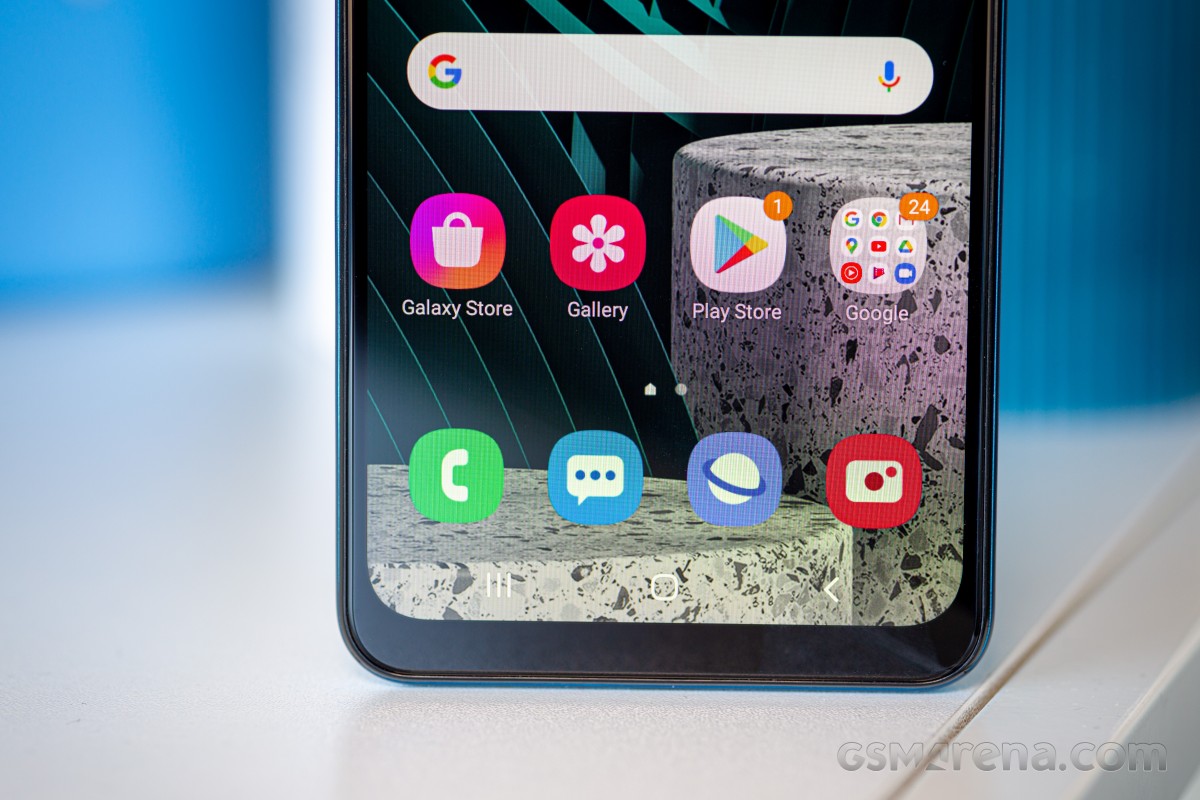 In our tests, the Galaxy A12 put out just under 400nits of brightness when we operated the slider manually. The phone doesn't have a dedicated ambient light sensor, but it gets a reading from the selfie cam for adaptive brightness purposes and with that toggle enabled, we got a minor boost to 472nits. Boost or no boost, contrast hovered around 1:1300 - a good if unremarkable number as phone LCDs go.
Display test
100% brightness
Black,cd/m2
White,cd/m2
Contrast ratio
Samsung Galaxy A12
0.292
398
1363:1
Samsung Galaxy A12 (Max Auto)
0.349
472
1352:1
Xiaomi Redmi Note 9T
0.337
413
1226:1
Xiaomi Redmi Note 9T (Max Auto)
0.412
471
1143:1
Moto G9 Power
0.259
435
1680:1
Moto G9 Power (Max Auto)
0.325
521
1603:1
Poco M3
0.252
395
1567:1
Poco M3 (Max Auto)
0.277
439
1585:1
Huawei P smart 2021
0.353
442
1252:1
Realme 7
0.31
457
1474:1
Realme 7 (Max Auto)
0.374
526
1406:1
Motorola Moto G9 Plus
0.315
427
1356:1
Motorola Moto G9 Plus (Max Auto)
0.39
522
1338:1
TECNO Camon 16 Premier
0.211
400
1896:1
Xiaomi Poco X3 NFC
0.354
460
1299:1
Xiaomi Poco X3 NFC (Max Auto)
0.515
631
1225:1
Infinix S5 Pro
0.217
364
1677:1
Unlike most other Samsung's, the Galaxy A12 has no color modes - it is what it is. And what it is is a panel that can somewhat faithfully reproduce the sRGB color space. We measured an average dE2000 of 4.9, though there was a noticeable blue shift and the white point was some 8 units off-target.
Samsung Galaxy A12 battery life
The Galaxy A12 is powered by a 5,000mAh battery - ample capacity for its relatively modest hardware. Indeed, the combination makes for some pretty respectable endurance figures.
We clocked over 16 hours of web browsing over Wi-Fi and an hour less of looping videos offline. The A12 managed over 31 hours on a voice call, pretty great, and topped it all off with a low standby power draw. In the end, the Galaxy A12's Endurance score worked out to 123h.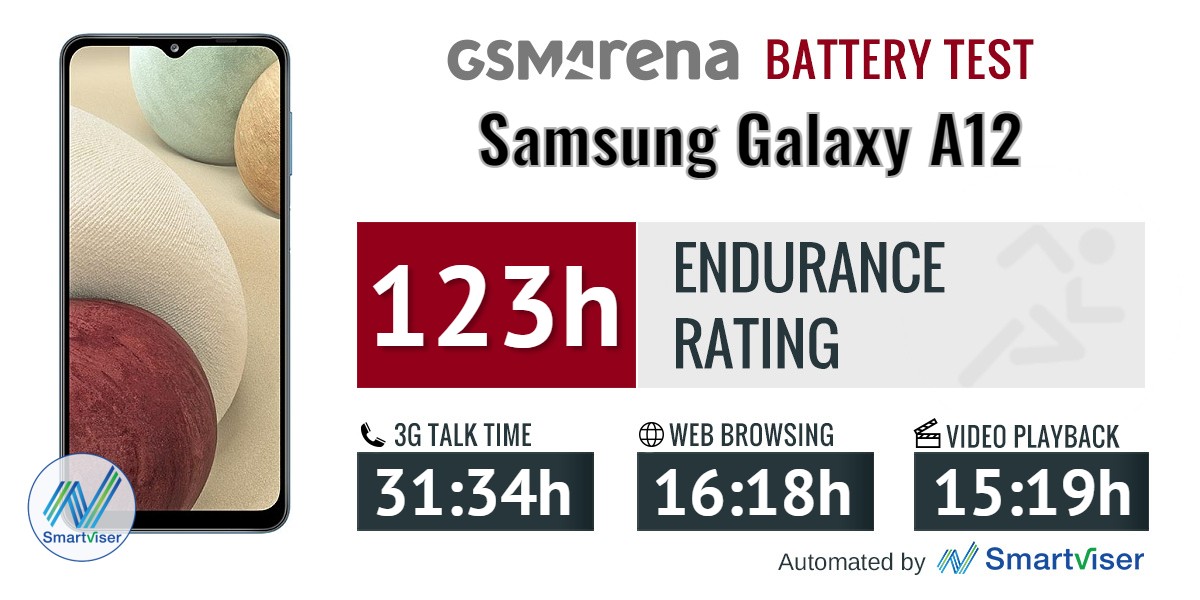 Our battery tests were automated thanks to SmartViser, using its viSer App. The endurance rating above denotes how long a single battery charge will last you if you use the Samsung Galaxy A12 for an hour each of telephony, web browsing, and video playback daily. We've established this usage pattern so that our battery results are comparable across devices in the most common day-to-day tasks. The battery testing procedure is described in detail in case you're interested in the nitty-gritty. You can check out our complete battery test table, where you can see how all of the smartphones we've tested will compare under your own typical use.
Charging speed
The included charger is the old and trusty Samsung Adaptive Fast Charging unit (QuickCharge 2.0 compliant) that we've seen for years. It's unclear what charging standard the phone supports, but in our experiments, it maxes out the 15W adaptor only with the screen on. With the screen off, it hovers around the 11W mark.
With this included adaptor, it took the Galaxy A12 3:03h to get from flat to 100%, which is quite slow. The 20% you get after plugging it in for 30 minutes is pretty disappointing too. Overnight charging sounds like the default way to go with this Galaxy. Good thing that its battery life is good enough that you shouldn't typically be worried about making it through the day.
30min charging test (from 0%)
TECNO Camon 16 Premier
59%
Realme 7
58%
Motorola Moto G9 Plus
54%
Huawei P Smart 2021
42%
Xiaomi Redmi Note 9T
33%
Infinix S5 Pro
30%
Poco M3
25%
Motorola Moto G9 Power
20%
Samsung Galaxy A12
20%
Time to full charge (from 0%)
Realme 7
1:05h
Motorola Moto G9 Plus
1:15h
TECNO Camon 16 Premier
1:25h
Huawei P Smart 2021
1:42h
Xiaomi Redmi Note 9T
1:50h
Motorola Moto G9 Power
2:19h
Poco M3
2:30h
Samsung Galaxy A12
3:03h
Speaker test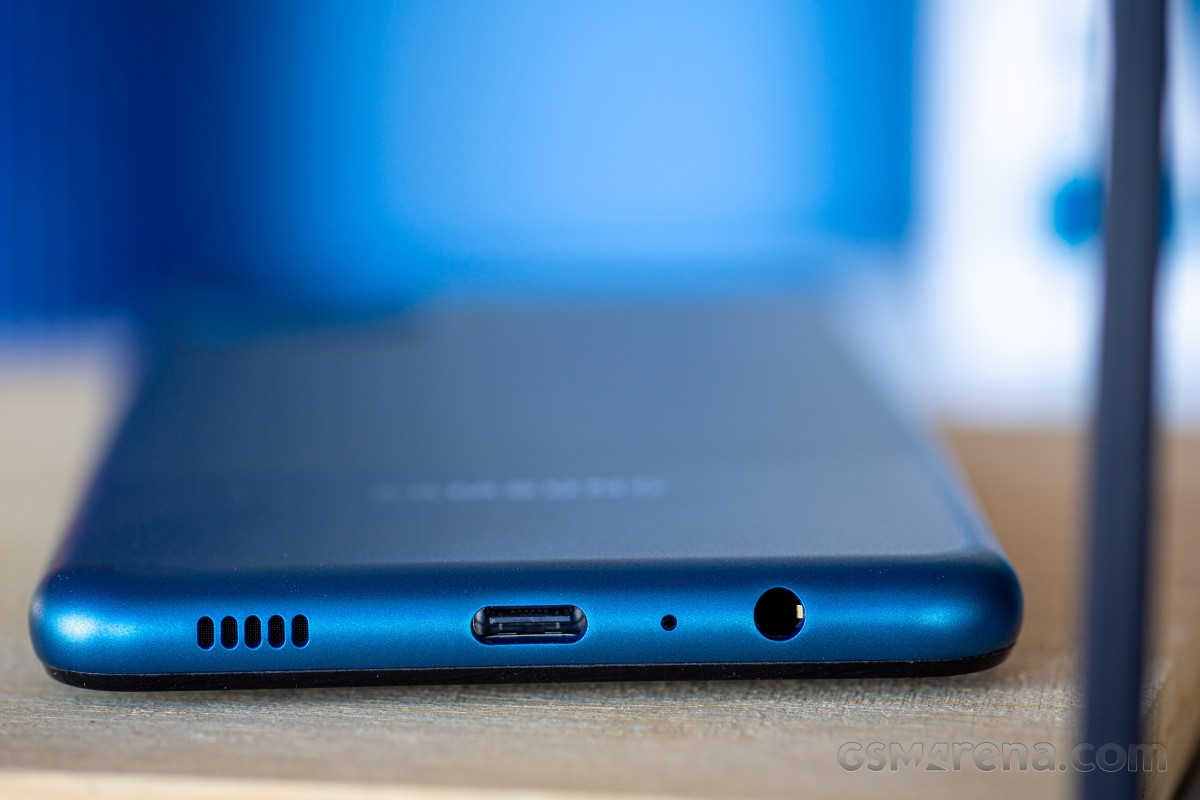 The Galaxy A12 has a single bottom-firing speaker. It's one of the quieter handsets in the class, posting a 'Below average' score for loudness in our 7-track test. It doesn't stand out with quality either, with absent lows and muted treble response. There's no distortion to speak of at max volume, so that's nice.
Use the Playback controls to listen to the phone sample recordings (best use headphones). We measure the average loudness of the speakers in LUFS. A lower absolute value means a louder sound. A look at the frequency response chart will tell you how far off the ideal "0db" flat line is the reproduction of the bass, treble, and mid frequencies. You can add more phones to compare how they differ. The scores and ratings are not comparable with our older loudspeaker test. Learn more about how we test here.