Android 11 with basic OneUI 3.1 Core
The Galaxy A03s ships with the Core version of One UI 3.1 and Android 11 out-of-the-box. There aren't too many massive differences between One UI 3.1 and One UI 3.1 Core, but we will go through them just in case, as probably few of our readers know them by heart.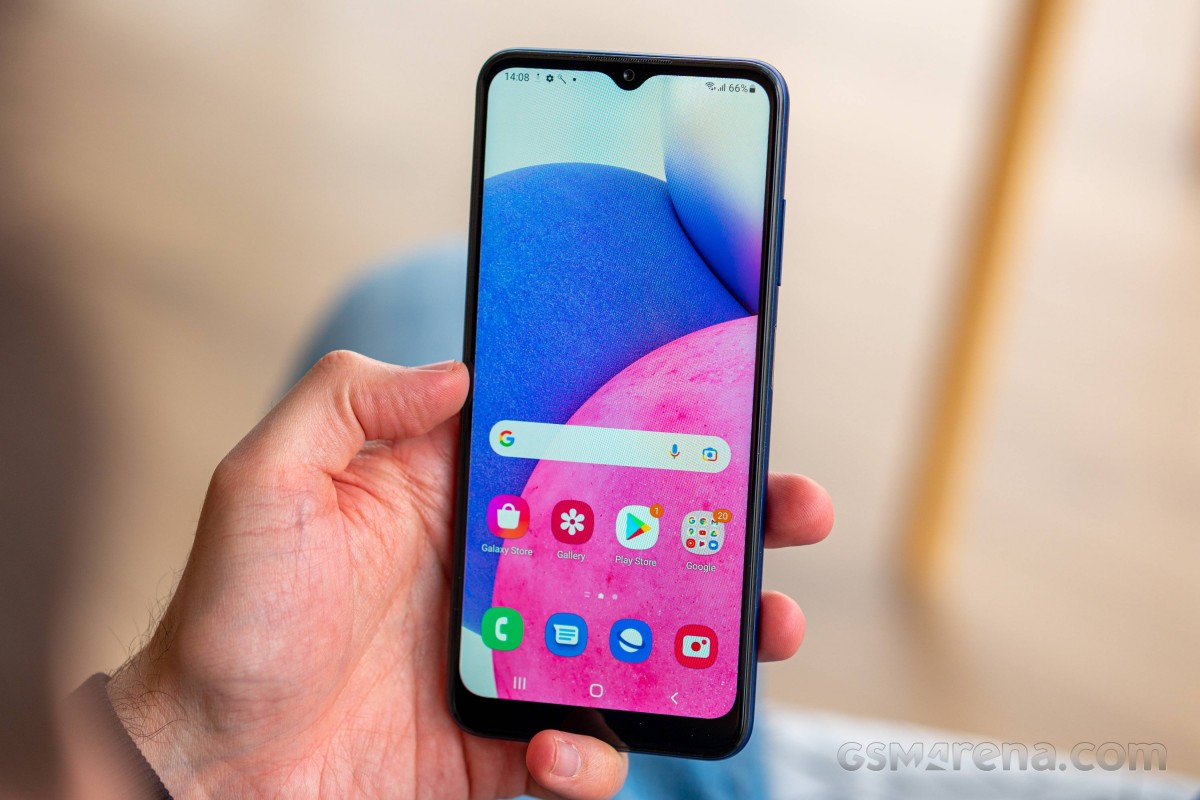 The Core version of One UI cuts a few apps and services to make the launcher easier on system resources and storage. What didn't make the cut - Samsung Pay service (GPay is available), KNOX features and Secure Folder, the Easy Mode, the Bixby assistant, Windows Link service, and the Good Lock app for advanced customizations. Samsung's Game Launcher, Music Share and Smart View are not available either. We suspect few people will be missing these on such a basic phone, though.
The Galaxy A03s does not support Always-on Display. Its default lock screen has two shortcuts - dialer and camera, but you can pick different apps. The lock screen has a wellbeing widget - you can now keep track of how much time you've spent on your phone without even unlocking it.
Unlocking the screen with the side-mounted fingerprint scanner is a breezy experience - the reader is always-on and has superb accuracy and speed.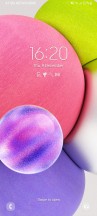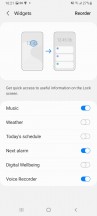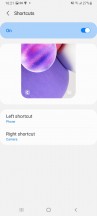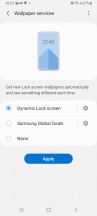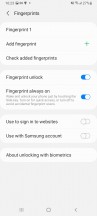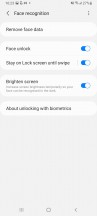 Lock screen • widgets • shortcuts • wallpapers • fingerprints • face unlock
Another notable change is that pulling the notification shade covers the entire screen underneath, even if there's just one notification card or none at all. Previously, a portion of the screen below the last notification still remained visible, just darkened.
Android 11 includes the nifty Notification history feature. It's accessed from the Settings menu, so it's not within immediate reach, but it's there for those occasions when you dismissed a notification too quickly and you can't seem to find what it was about. Just make sure to enable it because it's Off by default.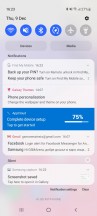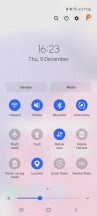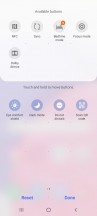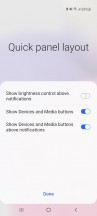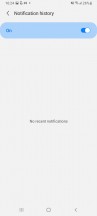 Notifications, quick toggles and notification history
All of the standard layout adjustments and toggles for the quick panel and taskbar are accounted for. Android 11 has a new way of handling notifications for instant messenger apps called Bubbles, and One UI 3 adopts it, too. That's in addition to a previously available similar feature offered by Samsung by the name of Smart pop-up view. You'll find these settings under the 'Floating notifications' submenu, where you can alternatively turn both of them off and opt for the old-school cards-only interface.
Android 11's refined multimedia controls have made their way on to One UI. You get the active audio playback apps in a stack right below the quick toggles and swiping to the side switches between the apps.
The Media screen was already available on One UI 2.5 pre-Android 11, and it offers similar functionality for picking the output device. The volume control panel has gotten a makeover too, and now the four sliders are vertical instead of the horizontal ones of One UIs past.
The settings menu has seen a subtle but meaningful makeover. Subcategories are made more legible by using a dot separator and extra intervals, while recent searches are now shown as bubbles instead of a list. Additionally, there's a newly added feature to search settings by hashtags - for conceptually related things found in different places in the menu.
The One UI dialer app lends itself to plenty of customization. There are two different layouts for the in-call screen to choose between. You can also set up a background image or video for that screen, though it's going to be all the same for all of your calls - you can't have a different one on a per-person basis.
The Android experience with One UI is rather straightforward and familiar. Samsung's excellent theme support and rich online selection are present, as well. The same goes for the system navigation options, with a few tweaks and layouts available for gestures, as well as old-school button controls, even the really-old original style, with the back button on the right side.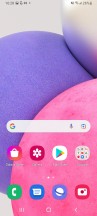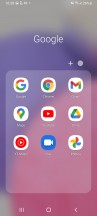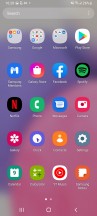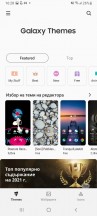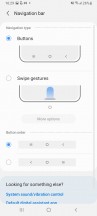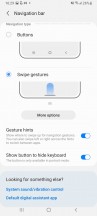 One UI 3.1 and navigation options
There are plenty of additional extra features in the Galaxy A03s as well, like the Edge panels interface. Android Auto support is baked right in on the Galaxy A03s, though.
The Galaxy A03s comes with Samsung's own Gallery, Internet browser and Notes app. Microsoft's Office, OneDrive, and Outlook apps are pre-installed, as well as all vital Google apps and services.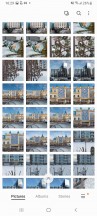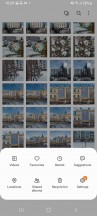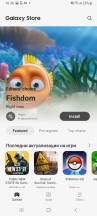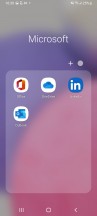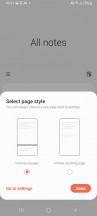 Gallery • Gallery • Galaxy Store • Microsoft apps • Samsung Notes
Overall, like we said, there are some omissions here and there the further down we go into the Galaxy A lineup. However, nothing cut is really major or all that detrimental to the overall One UI experience in our opinion. Fans of Samsung's particular Android experience should still be perfectly at home here.
Performance and benchmarks
The Galaxy A03s runs on the entry-level Mediatek Helio P35 chipset. Its octa-core CPU uses Cortex-A53 cores only, four of them clocked at up to 2.3GHz, the other four - capped at 1.8GHz. It's better than the Snapdragon 450-equipped lesser Galaxies like the A02s/M02s, which get a 1.8GHz cap across all 8 cores.
The GPU is PowerVR GE8320 GPU, and it can also be found in other Helios - for example, the G25 and G35 - and consequently in quite a lot of budget-focused devices.
The Galaxy A03s comes in several RAM/storage configurations - 3GB/32GB, 4GB/32GB, and 4GB/64GB. Our review unit is of the most basic trim - 3GB RAM + 32GB eMMC 5.1 storage.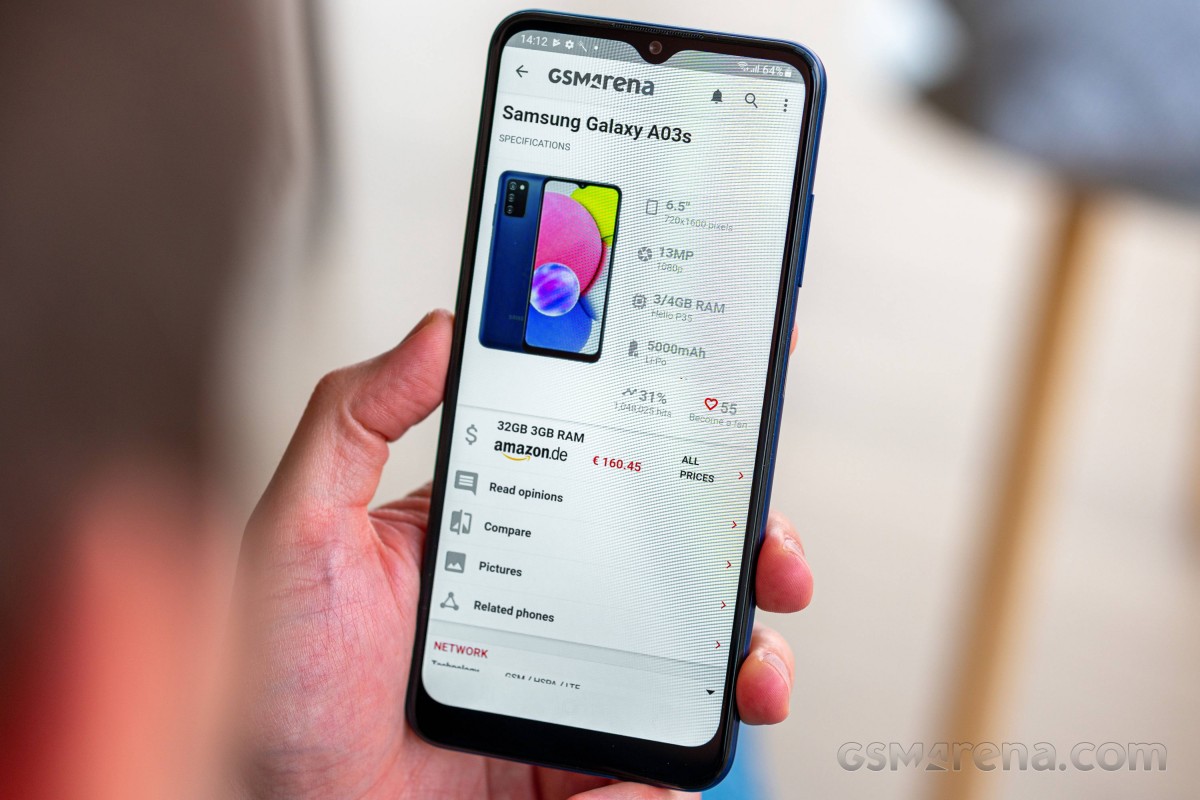 Quite expectedly, the Helio P35 having only A53 cores did not turn well for the benchmark scores - GeekBench took forever to complete, and the only phone that's worse than the A03s is the A02s because of the lower CPU clock.
GeekBench 5 (multi-core)
Higher is better
Realme 8i
1886
Xiaomi Redmi Note 10 Pro
1780
Samsung Galaxy A22 5G
1719
Realme 8
1690
Samsung Galaxy A32 5G
1673
Xiaomi Redmi Note 10
1599
Xiaomi Redmi 9T
1400
Samsung Galaxy A22
1372
Xiaomi Redmi 9 (Prime)
1325
Xiaomi Redmi 10
1294
Samsung Galaxy A32
1277
Motorola Moto G10
1139
Samsung Galaxy A03s
889
Samsung Galaxy A02s
495
GeekBench 5 (single-core)
Higher is better
Xiaomi Redmi Note 10 Pro
569
Samsung Galaxy A22 5G
560
Realme 8i
539
Xiaomi Redmi Note 10
534
Realme 8
533
Samsung Galaxy A32 5G
505
Samsung Galaxy A22
376
Xiaomi Redmi 9 (Prime)
362
Xiaomi Redmi 10
361
Samsung Galaxy A32
361
Xiaomi Redmi 9T
307
Motorola Moto G10
247
Samsung Galaxy A03s
179
Samsung Galaxy A02s
131
The raw power of the GPU is incredibly weak.
GFX Manhattan ES 3.1 (offscreen 1080p)
Higher is better
Realme 8
33
Samsung Galaxy A22 5G
24
Realme 8i
24
Xiaomi Redmi Note 10
17
Samsung Galaxy A22
15
Samsung Galaxy A32
15
Xiaomi Redmi 9T
13
Motorola Moto G10
9.4
Samsung Galaxy A03s
7.9
Samsung Galaxy A02s
6.1
Then again, the Galaxy A03s has a 720p display instead if 1080p, and things do get a bit better when running benchmarks at the native resolution. Just a tiny little bit.
GFX Manhattan ES 3.1 (onscreen)
Higher is better
Samsung Galaxy A22
30
Realme 8
29
Realme 8i
22
Samsung Galaxy A22 5G
21
Motorola Moto G10
19
Xiaomi Redmi Note 10
15
Samsung Galaxy A03s
14
Samsung Galaxy A32
13
Samsung Galaxy A02s
12
Xiaomi Redmi 9T
10
GFX Car Chase ES 3.1 (onscreen)
Higher is better
Realme 8
18
Samsung Galaxy A22
16
Xiaomi Redmi Note 10 Pro
16
Samsung Galaxy A22 5G
12
Realme 8i
11
Motorola Moto G10
9.2
Samsung Galaxy A32
8.1
Xiaomi Redmi Note 10
7.9
Samsung Galaxy A02s
6.1
Xiaomi Redmi 9T
5.8
Samsung Galaxy A03s
5.5
The AnTuTu scores are not promising either - the Galaxy A03s is one of the slowest phones we've tested recently, and the only one that's worse than the A03s is the previous A02s model.
AnTuTu 8
Higher is better
Realme 8
298328
Xiaomi Redmi Note 10 Pro
295442
Realme 8i
293507
Samsung Galaxy A22 5G
242155
Samsung Galaxy A32 5G
226561
Xiaomi Redmi Note 10
218788
Xiaomi Redmi 9 (Prime)
201829
Samsung Galaxy A22
185358
Xiaomi Redmi 9T
177917
Samsung Galaxy A32
174332
Motorola Moto G10
140230
Samsung Galaxy A03s
103465
Samsung Galaxy A02s
90811
AnTuTu 9
Higher is better
Realme 8
357488
Realme 8i
308544
Samsung Galaxy A22 5G
223188
Samsung Galaxy A32 5G
222125
Samsung Galaxy A22
165959
Samsung Galaxy A03s
101299
The Galaxy A03s provides good performance stability when running benchmarks for a prolonged time as it doesn't produce enough heat to put the chipset into throttling mode.
The performance itself is best described as acceptable for an entry-level phone, but honestly, at that €160 starting price, we expected a bit more. The phone is slow across the board, and you can feel it everywhere - even when scrolling the UI. Gaming is nearly impossible to enjoy, multi-tasking and operations are slow, everything takes time to happen. Once again, that would be fine for €100, but at €160 or more - it is not.
Finally, 32GB is barely enough - we ran out of storage in three days - after installing all benchmark apps, shooting our daylight and low-light samples, and capturing six videos - that was it. We'd definitely recommend purchasing the 64GB variant, especially if you hold on to your phones for longer.