Samsung Galaxy Z Fold3's Eco2OLED display saves energy, improves the UPC cam
The Samsung Galaxy Z Fold3 is the first foldable to support an advanced stylus, but its display marks another first that will be important for all manner of OLED-equipped phones. The company trademarked it as Eco²OLED where the "eco squared" stands for both "economical" and "ecological".
The new display assembly has 33% higher light transmittance, which has a dual advantage. First, it allows the screen to be brighter with less power sent to the OLED layer – this is the economical part as it reduces power consumption by up to 25%. Second, it allows more light to reach the Under Panel Camera (UPC) of the Z Fold3, improving image quality.
To understand what Samsung did, you must first understand the problem. Current OLED displays have a polarizer layer, which reduces the reflections of incoming light and improves visibility. It's an old trick – Nokia did it as far back as 2010 and dubbed the technology ClearBlack.
However, there is a marked disadvantage of using a polarizer. It can reduce the screen brightness by up to 50%. Samsung figured out a way to achieve the effect of the polarizer while losing less brightness.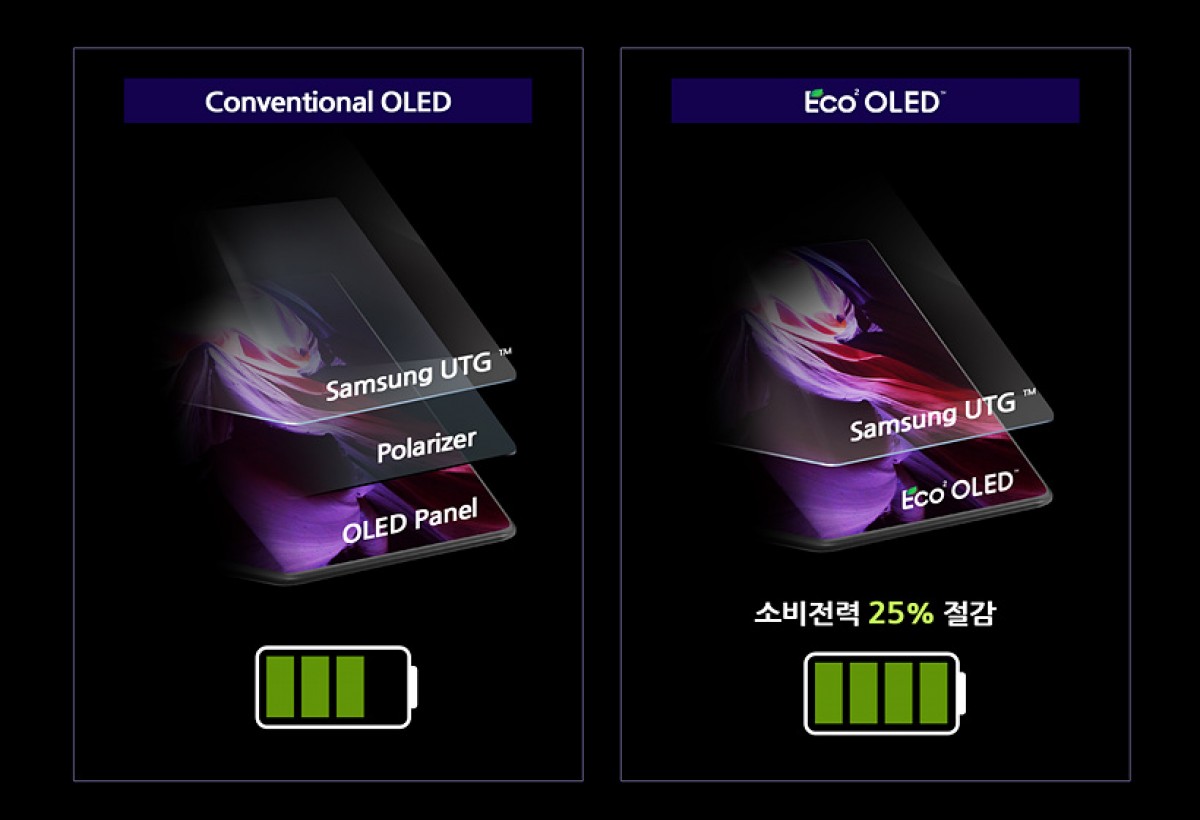 As for the second "eco" part, the Eco²OLED display uses fewer plastic parts in its construction, making in more eco-friendly. The lower power usage also means improved battery life and longevity.
Kim Seong-cheol, president of Samsung Display's Small and Medium Business Division, said "we plan to continue our efforts to reduce the power consumption of the panel through innovative driving technology and optimization of organic materials."
N
Latest Samsung Mobiles are becoming amazing day after day. Cheaper to expensive all models have good technology, easy to use.
D
Ah, a man of culture. Well, I totally agree, though the reason I took the Magic 2 3D as an example was because it has 3D face recognition, and while I would take a slider over a notch, punch hole or underdisplay camera anyday, I still think a sl...
M
Xiaomi Mi Mix 3 is the better example of slider, since it was launched first and went on sale internationally. I still use mine, and have zero desire on getting a punch hole/notch screen next. Those and curved displays are things I hope to avoid...
ADVERTISEMENT