Samsung announces UFS 4.0 storage with faster speeds and better power-efficiency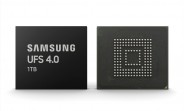 While a smartphone's storage capacity is one of the most important selling points for a consumer, the type of storage is often overlooked. Most Android smartphones (and many electronics) use the UFS (Universal Flash Storage) and most flagships nowadays use either 3.0 or 3.1 UFS storage.
On Tuesday, Samsung introduced UFS 4.0 which uses Samsung's Gen 7 V-NAND memory and proprietary controller with sequential read speeds of up to 4,200 MB/s and sequential write speeds of up to 2,800 MB/s. The new storage tech will also deliver a 46% power-efficiency improvement in sequential read speeds compared to the previous generation.
BREAKING: Samsung has developed the industry's highest performing Universal Flash Storage (UFS) 4.0 storage solution, which has received JEDEC® board of director approval. What is UFS 4.0 and what does it mean for the future of storage? Read on to learn more. pic.twitter.com/4Wxdu0J2PD

— Samsung Semiconductor (@SamsungDSGlobal) May 3, 2022
Per lane, UFS 4.0 supports up to 23.2Gbps per lane, doubled from UFS 3.1. Samsung boasts this amount of "bandwidth is perfect for 5G smartphones requiring huge amounts of data processing," and it expects to see the technology be adopted in VR, AR, and automotive applications.
The new storage tech can be configured to support up to 1TB of storage so we hope that means we'll begin seeing more smartphones outfitted with 512GB and 1TB capacities.
Samsung expects mass production of UFS 4.0 storage to start in Q3 so we can expect to see smartphones don the new technology towards the end of the year, or on the Galaxy S23 series that should launch in Q1 of 2023. Read the full Twitter thread to read Samsung's full announcement about UFS 4.0.
S
Actually for phone storage , ufs 4.0 is the fastest. Faster than nvme used in iPhone. Nvme in iPhone is nowhere near ufs 4.0 in speed. Iphone should move to ufs 4.0 for iphone 15.
A
Good heavens no!! 😂 Nvme storage used in iPhones are not the same with the PCI E NVME storage seen on Mac books 💻 and desktop Pc please 🤣
U
Actually based on 14 pro max storage speeds, read is 1462.82MB/s and write is 1446.33MB/s against vivo x90 pro + read 3400.32MB and 2841.35MB write. Pls don't confuse a pcie 4.0 nvme on laptops and macbooks to what Apple use in iPhone, it is a n...
ADVERTISEMENTS