In case you don't remember Royole, it gathered a lot of attention at CES last year. It was the company involved in making the first foldable smartphone, called the FlexPai, a couple of months before Samsung announced the Galaxy Fold.
The company is back this year with two new products featuring its flexible technology.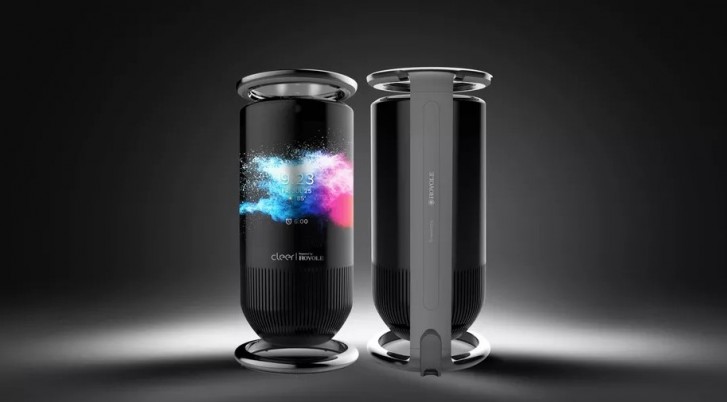 First is the Mirage Smart Speaker. It's cylindrically shaped with speakers firing in all directions. Of course, what sets the Mirage apart is that it features a 7.8-inch AMOLED display with 1440 x 1920 pixel resolution, wrapped around it with full touch support.
It also has a built-in 5MP camera and dual far-field microphones that listen to voice commands with Amazon Alexa support. There are also three full range 48mm drivers with a passive bass radiator for a total output of 30W. Powering the whole thing is the Qualcomm Snapdragon 524 with 2GB of RAM and 16GB of storage.
Next up is the RoWrite 2. It's over 40% lighter than its predecessor with longer battery life and better accuracy. It features Royole's flexible sensor for digitizing whatever you like to write on paper directly to an app on your smartphone. The sensors are embedded in a leather case and a pen is included that recharges wirelessly.
Interested to learn what this is? Come and visit us at CES2020 Central Hall #11524! #ces #ces2020 #royole #tech pic.twitter.com/wtap4p1wxI

— Royole Corporation (@RoyoleOfficial) January 7, 2020
Up on display at the Las Vegas Convention Center is Royole's RoTree - a display manufactured by Royole with hundreds of flexible screens as the "leaves".
The Royole Mirage Smart Speaker will run a steep $899 and goes on sale in Q2. Meanwhile, the RoWrite 2 will retail for $129 and go on sale in March.
D
It's true that unknown/small companies are leading in innovation, but the 120Hz screen was not introduced by Razer, it was made by SHARP.
?
its fun how relatively unknown companies innovate technology right now and big companies follow (e.g.: first smartphone with 120hz technology was a razer - not known to be leading in smartphone departement)
ADVERTISEMENT