Realme UI 3.0 and Android 12
The Realme UI 3.0 is already quite familiar as it runs on Realme's latest devices and some of its older phones. It's based on Android 12, but it would still make older Realme users feel at home.
Feature-wise, the Neo3 offers just about the same amount of customizations and tweaks as its more expensive GT2 and GT2 Pro siblings. There's almost no difference.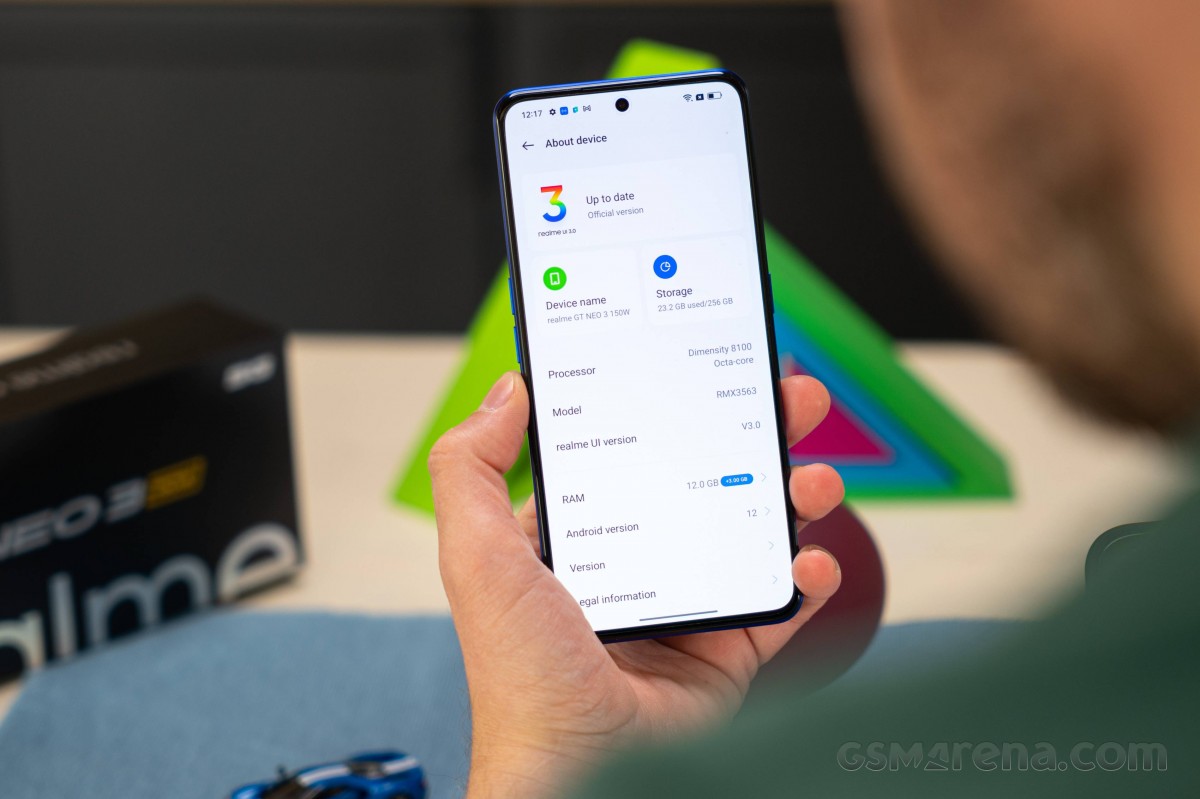 Visually, the OS hasn't changed much either. Realme UI has a colorful UI with customizable UI elements and its own iconography for the notification shade and the general Settings menu. The app drawer hasn't been tweaked either, but we did notice a bit of inconsistency with the swipe up and swipe down gestures on the Home screen when opening/closing the drawer. A small annoyance that shouldn't bother most users.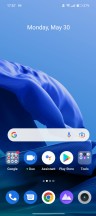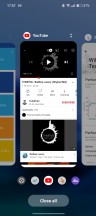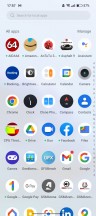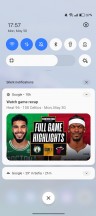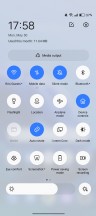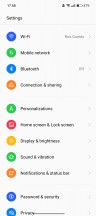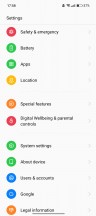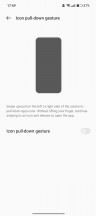 Home screen, recent apps, notification shade, Settings menu
Realme also kept the so-called Icon pull-down gesture. Swiping alongside the left or right edge of the screen crams icons at the bottom half of the screen to be easily reached with your thumb. The gesture works pretty reliably as well.
By default, the swipe down gesture on the Home screen opens up the so-called global search, but you can always set the notification shade instead.
When it comes to Android 12-specific features, most of them are under-the-hood changes. However, the privacy-focused efforts from Google are translated into Realme UI 3.0. The so-called Privacy dashboard is one example. It's a unified view for all your permissions and user data settings. It gives you information on which apps and how often they access your information or ask for certain permissions. It looks and feels like the Digital wellbeing dashboard introduced with Android 10.
In addition to those privacy features, Android 12 lets you choose the accuracy of your location shared with certain apps. Let's say you want to share an approximate location with some apps instead of your exact location. And also, when an app is accessing your mic or camera, a green dot will appear in the upper-right corner of the screen so you'd know what's going on.
For a more in-depth look at Android 12, we suggest reading our full Android 12 review as we will try to focus on the Realme UI itself in the following paragraphs.
As before, Realme UI offers deep customization of the interface by letting you choose accent colors (or a combination of accent colors), wallpapers, icons, the shape of the quick toggles, as well as the font and size. All of these settings are found in the Personalization sub-menu.
The Dark mode isn't a new feature, especially for Realme's UI, but with the second iteration of the OS, you get some additional options. Scheduling the Dark mode is possible, of course, and forcing it on third-party apps is also available. However, we were surprised by the color schemes, as the Dark mode now offers three variations - dark gray instead of black and a bit lighter gray. The gray color has been proven to be just as effective as the pitch-black color when it comes to energy consumption. So going for a lighter gray might be a sweet spot for users that are hesitant to use the conventional Dark mode.
The Always-on display customizations aren't left out. You can customize it to your liking or choose from the default presets. Scheduling is also an option.
Under the Special features sub-menu, Realme put the Smart sidebar and Flexible windows features, both of which boost multitasking. When turned on, the sidebar offers quick access to some of your favorite apps. The system allows you to adjust the position of the sidebar, which is crucial because it might interfere with the back gesture if you are using the standard Android gestures. Anyway, tapping and holding on an app icon enters split-screen mode while a single tap opens up the app in a floating window or, as Realme calls it, "Flexible window". The supported apps can be opened in small, draggable and size-adjustable windows.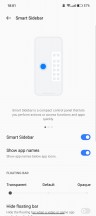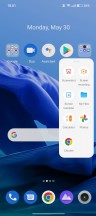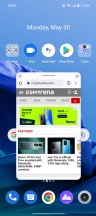 Smart Sidebar and Floating window
A few good words about the vibration motor - it seems to be improved upon as the haptic feedback feels precise, punchy and strong. It feels great alongside the whole frame of the phone when typing or during certain actions when navigating through menus and apps.
The good old screen-off gestures that allow you to launch certain apps or the flashlight by drawing letters on a locked screen are here to stay.
In the Realme labs, where the company likes to introduce experimental features, there's one that caught our eye. You can stream music to a Bluetooth headset and wired headphones simultaneously. Pretty neat if you are traveling with a friend and want to listen to the same tunes.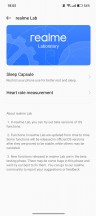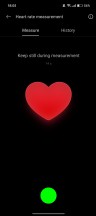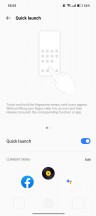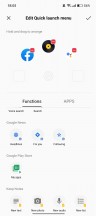 Realme labs and advanced fingerprint reader features
Lastly, let's talk about the fingerprint reader. It's fast, it's accurate and reliable. This one seems to be placed at the right spot where your thumb falls naturally.
Two new features are now available with the fingerprint reader, though. One of them is the built-in heart rate monitor, which seems to be rather okay in terms of accuracy in the user's resting state, but it's largely inconsistent also. A Quick launch option is now available and seems to be taken straight from OnePlus' OxygenOS. You just tap on the fingerprint scanner and hold until icons for your pre-defined apps appear. Dragging your finger on one of them launches the app in question.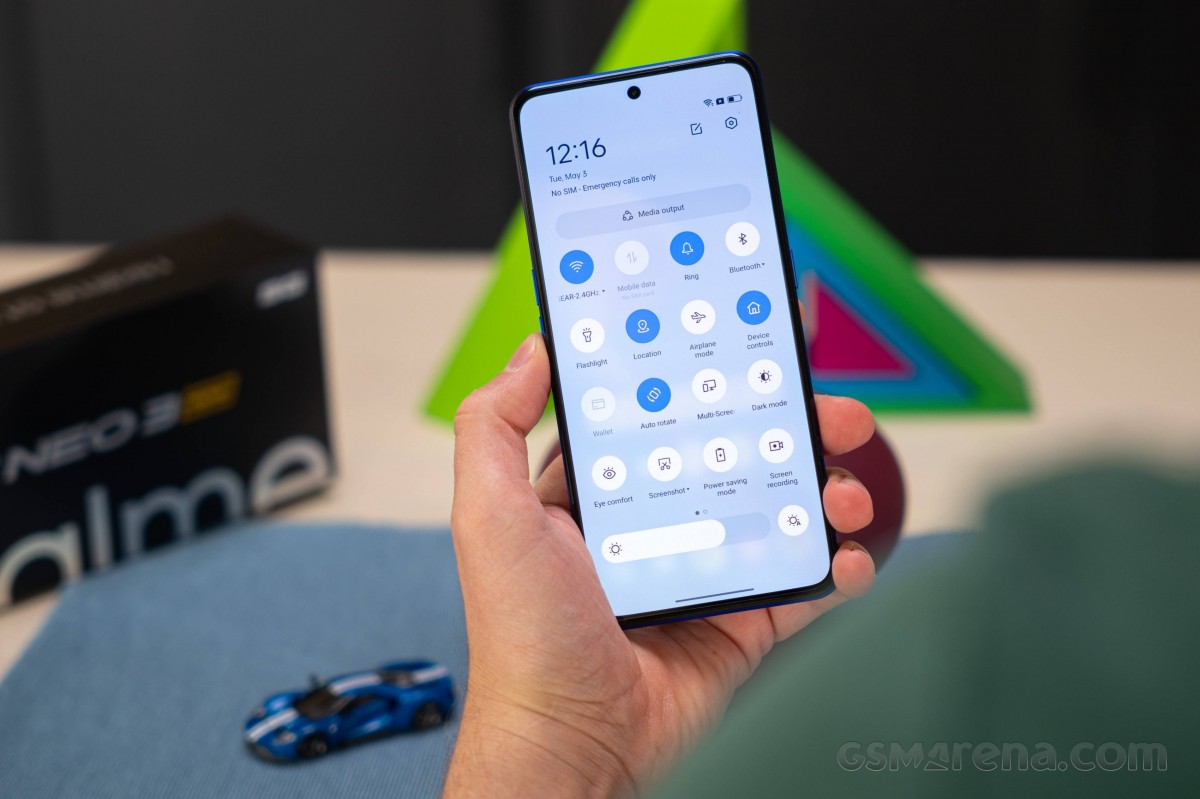 All in all, though, the Realme UI 3.0 looks snappy, offers some new features and looks and feels the same as the previous iteration of the software, for better or worse. It's also highly customizable, and that's something a lot of Android users are looking for. Bonus points for that.
Synthetic performance
The Realme GT Neo3 features one of MediaTek's latest chipsets, the Dimensity 8100. It's a step up from the standard Dimensity 8000, mainly in clock speeds. It sports the same hardware setup, though. Despite its high clock speeds (higher than even the Dimensity 9000), the CPU employs ARM's older architecture, and it's also based on the 5nm manufacturing process instead of the newer 4nm.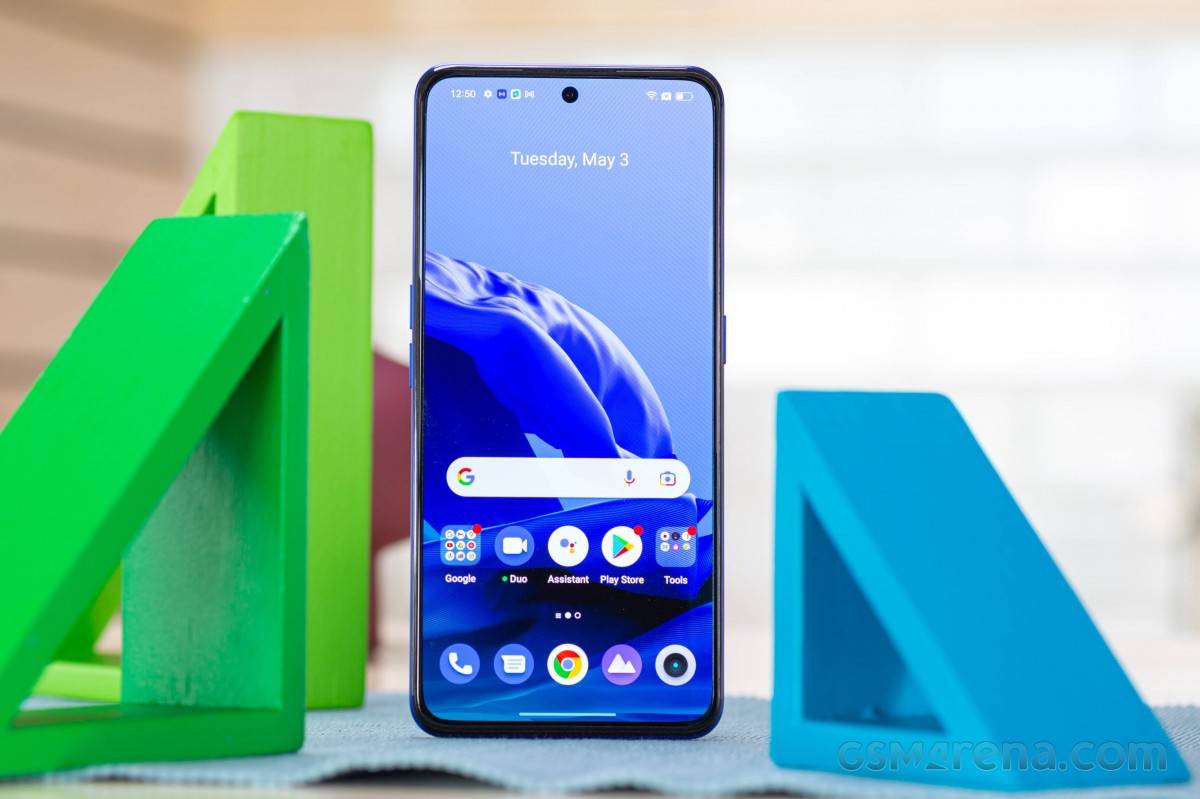 The octa-core CPU uses 4x Cortex-A78 cores clocked at 2.85 GHz and 4x Cortex-A55 cores ticking at 2.0 GHz. The GPU used for graphics tasks is the Mali-G610 MC6, the same one used in the Dimensity 8000, but it promises 20% better performance. We assume it's achieved through higher clock speeds.
In addition to the rather powerful CPU and GPU combo, the SoC boasts a capable NPU and ISP. The Imagiq 780 ISP can record HDR videos with two cameras simultaneously or 4K@60fps HDR10+ footage using one camera. It can also handle 200MP sensors, 2x lossless zoom and AI-powered noise reduction and HDR imaging.
Another notable difference between the Dimensity 8000 and the 8100 is that the latter supports a 120Hz refresh rate at WQHD+ resolution and HDR10+ Adaptive. That last one means it can adjust the screen's brightness during HDR10+ videos depending on the ambient light.
Now, without further ado, let's dive into the benchmarks as there's a lot to uncover here.
GeekBench 5 (single-core)
Higher is better
Apple iPhone SE (2022)
1729
Realme GT2 Pro
1238
Samsung Galaxy S22+
1165
Realme GT2
1131
Samsung Galaxy S21 FE 5G
1096
Realme GT Neo2
1019
Realme GT Neo3
968
OnePlus Nord 2
814
Realme 9 Pro+
814
GeekBench 5 (multi-core)
Higher is better
Apple iPhone SE (2022)
4629
Realme GT Neo3
4079
Samsung Galaxy S22+
3528
Realme GT2 Pro
3501
Realme GT2
3487
Realme GT Neo2
3186
Samsung Galaxy S21 FE 5G
3049
OnePlus Nord 2
2792
Realme 9 Pro+
2335
AnTuTu 9
Higher is better
Realme GT2 Pro
966251
Samsung Galaxy S22+
886916
Realme GT Neo3
819348
Realme GT2
810512
Realme GT Neo2
726039
Apple iPhone SE (2022)
723486
Samsung Galaxy S21 FE 5G
719696
OnePlus Nord 2
598022
Realme 9 Pro+
416031
GFX Aztek Vulkan High (onscreen)
Higher is better
Samsung Galaxy S22+
51
Realme GT Neo3
43
Realme GT2 Pro
39
Realme GT2
38
Samsung Galaxy S21 FE 5G
38
Realme GT Neo2
33
OnePlus Nord 2
26
Realme 9 Pro+
16
GFX Aztek Vulkan High (offscreen 1440p)
Higher is better
Realme GT2 Pro
46
Samsung Galaxy S22+
34
Realme GT2
30
Realme GT Neo3
28
Samsung Galaxy S21 FE 5G
25
Realme GT Neo2
24
OnePlus Nord 2
20
Realme 9 Pro+
10
GFX Aztek ES 3.1 High (offscreen 1440p)
Higher is better
Realme GT2 Pro
42
Samsung Galaxy S22+
31
Realme GT Neo3
27
Realme GT2
27
Samsung Galaxy S21 FE 5G
24
Realme GT Neo2
22
OnePlus Nord 2
21
Realme 9 Pro+
11
GFX Aztek ES 3.1 High (onscreen)
Higher is better
Samsung Galaxy S22+
50
Realme GT Neo3
42
Realme GT2
40
Samsung Galaxy S21 FE 5G
38
Realme GT2 Pro
36
Realme GT Neo2
33
OnePlus Nord 2
30
Realme 9 Pro+
17
3DMark Wild Life Vulkan 1.1 (offscreen 1440p)
Higher is better
Realme GT2 Pro
9487
Apple iPhone SE (2022)
9130
Samsung Galaxy S22+
7405
Realme GT2
5879
Samsung Galaxy S21 FE 5G
5432
Realme GT Neo3
5428
Realme GT Neo2
4250
OnePlus Nord 2
4224
Realme 9 Pro+
2296
GFX Car Chase ES 3.1 (offscreen 1080p)
Higher is better
Apple iPhone SE (2022)
97
Realme GT2 Pro
95
Samsung Galaxy S22+
76
Realme GT2
68
Realme GT Neo3
60
Realme GT Neo2
59
Samsung Galaxy S21 FE 5G
57
OnePlus Nord 2
46
Realme 9 Pro+
27
GFX Car Chase ES 3.1 (onscreen)
Higher is better
Samsung Galaxy S22+
68
Apple iPhone SE (2022)
60
Realme GT2
56
Samsung Galaxy S21 FE 5G
56
Realme GT Neo3
53
Realme GT Neo2
49
Realme GT2 Pro
48
OnePlus Nord 2
38
Realme 9 Pro+
23
The Dimensity 8100 posted some pretty impressive results in most tests. According to Geekbench 5, the chip's multi-core performance is higher than the Snapdragon 888, 8 Gen 1 and Samsung's Exynos 2200. We aren't entirely sure how to explain this, but it could be due to the big Cortex-X1 and X2 cores not running during the multi-core test scenario. As a remainder, the Cortex-X1 is the SD888's prime core while the Cortex-X2 powers up the Snapdragon 8 Gen 1 and the Exynos 2200. This way the flagship SoCs are at disadvantage when compared to a mid-range chipset, such as the Dimensity 8100, which engages with all eight cores.
It's quite evident in the single-core test where the device fell behind the flagship processors, although it still managed to overtake the Dimensity 1200, 920 and the Snapdragon 778G.
MediaTek's latest SoC did pretty well in the combined AnTuTu 9 benchmark, too, scoring even higher than the Snapdragon 888. In the GPU-intensive scenarios, the two chipsets trade blows. It's noteworthy that the phone was locked at 60fps in the offscreen tests, so we suspect it can do better in the Car Chase ES 3.1 (offscreen 1080p) benchmark, for example.
Either way, the Dimensity 8100 seems like a proper modern solution that can challenge even the most powerful chipsets from 2021 and this year. In fact, it's a bit strange seeing the Neo3 outperforming the Realme GT2 in some of the tests since the latter is supposed to be positioned higher than the Neo3.
Sustained performance
The Realme GT2 Pro and the GT2 proved to have exceptional thermal management due to their advanced cooling solutions. It seems that the GT Neo3 is no different. The handset features an impressive 39,606 mm2 total cooling area that consists of a 4,129 mm2 stainless steel vapor chamber, graphite sheet, graphene, diamond thermal gel, copper alloy, standard thermal gel, copper foil and silica gel sheet, plus another copper foil and graphene sheet. In other words, the handset uses the same cooling solution as its more expensive siblings. However, the overall cooling area is larger allegedly.
Seeing how the Dimensity 8100 isn't as demanding as the Snapdragon 8 Gen 1 and the Snapdragon 888, it's no surprise that the Neo3 did pretty well in the CPU stress test.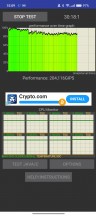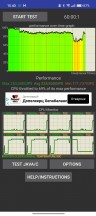 CPU throttle test: 30 min • 60 min
The device maintained a bit jagged but rather stable curve ranging between 80 and 90% of the CPU's maximum performance. After a good 40 minutes or so, the CPU throttled down to 69% of its maximum performance for a couple of minutes before returning back to near 90% values. In other words, you can expect stable gaming performance over time with a possible sudden dip for a short period of time, only if you've played for a long time.
The 3D Mark Wild Life stress test, which is mostly GPU-intensive, returned even better results. The system maintained a solid 98.6% stability over multiple loops of the test.