Bright AMOLED panel with 120Hz and HDR10+
The new GT Neo2 retains the same 1080 x 2400px resolution but bumps up the screen diagonal to 6.62" from 6.43". But don't worry, the display doesn't appear less sharp than before. The same off-centered punch-hole selfie camera is at hand. It's still AMOLED, and it's still 120Hz, but this time around, Realme has upgraded the supported HDR certification, and it now can display HDR10+ content. This means that the screen can peak at up to 1300 nits of max brightness with the appropriate content.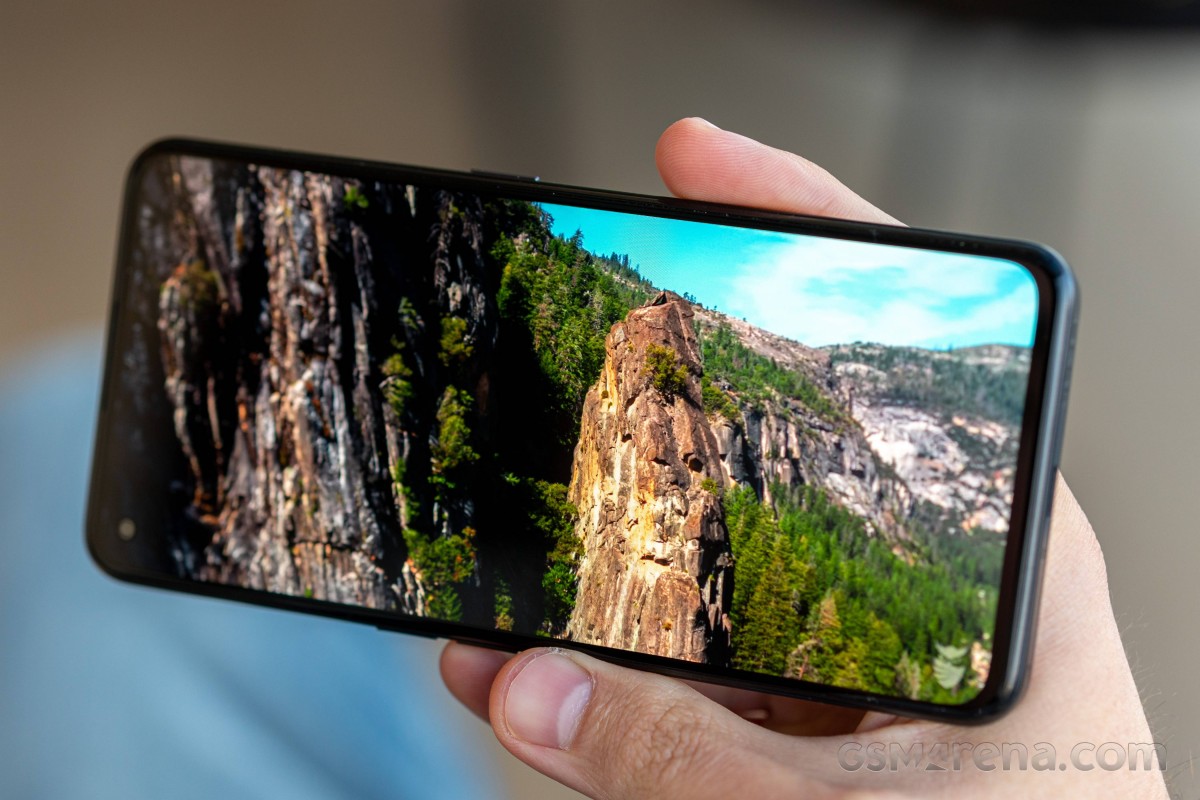 We couldn't confirm those numbers because the advertised peak brightness in HDR video is usually achievable only across small, bright regions of the screen.
In our tests, we got respectable 659 nits in Auto Mode, whereas we got 498 nits in manual mode. These results are more than respectable and should be ideal for comfortable outdoor use even under bright sunlight.
Display test
100% brightness
Black,cd/m2
White,cd/m2
Contrast ratio
Realme GT Neo2
0
498
∞
Realme GT Neo2 (Max Auto)
0
659
∞
Realme X7 Max 5G
0
433
∞
Realme X7 Max 5G (Max Auto)
0
640
∞
Samsung Galaxy A52s 5G
0
383
∞
Samsung Galaxy A52s 5G (Max Auto)
0
800
∞
Samsung Galaxy A72
0
396
∞
Samsung Galaxy A72 (Max Auto)
0
825
∞
OnePlus Nord 2 5G
0
438
∞
OnePlus Nord 2 5G (Max Auto)
0
633
∞
Realme GT 5G
0
443
∞
Realme GT 5G (Max Auto)
0
650
∞
Color accuracy isn't its strongest suit, however, as we found the whites and grays to have too much of a blue tint regardless of the pre-calibrated modes. Still, for the best possible accuracy, we suggest you go for the Gentle mode. This one gets the rest of the colors right, at least.
Unfortunately, HRR control hasn't improved much since the previous generation, and it's kind of a mixed bag. You get 120Hz in all system menus and most apps out there, especially if you force 120Hz using the said mode, but we were expecting more dynamic control over those hertzes when using the Auto Switch mode. For instance, the software won't switch to 60Hz when you are not touching the device, and it would choose 60Hz for some apps.
Still, we appreciate that entering full-screen during video playback would tone down to 60Hz while scrolling through YouTube and Netflix; the system stays at 120Hz. Neat!
Unfortunately, the games we tested on the original GT Neo seem to be still locked at 60fps when running them on the GT Neo2, so you still can't use the full potential of the screen during gaming.
Battery life
The Realme GT Neo2 comes with a generous 5,000 mAh battery and scored exceptionally well in our video playback test, and did pretty well in our web browsing one too. In short, you can expect great screen-on runtimes. The standby and 3G talk runtimes seem to be just about the average for the class.
However, the overall endurance rating is predominantly higher than most phones we've tested in the same price bracket. Seems like two days of normal usage or one whole day with intensive use are not far-fetched scenarios. We were kind of surprised by the GT Neo2's results compared to the Dimensity 1200-powered handsets, which tend to last longer in our tests.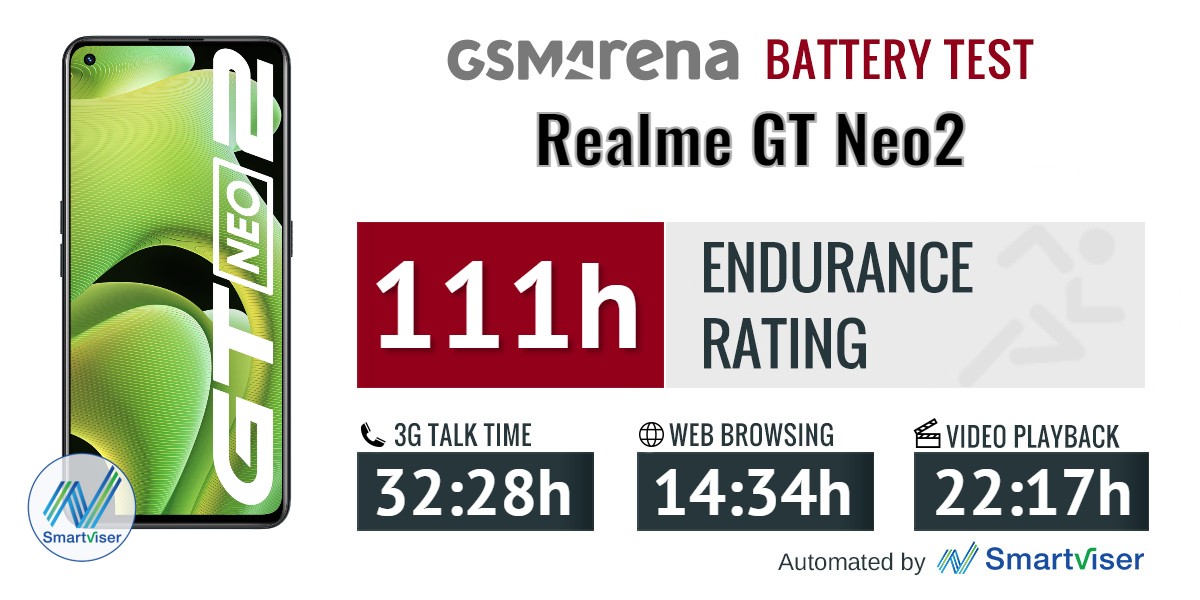 Our battery tests were automated thanks to SmartViser, using its viSerDevice app. The endurance rating denotes how long the battery charge will last you if you use the device for an hour of telephony, web browsing, and video playback daily. More details can be found here.
Video test carried out in 60Hz refresh rate mode. Web browsing test done at the display's highest refresh rate whenever possible. Refer to the respective reviews for specifics. To adjust the endurance rating formula to match your own usage patterns check out our all-time battery test results chart where you can also find all phones we've tested.
The battery settings menu isn't anything out of the ordinary and offers pretty much all the standard features today's smartphones have. You can restrict background usage on a per-app basis or nuke them all when the phone turns off the screen. Two power saving modes are also available, and, of course, since there's 65W fast charging, there's optimized charging as well to keep your battery healthy for longer.
Charging speed
It's no surprise that a Realme phone charges fast. Almost all Realme, Oppo and OnePlus phones that came out in the last two years feature some kind of fast charging and more often than not, it's 65W. The GT Neo2 is no exception to the rule, and the 5,000 mAh battery can be charged from 0 to 100% in just 32 minutes, while a 30-minute charge would get you 97% of the juice. Only a handful of phones beat that, and most of them are packing smaller, 4,500 mAh batteries.
30min charging test (from 0%)
Higher is better
OnePlus Nord 2
98%
Realme GT Neo2
97%
Realme GT 5G (65W)
87%
Realme X7 Max 5G
60%
Samsung Galaxy A72
54%
Samsung Galaxy A52s 5G
53%
Time to full charge (from 0%)
Lower is better
OnePlus Nord 2
0:31h
Realme GT Neo2
0:32h
Realme GT 5G (65W)
0:39h
Realme X7 Max 5G
1:00h
Samsung Galaxy A72
1:15h
Samsung Galaxy A52s 5G
1:28h
Speakers
The handset uses a bottom-firing loudspeaker and an amplified earpiece that doubles as a second loudspeaker. Surprisingly enough, the setup sounds pretty balanced, and it's hard to tell the difference between a phone running two full-fledged speakers and the Neo2. Loudness is also good, although not the highest one around, and quality is respectable. The lows provide fullness to the sound, while the highs may get distorted at higher levels.
Use the Playback controls to listen to the phone sample recordings (best use headphones). We measure the average loudness of the speakers in LUFS. A lower absolute value means a louder sound. A look at the frequency response chart will tell you how far off the ideal "0db" flat line is the reproduction of the bass, treble, and mid frequencies. You can add more phones to compare how they differ. The scores and ratings are not comparable with our older loudspeaker test. Learn more about how we test here