Competent 6.43-inch Super AMOLED
Realme compromised very little when it comes to the GT Master's display - it's a really nice 6.43-ich Super AMOLED that has 120Hz high refresh rate capability. The extended FullHD resolution comes in a 1080x2400px flavor (20:9 aspect ratio) and pixel density works out to 409ppi - pretty standard stuff.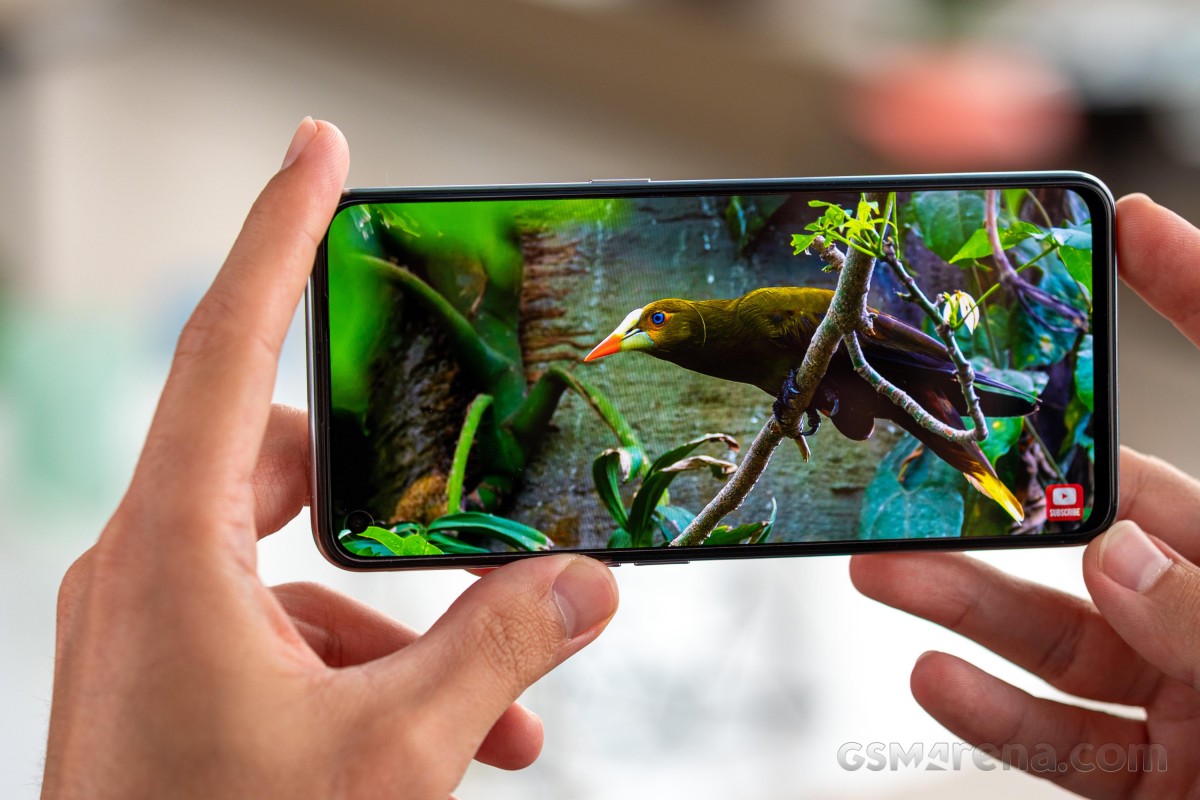 We measured essentially the same brightness levels on the GT Master as we did on the GT 5G - 437nits when operating the slider manually, with a healthy 200-nit boost under direct bright light. The OnePlus Nord 2 5G puts out practically identical nits, as does the Nord CE. The Galaxy A52 (5G and 4G alike) can go as bright as 800-ish nits in adverse ambient conditions, the vivo V21 5G is about there as well. So not class-leading results from the Master, but easily good enough.
Display test
100% brightness
Black,cd/m2
White,cd/m2
Contrast ratio
Realme GT Master
0
437
∞
Realme GT Master (Max Auto)
0
634
∞
Realme GT 5G
0
443
∞
Realme GT 5G (Max Auto)
0
650
∞
Realme GT Explorer Master
0
504
∞
Realme GT Explorer Master (Max Auto)
0
805
∞
OnePlus Nord 2 5G
0
438
∞
OnePlus Nord 2 5G (Max Auto)
0
633
∞
Samsung Galaxy A52
0
386
∞
Samsung Galaxy A52 (Max Auto)
0
794
∞
Samsung Galaxy A52 5G
0
378
∞
Samsung Galaxy A52 5G (Max Auto)
0
787
∞
Poco X3 GT
0.301
429
1425:1
Poco X3 GT (Max Auto)
0.38
537
1413:1
vivo V21 5G
0
476
∞
vivo V21 5G (Max Auto)
0
761
∞
OnePlus Nord CE 5G
0
429
∞
OnePlus Nord CE 5G (Max Auto)
0
607
∞
Motorola Moto G100
0.349
498
1427:1
Motorola Moto G100 (Max Auto)
0.434
613
1412:1
Xiaomi Mi 11 Lite 5G
0
514
∞
Xiaomi Mi 11 Lite 5G (Max Auto)
0
846
∞
When it comes to color handling, the GT Master adopts the usual Realme way of offering three modes - Vivid, Gentle, and Brilliant. In addition to those, there's a stepless cool-to-warm temperature slider.
In the factory-standard Vivid mode with the slider at the 'Default' (medium) spot, the display covers a wide color gamut. Still, it doesn't do it with outstanding accuracy, and there's a fairly noticeable blue shift to white and grays. Moving the temp slider all the way to the warmest setting improves things and results in a less noticeable pinkish tint.
Gentle mode returns an almost 'calibrated'-level average dE2000 of 2.7 with the temp slider in the default position, while nudging it half-way to the right, bumps that to 2.5.
Brilliant mode's color accuracy results are very similar to Vivid for the test patterns, but the overall look has a noticeable increase in saturation for real-life use.
Realme official specs make no mention of HDR capability for the display, but the utility apps we use list HDR10 and HDR10+ support. Still, Amazon Prime Video and Netflix served SDR streams and not HDR, but they did go all the way up to 1080p. YouTube, meanwhile, did offer HDR playback.
The high refresh rate implementation on the GT Master is in line with our previous experience with Realmes. There are three modes - Standard, High, and Auto select. Standard locks the phone at 60Hz regardless of content of activity, that much is clear.
In both High and Auto select modes, you'd be getting mostly the same behavior. For the settings menu, the refresh rate will be kept at 120Hz regardless of touch input, while in other UI bits, the phone will switch down to 60Hz after a brief period of inactivity, only to shoot back up to 120Hz when you touch it.
You can expect the same behavior in Facebook, Chrome, and the in-house gallery, to name a few. YouTube forces a direct switch to 60Hz, regardless of mode, while Netflix will give you 120Hz for the app UI and 60Hz for video playback in High mode, but 60Hz everywhere in Auto mode.
As has been our previous experience with Realme phones, the GT Master defaults to 60Hz for games. That was also the behavior with onscreen graphics benchmarks here.
Realme GT Master battery life
The Realme GT Master is equipped with a 4,300mAh battery, slightly less than the GT Explorer Master or GT 5G, but not unreasonable given the not-so-demanding chipset on this particular phone. Most rivals rely on 4,500mAh or even 5,000mAh cells, so it could look as if the Realme is a bit underequipped.
That's not necessarily true, it turns out. We got 20 full hours of offline video playback out of the GT Master - one of the best results for the class. Wi-Fi web browsing longevity was also solid at 14 hours, though most others do better in this particular test, plus the test on the Realme was essentially carried out at 60Hz because we couldn't force a 120Hz refresh rate. The GT Master was good for 29 hours of voice calls on a single charge, an average result.
All things considered, the Realme GT Master posted an Endurance rating of 114h.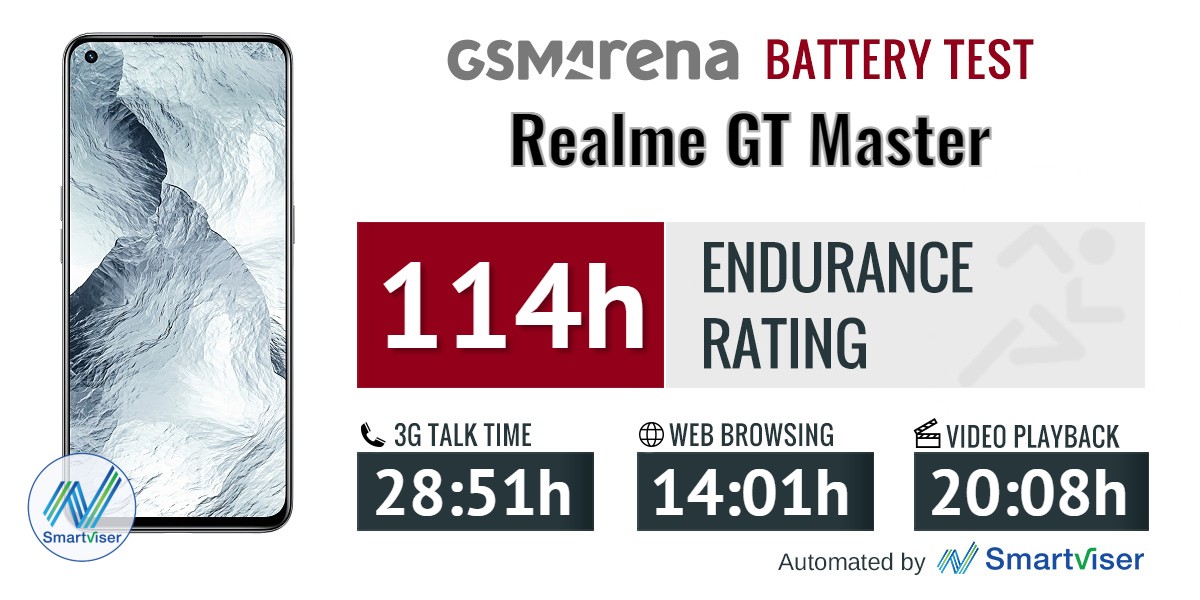 Our battery tests were automated thanks to SmartViser, using its viSerDevice app. The endurance rating denotes how long the battery charge will last you if you use the device for an hour of telephony, web browsing, and video playback daily. More details can be found here.
Video test carried out in 60Hz refresh rate mode. Web browsing test done at the display's highest refresh rate whenever possible. Refer to the respective reviews for specifics. To adjust the endurance rating formula to match your own usage - check out our all-time battery test results chart.
Charging speed
Despite its slightly lower market position than the rest of the GTs, the Master does support Realme's fastest commercially available SuperDart charging at 65 watts and comes with a 65W adapter in the box.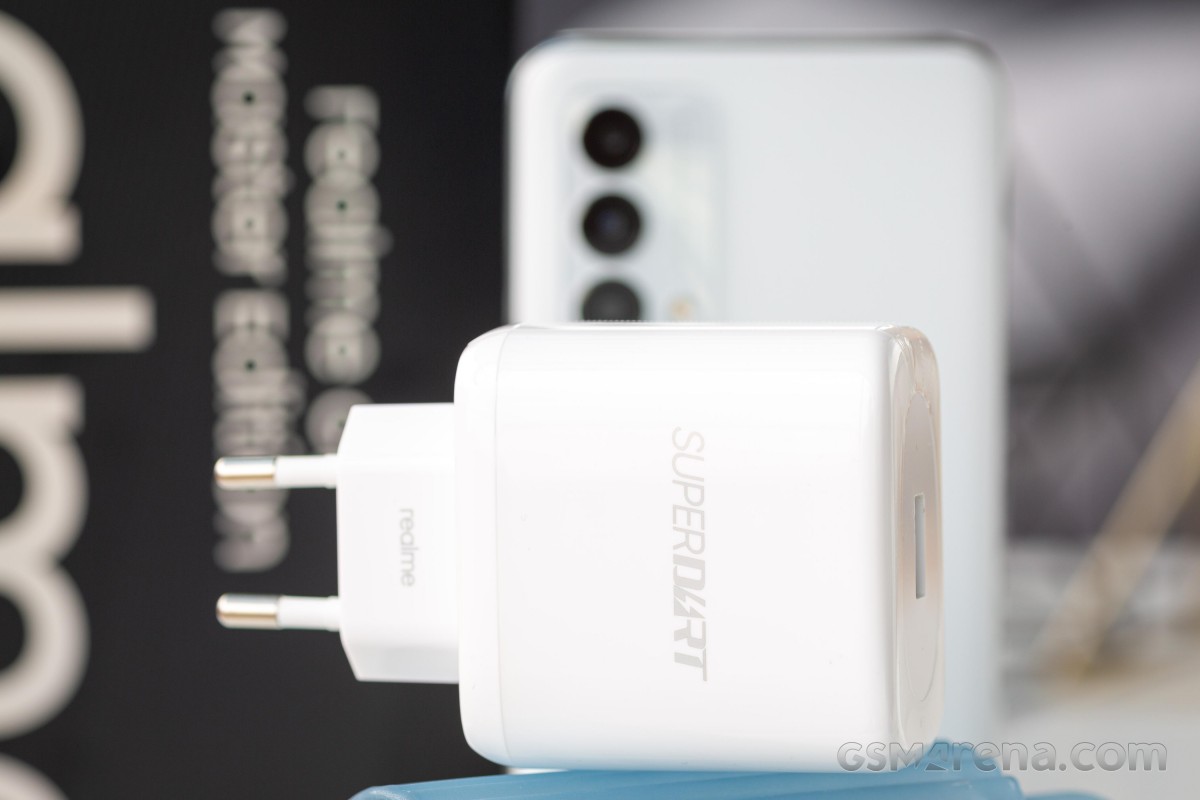 The phone charges from flat to 100% in 30 minutes, though it does keep charging for a few extra minutes before displaying the 'Charged!' message. Given that Realme advertises a 33-minute charge time, we'd say there are no grounds for complaint here. Plus, that's realistically some of the fastest charging in the industry as a whole.
30min charging test (from 0%)
Higher is better
Realme GT Master
100%
OnePlus Nord 2
98%
Realme GT 5G (65W)
87%
Poco X3 GT
75%
OnePlus Nord CE 5G
67%
Xiaomi Mi 11 Lite 5G
58%
Samsung Galaxy A52 (25W)
52%
Xiaomi Redmi Note 10 Pro
50%
Motorola Moto G100
37%
Samsung Galaxy A52 5G
34%
Time to full charge (from 0%)
Lower is better
Realme GT Master
0:30h
OnePlus Nord 2
0:31h
Realme GT 5G (65W)
0:39h
Poco X3 GT
0:48h
OnePlus Nord CE 5G
1:03h
Xiaomi Mi 11 Lite 5G
1:04h
Xiaomi Redmi Note 10 Pro
1:21h
Samsung Galaxy A52 (25W)
1:30h
Samsung Galaxy A52 5G
1:39h
Motorola Moto G100
1:54h
Speaker test
The GT Master relies on a single speaker firing through a three-slotted opening on the bottom of the phone. That sets it apart from the rest of the models in the GT lineup that all have stereo setups, but more importantly, it puts it at a disadvantage against competitors that have dual speakers.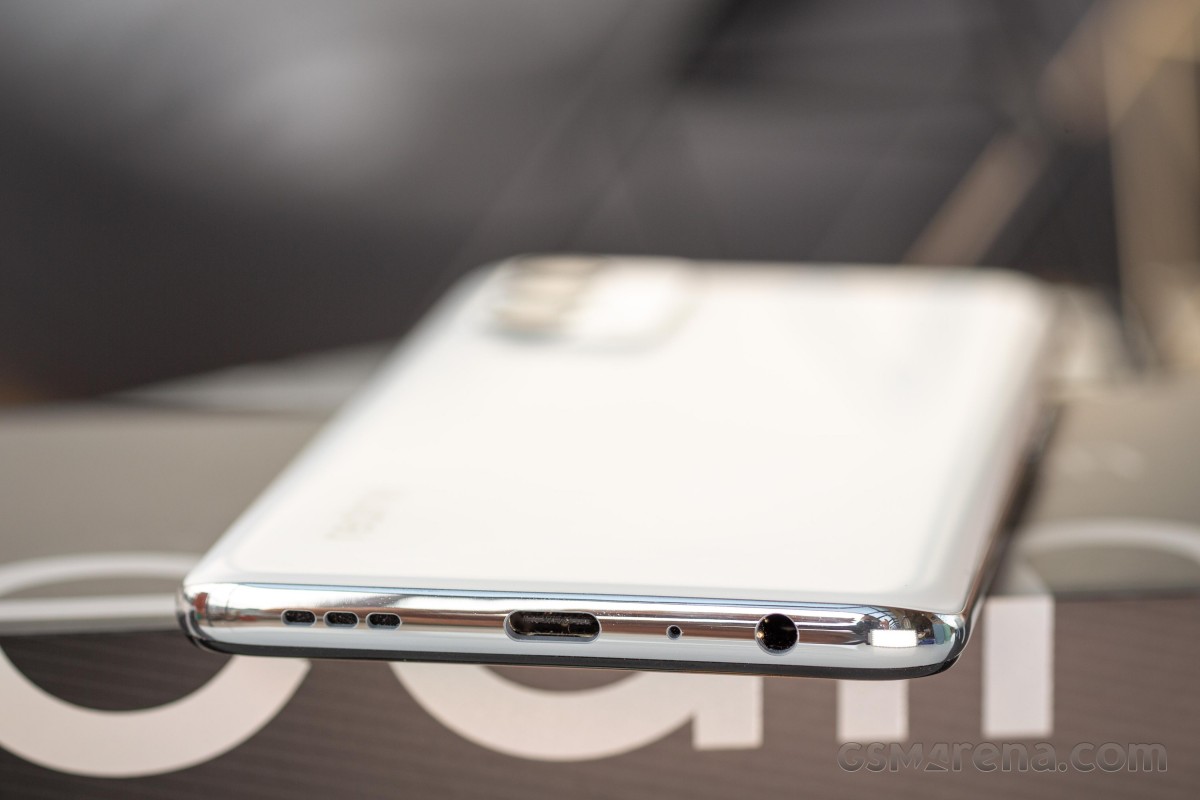 Bottom-firing single speaker
The GT Master is not particularly loud either, and in our testing, it earned an 'Average' rating. The Poco X3 GT is in the same ballpark, but the Galaxy A52 and the OnePlus Nord 2 5G are both louder. Sound quality doesn't stand out in any way, but there are no deal-breaking flaws either.
Use the Playback controls to listen to the phone sample recordings (best use headphones). We measure the average loudness of the speakers in LUFS. A lower absolute value means a louder sound. A look at the frequency response chart will tell you how far off the ideal "0db" flat line is the reproduction of the bass, treble, and mid frequencies. You can add more phones to compare how they differ. The scores and ratings are not comparable with our older loudspeaker test. Learn more about how we test here.