Huge 144Hz OLED display
Along with the new charging tech, the display is the biggest upgrade over the GT2 from last year. It's now larger (6.74"), has higher resolution (1240 x 2772px, 20:9 aspect ratio), runs at 144Hz, officially supports HDR10+ and has 10-bit color depth. It's a flagship-grade display in all aspects.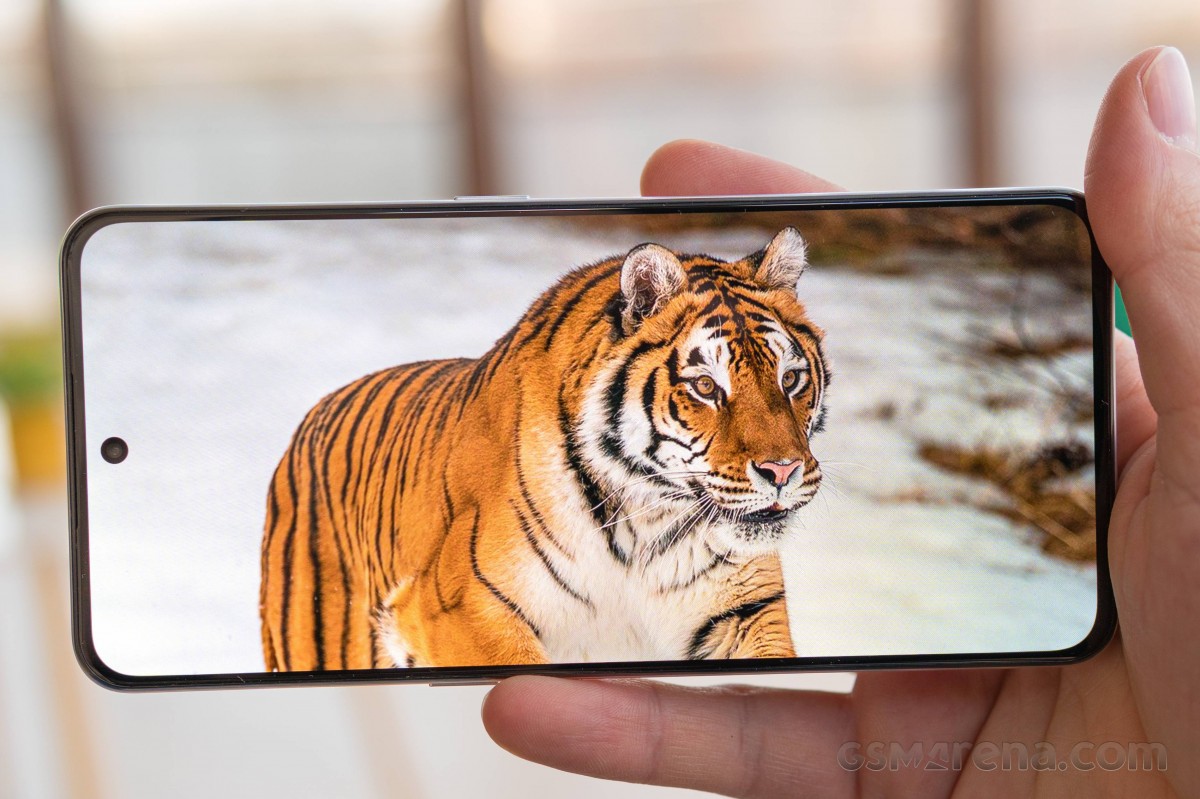 The HDR10+ part is a bit tricky, though. It appears that only YouTube serves HDR-complaint videos on the GT3, while downloading Netflix from Google Play was not an option. The device is not certified by Netflix yet, but we managed to sideload it and Full HD video playback was available. We can't say the same for HDR. We hope that the GT3 gets certified by Netflix eventually because the GT2 and the GT2 Pro still require sideloading Netflix from unofficial app stores.
Display test
100% brightness
Black,cd/m2
White,cd/m2
Contrast ratio
Realme GT2 Pro
0
482
∞
Realme GT2 Pro (Max Auto)
0
778
∞
Realme GT2
0
517
∞
Realme GT2 (Max Auto)
0
846
∞
Realme GT2 Explorer Master
0
497
∞
Realme GT2 Explorer Master (Max Auto)
0
798
∞
Realme GT3
0
478
∞
Realme GT3 (Max Auto)
0
974
∞
Google Pixel 7
0
460
∞
Google Pixel 7 (Max Auto)
0
974
∞
OnePlus 10 Pro
0
498
∞
OnePlus 10 Pro (Max Auto)
0
780
∞
Xiaomi 12T Pro
0
509
∞
Xiaomi 12T Pro (Max Auto)
0
913
∞
Realme GT Neo3
0
466
∞
Realme GT Neo3 (Max Auto)
0
796
∞
Motorola Edge 30 Pro
0
485
∞
Motorola Edge 30 Pro (Max Auto)
0
685
∞
In our brightness tests, the display performed excellently. In manual mode, the screen peaked at 478 nits, while in Auto mode, it reached 974 nits - more than enough for comfortable outdoor use, no matter the scenario. And it's a small step up from the previous generation.
Color accuracy is great in two of the available modes, depending on the color space. The Normal mode produces exceptional results in the sRGB color space - the average dE2000 is just 0.8, and the maximum is 1.4. For DCI-P3 content, you'd want to use the Cinematic mode, which offers identical color accuracy with average and maximum dE2000 of 0.8 and 1.3, respectively.
HRR control
The HRR control is a bit of a mess. There are three modes - Auto, Standard and High refresh rate settings. They are pretty self-explanatory, but in Auto, most system and third-party apps were locked at 60Hz or 120Hz at best. Only Google Chrome was able to saturate the full 144Hz. In fact, the refresh rate didn't go beyond 120Hz, even in system menus. The good news is that the software is extremely quick to switch between 60 and 120Hz when leaving the display idle.
Switching over to High refresh rate mode will lock pretty much everything in 120Hz. The software won't dial down to 60Hz, either. There's even a sub-menu allowing you to select between 60, 120 and 144Hz on per app basis. Interestingly enough, only a handful of apps were "clocked" at 144Hz by default. Either way, this isn't a good solution to the issue, as constant 120Hz (or 144Hz) refresh rate will drain the battery faster.
We tried forcing some games in 144Hz, and it looked as if the display was running at 144Hz, but the game's fps was lower than that. Unfortunately, there's no reliable way to determine the actual refresh rate of the game, as the display's refresh rate counter isn't always indicative.
Battery life
Even though the new GT has a smaller 4,600 mAh than its predecessor, it got a higher overall endurance score of 117 hours. However, the newer model scores lower in the two screen-on tests but compensates for that with outstanding standby and call runtimes.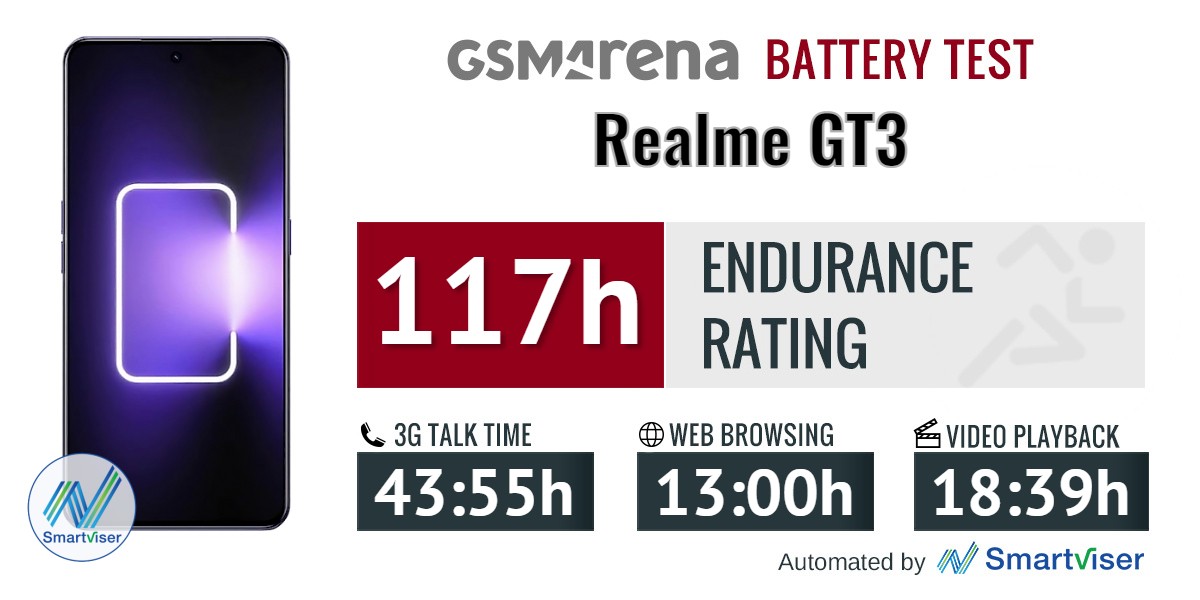 Our battery tests were automated thanks to SmartViser, using its viSerDevice app. The endurance rating denotes how long the battery charge will last you if you use the device for an hour of telephony, web browsing, and video playback daily. More details can be found here.
Against competing solutions, the GT3 holds up pretty well. In fact, it's one of the best-performing devices in this regard, considering the price bracket. The lower battery capacity has surely affected the screen-on times negatively (the new display may have contributed as well), but battery life is still excellent.
Video test carried out in 60Hz refresh rate mode. Web browsing test done at the display's highest refresh rate whenever possible. Refer to the respective reviews for specifics. To adjust the endurance rating formula to match your own usage patterns check out our all-time battery test results chart where you can also find all phones we've tested.
Charging speed
Realme undoubtedly has the fastest charging tech around, at least for now, that is. After all, things are moving pretty fast in this field. No pun intended.
Building on its 150W fast charging protocol from last year, Realme introduced a 240W-capable charger that the company calls dual GaN mini charger. In reality, there's nothing "mini" about the charger, but it's relatively small for what you'd expect from a 240W brick. Realme worked on a custom USB-C to USB-C cable to support the extreme 12A current that's needed to achieve 240W of power.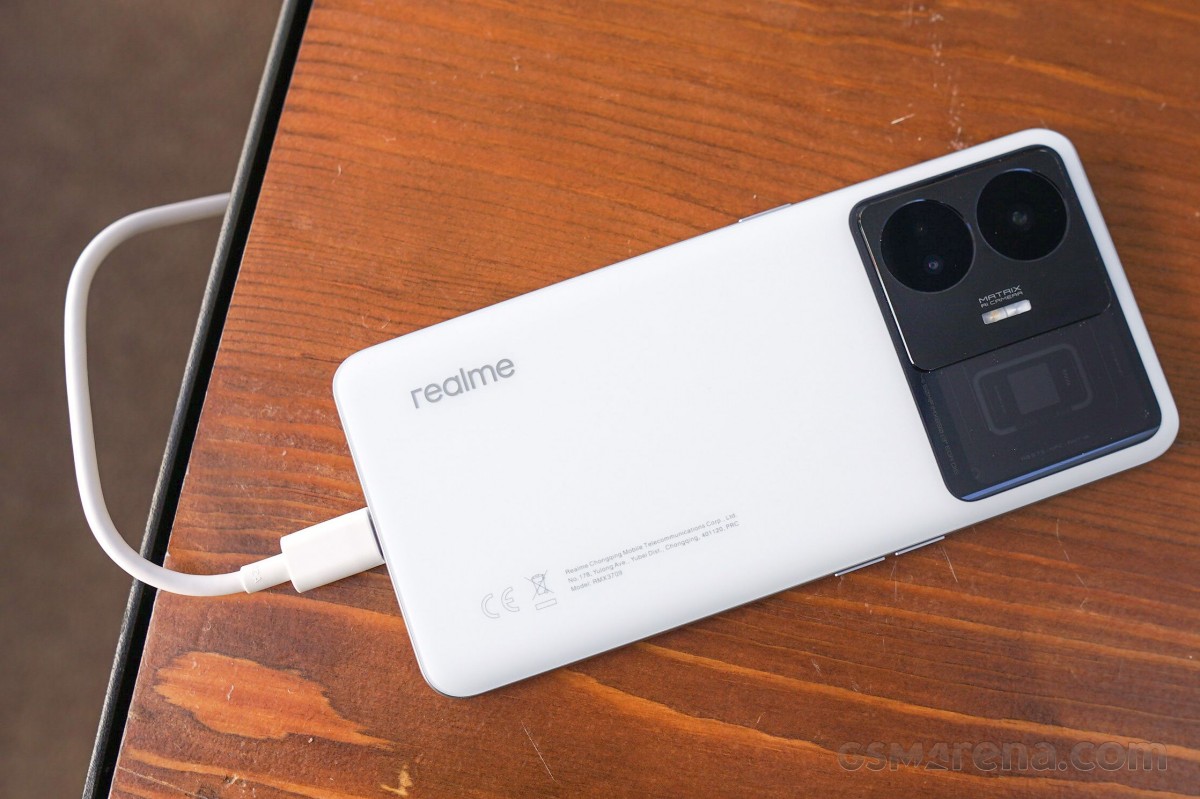 With such fast charging tech, the company has allegedly implemented about 60 layers of safety measures and ensures that the battery will retain 80% of its capacity after 1,600 charging cycles, which is quite impressive. We noticed that the phone doesn't get all that hot during charging as well.
And while the charger negotiates a proprietary 240-wattage at 20V/12A, it can also provide power over the universal Power Delivery 3.0 charging protocol. This one caps at 65W (20V/3.25A), which is pretty respectable power for most use cases. You can even charge some low-powered laptops supporting PD 3.0. The phone itself also supports PD 3.0 if you'd like to charge it with another charger.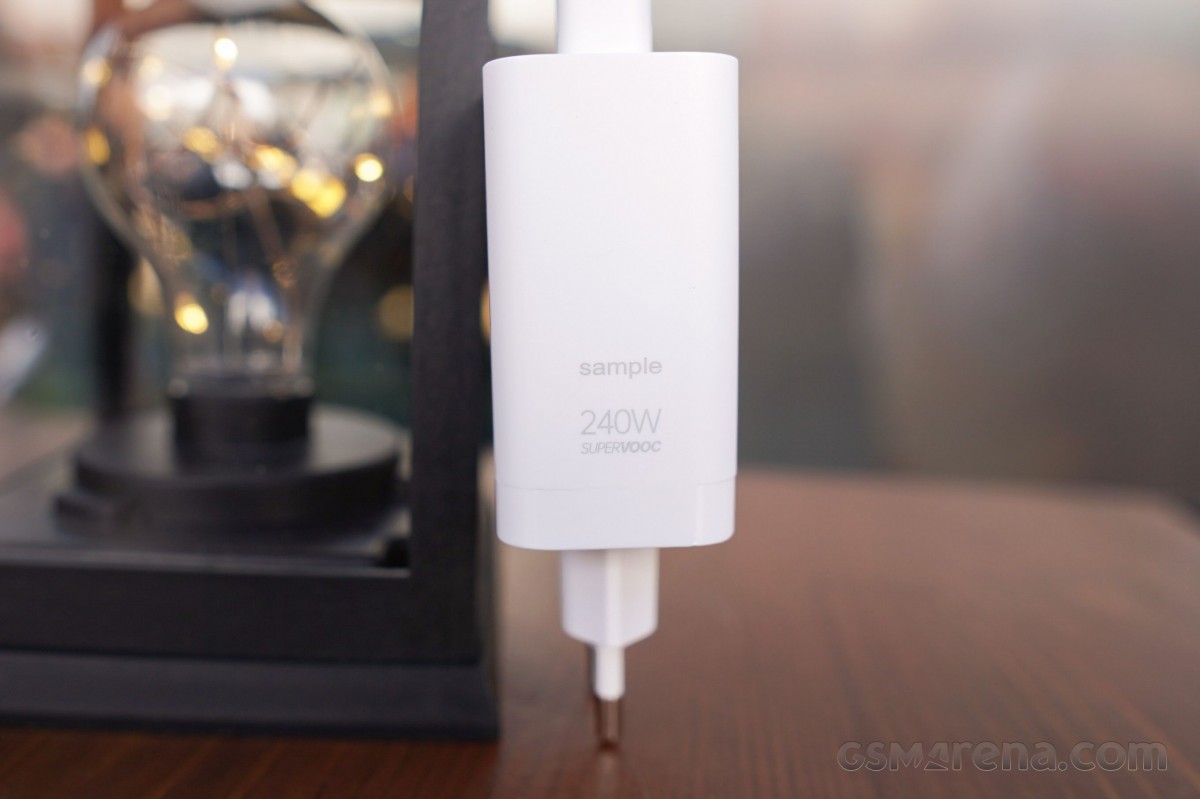 Now, when it comes to the actual charging speed, it's no surprise that this is the fastest-charging smartphone we've tested so far. We weren't able to get the promised 100% charge in under 10 minutes, but it was close - it took 11 min 16 sec to go from 2 to 100% (March 11: Updated numbers, after further testing) is still impressive. Nevertheless, we found that the charging speed varies immensely based on the ambient temperature. Watching the internal battery temperature reading reveals that the charging rate would taper off temporarily once it reaches 47 °C. So if you manage to keep the phone in a cool place while charging, you will get pretty close to the promised 10 minutes.
If that doesn't sound impressive enough, in the mere first 3 minutes, we got 47% of the charge up. At the 5-minute mark, we were looking at a 65% charge. And in 8 minutes, it was up to 77%.
And the best part is that the device was far from being hot. A bit warm, yes, but nothing serious.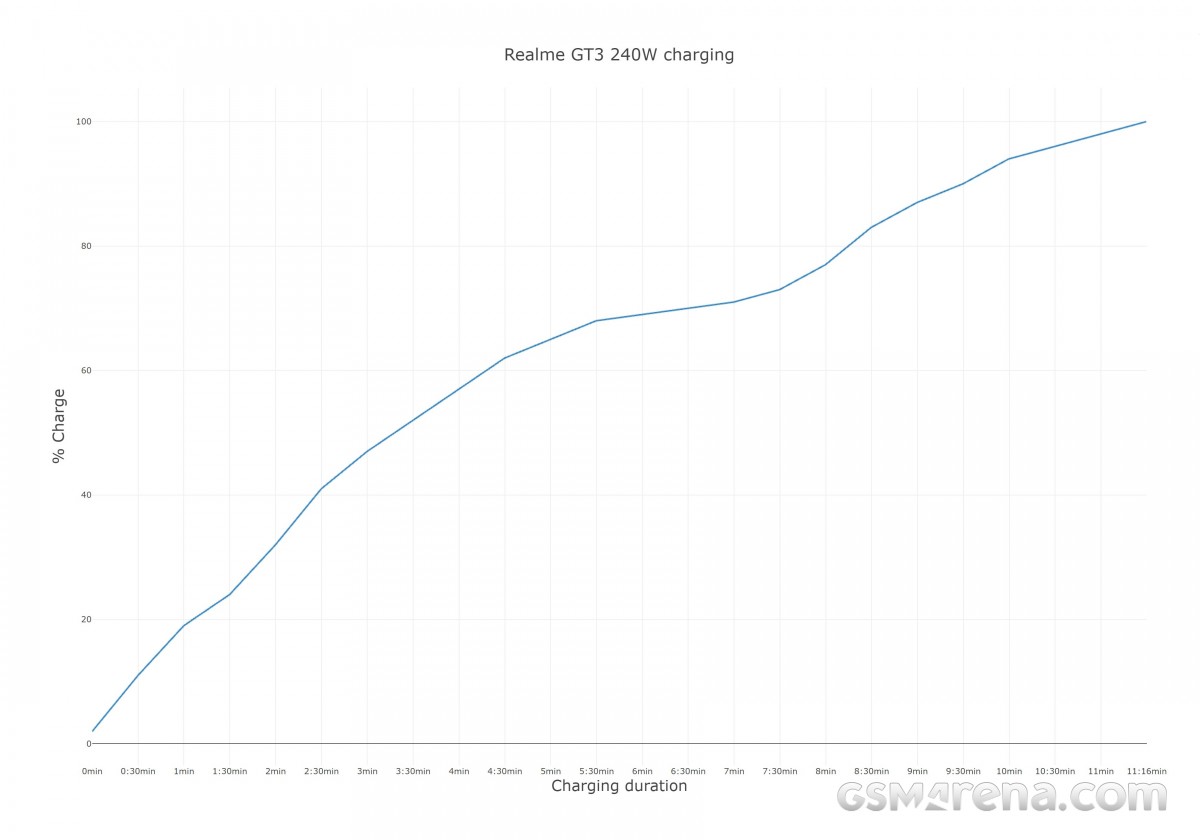 And here's how it stacks against the competition.
Time to full charge (from 0%)
Lower is better
| | |
| --- | --- |
| Realme GT3 | 0:11h |
| Realme GT Neo3 150W | 0:16h |
| Xiaomi 12T Pro | 0:23h |
| OnePlus 10 Pro | 0:32h |
| Realme GT2 | 0:40h |
| Realme GT2 Pro | 0:40h |
| Motorola Edge 30 Pro | 0:53h |
| Google Pixel 7 | 1:40h |
* Tap/hover over the device names for more info
There are some additional software features aimed at preserving battery health. Wise charging, for example, detects when you are charging at night and will finish the last 20% right before you start using the device and will stay capped at 80% until you do so. The Smart rapid charging, on the other hand, gives a little extra boost in situations where you need your device to be charged as fast as possible. We carried out our testing in this mode.
Speakers
The Realme GT3 features a standard speaker setup - one placed behind the earpiece grille as it acts as an earpiece, too, while the other is a bottom-firing one. This means that the bottom speaker is a bit louder than the other one, but that's expected.
Overall loudness isn't impressive as we got -26.9 LUFS - a result similar to last year's GT2, earning a "Good" loudness score. And judging by the overall sound quality, the GT3 inherits the GT2's speakers as well.
In other words, we found the speaker setup to be decent enough, with clear vocals and highs, and okay-ish bass. There's little to no distortion at higher volumes.
Use the Playback controls to listen to the phone sample recordings (best use headphones). We measure the average loudness of the speakers in LUFS. A lower absolute value means a louder sound. A look at the frequency response chart will tell you how far off the ideal "0db" flat line is the reproduction of the bass, treble, and mid frequencies. You can add more phones to compare how they differ. The scores and ratings are not comparable with our older loudspeaker test. Learn more about how we test here.