6.7-inch, 120Hz OLED display
The Realme GT2 Explorer Master is built around a 6.7-inch OLED panel with 1080 x 2412px resolution and 120Hz that can boosts its touch sampling rate up to 1000Hz touch sampling rate. The panel covers 100% of the DCI-P3 color space and its color depth is 10-bit. In other words - flagship-level viewing experience.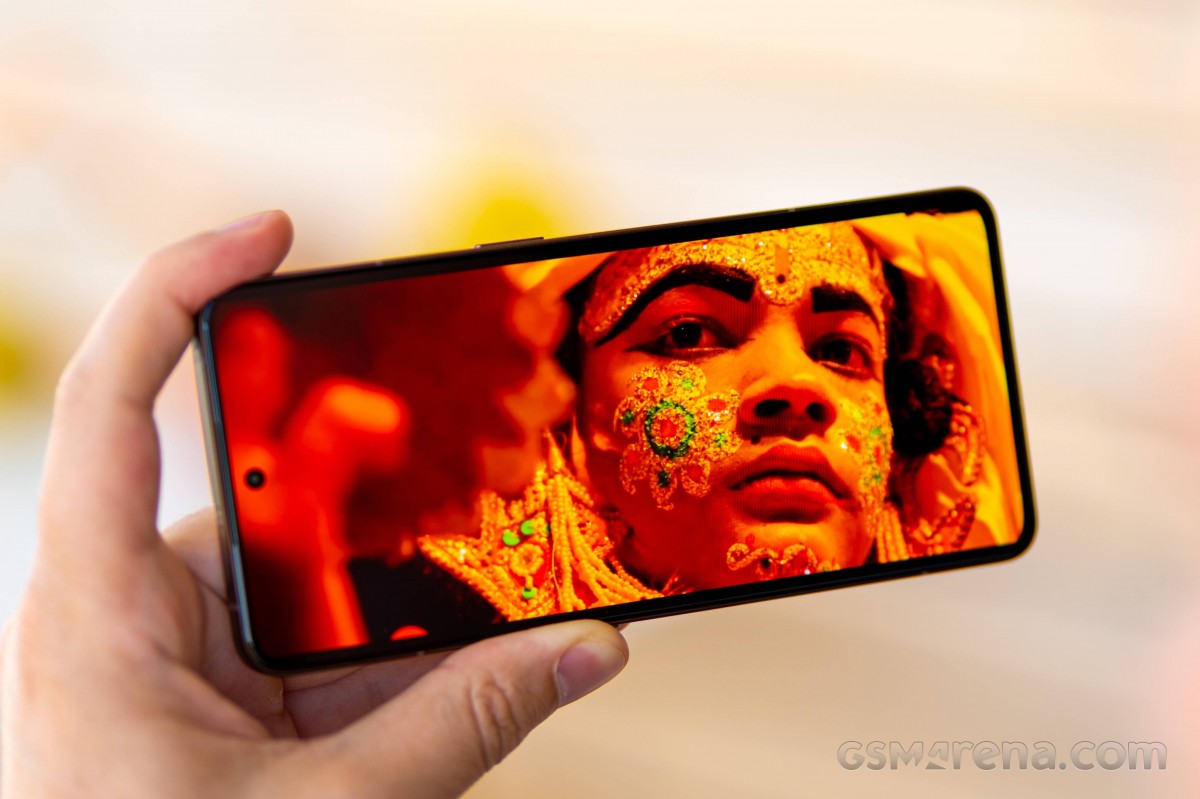 We can't help but draw a quick comparison between the GT Neo3 and the GT2 Explorer Master. Both phones have the same exact display dimensions, cutout, bezels, specs and the results from our brightness and color accuracy tests are oddly similar. That's nothing to frown at as the panel itself is great. It's just strange not to use the energy-efficient LTPO2 OLED panel the GT2 Pro has.
In manual mode, the panel boosts up to 497 nits while in Auto mode, it can go up to 798 nits. More than enough for comfortable outdoor use, regardless of the ambient light. Color accuracy is quite impressive as well, as long as you opt for the Natural color preset. We got low average and maximum dE2000 - 0.7 and 1.8, respectively. The white is truly white against the sRGB color space and it doesn't have any discernable tint. The same cannot be said about the default Vivid color mode, which, admittedly, has juicier colors that most users would like.
Display test
100% brightness
Black,cd/m2
White,cd/m2
Contrast ratio
Realme GT2 Pro
0
482
∞
Realme GT2 Pro (Max Auto)
0
778
∞
Realme GT2 (Max Auto)
0
846
∞
Realme GT2 Explorer Master
0
497
∞
Realme GT2 Explorer Master (Max Auto)
0
798
∞
Realme GT2
0
517
∞
Realme GT2 (Max Auto)
0
846
∞
Realme GT Explorer Master (Max Auto)
0
805
∞
Realme GT Explorer Master
0
504
∞
Realme GT Neo3
0
466
∞
Realme GT Neo3 (Max Auto)
0
796
∞
Realme GT Neo 3T
0
516
∞
Realme GT Neo 3T (Max Auto)
0
803
∞
Poco F4 GT
0
468
∞
Poco F4 GT (Max Auto)
0
761
∞
Samsung Galaxy S21 FE 5G (before second slide)
0
385
∞
Samsung Galaxy S21 FE 5G
0
792
∞
iQOO 9 Pro
0
438
∞
iQOO 9 Pro (Max Auto)
0
1000
∞
In addition to the HDR video brightness boost, the Video color enhancer and the Image sharpener options, the panel has a dedicated X7 display chip that works with the Adreno 730 GPU to provide a smoother overall gaming experience by stabilizing frame rate and reduce power consumption. It also does the math related to interpolation and can render a 30fps video at 120fps by inserting intermediate frames. Although, that last one isn't advisable as MEMC (Motion Estimation Motion Compensation) produces annoying smearing effect that you might know as Soap Opera effect.
HRR control
Sadly, there's no granular refresh rate control, so you have only 60Hz and 120Hz steps at your disposal. You get the option to lock one or the other or use the Auto Switch mode.
The last one behaves as expected - full-screen videos and an idle screen dial down on refresh rate (60Hz), while most other apps we've tried and system menus run at 120Hz. Interestingly enough, leaving an idling screen in a system menu would set the refresh rate at 120Hz.
And in case an app doesn't cooperate with the default Auto Switch mode and caps at 60Hz, you can try forcing it with the 120Hz setting in the display menu. We've tried it and it works, but not in games. Most of them still remain limited to just 60fps.
Battery life
Battery life is solid. The change in the chipset and the display compared to the GT2 Pro have actually resulted in a better endurance. The 5,000 mAh cell is also marketed to withstand twice as many cycles as a standard Li-Po battery. It's supposed to preserve at least 80% of its capacity even after 1,200 charging cycles, thanks to GaN materials inside the cell.
Back to the battery life, we see exceptional endurance in screen-off and screen-on test scenarios, easily overtaking other flagship phones with similar chipsets and battery capacities.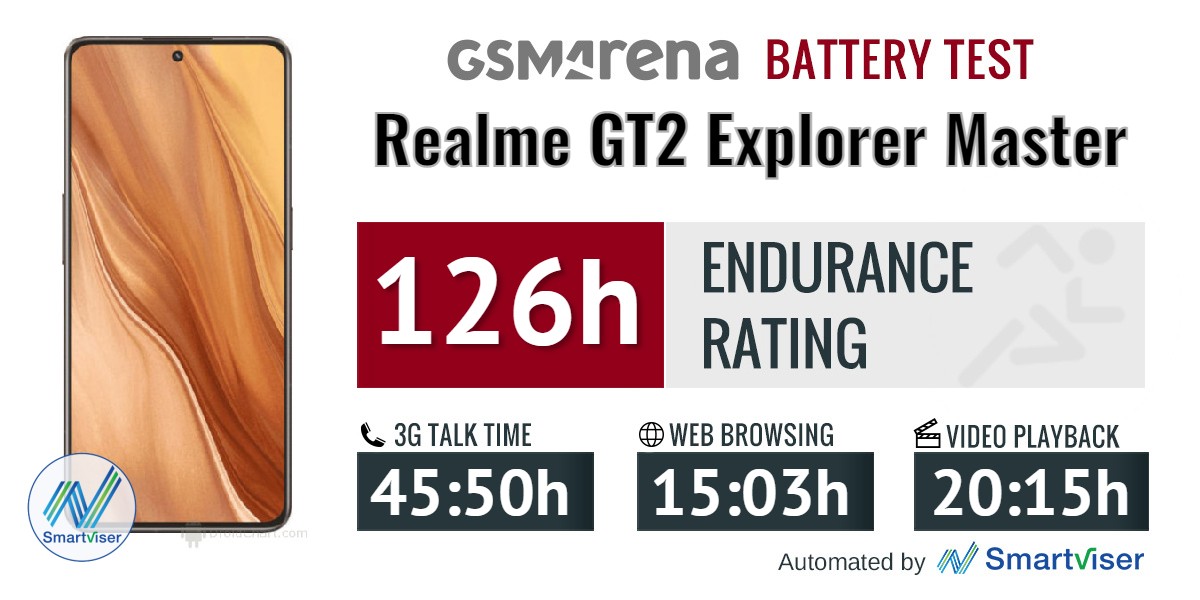 Our battery tests were automated thanks to SmartViser, using its viSerDevice app. The endurance rating denotes how long the battery charge will last you if you use the device for an hour of telephony, web browsing, and video playback daily. More details can be found here.
Video test carried out in 60Hz refresh rate mode. Web browsing test done at the display's highest refresh rate whenever possible. Refer to the respective reviews for specifics. To adjust the endurance rating formula to match your own usage patterns check out our all-time battery test results chart where you can also find all phones we've tested.
Charging speed
The GT2 Explorer Master is also impressive when it comes to charging. The new 100W UltraDart fast charging can get the battery full in just 25 minutes. To be frank, the standard Android meter showed 100% after just 25 minutes of charging, but the battery was in a fully charged state after an additional 6 minutes, according to third-party software that has more accurate readings.
Either way, that's pretty fast, one of the fastest, even.
30min charging test (from 0%)
Higher is better
Realme GT Neo3 150W
100%
Poco F4 GT
100%
Xiaomi 12 Pro (120W)
100%
Realme GT2 Explorer Master
100%
Realme GT2
97%
Realme GT Explorer Master
96%
Realme GT Neo3T
95%
Oppo Find X5
94%
Oppo Find X5 Pro
91%
Realme GT2 Pro
91%
Samsung Galaxy S21 FE 5G
51%
Time to full charge (from 0%)
Lower is better
Realme GT Neo3 150W
0:16h
Poco F4 GT
0:17h
Xiaomi 12 Pro (120W)
0:21h
Realme GT2 Explorer Master
0:25h
Realme GT Explorer Master
0:33h
Realme GT2
0:40h
Realme GT Neo3T
0:40h
Oppo Find X5 Pro
0:40h
Realme GT2 Pro
0:40h
Oppo Find X5
0:42h
Samsung Galaxy S21 FE 5G
1:15h
Speakers
This year's Explorer Master features the same loudspeaker setup as the previous one - a bottom-firing one aided by one at the top that doubles as an earpiece. You can find an additional grille at the top side of the frame, acting as an echo chamber.
For all intents and purposes, the speakers sound well-balanced, but once you cover the bottom one, you will immediately notice the difference in loudness and overall fullness.
Even the bottom one isn't amazing and at higher volumes, the highs start to ring a little. At least vocals remain mostly clean and the setup gets loud enough to earn a "Good" score.
Use the Playback controls to listen to the phone sample recordings (best use headphones). We measure the average loudness of the speakers in LUFS. A lower absolute value means a louder sound. A look at the frequency response chart will tell you how far off the ideal "0db" flat line is the reproduction of the bass, treble, and mid frequencies. You can add more phones to compare how they differ. The scores and ratings are not comparable with our older loudspeaker test. Learn more about how we test here.