Realme celebrates 50 million users by sending us on a trip down memory lane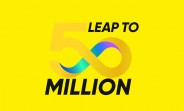 Less than 3 years after its inception, Realme reached the 50 million users milestone. The growing tech brand is still the fastest-growing smartphone company in the world and is celebrating the occasion with a blog post of how it got here.
It all started in May of 2018 with the goal of creating a brand that resonates with the young generation and the Realme 1 did just that. After the smashing success of its first phone, the brand quickly expanded to cover all segments of the smartphone industry including the flagship end with devices like the X50 Pro 5G.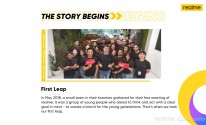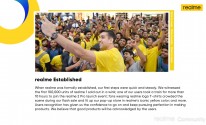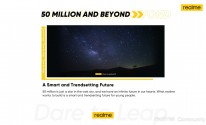 Realme's journey to 50 million
Then we saw it branch into the smart accessories sector with its Realme Buds as well as Realme Band and Realme Watch. Back in May this year we saw the brand's first entry into the TV market with the Realme Smart TV and last month marked the arrival of the Realme Smart TV SLED 4K.
Head this way to catch the full story on Realme's fast paced rise.
2
Yeah, we belive that story...sure, BBK company is big, so...some 20's children can enter there and make what they want. The same kind od story as OnePlus, but then BBK step over. marketing at their best...Realme is only a desperate brand mo...
Xiaomi, I use the Redmi Note 9 Pro, then I hear of the Note 9, Note 9s, Note 9S, then maybe we will have a Note 9 Ultra, Note 9 Ultra Max, Note 9X, Note 9 X Pro, Note 9 Z Super Zoom (108 MP), Note 9A, Note 9C, Note 9 5G, Note 9 Racing, Note 9T, and N...
K
Glad I'm not one of them
ADVERTISEMENT