120Hz LCD with finer control over HRR
With the 9 Pro, Realme decided to go for a higher refresh rate rather than a 90Hz OLED, for example. It's up to debate whether this is a good decision, but the higher picture quality, brightness and deeper blacks are probably more valued than the HRR feature. Especially on budget phones where games are rarely supported at more than 60fps. But more on that later.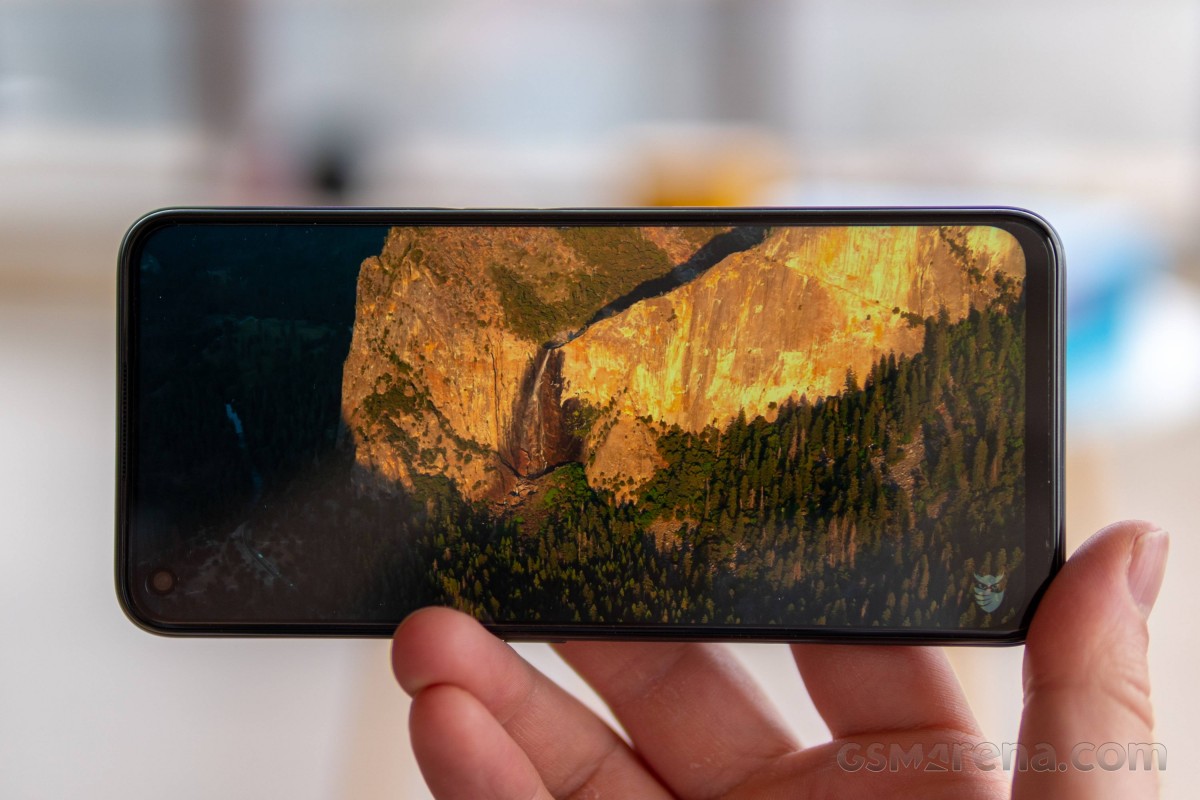 The LCD panel here isn't bad by any means. It offers a 1080 x 2412px resolution in a 6.6-inch diagonal. As already mentioned, it's clocked at 120Hz and offers a low-latency touch sampling rate of 240Hz. The latter is kind of useful in competitive games where reaction time is crucial.
Anyway, the display fared pretty well in our tests, going up to 461 nits with the brightness slider set to maximum manually, while the Auto mode peaked at 567 nits. Pretty standard for budget IPS screens and just enough to provide a comfortable reading experience outdoor. Contrast is also pretty good at 1601:1.
Display test
100% brightness
Black,cd/m2
White,cd/m2
Contrast ratio
Realme 9 Pro+
0
433
∞
Realme 9 Pro+ (Max Auito)
0
613
∞
Realme 9 Pro
0.288
461
1601:1
Realme 9 Pro (Max Auto)
0.385
567
1473:1
Realme 8s 5G
0.311
411
1322:1
Realme 8s 5G (Max Auto)
0.383
530
1384:1
Realme 8 Pro
0
454
∞
Realme 8 Pro (Max Auto)
0
627
∞
Xiaomi Redmi Note 10 Pro
0
457
∞
Xiaomi Redmi Note 10 Pro (Max Auto)
0
725
∞
Xiaomi Redmi Note 10
0
475
∞
Xiaomi Redmi Note 10 (Max Auto)
0
682
∞
Samsung Galaxy A32
0
393
∞
Samsung Galaxy A32 (Max Auto)
0
814
∞
OnePlus Nord CE 5G
0
429
∞
OnePlus Nord CE 5G (Max Auto)
0
607
∞
Poco X3 Pro
0.327
458
1401:1
Poco X3 Pro (Max Auto)
0.4
534
1335:1
As usual, color accuracy isn't the best, with whites and grays having a noticeable blue-ish tint. The natural color mode doesn't fix the blue-ish whites but tones down the rest of the colors.
Now, let's talk refresh rate control. Realme claims to have implemented granular refresh rate control depending on the scenario. Static images should put the display in 30Hz mode, movies and videos run at 48Hz (which makes sense because they are usually at 24fps), TV play (whatever that means) should be at 50Hz, games are supposed to be played at either 60 or 90Hz and everything else is running at 120Hz. It all sounds great on paper, but in reality, we had a totally different experience.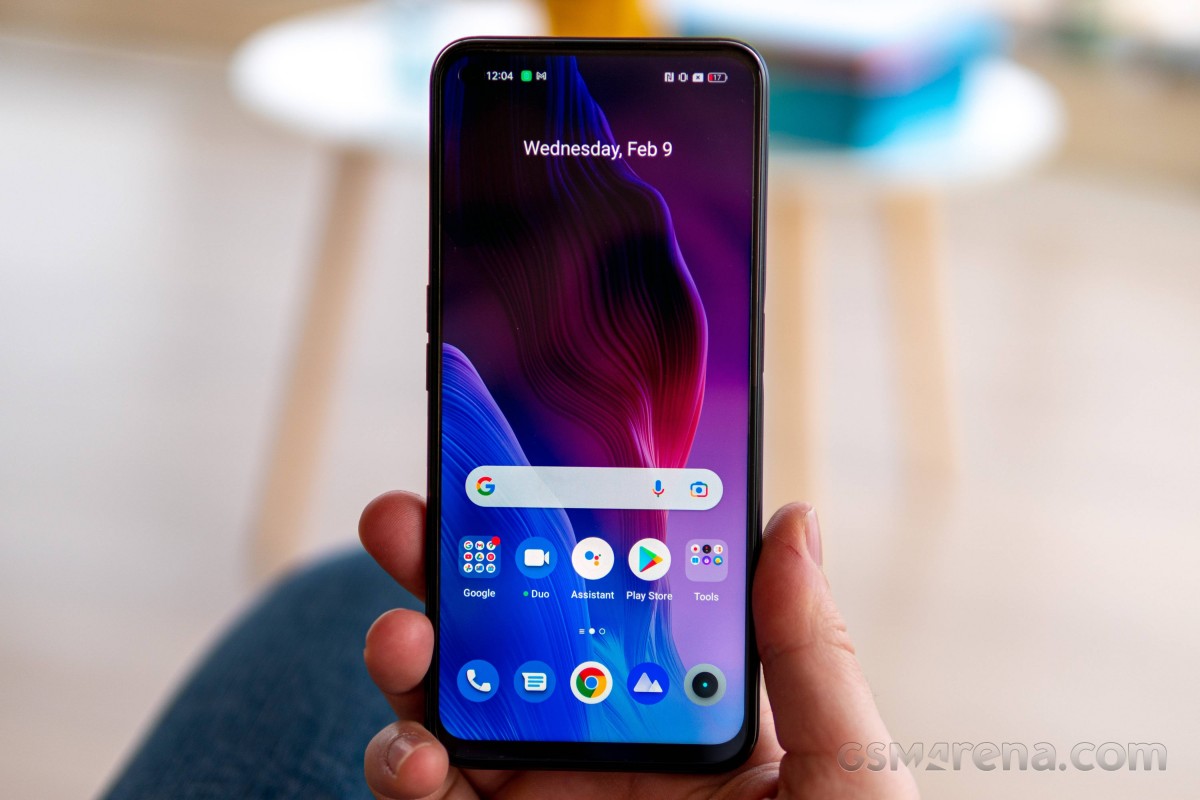 We consulted the built-in Android FPS counter found in the Developer options as well as our home-baked app displaying frames per seocnd. If you are not interacting with the display, it will go down to 60Hz, video playback also triggers 60Hz refresh rate (YouTube, Netflix and the default gallery) while most of the apps and browsers we tried run at 120Hz. In automatic mode, most of the system menus, including the Home screen, run at 90Hz, which we found rather interesting. It will probably save you some battery along the way. Forcing everything at 120Hz will keep all the system menus running smoothly at 120 fps, but video players would still dial down to 60Hz.
Sadly, we didn't find any instance in which the display goes down to 30, 48 or 50Hz. We also didn't find one game that can go beyond 60Hz and we tried one of the most popular ones. We know for a fact that they can go above 60Hz but not on the Realme 9 Pro. The list includes Call of Duty: Mobile, PUBG Mobile, 1945 Air Force, Real Racing 3, Asphalt 9 and a couple of more. They were all stuck at 60Hz.
Battery life
Battery life is outstanding and records a significant improvement over the Realme 8s 5G and the Realme 8 Pro. This is the first time we have tested the Snapdragon 695 5G and it appears to be a very efficient chipset. We have to give credit to the big 5,000 mAh battery as well.
The overall endurance rating of 134 hours is made possible mainly thanks to the exceptional web browsing and video playback runtimes. The 3G talk time and the standby scores were also good, but the screen-on scenarios are worth the praise. However, it's important to note that we weren't able to run the web browsing test at 120Hz as the system defaults to 60Hz when you are not touching the display even when the refresh rate is forced at 120Hz through the Display settings. So actual browsing score should be a tad lower.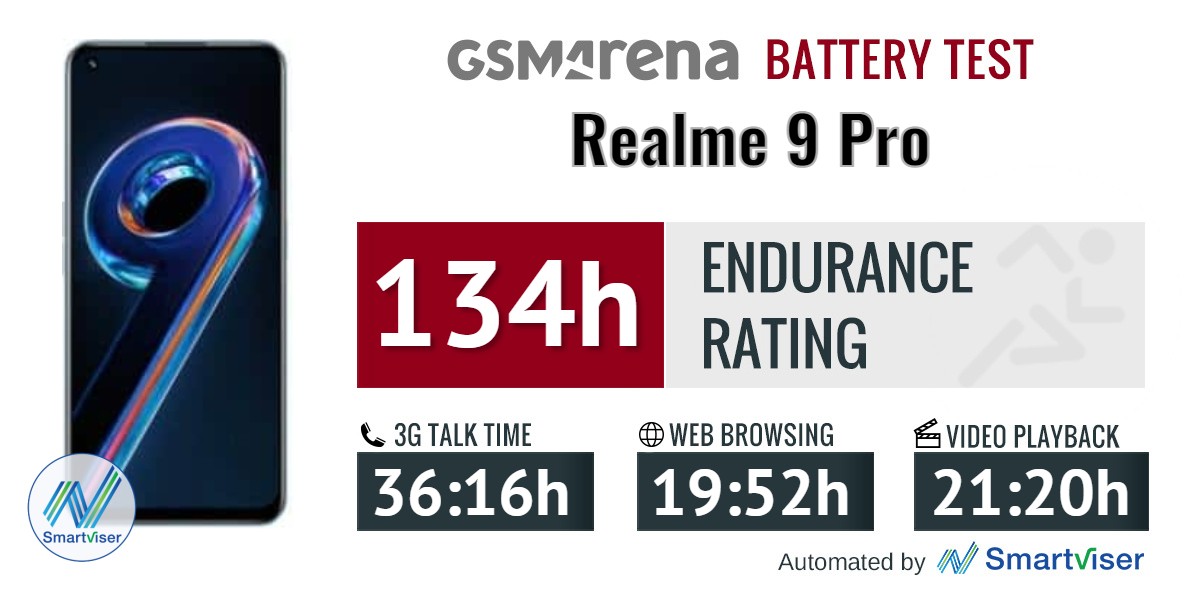 Our battery tests were automated thanks to SmartViser, using its viSerDevice app. The endurance rating denotes how long the battery charge will last you if you use the device for an hour of telephony, web browsing, and video playback daily. More details can be found here.
That doesn't negate the fact that the Realme 9 Pro has dependable battery life. Its score is enough to overtake the vast majority of the competitors.
Video test carried out in 60Hz refresh rate mode. Web browsing test done at the display's highest refresh rate whenever possible. Refer to the respective reviews for specifics. To adjust the endurance rating formula to match your own usage patterns check out our all-time battery test results chart where you can also find all phones we've tested.
Charging speed
The Realme 8 Pro uses the same charging tech as the Realme 8s 5G from last year - DartCharge 33W. It's a budget solution and Realme doesn't really talk in detail about it. Interestingly enough, it's not as fast as the standard 30W Dart Charge and it's nowhere near Xiaomi's competing 33W solution in the same price range. For a 30-minute charge, you get 52% of the juice back while leaving it for an 1 hour and 14 minutes, you get up to 100%.
Of course, the appropriate charger is included in the retail package and is rated at 5V--11V @3A.
30min charging test (from 0%)
Higher is better
Realme 8 Pro
88%
Realme 9 Pro+
77%
OnePlus Nord CE 5G
67%
Realme 9 Pro
52%
Poco X3 Pro
50%
Xiaomi Redmi Note 10 Pro
50%
Realme 8s 5G
50%
Time to full charge (from 0%)
Lower is better
Realme 8 Pro
0:38h
Realme 9 Pro+
0:49h
OnePlus Nord CE 5G
1:03h
Poco X3 Pro
1:08h
Realme 9 Pro
1:14h
Realme 8s 5G
1:14h
Xiaomi Redmi Note 10 Pro
1:21h
Speaker
Since the Realme 9 Pro has a single, bottom-firing speaker to work with, don't expect much in terms of loudness and quality. Still, -25.3 LUFS is considered "Very Good" so the chances are you are going to hear the ringtone from afar.
As we said, quality-wise, the 9 Pro doesn't shine. It's clear enough at lower volumes but cranking it up results in distorted highs. The lows aren't punchy and the overall music experience is rather flat. It does perform the way we expected, though.
Use the Playback controls to listen to the phone sample recordings (best use headphones). We measure the average loudness of the speakers in LUFS. A lower absolute value means a louder sound. A look at the frequency response chart will tell you how far off the ideal "0db" flat line is the reproduction of the bass, treble, and mid frequencies. You can add more phones to compare how they differ. The scores and ratings are not comparable with our older loudspeaker test. Learn more about how we test here.