Good OLED at a good price
The Realme 9 features a 6.4-inch Super AMOLED display with 1080 x 2400px resolution and supports up to 90Hz refresh rate. That may not sound much, but for a phone that costs less than €300, that's more than acceptable. And the screen quality itself is pretty good, too, even though there are no HDR certifications.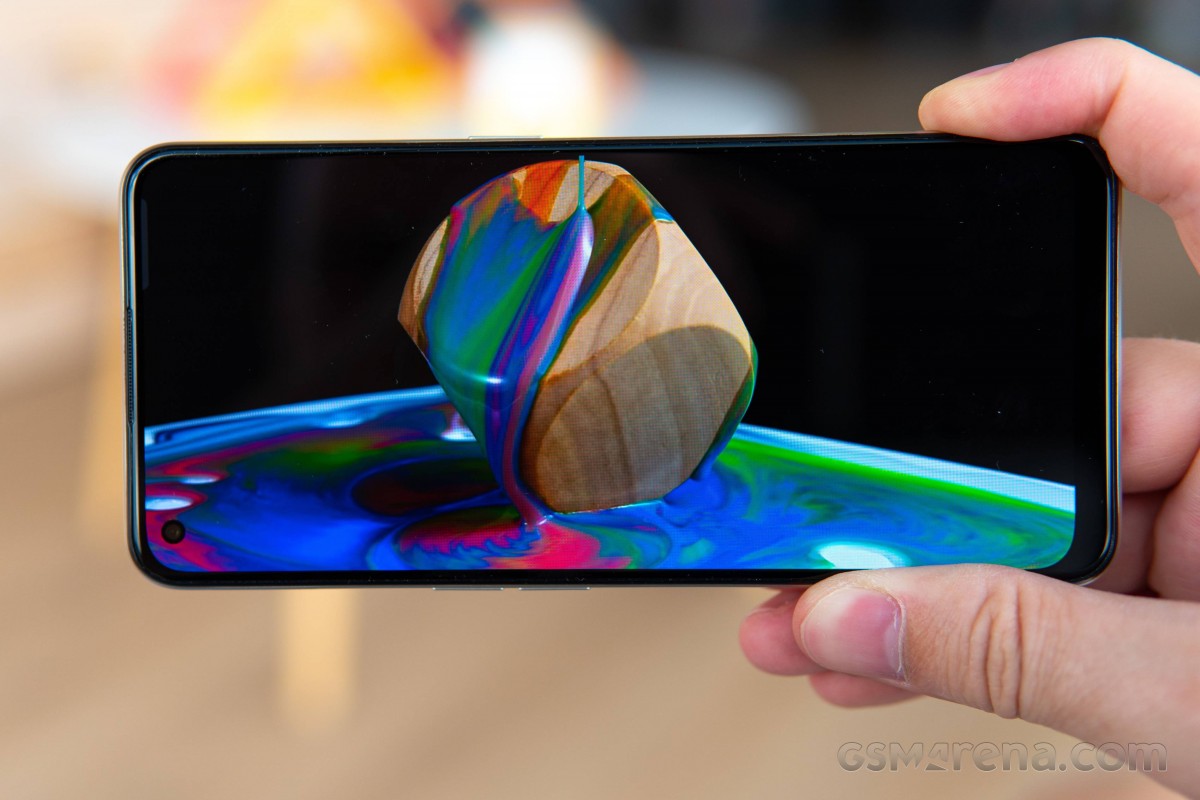 We got 455 nits in manual mode and up to 647 nits in Auto mode. Both of those numbers are in line with Realme's advertising and corroborate our expectation that the Realme 9 4G and the 9 Pro+ share the same 6.4-inch OLED panel. The results from both devices are nearly identical. More importantly, you can expect a pleasant outdoor experience even on a bright sunny day. The legibility is excellent.
Display test
100% brightness
Black,cd/m2
White,cd/m2
Contrast ratio
Realme 9 Pro+ (Max Auito)
0
613
∞
Realme 9 Pro+
0
433
∞
Realme 9 Pro
0.288
461
1601:1
Realme 9 Pro (Max Auto)
0.385
567
1473:1
Realme 9
0
455
∞
Realme 9 (Max Auto)
0
647
∞
Xiaomi Redmi Note 11 Pro 5G
0
470
∞
Xiaomi Redmi Note 11 Pro 5G (Max Auto)
0
746
∞
Xiaomi Redmi Note 11 Pro (Max Auto)
0
746
∞
Xiaomi Redmi Note 11 Pro
0
470
∞
Xiaomi Redmi Note 11 Pro+ 5G
0
479
∞
Xiaomi Redmi Note 11 Pro+ 5G (Max Auto)
0
760
∞
Samsung Galaxy A33 5G (Max Auto)
0
728
∞
Samsung Galaxy A33 5G
0
407
∞
Color accuracy is just as impressive with the Natural color preset, where the average dE2000 is 2.7. However, the standard mode is quite off, way too off even. The average dE2000 is 15.5 while the maximum dE2000 value is 24.3. Hard to believe, but the blue-ish whites and grays are not the main issue. Pretty much every other color is over-saturated. So for more accurate color reproduction, use the Natural mode.
HRR control
There's nothing new to the HRR management. Just like the rest of the Realme's, the vanilla 9 tones down the refresh rate to 60Hz to preserve power when you are not interacting with the display. In video apps, including the default Gallery app, the system would go for 60Hz as you don't need the high refresh rate for videos, which are mostly 24 or 30fps.
Battery life
Like the rest of the Realmes in the 9 series, the vanilla 9 delivers outstanding battery life, record-breaking even. This is one of the few phones with a 5,000 mAh to reach such a high overall score of 156 hours. The handset scored excellently in all tests.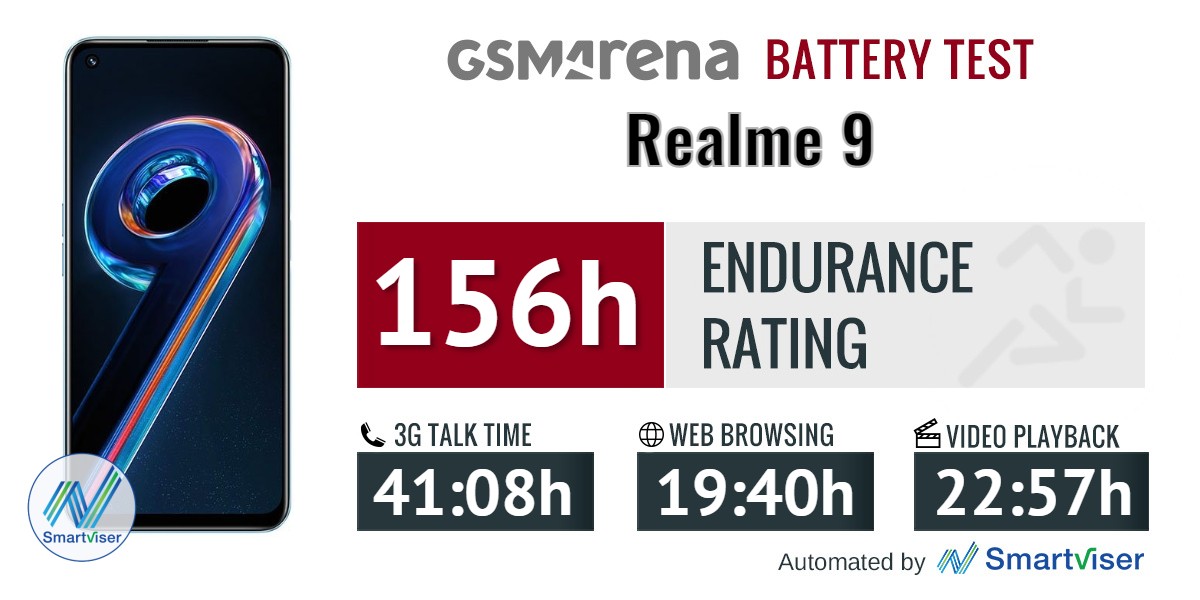 Our battery tests were automated thanks to SmartViser, using its viSerDevice app. The endurance rating denotes how long the battery charge will last you if you use the device for an hour of telephony, web browsing, and video playback daily. More details can be found here.
Video test carried out in 60Hz refresh rate mode. Web browsing test done at the display's highest refresh rate whenever possible. Refer to the respective reviews for specifics. To adjust the endurance rating formula to match your own usage patterns check out our all-time battery test results chart where you can also find all phones we've tested.
To be fair, the screen-on runtimes are similar to those of other Snapdragon 680-powered phones, but the Realme 9 excels in the standby department.
Charging speed
We are used to seeing Realmes excel in charging, but the vanilla 9 seems to be an exception to the rule. In the 30-minute charging test, the phone got only 50% of its juice back, while a full charge took about 1 hour and 16 minutes. Surely, it's not the slowest charging we've seen, but it's not competitive enough, nor does it meet our expectations.
30min charging test (from 0%)
Higher is better
Xiaomi Redmi Note 11 Pro+ 5G
100%
Xiaomi Redmi Note 11 Pro
78%
Realme 9 Pro+
77%
Xiaomi Redmi Note 11 Pro 5G
74%
Realme 9 Pro
52%
Realme 9
50%
Samsung Galaxy A33 5G
50%
Time to full charge (from 0%)
Lower is better
Xiaomi Redmi Note 11 Pro+ 5G
0:16h
Xiaomi Redmi Note 11 Pro 5G
0:45h
Xiaomi Redmi Note 11 Pro
0:48h
Realme 9 Pro+
0:49h
Realme 9 Pro
1:14h
Samsung Galaxy A33 5G
1:15h
Realme 9
1:16h
Speaker
The handset comes with a standard, single, bottom-facing speaker, which isn't very loud, to begin with. We got just -30.4 out of the speaker, which is good enough for a "Below Average" score.
You can't expect much from the speaker in terms of quality, either. The sound is dull, quiet, and there's barely any bass coming out of it. In short, it's par for the course.
Use the Playback controls to listen to the phone sample recordings (best use headphones). We measure the average loudness of the speakers in LUFS. A lower absolute value means a louder sound. A look at the frequency response chart will tell you how far off the ideal "0db" flat line is the reproduction of the bass, treble, and mid frequencies. You can add more phones to compare how they differ. The scores and ratings are not comparable with our older loudspeaker test. Learn more about how we test here.