Display
The Realme 8 5G employs a large 6.5 IPS LCD display with a punch hole around the top left corner to make room for the selfie camera. The resolution is extended 1080p - 2,400 x 1,080 pixels - making for a 405ppi density.
There is no information on the screen glass maker. The phone shipped with a thin protective film, but we peeled that off as it was always smudgy and impossible to clean.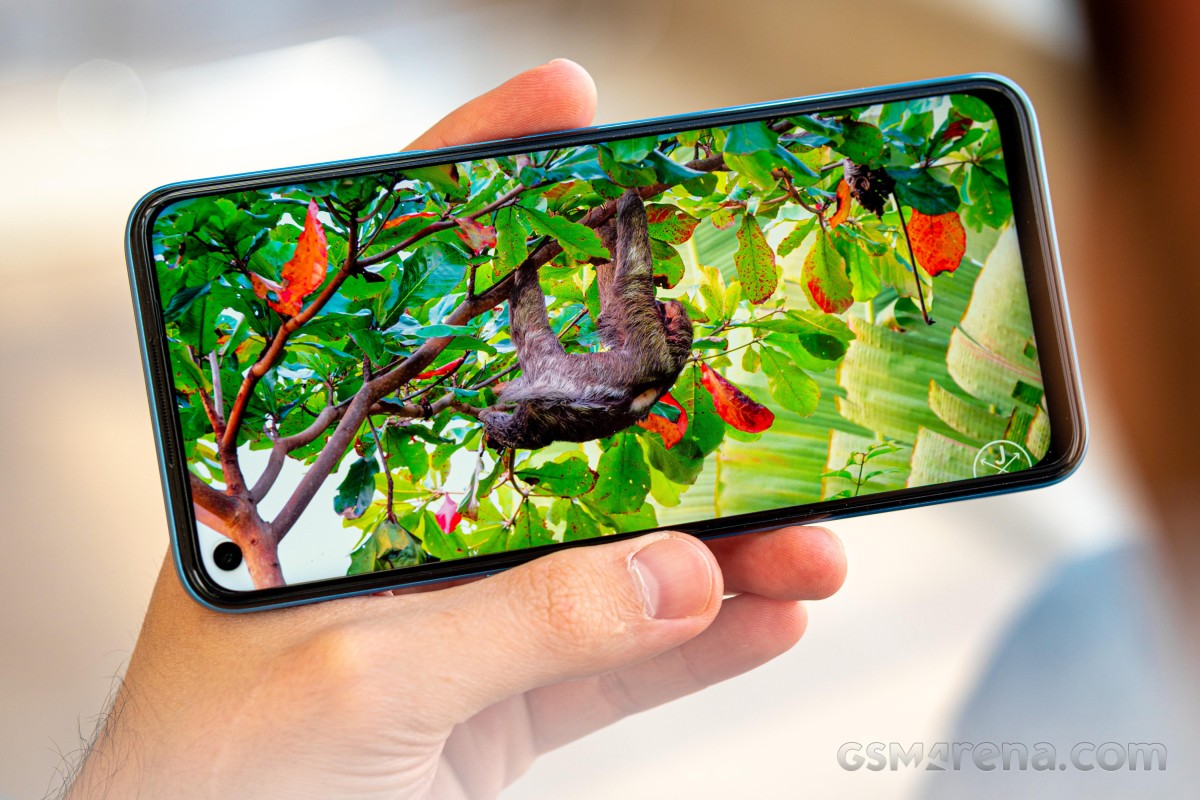 The panel supports a 90Hz refresh rate, which may feel a bit of a letdown as the Realme 7 5G screen was capable of 120Hz. There is no HDR10 support.
You can choose between 60Hz, 90Hz and Auto refresh rate options. The 90Hz and Auto settings work in similar ways - the UI is drawn at 90fps, as well as all compatible apps. It reverts automatically to 60Hz when a static image is shown or when watching local or streaming video. Due to the budget chipset, you probably won't be able to enjoy many games with framerates north of 60fps.
Realme is promising 480 nits of typical brightness and 600 nits of maximum (outdoor) brightness for the screen. We did our brightness measurements, and the Realme 8 5G shows some good numbers for this type of panel. Using the brightness scrubber, we captured a maximum brightness of 472 nits. When the screen relies on Adaptive Brightness, it can be as bright as 580 nits - in the ballpark of what Realme has promised.
The nice brightness combined with the deep enough black level resulted in an excellent 1413:1 contrast ratio.
Finally, the minimum brightness we were able to achieve with white color was 2.5 nits.
Display test
100% brightness
Black,cd/m2
White,cd/m2
Contrast ratio
Realme 8 5G
0.334
472
1413:1
Realme 8 5G (Max Auto)
0.408
577
1414:1
Realme 8
0
458
∞
Realme 8 (Max Auto)
0
657
∞
Realme 7 5G
0.376
484
1287:1
Realme 7 5G (Max Auto)
0.667
571
856:1
Realme 7
0.31
457
1474:1
Realme 7 (Max Auto)
0.374
526
1406:1
Realme 8 Pro
0
454
∞
Realme 8 Pro (Max Auto)
0
627
∞
OnePlus Nord N10 5G
0.304
440
1447:1
Xiaomi Redmi Note 10
0
475
∞
Xiaomi Redmi Note 10 (Max Auto)
0
682
∞
Xiaomi Redmi Note 10 Pro
0
457
∞
Xiaomi Redmi Note 10 Pro (Max Auto)
0
725
∞
Samsung Galaxy A42 5G
0
395
∞
Samsung Galaxy A42 5G (Max Auto)
0
570
∞
The Realme 8 5G screen supports DCI-P3 colors and it is fairly accurate to that color space (deltaE of 4.7). There is a noticeable blue tinge though - the blue hues are a bit oversaturated, while the white and grays are bluish.
The phone supports Widevine L1 and Amazon Prime had no issues streaming in 1080p. Netflix thinks the phone has the basic L3 support and streams in SD only. We guess it's an issue with Netflix's app and hopefully it would be fixed eventually. Update: The Netflix issue has been fixed via an OTA update seeded on May 16.
Battery life
The Realme 8 5G is powered by a large 5,000 mAh battery. The phone supports 18W fast charging.
The Realme 8 5G scored an excellent result in our battery test with a 118-hour Endurance rating. It did a great job across all test scenarios - video playback, calls, web browsing, and demonstrated long-lasting standby performance. Well, honestly...we expected a bit more from the video playback, considering the maker promised 16 hours of video playback, but still.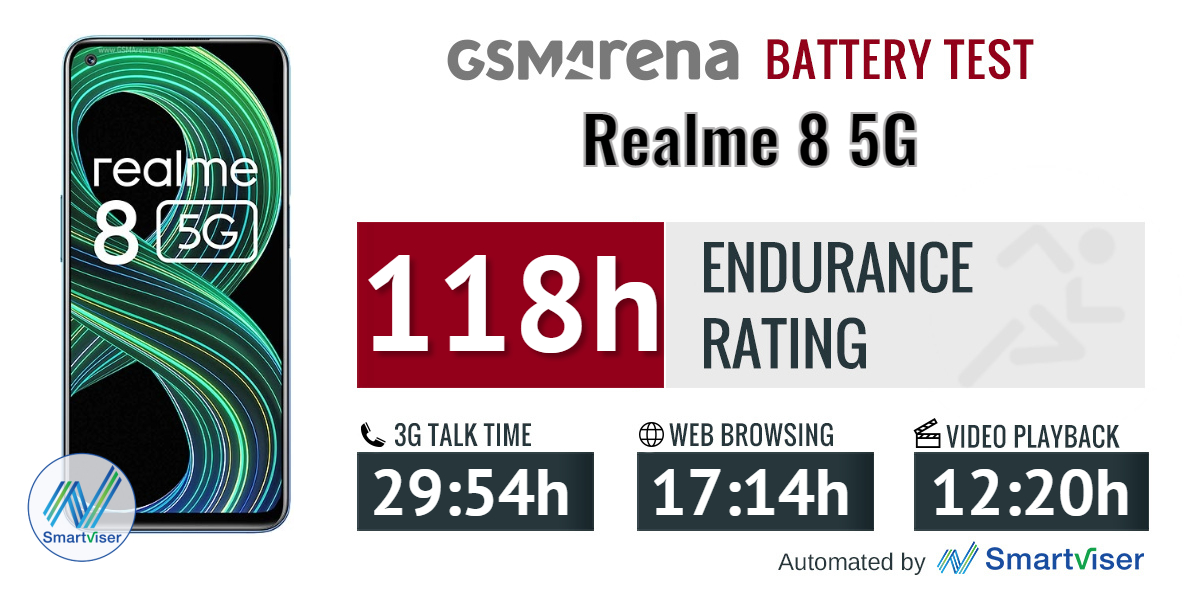 All test results shown are achieved under the highest screen refresh rate mode. You can adjust the endurance rating formula manually so it matches better your own usage in our all-time battery test results chart where you can also find all phones we've tested.
Charging speed
The Realme 8 5G ships with an 18W charger (5V/2A, 9V/2A), which isn't as fast as the 30W adapters of the Realme 7 5G and Realme 8. But the Realme 8 5G is a cheaper phone, so this is yet another place where the cost-cutting process was at play.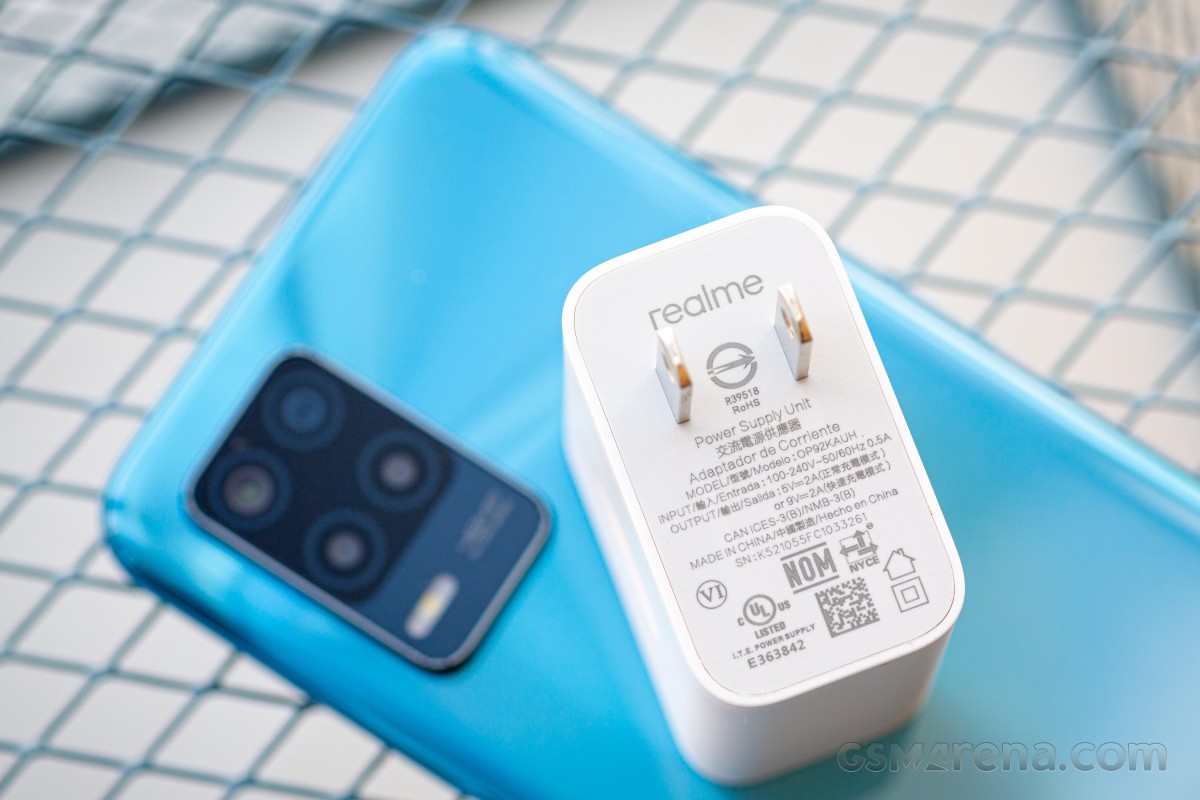 So, the provided 18W adapter takes the Realme 8 5G's battery from 0% to 29% in 30 minutes. It's not terrible, but not that fast either.
30min charging test (from 0%)
Realme 7 Pro
94%
Realme 8 Pro
88%
Xiaomi Redmi Note 10
65%
Realme 7
58%
Realme 7 5G
57%
Realme 8
56%
Xiaomi Redmi Note 10 Pro
50%
Realme 8 5G
29%
Samsung Galaxy A42 5G
27%
Poco M3
25%
A full charge requires 2 hours and 20 minutes, far from fast even for a 5,000mAh battery.
Time to full charge (from 0%)
Realme 7 Pro
0:37h
Realme 8 Pro
0:38h
Realme 7
1:05h
Realme 7 5G
1:06h
Realme 8
1:09h
Xiaomi Redmi Note 10
1:13h
Xiaomi Redmi Note 10 Pro
1:21h
Samsung Galaxy A42 5G
2:01h
Realme 8 5G
2:20h
Poco M3
2:30h
Loudspeaker
The Realme 8 5G packs one bottom-firing speaker, and it scored a Good score in our loudness test.
The audio quality is average, though. It has well-presented mid-tones, but it lacks in the low and high notes. Its output sounds is shallower than, say, the Realme 8 Pro.
Use the Playback controls to listen to the phone sample recordings (best use headphones). We measure the average loudness of the speakers in LUFS. A lower absolute value means a louder sound. A look at the frequency response chart will tell you how far off the ideal "0db" flat line is the reproduction of the bass, treble, and mid frequencies. You can add more phones to compare how they differ. The scores and ratings are not comparable with our older loudspeaker test. Learn more about how we test here.