Display
One of the major hardware changes on the Realme 8 over the Realme 7 is the switch from a 90Hz LCD display to a Super AMOLED panel. Starting with basic specs first, the display is now a bit smaller at 6.4 inches, down from 6.5-inches. It's not a major downsizing by any means, and the aspect ratio is still maintained at 20:9 - fairly standard these days.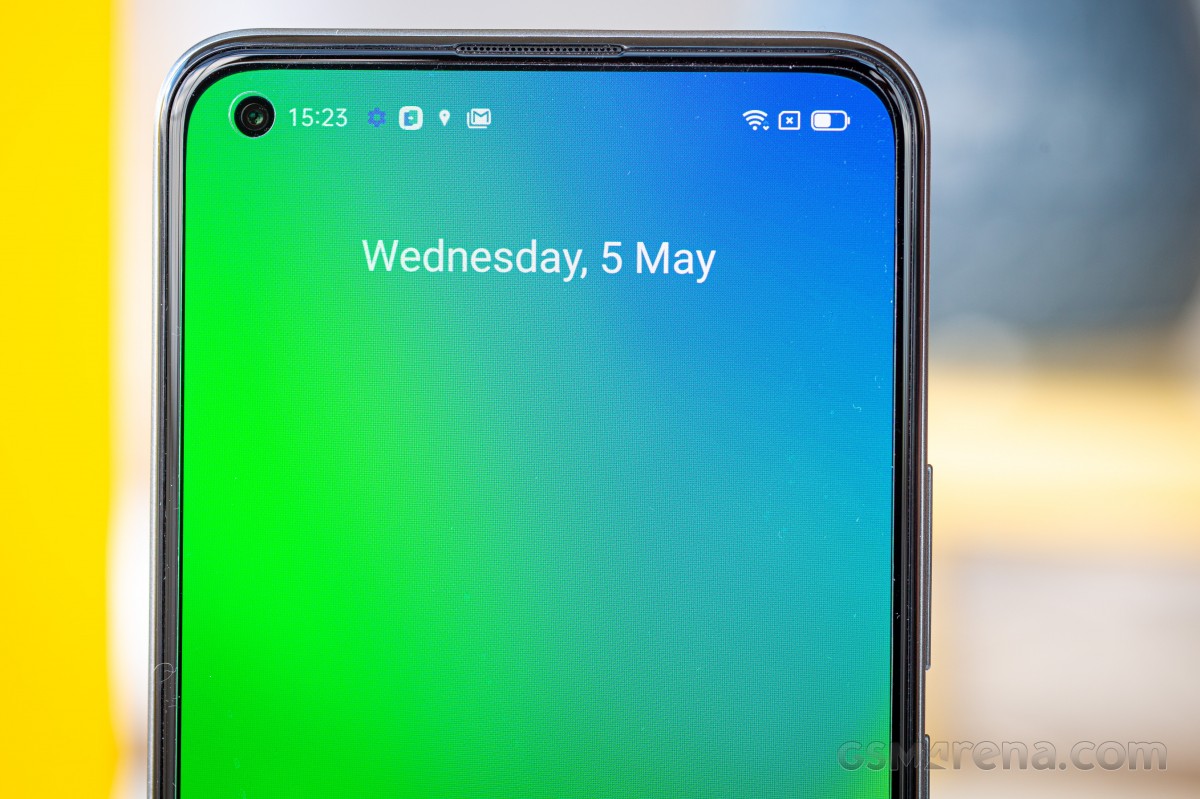 The resolution is also unchanged at 1080 x 2400 pixels. Since that is the case, the new panel is now slightly sharper, with 411 ppi. It's not really something discernable in person, though, even when looking at the Realme 7 and Realme 8 next to each other.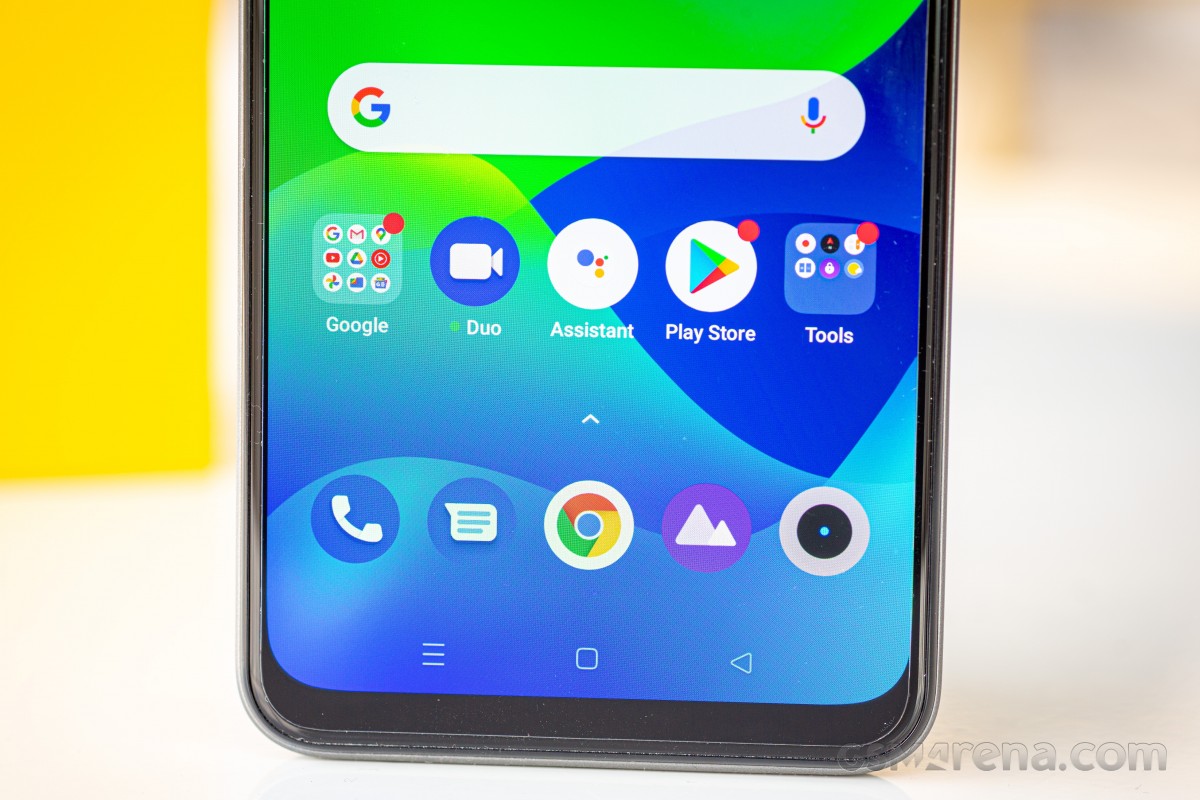 There are plenty reasons to favor an AMOLED panel over an LCD one, ranging from the perfect blacks, associated with the technology, as well as vibrant colors and better power efficiency, under the right conditions. However, these are not all intrinsic benefits that simply come with an OLED panel. There are plenty of nuances, depending on its quality. In the particular case of the Realme 8, we already have to live with the loss of 90Hz refresh rate and settle for 60Hz.
Display test
100% brightness
Black,cd/m2
White,cd/m2
Contrast ratio
Xiaomi Redmi Note 10 (Max Auto)
0
682
∞
Realme 8 (Max Auto)
0
657
∞
Xiaomi Poco X3 NFC (Max Auto)
0.515
631
1225:1
Realme 8 Pro (Max Auto)
0
627
∞
Realme 7 Pro (Max Auto)
0
585
∞
Realme 7 (Max Auto)
0.374
526
1406:1
Motorola Moto G9 Plus (Max Auto)
0.39
522
1338:1
Samsung Galaxy A21s (Max Auto)
0.384
491
1279:1
Xiaomi Redmi Note 10
0
475
∞
Samsung Galaxy A12 (Max Auto)
0.349
472
1352:1
Motorola Moto G30 (Max Auto)
0.241
468
1942:1
Xiaomi Redmi Note 9 (Max Auto)
0
466
∞
Xiaomi Poco X3 NFC
0.354
460
1299:1
Realme 7 Pro
0
459
∞
Realme 8
0
458
∞
Realme 7
0.31
457
1474:1
Realme 8 Pro
0
454
∞
Realme 6
0.343
451
1315:1
Poco M3 (Max Auto)
0.277
439
1585:1
Xiaomi Redmi 9T (Max Auto)
0.32
437
1366:1
Motorola Moto G9 Plus
0.315
427
1356:1
Samsung Galaxy A21s
0.317
408
1287:1
Samsung Galaxy A02s
0.23
406
1765:1
Motorola Moto G30
0.204
403
1975:1
Samsung Galaxy A12
0.292
398
1363:1
Poco M3
0.252
395
1567:1
Xiaomi Redmi 9T
0.239
381
1594:1
Xiaomi Redmi Note 9
0.298
370
1242:1
Putting that aside, though, we aren't particularly impressed with the performance of the Realme 8's Super AMOLED panel. Starting with brightness, it is advertised as capable of a peak output of 1000 nits, which might be true for a small portion of the display with HDR video in particular as a use case.
In our standardized testing, however, we only managed a maximum of 458 nits with the slider cranked all the way. There is a max auto mode beyond that, which can be triggered by enabling auto brightness and then exposing the phone to a bright light source. In this use case we measured 657 nits of max brightness. Pretty much in line with other Realme OLED panels, like that on the Realme 7 Pro and Realme 8 Pro and suitable for the price segment.
The Realme 8 does an OK job with color reproduction. We can't exactly praise it, but it's decent. There are a total of three color modes within display settings. The default one is Vivid, which claims to be a DCI-P3 accurate. Indeed, we can confirm Realme was probably going for that wider color gamut, but didn't quite manage to hit the mark. Colors come out looking cold and too blue in pretty much every one of the color modes, particularly vivid. There is a color temperature slider, which did manage to warm up the look a bit and definitely helped with accuracy. But even set to warm as far as it goes, vivid still didn't manage to produce color-accurate DCI-P3 representation. It came close, though.
The Gentle color mode targets sRGB and does about as good of a job as vivid does. Since it isn't color-accurate either, we see no real reason to settle for the more muted palette.
Finally, there is Power-saving mode, which mutes colors further still, claiming to offer some benefit to battery life. We will definitely be testing that in the battery section.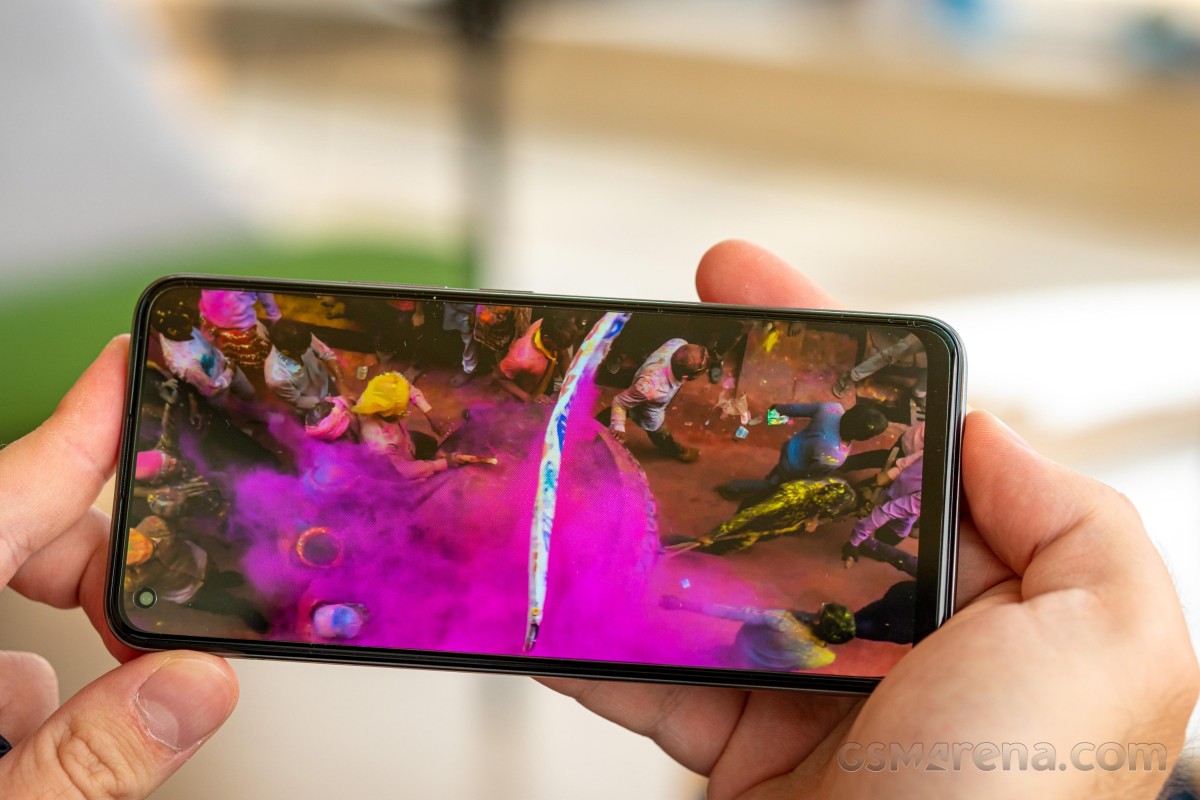 Closing off the display section, a few words on HDR and DRM. The Realme 8 reports both HDR10 and HLG support on a software level. Plus, it has Widevine L1 certification. The latter is a prerequisite for getting anything higher than HD resolution in streaming services like Netflix. And indeed, Netflix was more than happy to serve FullHD and saturate the native resolution of the Realme 8. However, there was no HDR support within the Netflix app. Not surprising, since Netflix has to whitelist each device specifically on its side.
Battery life
The Realme 8 carries over the big 5,000 mAh battery pack from its predecessor. The same is true for its MediaTek Helio G95 chipset. Two major similarities that inevitably contribute towards similar battery endurance between the two phones. Indeed, looking at the two off-screen portions of our battery test, the two come very close in call time and standby. The Realme 8 managed a few minutes more in call, while the Realme 7 had the upper hand in standby.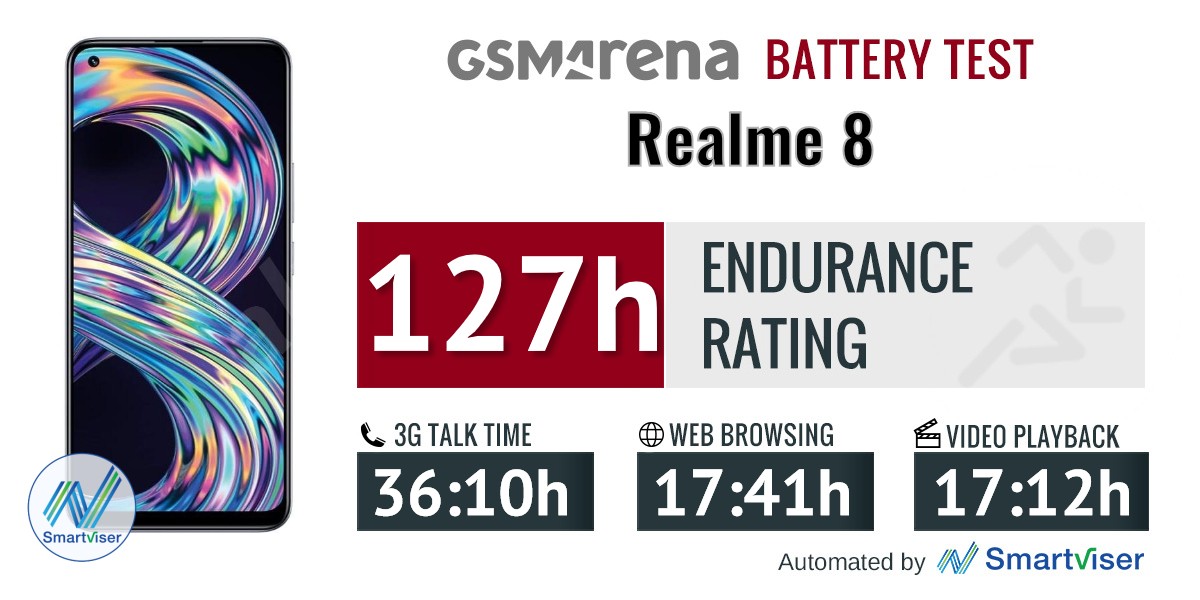 The on-screen tests are arguably more interesting to analyze, since the Realme 8 switches to a different panel - an AMOLED one. Generally speaking, OLED is more efficient power-wise due to its lower power consumption for displaying darker colors. There are, however, certain scenarios, often ones involving lower than max brightness settings and a lot of white on the screen, that give a power-efficiency advantage to LCD panels and their backlights. This is precisely what we see with the Realme 7's slightly but notably higher 18:35 hour web test score. One managed at its native 90Hz refresh rate, no less. Not that that puts too much extra strain compared to 60Hz.
Video playback, however, is a different story, and this is where the Realme 8 and its OLED panel benefit nicely from the fact that our 16:9 test video is not particularly heavy on white colors and is letterboxed by effectively turned-off and zero-consumption pixels on the top and bottom of the 20:9 panel. Again, getting two hour longer runtime compared to the Realme 7's 15 hours is nice.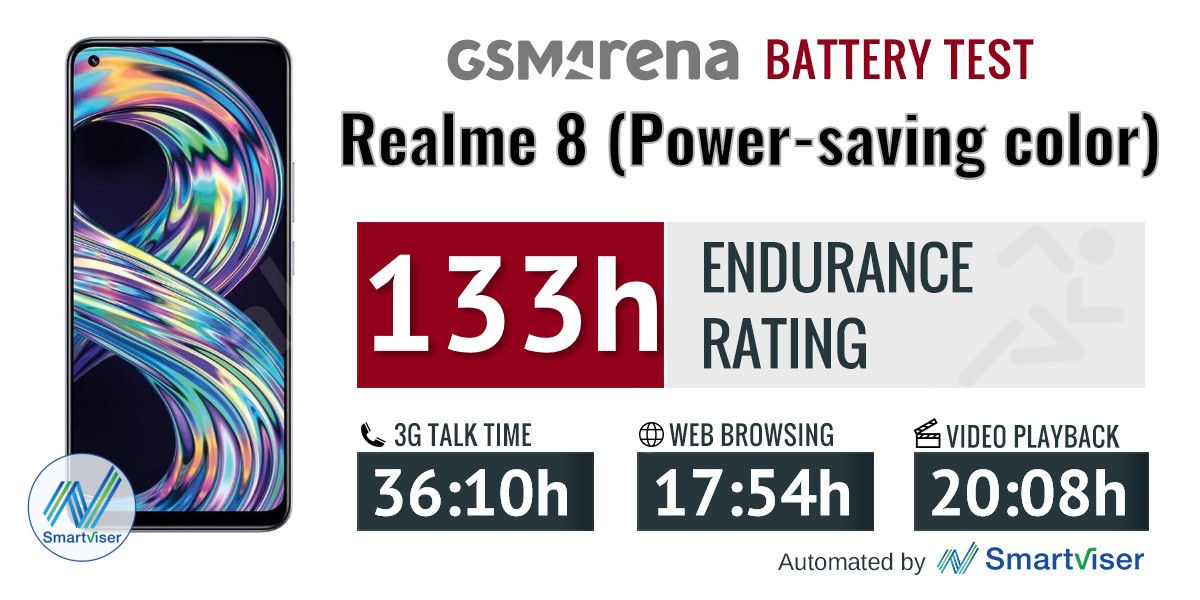 Like we promised, we did re-run the on-screen portions of our battery test using the intriguing Power-saving display mode found in the Realme 8's setting menu. The end result - a small bump up in the web test to 17:54 hours, which makes sense, since white is white, no matter the color profile, and most of the web, including our standardized set of web pages, are predominantly white. Plus, adjusting colors did nothing to mitigate the Wi-Fi power draw, which is a significant part of the total. In contrast, hardware video decoding for our test clip is very efficient in terms of battery, and there is plenty to potentially save in terms of power draw by dialing back the color intensity and saturation. Hence why we got 20:08 hours in video playback from the Realme 8 in Power-saving display mode. Mind you, we did not adjust brightness or switch any of the regular power-saving modes on. Just the display profile alone produced the variance. A noteworthy one, but not really major enough in our book to justify the muted color experience in our book.
Circling back to the main battery test, an endurance score of 127 hours is great for the Realme 8 and consistent with that of the Realme 7.
Our battery tests were automated thanks to SmartViser, using its viSerDevice app. The endurance rating denotes how long the battery charge will last you if you use the device for an hour of telephony, web browsing, and video playback daily. More details can be found here.
All test results shown are achieved under the highest screen refresh rate mode. You can adjust the endurance rating formula manually so it matches better your own usage in our all-time battery test results chart where you can also find all phones we've tested.
Charging speed
Speaking of consistency across generations, Realme didn't just stop at battery capacity when carrying things forward to the Realme 8. Charging is also the same 30W Dart Charge. It works with a 5V@6A current as long as you use both the proprietary charger and cable included in the box. Failing that, you will be stuck charging the Realme 6 at a max of 10W (5V@2A).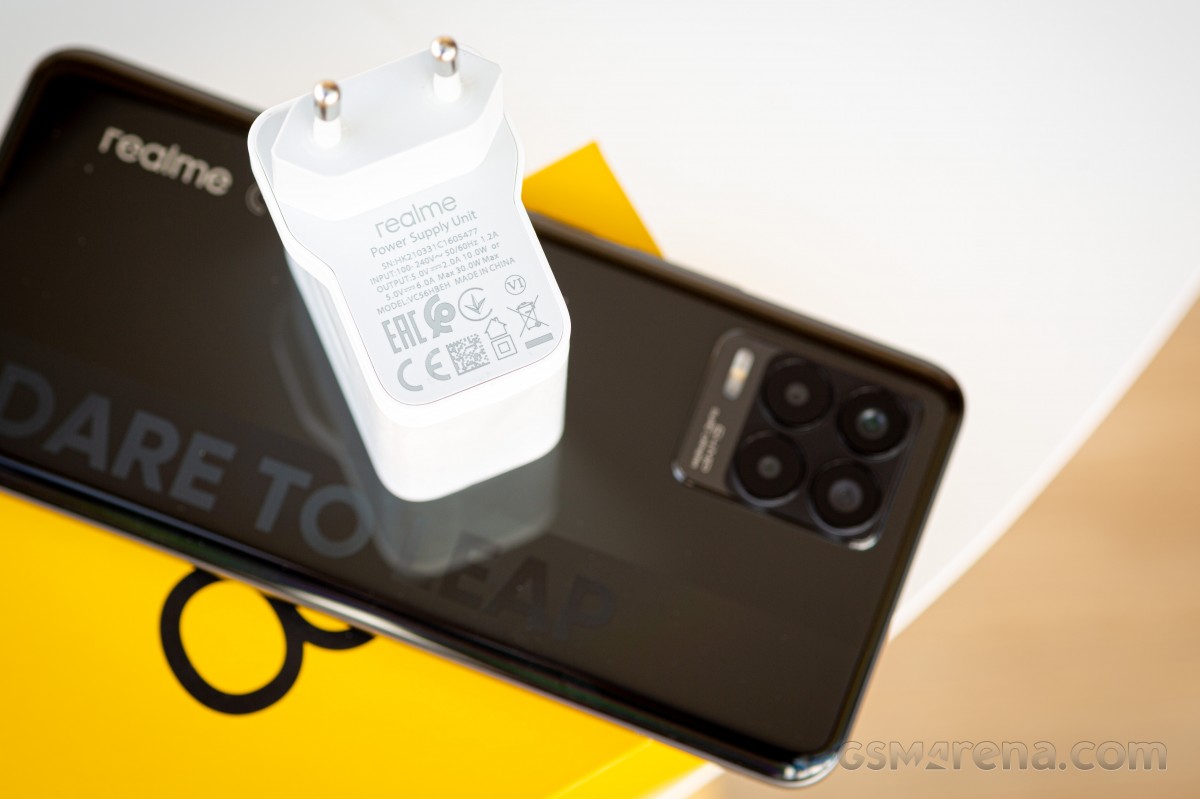 Realme claims that a zero to 50% charge on this 5,000 mAh battery should take 26 minutes and a full charge - a total of 65 minutes.
We pretty much managed to get those numbers spot-on for the Realme 8 just like we did for the Realme 7.
30min charging test (from 0%)
Realme 7 Pro
94%
Realme 8 Pro
88%
Xiaomi Redmi Note 10
65%
Realme 7
58%
Realme 7 5G
57%
Realme 8
56%
Poco X3 NFC
55%
Motorola Moto G9 Plus
54%
Motorola Moto G30
32%
Xiaomi Redmi Note 9
31%
Samsung Galaxy A02s
30%
Samsung Galaxy A21s
26%
Poco M3
25%
Xiaomi Redmi 9T
25%
Samsung Galaxy A12
20%
Time to full charge (from 0%)
Realme 7 Pro
0:37h
Realme 8 Pro
0:38h
Realme 7
1:05h
Realme 7 5G
1:06h
Realme 8
1:09h
Xiaomi Redmi Note 10
1:13h
Poco X3 NFC
1:15h
Motorola Moto G9 Plus
1:15h
Motorola Moto G30
2:28h
Poco M3
2:30h
Xiaomi Redmi 9T
2:30h
Xiaomi Redmi Note 9
2:33h
Samsung Galaxy A02s
2:36h
Samsung Galaxy A12
3:03h
Speaker
The Realme 8 only has a single bottom-firing speaker at its disposal. Realme's speaker performance tends to be a bit inconsistent model from model, especially in terms of loudness, often ranging from Very Good, like on the Realme 7, all the way to Average, which is unfortunately where the Realme 8 lands. It is not particularly loud. That being said, it's not particularly quieter than the Realme 8 Pro.
On a more positive note, the frequency response curve on the Realme 8 and Realme 8 Pro seems to be a bit tighter and neater than that of their predecessors. None of these offer an amazing multimedia experience, but at least the Realme 8 handles vocals well and doesn't screech in the highs.
Use the Playback controls to listen to the phone sample recordings (best use headphones). We measure the average loudness of the speakers in LUFS. A lower absolute value means a louder sound. A look at the frequency response chart will tell you how far off the ideal "0db" flat line is the reproduction of the bass, treble, and mid frequencies. You can add more phones to compare how they differ. The scores and ratings are not comparable with our older loudspeaker test. Learn more about how we test here.