Display
The Realme 7 Pro packs a 6.4" Super AMOLED of extended 1080p resolution (411ppi) and this is probably the most controversial change since the Realme 6 Pro. See, the 6 Pro had a 6.6-inch 90Hz LCD panel, while the new 7 Pro has smaller 6.4-inch 60Hz OLED.
Realme did not make this decision lightly, though. The maker polled its fans over the social networks, and they voted for a 60Hz OLED instead of a 90Hz LCD. Still, if HRR is a must, the regular Realme 7 model comes with such display - meaning you can still have the 90Hz LCD.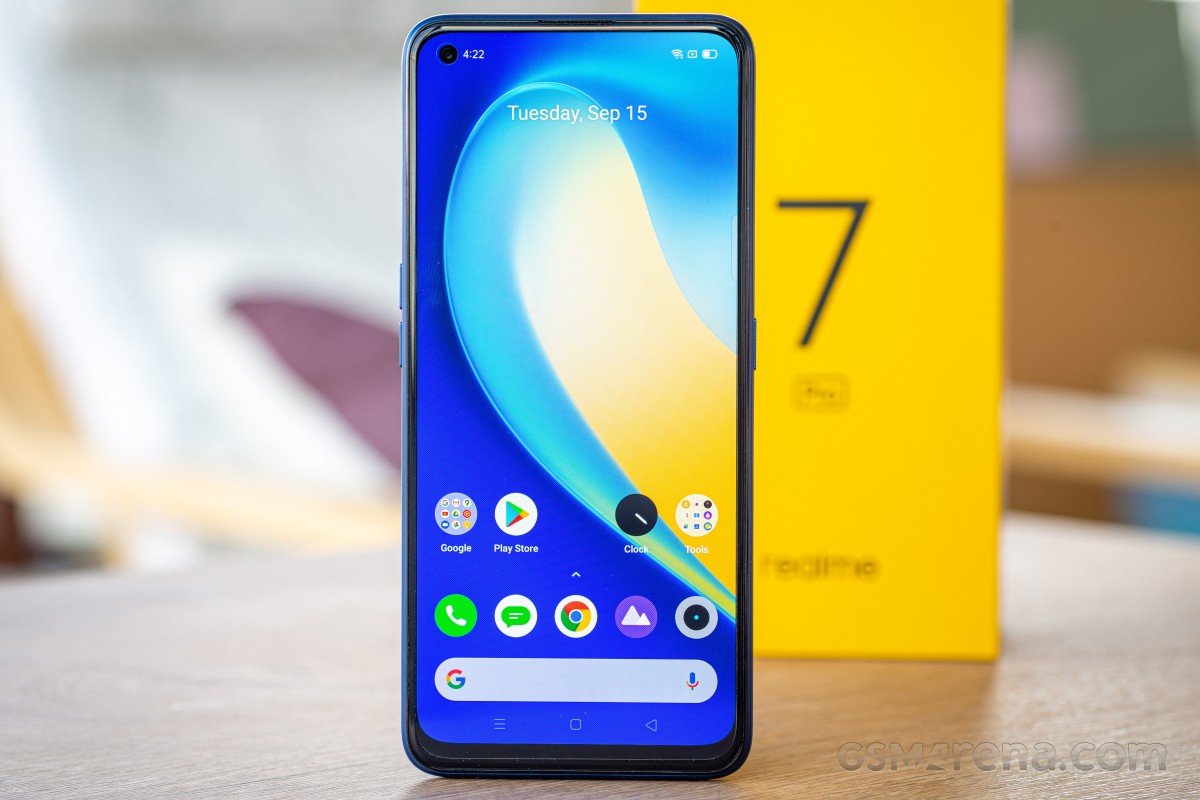 So, the Realme 7 Pro screen is protected by a flat piece of Gorilla Glass 3 +.
There is a small punch-hole around the top left corner for the selfie camera. It's a lot better than the pill-shaped cutout on the 6 Pro for the dual-selfie setup and we are glad Realme chose to retire the front ultrawide shooter. It will be missed by a handful of people.
The OLED screen recognized as HDR10 only by YouTube and some DRM-reading apps. Then again Realme never said this is an HDR10-capable screen, we just satisfied our curiosity. The phone supports Widevine L1 DRM, so you will be able to enjoy the maximum video quality across all streaming services.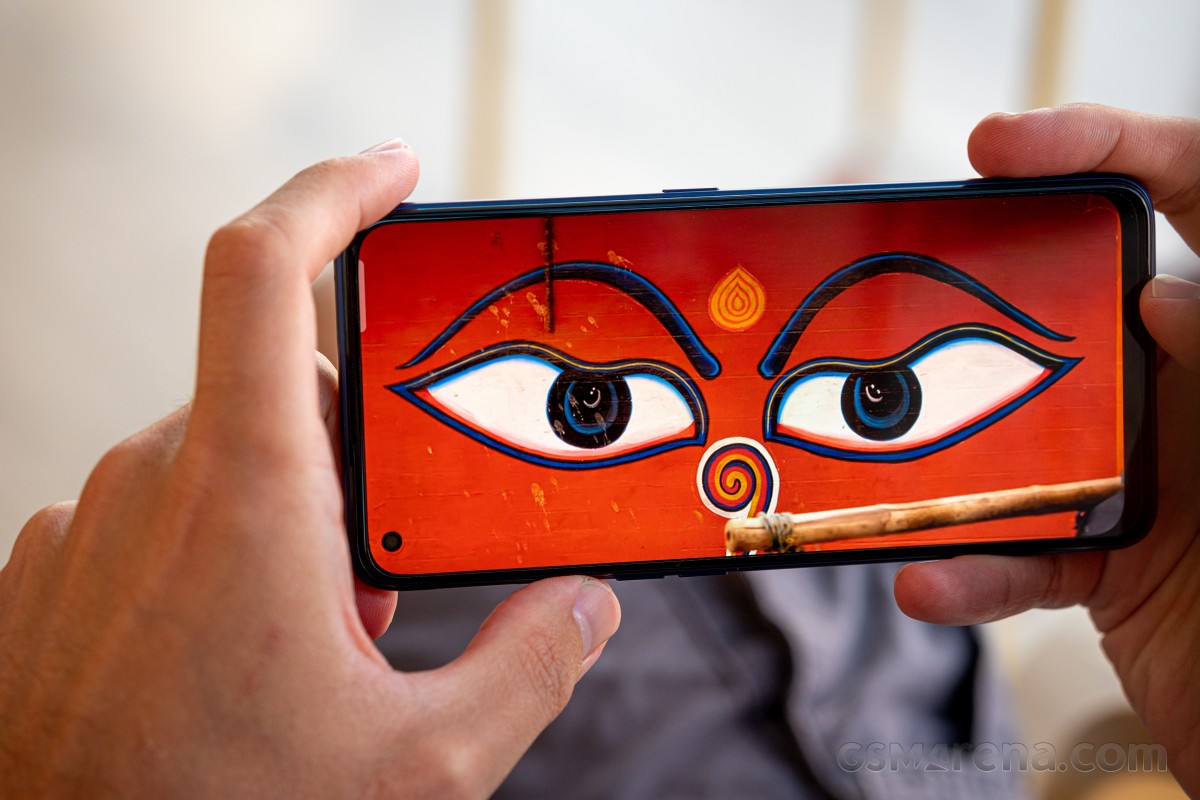 We did our usual brightness measurements and the 7 Pro screen seems to be plenty bright for an OLED. Using the brightness scrubber, we got a maximum brightness of 460 nits. When the screen uses Adaptive Brightness it can light up as high as 585 nits. Sure, we've seen flagships go brighter, but the Realme 7 Pro is no flagship, is it?
Finally, the minimum brightness we were able to achieve with white was 2.4 nits - an excellent result.
Display test
100% brightness
Black,cd/m2
White,cd/m2
Contrast ratio
Realme 7 Pro
0
459
∞
Realme 7 Pro (Max Auto)
0
585
∞
Realme 7
0.31
457
1474:1
Realme 7 (Max Auto)
0.374
526
1406:1
Realme 6
0.343
451
1315:1
Realme 6i
0.328
528
1610:1
Realme 6 Pro
0.318
421
1324:1
Realme 5 Pro
0.273
512
1875:1
Realme 5
0.345
485
1406:1
Xiaomi Redmi Note 9S
0.303
421
1389:1
Xiaomi Redmi Note 9S (Max Auto)
0.42
575
1369:1
Xiaomi Redmi Note 9 Pro
0.355
456
1285:1
Xiaomi Redmi Note 9 Pro (Max Auto)
0.487
616
1265:1
Xiaomi Redmi Note 9
0.298
370
1242:1
Xiaomi Redmi Note 9 (Max Auto)
0
466
∞
OnePlus Nord
0
323
∞
OnePlus Nord (Max Auto)
0
756
∞
Xiaomi Poco X3 NFC
0.354
460
1299:1
Xiaomi Poco X3 NFC (Max Auto)
0.515
631
1225:1
Motorola One Fusion+
0.319
454
1423:1
Motorola One Fusion+ (Max Auto)
0.4
562
1405:1
Motorola Moto G9 Play
0.197
383
1944:1
Motorola Moto G9 Play (Max Auto)
465
:1
The Realme 7 Pro display supports DCI-P3 and sRGB color spaces. You get to choose between Brilliant (oversaturated), Vivid (default, DCI-P3), or Gentle (sRGB) color modes. In each of these, you will get a color temperature slider going from cool to warm.
The default Vivid mode got us an average DeltaE of 4.7 against DCI-P3 targets and maximum deviation of 10.4. If you move the temperature slider midway to Warm, you can get rid of the noticable blue tinge over the white and gray hues and get higher color accuracy with an average DeltaE of 3.9.
The Brilliant Mode is pretty much the same as the Vivid, with more saturated red and green hues.
With Gentle mode, we measured an average DeltaE of 2.9 against sRGB targets.
Overall, color reproduction is good on the Realme 7 Pro and we are happy with what we saw and measured.
Battery life
The Realme 7 Pro is powered by a 4,500mAh battery - up from the 4,300mAh inside the Realme 6 Pro. It also has a different screen than the 6 Pro, but the same Snapdragon 720G chip.
The new screen and the larger battery made a difference in the on-screen tests - the Realme 7 Pro clocked 16 hours on our web browsing test (+2 over the 6 Pro) and 18 hours in looped video playback (+4 over the 6 Pro). Voice calls and standby longevity turned out particularly good, too.
The overall Endurance rating of the Realme 7 Pro then works out to 113h (+6 over the 6 Pro).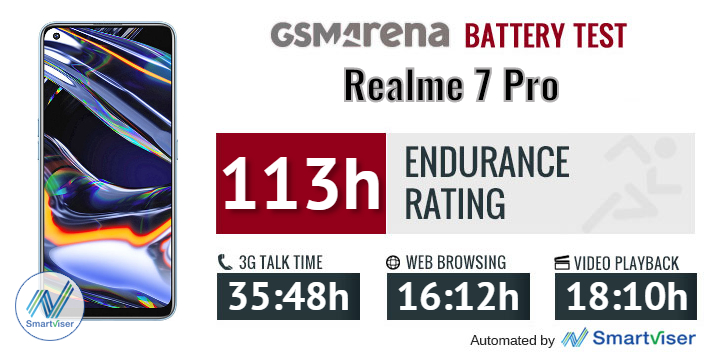 Our battery tests were automated thanks to SmartViser, using its viSer App. The endurance rating above denotes how long a single battery charge will last you if you use the Realme 7 Pro for an hour each of telephony, web browsing, and video playback daily. We've established this usage pattern so that our battery results are comparable across devices in the most common day-to-day tasks. The battery testing procedure is described in detail in case you're interested in the nitty-gritty. You can check out our complete battery test table, where you can see how all of the smartphones we've tested will compare under your own typical use.
Charging speed
The Realme 7 Pro supports the new 65W SuperDart fast charging and the company advertises 50% charge in 12 mins and a full charge in 34 minutes.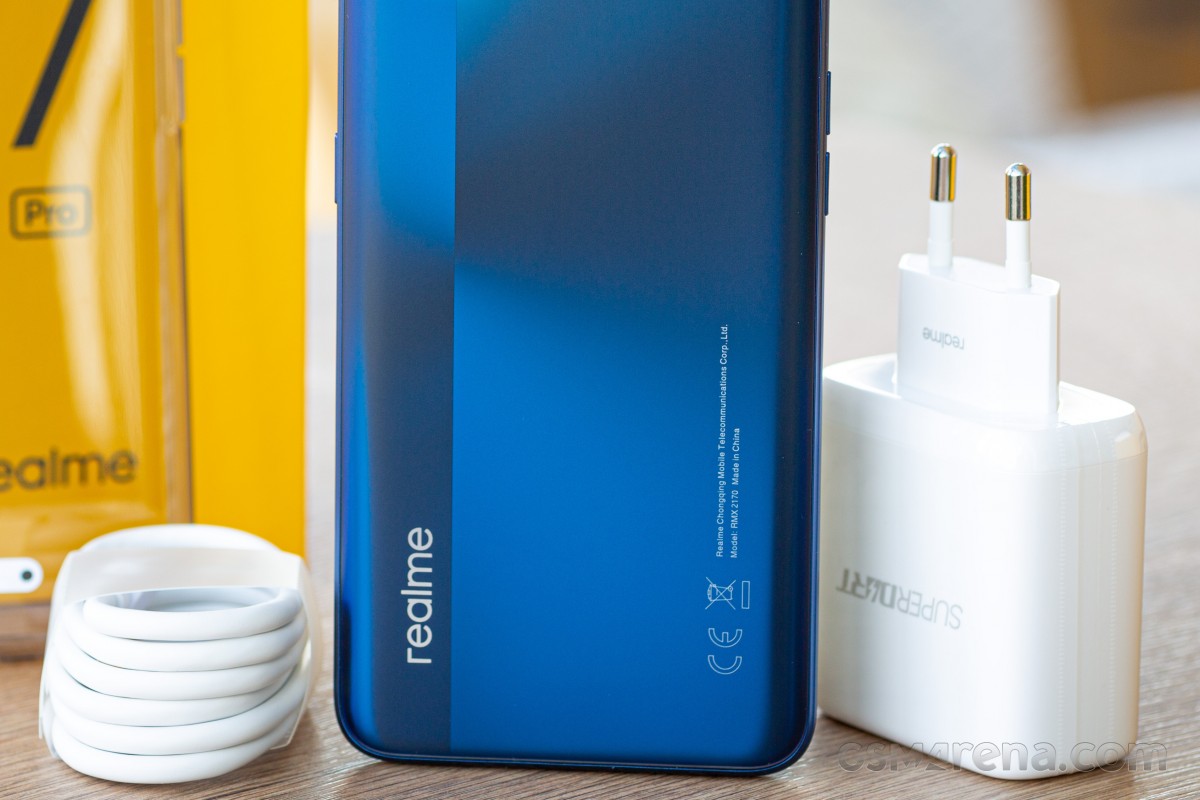 You bet we put these claims to the test and the 65W SuperDart adapter recharged 50% of the Realme 7 Pro's flat battery in exactly 12 mins.
30min charging test (from 0%)
Realme 7 Pro
94%
Realme 6
70%
Realme 6 Pro
68%
Xiaomi Redmi Note 9 Pro
63%
OnePlus Nord
60%
Realme 7
58%
Apple iPhone SE (2020)
57%
Poco X3 NFC
55%
Realme 5 Pro
50%
Xiaomi Redmi Note 9S
37%
Realme 6i
33%
Realme 5
21%
A full charge took 37 mins, which is in the ballpark of what Realme is advertising.
Time to full charge (from 0%)
Realme 7 Pro
0:37h
Realme 6
0:51h
Realme 6 Pro
0:57h
Realme 7
1:05h
OnePlus Nord
1:05h
Xiaomi Redmi Note 9 Pro
1:11h
Poco X3 NFC
1:15h
Realme 5 Pro
1:30h
Apple iPhone SE (2020)
1:40h
Xiaomi Redmi Note 9S
1:45h
Speakers
The Realme 7 Pro has two speakers - one dedicated at the bottom and the other one is the earpiece. The bottom one offers more bass than the earpiece and is a bit louder, but when we played music - the output was balanced enough.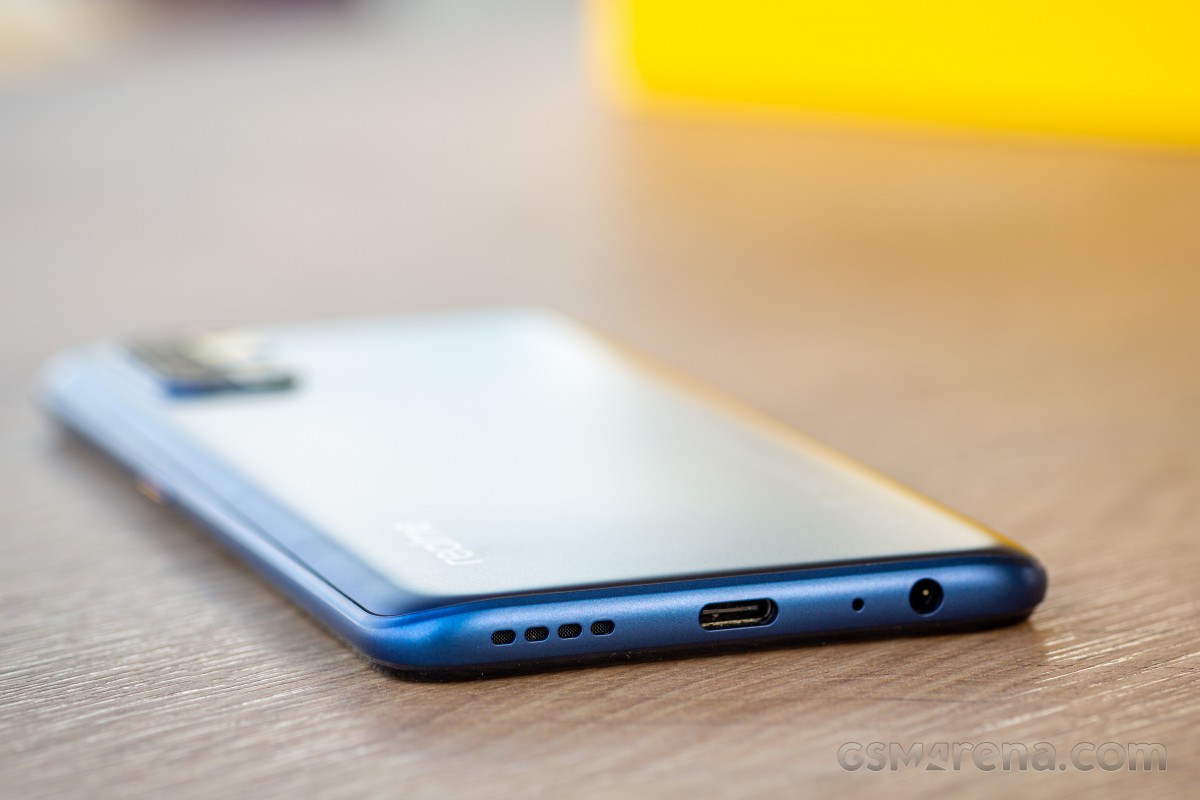 So, the Realme 7 Pro scored a Very Good mark as far as loudness is concerned. As for the quality - it's not so good. When compared to Realme 6 Pro - the 7 Pro lacks in bass big time and the output sounds, well, shallow. The high tones are well presented on the 7 Pro, better than on the 6 Pro, but still - the previous model offers richer audio with its single speaker.
Use the Playback controls to listen to the phone sample recordings (best use headphones). We measure the average loudness of the speakers in LUFS. A lower absolute value means a louder sound. A look at the frequency response chart will tell you how far off the ideal "0db" flat line is the reproduction of the bass, treble, and mid frequencies. You can add more phones to compare how they differ. The scores and ratings are not comparable with our older loudspeaker test. Learn more about how we test here.