Qualcomm's new FastConnect chips bring blazing fast Wi-Fi 6E, BT5.2 with high quality audio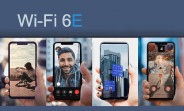 Earlier this year the FCC allowed the 6GHz band to be used for Wi-Fi, this was dubbed "Wi-Fi 6E". Now Qualcommm unveiled its first two 6E modems aimed at mobile applications – the FastConnect 6900 and 6700.
Wi-Fi 6E can use almost 1,200MHz of spectrum, a significant expansion of what was already available. Better yet, the spectrum is fresh, that is there are no legacy devices getting in the way. This also means that the spectrum is contiguous (it doesn't have to go around legacy stuff), so it can fit a whopping seven 160 MHz channels – the 5 GHz band has room for only two.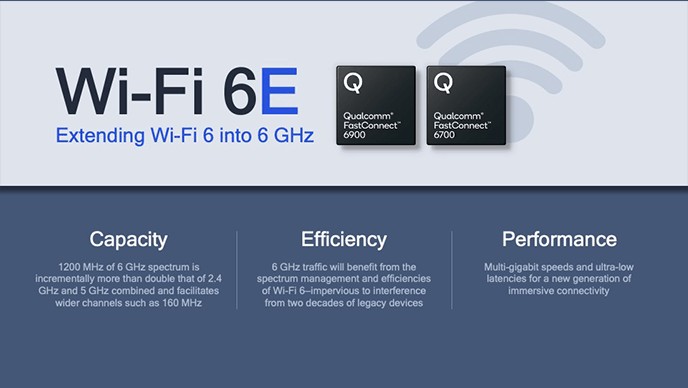 That doesn't mean we're leaving 5GHz behind. The FastConnect 6900 supports 4-stream (2x2 + 2x2) Dual Band Simultaneous (DBS) operation, allowing it to combine a 2x2 6 GHz connection with a 2x2 5 GHz connection.
The result is peak speeds of 3.6 Gbps, which can give 5G a run for its money. The FastConnect 6700 lacks the DBS mode, but it still plenty fast and can theoretically reach speeds of 2.9 Gbps.
Qualcomm is promising very low latency connections with Wi-Fi 6E. We're talking sub-3 ms, which will be a boon for wireless VR and AR applications. This is partially thanks to the 6 GHz band being free from interference and partially thanks to Qualcomm-developed technologies.
The two FastConnect modems also promise game-changing improvements with Bluetooth 5.2. Both support Dual Bluetooth Antenna configurations for increased reliability and speed.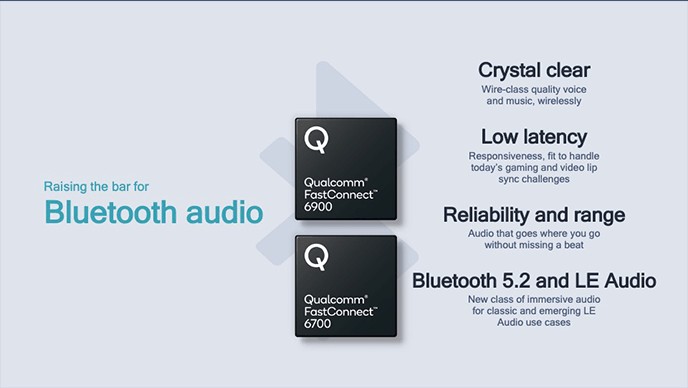 With aptX Adaptive, Bluetooth audio can go up to 96 kHz, which the company believes will deliver quality equivalent to wired headphones. There's also aptX Voice, which delivers 32 kHz bandwidth (current HD Voice gets half that, 16 kHz).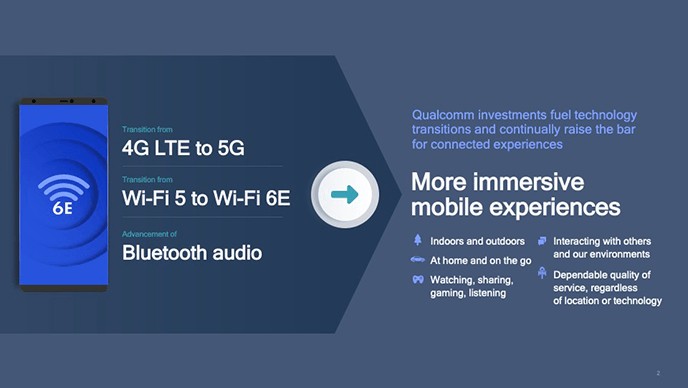 Qualcomm will send samples of the FastConnect 6700 and 6900 chips to manufacturers later this year, expect to see the first phones to use them in early 2021. Of course, you'll need a Wi-Fi 6E router to go with the new phones, Qualcomm has chips for those too.
L
Osu! and Cytus for example. It commands 100% Hand-Ear-Eye coordination so all players used wired headsets to play it at their highest level.
L
All in a low low price of $300 but it should be audiophile certified and proven to beat the wired headphones from Audio-Technica, Beyerdynamic, Sennheiser, Astell and Kern, Bang and Olufsen and many more.
L
The specs that will finally make me quit headphone jack. Overall specs of Drop x THX Panda headphones BT 5.2 Supports LDAC and all AptX codecs
ADVERTISEMENT