Qualcomm announces Snapdragon 690 chipset with sub-6GHz 5G, Wi-Fi 6
Qualcomm is announcing its first 6-series Snapdragon mobile chipset with support for 5G networks. The Snapdragon 690 is built on the 8nm process and is the successor to the Snapdragon 675 and this new chipset is paired with the an X51 modem. This chipset is part of Qualcomm's intention to make 5G "more affordable for consumers worldwide". HMD, LG, Motorola, Sharp, TCL, and Wingtech are all expected to announce devices running this new chipset.
The new Snapdragon 690 will support SA, NSA, and global 5G bands if they are sub-6Ghz. Qualcomm didn't decide to include mmWave support for the 690, that will remain on higher-end 7-series and 8-series 5G chipsets like the Snapdragon 865 and the 765G for now. You can expect 20% faster CPU speeds and 60% faster graphics performance compared to the Snapdragon 675.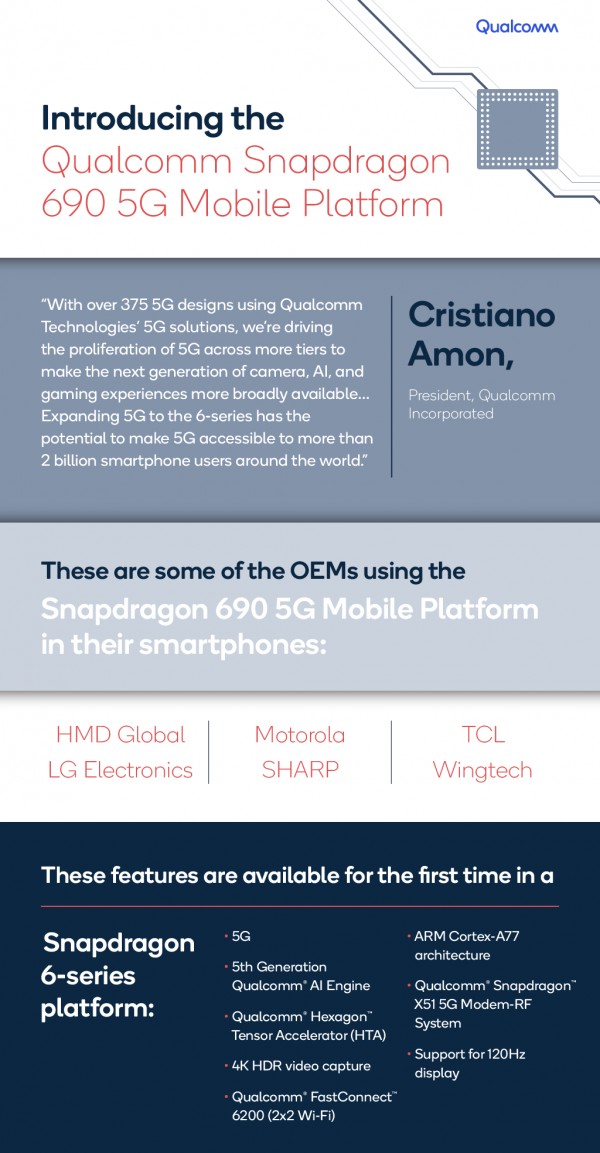 5G isn't the only thing the new chipsets bring. They enable HDR video recording at 4K @ 30fps and supports stills up to 192MP. It also announced a new enhancement to video encoding. With it, devices with this chipset can smoothen the experience of watching high-quality videos in lower-bandwidth situations by selectively enhancing moving parts of a video.
We can also expect to see more high-refresh rate displays using this chipset. The Snapdragon 690 supports 120Hz refresh rate displays at up to FHD+ resolution and Quick Charge 4+. This chipset also enables support for Wi-Fi 6 on Qualcomm's FastConnect 6200 system.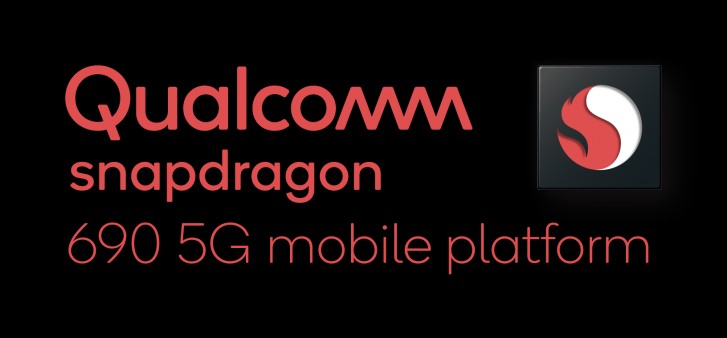 A new fifth-generation AI Engine called ARCSOFT arrives, one component of which called the Hexagon Tensor Accelerator (HTA) makes your real-time Snapchat filters look smooth and less stuttery. There's also a new ARCSOFT feature that smoothens the transitions when zooming between ultrawide, wide, and telephoto cameras.
Although the Snapdragon 765G was announced late last year, we are only now seeing them arrive to the United States in the Samsung Galaxy A71 5G. Qualcomm hopes it won't be long before we see even cheaper 5G devices, but for the US, that will likely take longer than ROW. Qualcomm expects that we can begin seeing devices powered by this new chipset starting in the second half of this year.
A
I thought you will consider A13 Bionic chip for Android.😂
D
Actually you're getting this slightly wrong. I think Apple has ended the partnership with Imagination technologies long time ago. So, nothing stops Imagination technologies to work with others. I guess the new GPU isn't worthy. But Apple has ...
D
That was not my point. Qualcomm isn't used to high performance core. So, there is a high possibility they might mess it up while using cortex X1. You also need to understand that Qualcomm did a clever strategy to use their own 'Cryo' branding even...
ADVERTISEMENT