MIUI 14 on top of Android 12
The Poco X5 Pro is the first smartphone that arrives running on MIUI 14 out of the box. It is also the first time we see MIUI 14, so we will explore its features more in-depth than usual. Oddly, the ROM is based on Android 12 OS instead of Android 13, though we suspect the new version of the OS is probably in the pipeline already.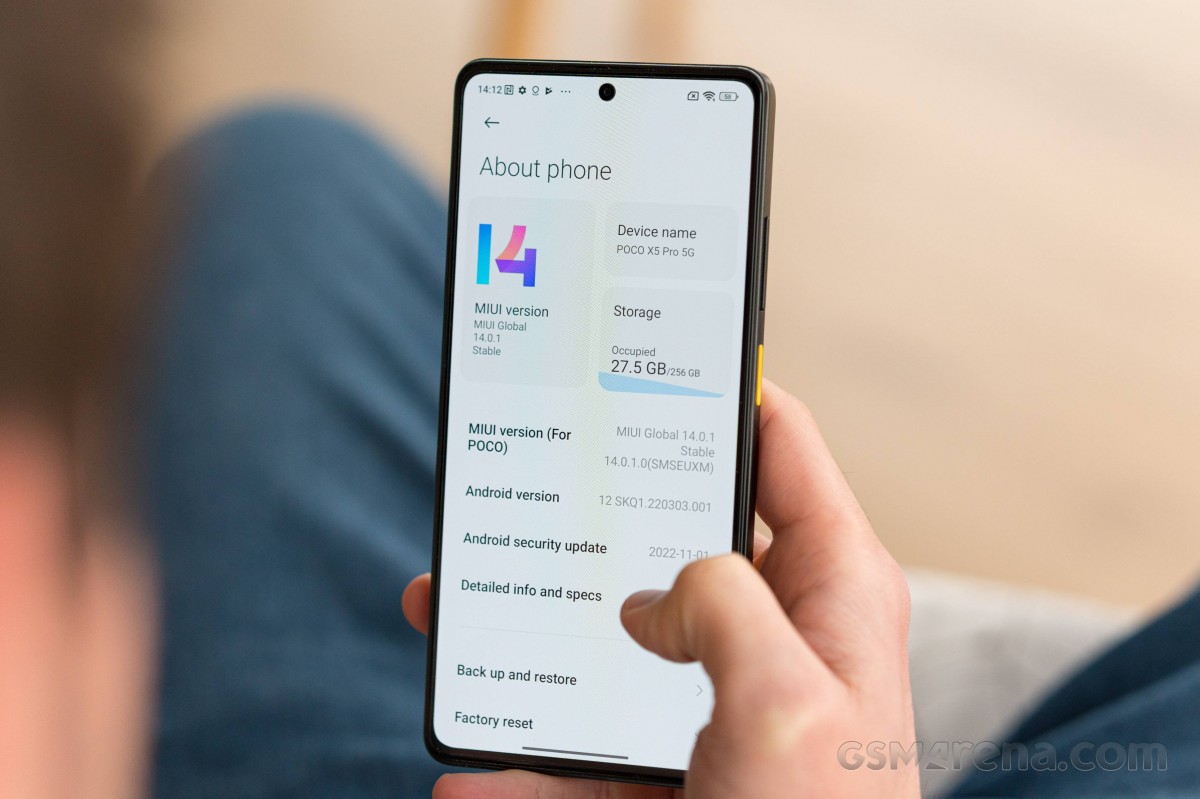 One of the major improvements in MIUI 14 is optimization. Xiaomi says this is the most optimized and streamlined MIUI to date, and it starts with what they are calling Project Razor. The team behind MIUI 14 updated the system architecture on the Android Kernel level with CPU, GPU and memory resource scheduling, lighter system firmware size and decreased memory usage. Xiaomi claims MIUI 14 runs 60% smoother compared to its predecessor on the Xiaomi 12S Ultra, though how this translates on non-flagship phones is yet to be determined.
Another major change is the lighter footprint of the whole system, leaving more space for apps and storage. The 256GB model of the Poco X5 Pro has 225GB of free storage after the initial setup if that's of any indication.
Other neat optimizations include automatic compression for apps that are not actively used and a toggle to turn off permanent notifications. And, drumroll, only eight system apps cannot be uninstalled, which is a major leap from past MIUI releases.
Unfortunately, we didn't see any of the other new MIUI 14 features which Xiaomi is publicly demoing. Maybe they are exclusive to the Chinese version, as it often happens with such niceties.
These include customizable folders with normal and large icons and new widget options with various shapes and sizes. Or the flowers and pets widgets which are animated Tamagotchi-like characters that live on your home screen. MIUI 14 is also supposed to bring duplicated file merger and improved (device-based) text recognition and extraction from images in the gallery. Privacy should also be overhauled with end-to-end encryption and local on-device processing of user data. None of these are available on MIUI 14 for Poco.
MIUI 14 should also offer a new Smart Devices toggle in the control center that lets you assign Xiaomi accessories like wireless earbuds between Xiaomi devices via drag and drop. This feature will remove the hassle of pairing earbuds to other devices. It's a neat drag and drop interface, which, unfortunately, hasn't made it on the Poco X5 Pro just yet.
Finally, there is a new family account function that lets you share your photos and cloud subscription services with up to 9 people. Users can also share their health tracking data from their smartwatch to help with the health tracking of family members. This one seems to be a China-exclusive thing, too.
And now, let's take a look at what the MIUI 14 for Poco offers on the Poco X5 Pro.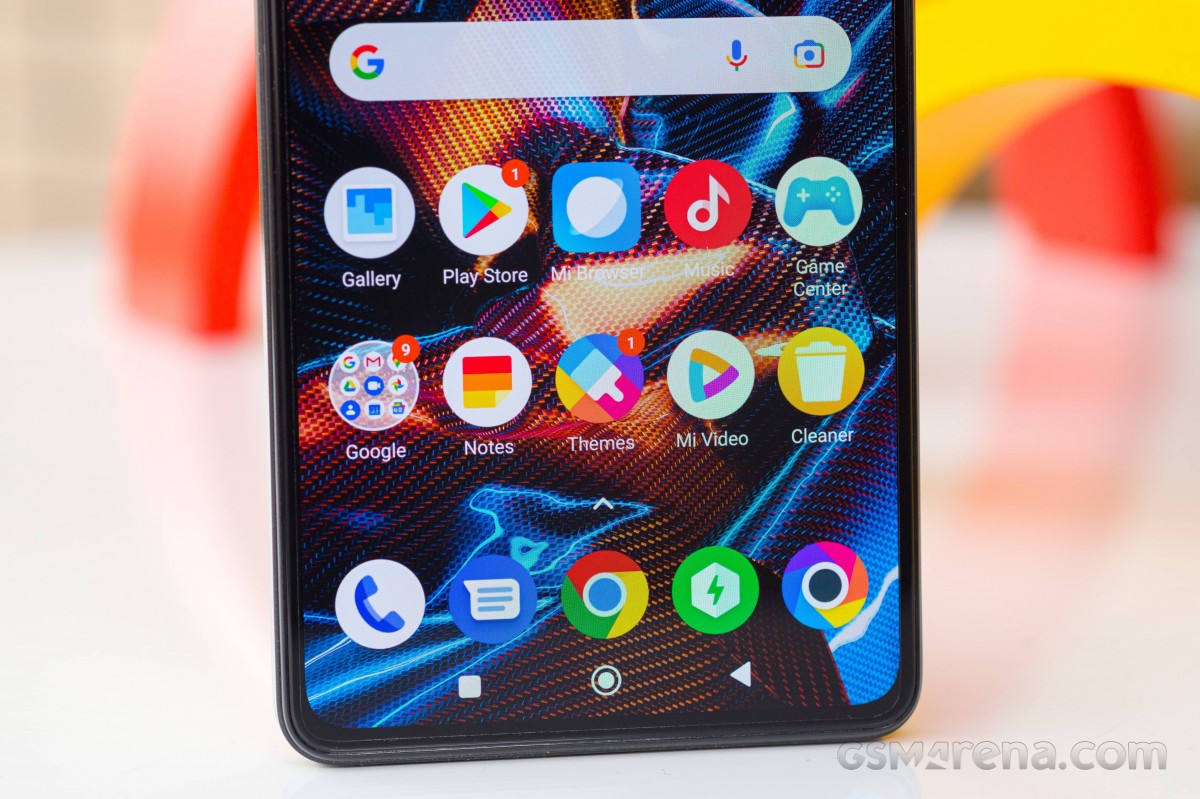 The MIUI interface is more or less standard MIUI, with minor Poco twists. There's Always-on display functionality, but, unfortunately, it can never be always on. It can only appear for 10s after a tap. At least, there are a lot of AOD themes you can choose from. A few of those can also be customized.
The X5 Pro still supports the Notification effect. It lights up the edges of the display when new notifications come in, but there's little in the way of customization other than a couple of different colors and a 'Starlight' option. This effect can work with or without the AOD.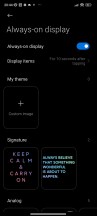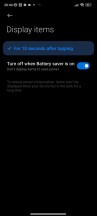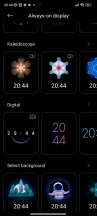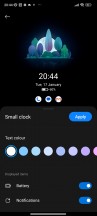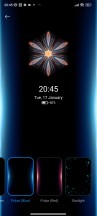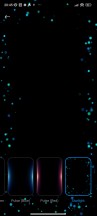 Always-on display • Always-on display • Clock style • Clock style • Notification effect
You unlock the screen via the side-mounted fingerprint scanner. The reader is easy to set up, blazing-fast, and the accuracy is superb. You can set the unlock method to Touch or Press - the Press will spare you accidental misreads of your palm (that eventually lead to PIN input) if you are using the phone without a case. A 2D Face Unlock is available, too, but it is far less secure than the fingerprint option.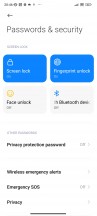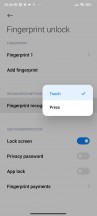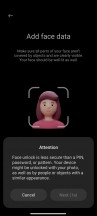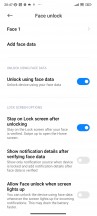 Passwords and security • Fingerprint settings • Face unlock • Face unlock
The homescreens are nothing unusual - they are populated with shortcuts, folders, and widgets. The leftmost pane, if enabled, is Google's Discover - but you can either disable it or swap it for Xiaomi's App Vault widget pane with smart suggestions.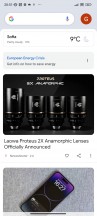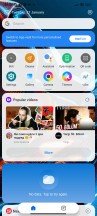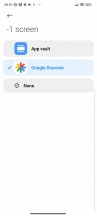 Google Discover • App Vault • Settings
Unlike Xiaomi or Redmi MIUI builds, the Poco version only has an App Drawer style two-tier interface - you can't disable the app drawer and have all your apps on the homescreens. The app drawer itself is the same, though - by default, it automatically organizes your apps into categories, which you can edit or disable altogether.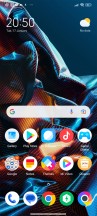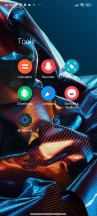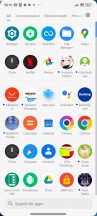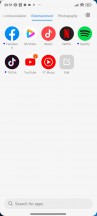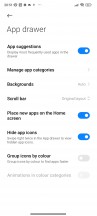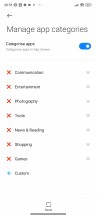 Homescreen • Folder view • App drawer
Just like in MIUI 12, MIUI 13 offers an independent Notification shade and Control Center. You summon them like on the iPhones - pull down from the left part of the screen for the Notification Center, pull down from the right for the Control Center. You can side-swipe to switch between them, too.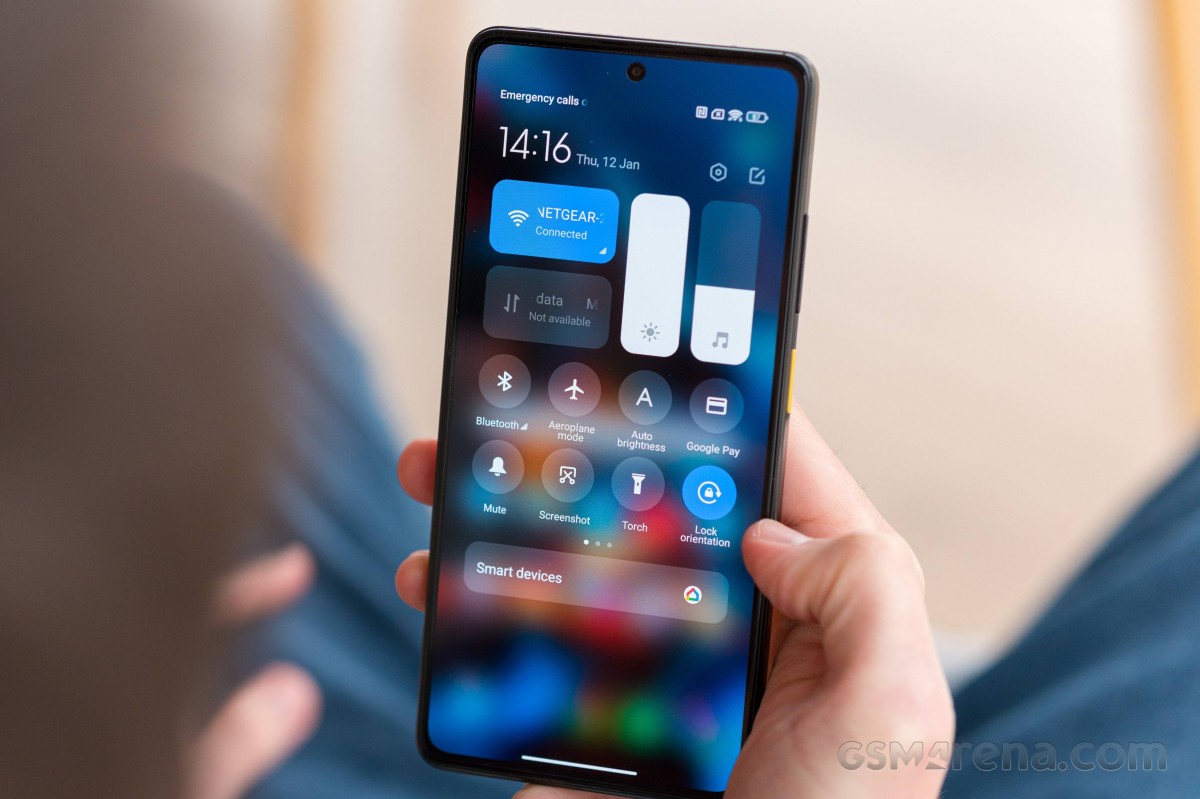 If you are not fond of this iPhone-ish split - you can disable the Control Center, and the shade will revert to its normal looks and operation.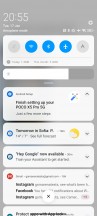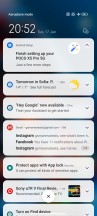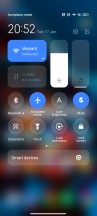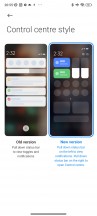 Classic notification shade • Control center split
The task switcher is familiar, too, if you've ever used a Xiaomi. It shows all of your recent apps in two columns.
Split screen is supported, as well as Floating Window. You can shrink some system apps like the Calculator into a floating window - you can see if the option is available when you tap and hold on an app card. Or you can launch compatible apps within a pop-up view from within the Notification center by pulling their notifications down.
The option for a regular-looking task switcher with side-scrollable cards is not available on the Poco launcher.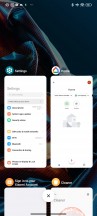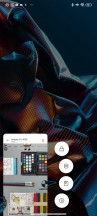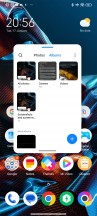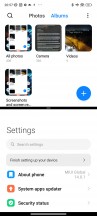 MIUI task switcher • Floating Window • Floating Window • Split Screen
Themes have always been a huge part of MIUI, and they are available on MIUI 14, too - on the Poco build as well. You can download new ones from the Themes store, and they can change wallpapers, ringtones, system icons, and even the always-on display style. Super Wallpapers are available too.
MIUI comes with its proprietary multimedia apps - there's Gallery, and Music and Mi Video (both with local and streaming options). A MIUI File manager is also on board. And, of course, a Mi Remote app that uses the integrated IR blaster.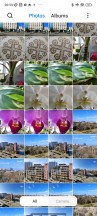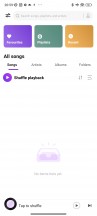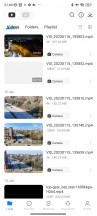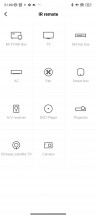 Gallery • Music • Video • File Manager • Mi Remote
MIUI also offers a Security app. It can scan your phone for malware, manage your blacklist, manage or restrict your data usage, configure battery behavior, and free up some RAM. It can also manage the permissions of your installed apps, define the battery behavior of selected apps, and apply restrictions only to certain apps.
And speaking of memory, MIUI 14 offers Memory Extension option that's active by default (you can disable it if you like). On our review unit, we could choose between 2GB, 3GB and 5GB of internal storage reserved to serve as RAM extension. Less important memory blocks should come here.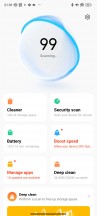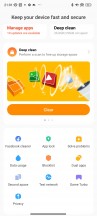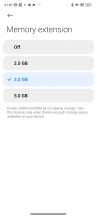 Security • Security • Memory extension
The Sidebar is not available per-se. However, its Video Toolbox is present, and it essentially contains the whole Sidebar functionality, but you need to make it available within a selection of apps manually. When active, it is a small visible mark on the edge of the screen that expands into a menu anytime you swipe on it. You launch apps in pop-up windows from here.
It is recommended for multimedia apps (like YouTube, Mi Video, Gallery, etc.); besides options for floating windows, it contains shortcuts for Screenshot, Record screen, Cast, and Play Video with the screen off, which works on YouTube, no Premium subscription needed. But, as we mentioned, you need to whitelist the apps in advance where you want the feature enabled.
Some MIUI ROMs include ads in the default apps; it is a well-known thing. Our Poco X5 Pro didn't have ads, though the ad option was turned on. If you see ads in MIUI - those can be turned off, though it's a bit tedious to do it because you have to do it for every system app that has them.
Performance and benchmarks
The Poco X5 Pro employs the Snapdragon 778G 5G chipset - a great upgrade over the Snapdragon 695 5G chipset inside the Poco X4 Pro. That's a good 6nm chipset fabbed in TSMC's foundries that features an octa-core processor with four Kryo 670 cores @2.4GHz (based on the Cortex-A78) and four Kryo 670 Silver ones @1.8GHz (Cortex-A55 based).
There is a high-end Adreno 642L GPU and an X53 5G modem (up to 3.3 Gbps downlink speeds.
The base configuration of the Poco X5 Pro is now 6GB LPDDR4X of RAM and 128GB UFS 2.2 storage. You can also opt for 8GB RAM with 256GB storage and that's our review unit. Keep in mind that there is no microSD slot.
We've already met a couple of phones with this chipset, and we know it's pretty good for this class, if not one of the most preferred. And if it weren't for the economic and logistics hurdles through 2022, the SD778G would have probably become a widespread SoC in this class.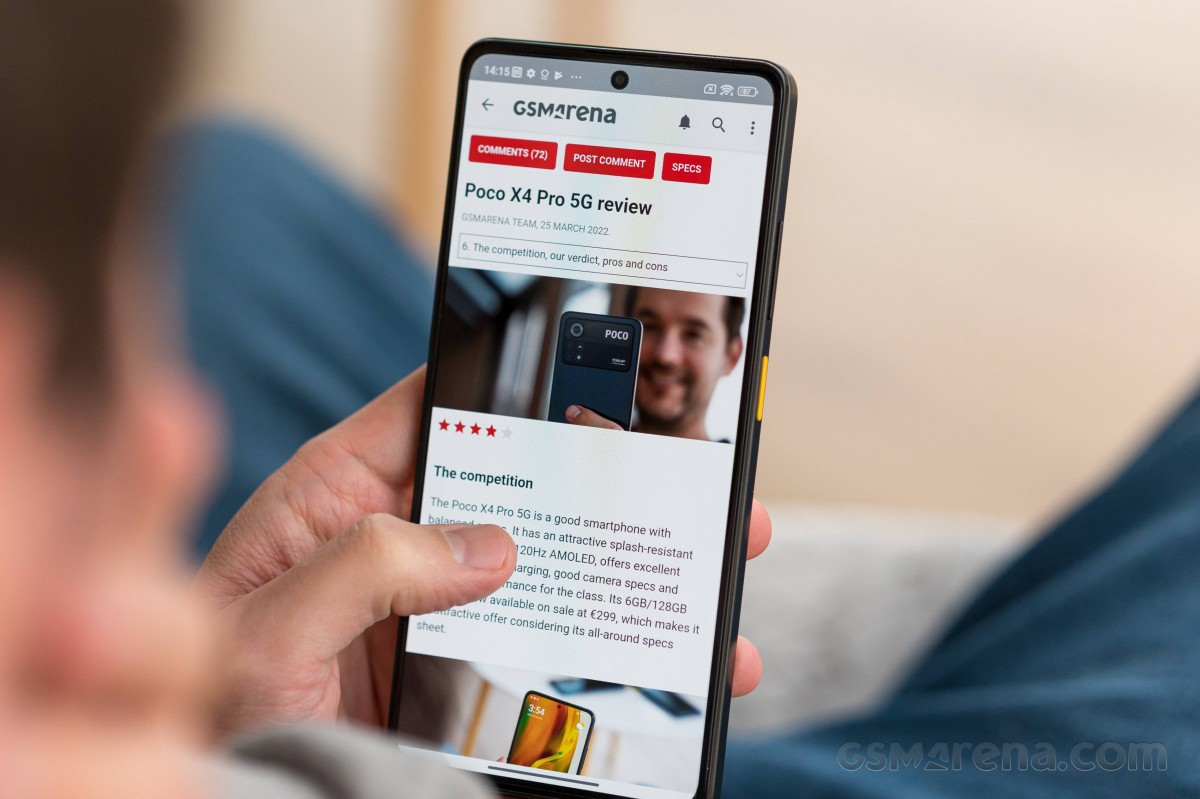 Anyway, let's see some benchmarks.
The Poco X5 Pro has one of the fastest processors in this midrange segment, and we can't really hope for more.
GeekBench 5 (multi-core)
Higher is better
Poco X5 Pro
2930
Xiaomi 11 Lite 5G NE
2832
Galaxy A52s 5G
2801
Poco X3 Pro
2574
Realme 10 Pro+
2371
Redmi Note 11 Pro+ 5G
2225
Poco X4 Pro 5G
2063
Redmi Note 11 Pro 5G
2063
Realme 10 Pro
2021
Moto G82
1977
Galaxy A53 5G
1891
GeekBench 5 (single-core)
Higher is better
Realme 10 Pro+
842
Xiaomi 11 Lite 5G NE
787
Poco X5 Pro
781
Galaxy A52s 5G
771
Galaxy A53 5G
743
Redmi Note 11 Pro+ 5G
736
Poco X3 Pro
735
Realme 10 Pro
698
Redmi Note 11 Pro 5G
688
Poco X4 Pro 5G
687
Moto G82
671
We can safely say the same for the GPU. It can handle demanding games with flagship grace. It is only bested by the older Poco X3 Pro with its Snapdragon 860 4G chipset.
GFX Car Chase ES 3.1 (onscreen)
Higher is better
Poco X3 Pro
38
Poco X5 Pro
28
Galaxy A52s 5G
28
Xiaomi 11 Lite 5G NE
28
Redmi Note 11 Pro+ 5G
22
Realme 10 Pro+
21
Galaxy A53 5G
19
Poco X4 Pro 5G
17
Redmi Note 11 Pro 5G
17
Realme 10 Pro
16
Moto G82
16
And finally, AnTuTu 9 test puts the Poco X5 Pro on top of all competitors.
AnTuTu 9
Higher is better
Poco X5 Pro
531398
Xiaomi 11 Lite 5G NE
527663
Realme 10 Pro+
522376
Galaxy A52s 5G
506432
Redmi Note 11 Pro+ 5G
437872
Realme 10 Pro
401860
Poco X4 Pro 5G
384646
Redmi Note 11 Pro 5G
382902
Moto G82
380812
Galaxy A53 5G
379313
The Poco X5 Pro is offers outstanding performance for its class, and if the game supports it, it can even squeeze more than 60fps on its display, which is nice.
We also ran some stress tests, of course. The CPU Throttle test found that no throttling was happening on the Poco X5 Pro when using the CPU at 100%, which means the cooling is more than adequate. We couldn't test the GPU throttling with 3D Mark, but from other phones like Nothing phone (1) and Xiaomi 11 Lite 5G NE, we know that the Adreno 642L usually scores about 90% stability, which is an excellent one.
The Poco X5 Pro is properly equipped with modern hardware and cooling system, and it is performing fast and incredibly stable. And that deserves an excellent mark in our book. It's also intriguing that the SD778G is still able to hold its own two and a half years after its release.