Competent 120Hz OLED display
One of the highlights of the Poco X5, its 6.67-inch OLED display features a 120Hz maximum refresh rate. The 1080x2400px resolution in a 20:9 aspect ratio results in a 395ppi pixel density. The touch sampling rate is specified at up to 240Hz, while outdoor brightness is listed as reaching 700nits. There's no mention of HDR video support.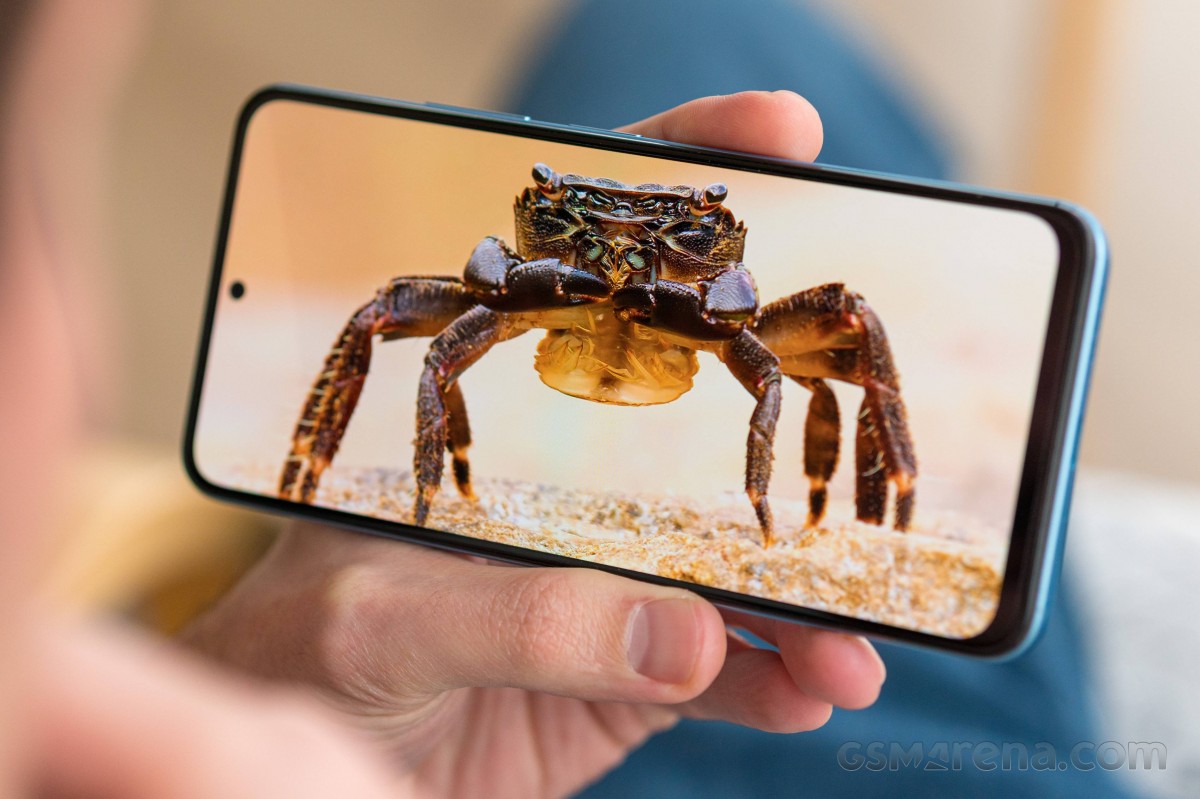 In our brightness test, the Poco X5 went as high as 728nits with Adaptive brightness enabled and the phone under bright ambient light - as promised. Toggle the adaptiveness off, and you'd be looking at 456nits tops. These are relatively standard figures for a midrange OLED display, which is a good thing since midrange OLED displays have become quite good.
Minimum brightness, meanwhile, was 2.3nits making the Poco easy on your eyes in very dim conditions.
Display test
100% brightness
Black,cd/m2
White,cd/m2
Contrast ratio
Poco X5
0
456
∞
Poco X5 (Max Auto)
0
728
∞
Poco X5 Pro
0
491
∞
Poco X5 Pro (Max Auto)
0
912
∞
Poco M5
0.295
402
1363:1
Poco M5 (Max Auto)
0.337
448
1329:1
Poco M5s
0
473
∞
Poco M5s (Max Auto)
0
756
∞
Realme 10 Pro
0.47
590
1255:1
Realme 10 Pro (Max Auto)
0.53
619
1168:1
Realme 10 Pro+
0
484
∞
Realme 10 Pro+ (Max Auto)
0
809
∞
Samsung Galaxy A33 5G
0
407
∞
Samsung Galaxy A33 5G (Max Auto)
0
728
∞
Samsung Galaxy A53 5G
0
427
∞
Samsung Galaxy A53 5G (Max Auto)
0
830
∞
Nokia X30
0
442
∞
Nokia X30 (Max Auto)
0
746
∞
Motorola Moto G82
0
496
∞
Motorola Moto G82 (Max Auto)
0
690
∞
Oppo Reno7 Lite 5G
0
447
∞
Oppo Reno7 Lite 5G (Max Auto)
0
657
∞
Color reproduction on the Poco X5 is handled with a three-mode selector, augmented by a color temperature wheel and Cool/Warm presets. Excellent color accuracy is possible for sRGB content in Standard mode with the default temperature setting.
The out-of-the-box Vivid mode supports a wide gamut and was decently accurate for our set of DCI-P3 swatches, though we observed a noticeable blue shift in the white point. The Warm preset was of no help, resulting in an even stronger color shift, this time toward red. A custom setting with the color temperature wheel (high into the yellow-orange area) did get us very good accuracy for P3 content.
The Saturated mode is off-target for the DCI-P3 test swatches but it does provide that super-colorful look of early OLEDs, which some folks may be fans of.
As mentioned, the official specs make no claims for HDR support, and sure enough, we didn't get HDR streams on the usual platforms we check, not even YouTube. The Widevine L1 certification at least means you're getting FullHD resolution in platforms like Netflix.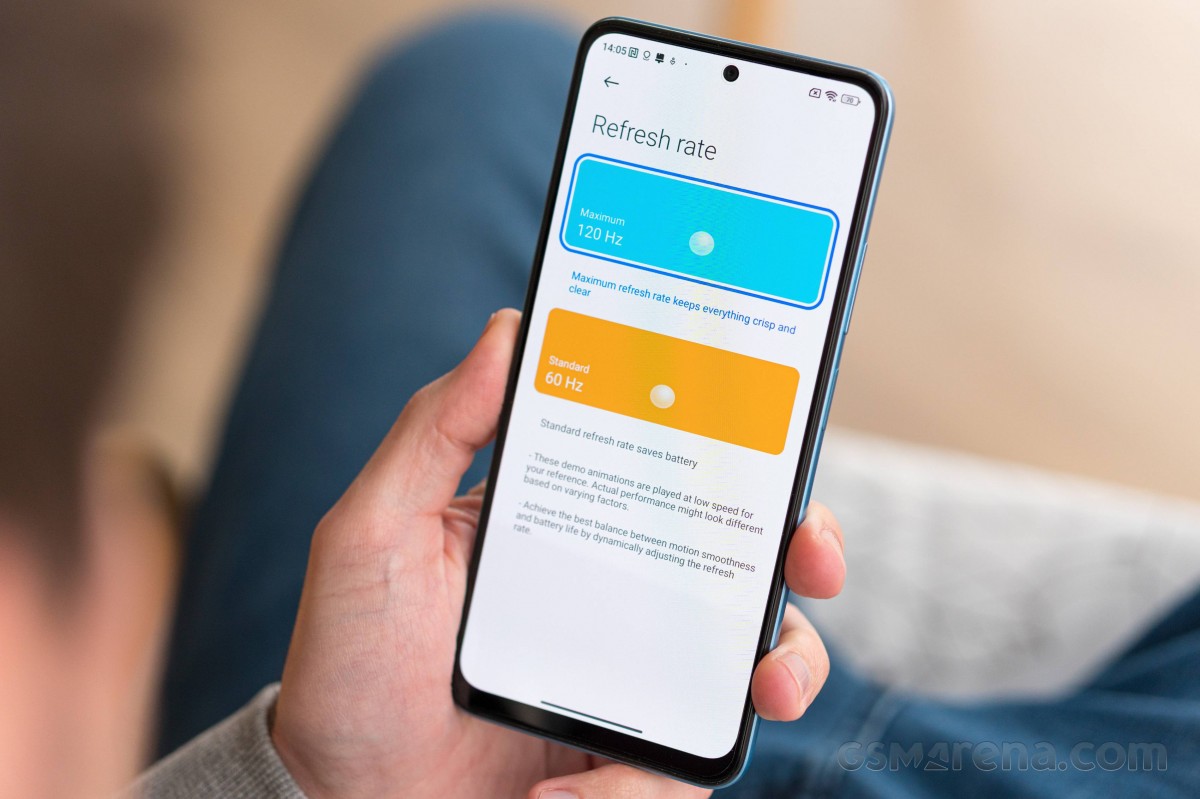 Refresh rate handling is about as straightforward as can be. There are two modes - Standard (60Hz) and Maximum (120Hz) and each basically locks the refresh rate at that value. In Maximum mode, there's no auto downswitching when idling, which can be a little bit detrimental to battery life, but at least you know where you stand all the time. Apps that don't support more than 60fps (Camera, Google Maps) will force a downswitch, but that's about it. High frame-rate gaming is possible too.
Poco X5 battery life
The Poco X5 has a 5,000mAh battery, the golden standard for pretty much any phone class in recent times.
In our tests, the Poco returned respectable to downright great numbers. The 39 hours of voice calls and the 21+ hours of video playback (at 60Hz) are more in the impressive category. The 12 full hours of Wi-Fi web browsing can be classified as good, though when you consider that we got that result at a constant 120Hz refresh rate, 'very good' could also be used. The standby performance was more in the so-so region. In the end, the overall Endurance rating worked out to 106h - not class leading, but not too shabby either.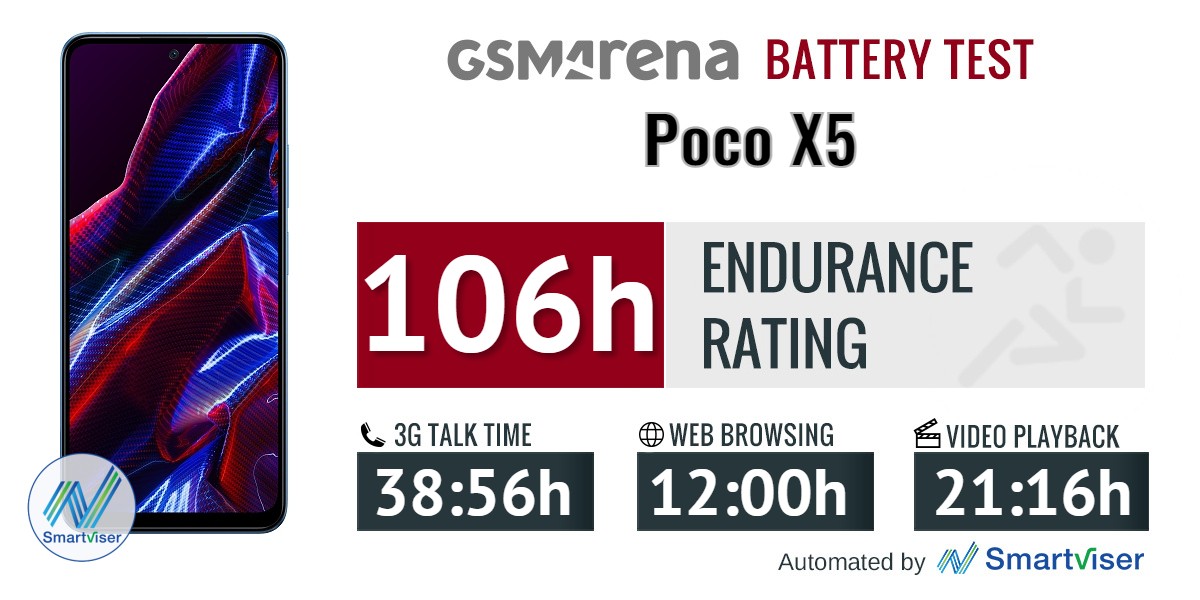 Our battery tests were automated thanks to SmartViser, using its viSerDevice app. The endurance rating denotes how long the battery charge will last you if you use the device for an hour of telephony, web browsing, and video playback daily. More details can be found here.
Video test carried out in 60Hz refresh rate mode whenever possible. Web browsing test done at the display's highest refresh rate whenever possible. Refer to the respective reviews for specifics. To adjust the endurance rating formula to match your own usage - check out our all-time battery test results chart.
Charging speed
The Poco X5's charging capability is rated at 33W, and the phone is bundled with an adapter to match it. The X5 Pro, meanwhile, comes with a 67W charger.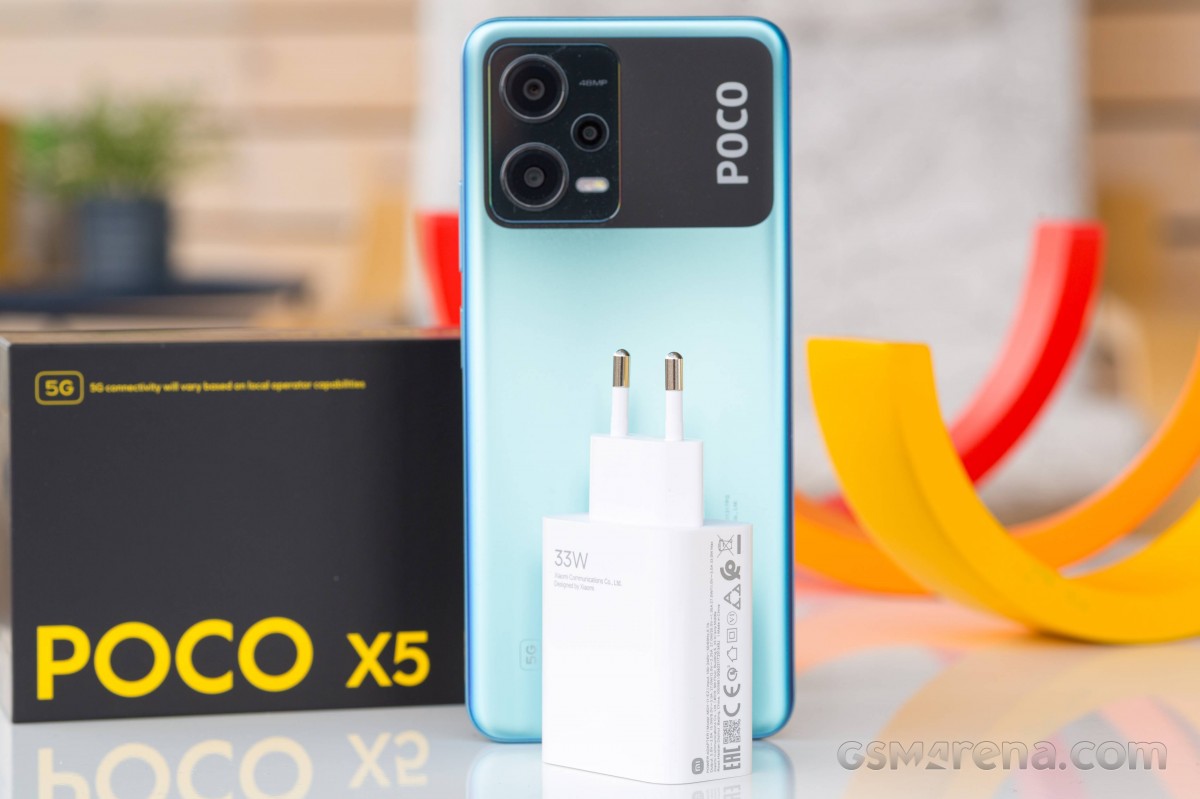 Using the included adapter, we clocked the Poco X5 to require a little over an hour from flat to 100%, with 63% showing in the battery indicator at the half-hour mark and 35% in the first 15 minutes. The Pro is a bit quicker indeed, but naturally, not twice as quick. While hardly record-breaking, the results of the Poco X5 do make it look good amongst competitors.
30min charging test (from 0%)
Higher is better
| | |
| --- | --- |
| Realme 10 Pro+ | 86% |
| Poco X5 Pro | 82% |
| Poco X4 Pro 5G | 75% |
| Nokia X30 | 69% |
| Poco X5 | 63% |
| Motorola Moto G82 | 57% |
| Realme 10 Pro | 54% |
| Poco M5s | 53% |
| Oppo Reno7 Lite 5G | 52% |
| Samsung Galaxy A33 5G | 50% |
| Samsung Galaxy A53 5G | 45% |
| Xiaomi Poco M5 | 24% |
* Tap/hover over the device names for more info
Time to full charge (from 0%)
Lower is better
| | |
| --- | --- |
| Realme 10 Pro+ | 0:41h |
| Poco X5 Pro | 0:50h |
| Poco X4 Pro 5G | 0:49h |
| Nokia X30 | 1:03h |
| Poco X5 | 1:06h |
| Oppo Reno7 Lite 5G | 1:11h |
| Realme 10 Pro | 1:12h |
| Samsung Galaxy A33 5G | 1:15h |
| Motorola Moto G82 | 1:15h |
| Samsung Galaxy A53 5G | 1:24h |
| Poco M5s | 1:24h |
| Xiaomi Poco M5 | 2:19h |
* Tap/hover over the device names for more info
Speaker test
The Poco X5 has a single speaker on the bottom - it doesn't get the Pro's stereo setup. As such, the plain X5 is in a very small group of recent Xiaomis with just one speaker - out of 2022 and 2023 models released so far, it's just this and the two Redmi Note 12s (both the Chinese and international versions).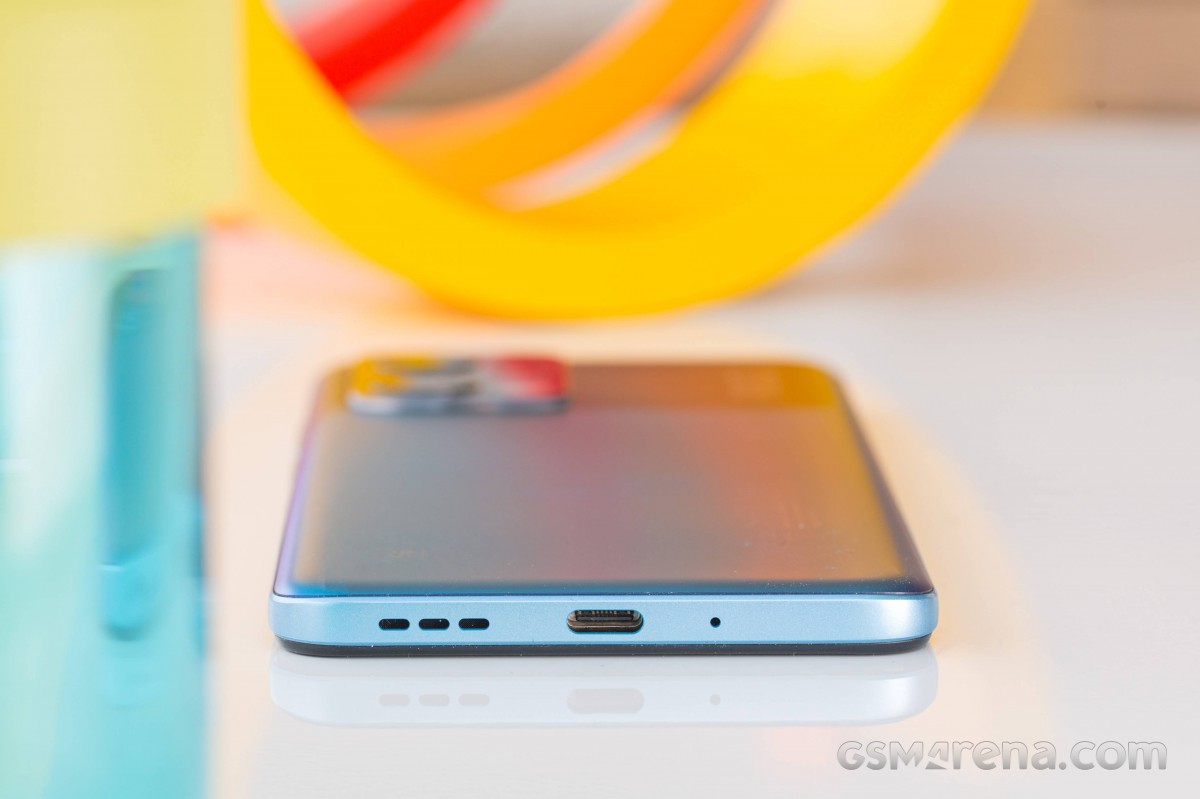 Still, the Poco X5 pumped out enough decibels to earn a 'Good' rating in our test. Sound quality is rather meh though - there's hardly any bass, and highs are kind of tinny.
Use the Playback controls to listen to the phone sample recordings (best use headphones). We measure the average loudness of the speakers in LUFS. A lower absolute value means a louder sound. A look at the frequency response chart will tell you how far off the ideal "0db" flat line is the reproduction of the bass, treble, and mid frequencies. You can add more phones to compare how they differ. The scores and ratings are not comparable with our older loudspeaker test. Learn more about how we test here.