144Hz IPS panel with Dolby Atmos support
The Poco X4 GT goes for a fast, 144Hz IPS LCD panel with standard 1080 x 2460px resolution in a 6.6-inch diagonal. And although some may be put off by the lack of an OLED panel, Xiaomi didn't cut corners with the screen quality here. It boasts rare features even for an OLED screen - 144Hz refresh rate, 270Hz touch sampling rate, HDR10 and Dolby Vision support, as well as DC Dimming and 7 steps of refresh rate control. It's probably important to note that the touch sampling rate of 270Hz is achieved only at 90Hz or below. And the HDR experience, although Dolby Vision-certified, won't be OLED-level. Granular local dimming control is impossible on LCD panels due their nature.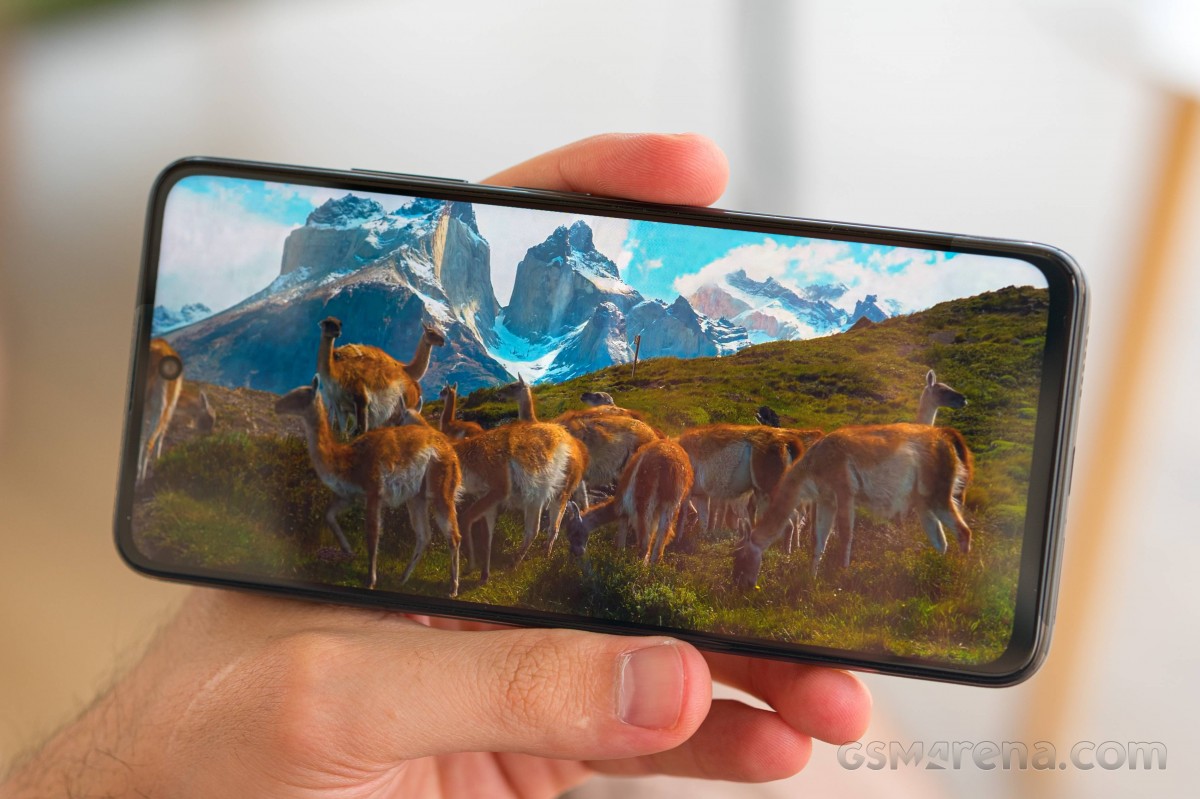 There are many OLED-equipped options out there for a similar price, but none of those go up to 144Hz refresh rate. So you win some, and you lose some.
When it comes to brightness, though, the screen gets pretty close to competing OLED solutions. We got about 470 nits in manual mode and 600 nits in Auto mode with the usual brightness boost. This would normally be enough for outdoor use on a bright sunny day, but in this case, it depends. Due to the higher reflectiveness of LCD panels, brightness must be higher to match an OLED panel's legibility outdoors.
The Poco X4 GT offers just enough to read text, chat or browse, but it's not enough for comfortable content consumption such as watching videos or viewing photos.
The contrast ratio isn't impressive either - 1:1190. We've definitely seen LCDs with deeper blacks.
Display test
100% brightness
Black,cd/m2
White,cd/m2
Contrast ratio
Poco X4 Pro
0
477
∞
Poco X4 Pro (Max Auto)
0
754
∞
Poco X4 GT
0.395
470
1190:1
Poco X4 GT (Max Auto)
0.496
600
1210:1
Poco F4 GT
0
468
∞
Poco F4 GT (Max Auto)
0
761
∞
Poco F4
0
530
∞
Poco F4 (Max Auto)
0
1003
∞
Poco X3 GT
0.301
429
1425:1
Poco X3 GT (Max Auto)
0.38
537
1413:1
Samsung Galaxy A53 5G
0
427
∞
Samsung Galaxy A53 5G (Max Auto)
0
830
∞
Realme 9 Pro+ (Max Auito)
0
613
∞
Realme 9 Pro+
0
433
∞
OnePlus Nord 2 5G
0
438
∞
OnePlus Nord 2 5G (Max Auto)
0
633
∞
When it comes to color accuracy, the standard mode delivers blue-ish whites and saturated colors overall, but going for the Original color preset would bring down the dE2000 to just 1.4. An excellent result, although whites and grays will still appear slightly blueish. Hard to spot for the untrained eye, though.
HRR control
The default setting seems to adjust the refresh rate dynamically according to the scenario but is not as "dynamic" as advertised. The system would default to 50Hz when the screen itself is not in use, 60Hz in some apps and will go up to 120Hz in pretty much all apps and system menus. Exceptions are the default Gallery app (90Hz or 60Hz when playing video), Netflix (60Hz) and YouTube (60Hz). We didn't see any other steps throughout our testing, and at no point did the system go up to 144Hz.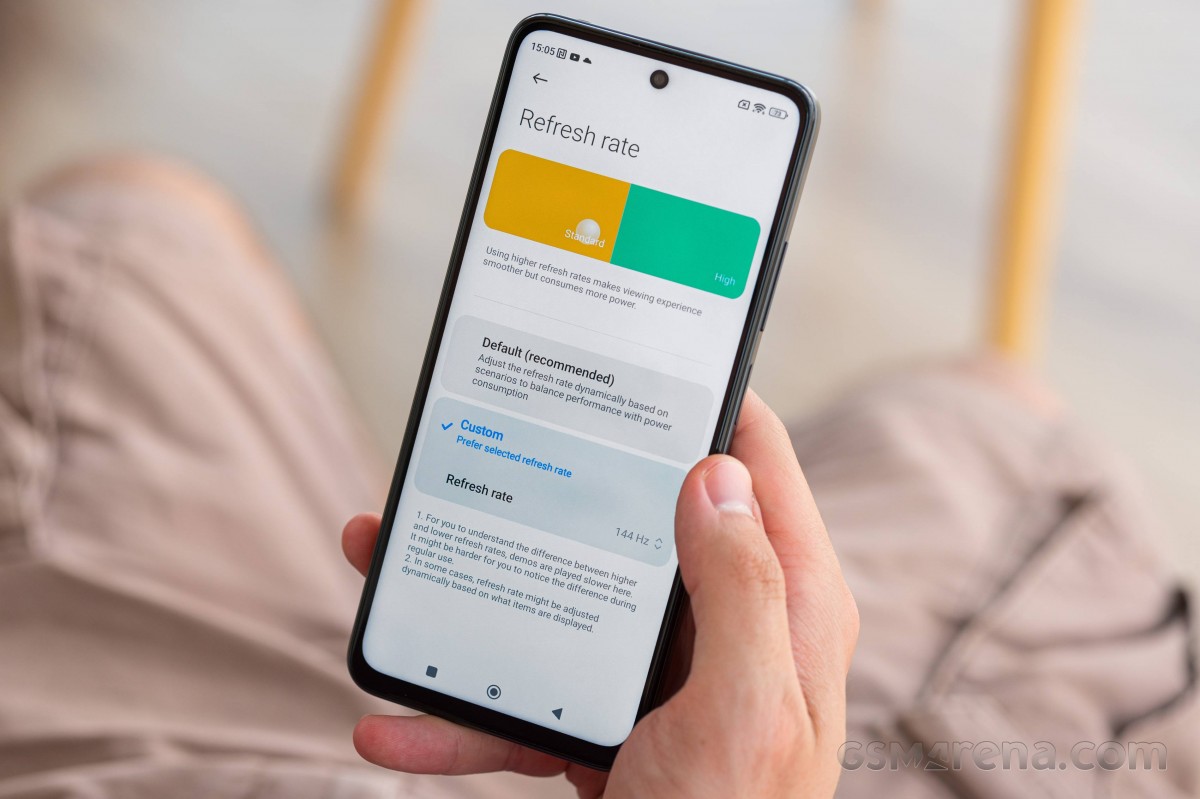 There's also a custom refresh rate cap that can be set, in which case you can choose between 60, 120 and 144Hz. Refresh rate behavior logic remains the same as the default mode, and the system will lower the refresh rate depending on the scenarios noted above.
When it comes to gaming, things are not ideal. We were able to run only two games at 120Hz (Real Racing 3 and Sky Force: Reloaded), whereas the rest were locked at 60Hz. Even so, we are unable to confirm whether the games saturate the refresh rate with actual 120fps with the tools at our disposal, so keep that in mind.
Battery life
We are happy to report that the X4 GT was able to improve upon its predecessor in terms of battery life, even if the gain is somewhat marginal. The X4 GT did post a particularly impressive web browsing runtime as well as a respectable video playback score. And in our opinion, those screen-on tests are perhaps the most important part of the overall 112h score.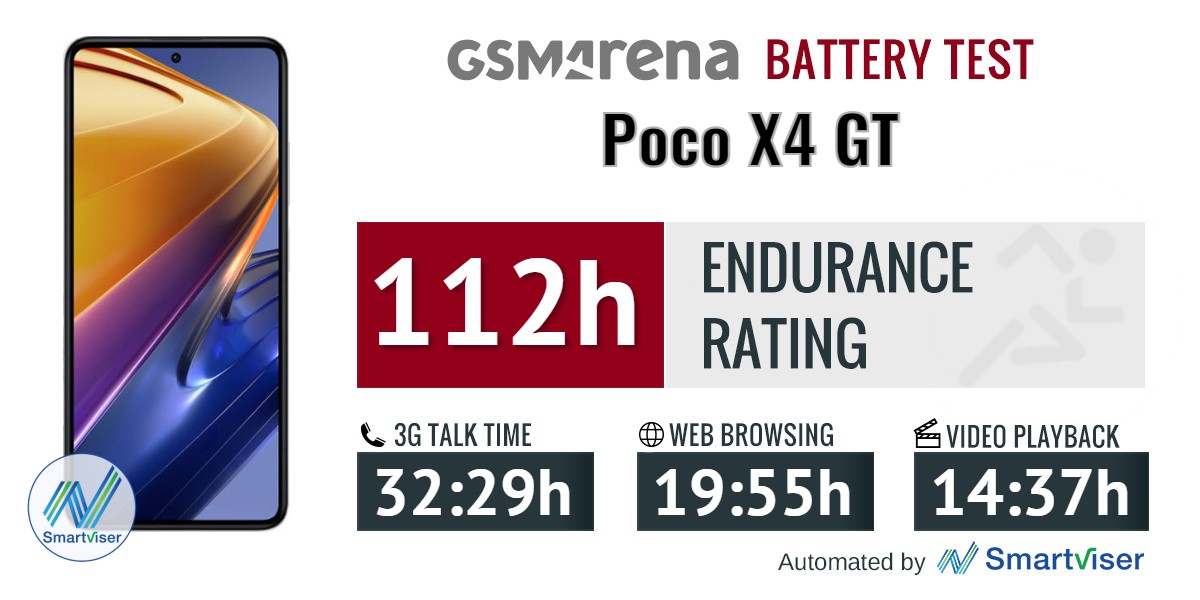 Our battery tests were automated thanks to SmartViser, using its viSerDevice app. The endurance rating denotes how long the battery charge will last you if you use the device for an hour of telephony, web browsing, and video playback daily. More details can be found here.
Interestingly enough, just like the X3 GT, the X4 GT has a 5,080 mAh battery and an IPS LCD panel, leaving the chipset as the only significant differentiating factor that could positively influence battery life. The Realme GT Neo3 got a solid battery life as well, and it was the first Dimensity 8100-powered phone we tested.
Video test carried out in 60Hz refresh rate mode. Web browsing test done at the display's highest refresh rate whenever possible. Refer to the respective reviews for specifics. To adjust the endurance rating formula to match your own usage patterns check out our all-time battery test results chart where you can also find all phones we've tested.
Charging speed
There's no change in charging technology compared to the X3 GT - a 67W brick fills up the 5,080 mAh cell. And that's why we see no change in the 30-minute charging test - the system can charge the battery up to 75% in just 30 minutes. However, the charging curve changes significantly and starts to slow down. A full charge takes about 57 minutes, which is well above other competing solutions, and it's also sensibly slower than the X3 GT from last year. We've also noticed that it takes quite a few minutes to turn on the phone when the battery is completely dead. It refused to turn on until at least 5% of the cell was charged.
30min charging test (from 0%)
Higher is better
Poco F4 GT
100%
Poco F4
92%
Realme 9 Pro+
77%
Poco X4 Pro 5G
75%
Poco X4 GT
75%
Poco X3 GT
75%
Samsung Galaxy A53 5G
45%
Time to full charge (from 0%)
Lower is better
Poco F4 GT
0:17h
Poco F4
0:38h
Poco X3 GT
0:48h
Poco X4 Pro 5G
0:49h
Realme 9 Pro+
0:49h
Poco X4 GT
0:57h
Samsung Galaxy A53 5G
1:24h
Speakers
The Poco X4 GT runs a standard stereo speaker setup with the main one blasting from the bottom and a secondary one that doubles as an earpiece. There's a grille at the top side of the phone used for an echo chamber, but the left channel still sounds sensibly quieter than the main speaker at the bottom. Loudness-wise, the handset scored -27.4 LUFS, which is just enough for a "Good" score. In other words - not the loudest one around.
However, the device makes up for that with pretty good sound quality. With the Dolby Atmos tuning turned on (it's on by default anyway), the speakers sound full and clear. The bass is prominent, as far as smartphone speakers go, and there's minimal distortion in the highs and vocals. This is a good-sounding pair of speakers, especially in the said price range.
Use the Playback controls to listen to the phone sample recordings (best use headphones). We measure the average loudness of the speakers in LUFS. A lower absolute value means a louder sound. A look at the frequency response chart will tell you how far off the ideal "0db" flat line is the reproduction of the bass, treble, and mid frequencies. You can add more phones to compare how they differ. The scores and ratings are not comparable with our older loudspeaker test. Learn more about how we test here.